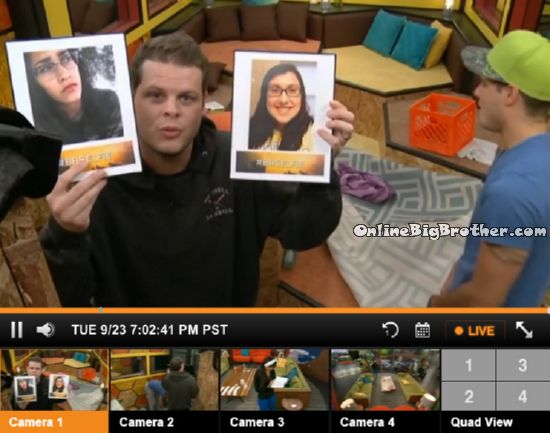 LAst of the BB selfies..
7:17pm Victoria has started praying in the living room.
Lots of noise coming from the HOH room they suspect production is taking it apart.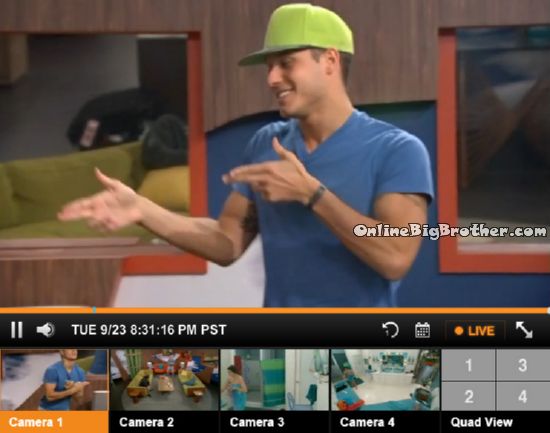 8:30pm Derrick and Cody talking about what they will say to the other when they win the final HOH. Cody is going to make gun shapes with his hands and say "Hitmen"
Derrick isn't going to say much Tells Cody they really don't have to say "Yo I've been with you since day 2″
Cody – yeah I know I wasn't going to say anything like that"
They might say Contract is up .
Cody says Production is taking down all the bird nests from the HOH room he can hear it.
Derrick brings up Devin playing way too hard way too fast.
Derrick says Devin had 9 Final 2's
Derrick says Christine was a legit floater.
Cody was really bothered by Frankie.
Derrick says Frankie and Cody had a distrust with each other.
They agree once the house found out that Brittany had a 2014 BMW 5 series.
Derrick says she told them in a big group of people, "That was the end for her"
Cody says his dad has a Mercedes CLA (30K car)
9:33pm Playing Bullshit..
10:13pm Victoria says she knows her mom watches the feeds she's sure of it. Her special face wash ran out because everyone used it. She never requested it and her mom sent more. Victoria explains the first two weeks everyone was using her stuff and things were disappearing. "People would go into my basket and use all my makeup" adds she tried to hide it but people would go through all her stuff.
Victoria – Brittany I think finished it up
Victoria says Production told her there is nothing they can do about people using her makeup.
Victoria blames Amber on using up a lot of her stuff, says she would always see Amber go into her makeup bag and pull things out, "Amber finished off that whole thing.. when I saw her grab my makeup bag I was shocked.. using my brushes it's so not hygienic"
11:03pm Living Room Derrick and Victoria
Talking about how incredible it is that Derrick never got nominated once. Especially with the BOB giving them 4 nominations
Derrick says there was 32 nominations and re-noms.
Victoria calls it amazing
Derrick agrees.
Derrick tells her if they are final 2 he's not going to "Crush" her "Hopefully I can go first and you can just hear it"
Victoria says she would never be mean to the other person in final 2.
Derrick promises her if she is final 2 with Cody he'll absolutely vote for her.
Derrick says tomorrow at this time she'll know why nothing scares him.. "Things I can't say on Camera"
Derrick says his biggest crutch in this game was him getting caught up with his family Says it's been a burden and he's looking forward to that ending.
11:38pm Derrick showing them how he looked after winning the comps
12:05AM
Cheering that the season ends today. Cody 18 hours and 30 minutes until Finale
12:23AM Derrick tells Cody and Victoria he hopes to god he falls asleep tonight but he doesn't see that happening.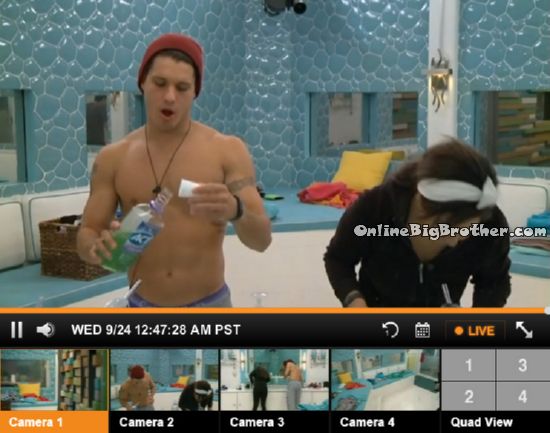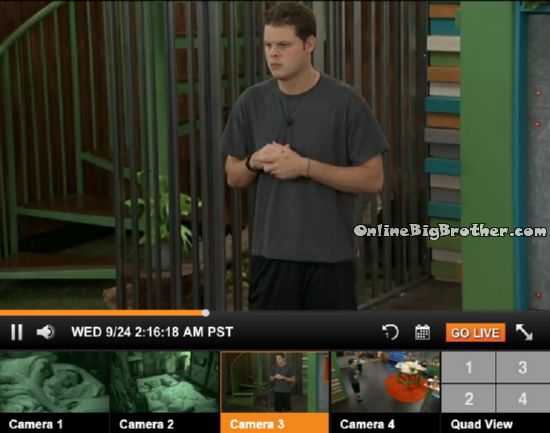 2:17AM Derrick pacing around the bathroom practicing his speech.. He's stressing the personal relationships he's made worth people and the fact he's never been nominated even though this season had 55 nominations. Says he also used the personal relationships he forged so when other players got into power he made sure what they did was beneficial to his game.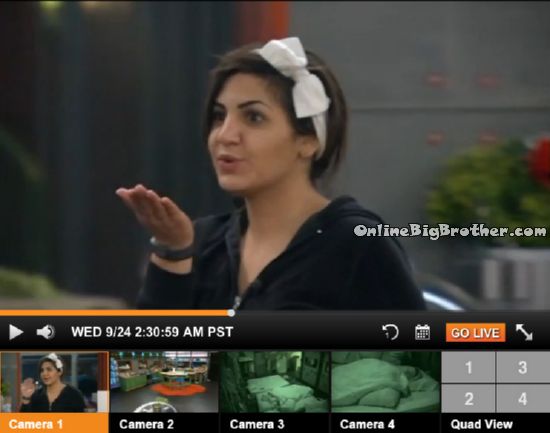 2:35AM Kitchen Victoria and Derrick
Victoria says in her DR she said everyone in this game wishes they had a Derrick.
Victoria – Any final thoughts it's your last night you'll be up at 2:27 in the Big BRother House
Derrick – Nothing
Victoria – what do you think will happen if I take my key.. I want to sleep with it tonight
Derrick – you can do it.. it's your key I guess.
Victoria – Derrick .. I don;'t know what to ask Cody
Derrick – About what
Victoria – Jury
Derrick – it's up to you
Victoria asks him if he's got his speech ready
Derrick has been thinking about it
They head to bed.
Victoria blows a kiss to the camera – Goodnight guys… tune in for finale in less than 24 hours
Victoria – Tomorrow only positive energy and thoughts
She tells him not forget about her and their ski trip.
Derrick – I won't
Victoria – Goodnight for the last time in the fire room
Derrick Good night
Victoria – I love you
6:07AM Everyone Sleeping
8:41am ZZZZzzzz
(We have the goodbyes later this morning then the feeds go off for the season. Flashback will still be available until OCT 8th )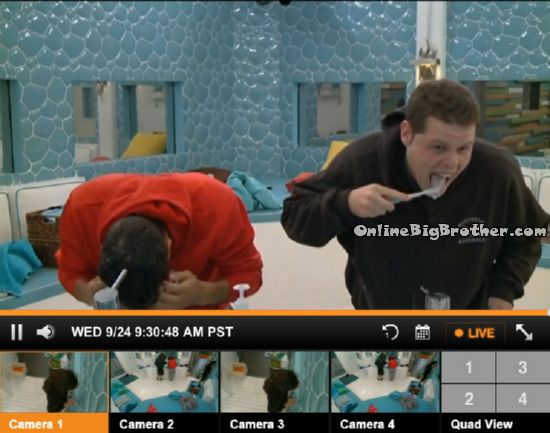 9:30am And they are up..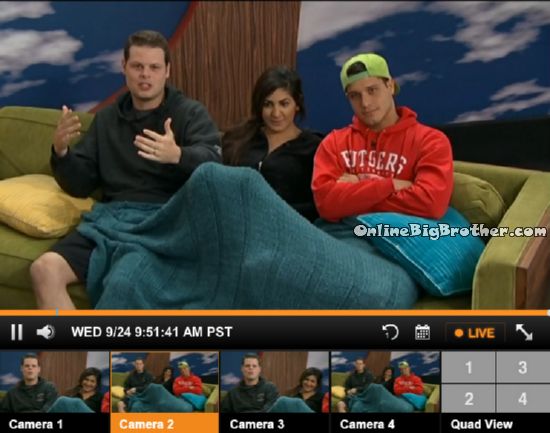 9:49am They say Good bye
Cody – Thank you live feeders.. live feedsters..
Victoria- thank you for your support and watching us we are ordinary people and to have you guys being fascinated and watching us all the time means a lot we appreciate it.
Derrick says the feeds are the best part of the show because they are unedited. says it was a great experience and he can't wait to watch the feeds next year.
Derrick acknowledges the feeds were boring tells everyone if they get a chance to apply and try out for Big Brother 17.
That's a wrap folks.. I'll be back for the finale show 🙂
(If you enjoyed the spoilers Please consider a donation through PayPal)
Make your Amazon purchases through the links below it Supports this site
[polldaddy poll=8244330]