POV Holder:
Paulie
POV Competition
July 1st?
POV Used
?
POV Ceremony
July 3rd?
HOH
Paulie
Next HOH
July 7th
Roadkill Competition Winner:
Victor
Original Nominations:
Paul, Bronte and Tiffany
After POV Nominations:
? and ?
Have Nots
Da'Vonne, Paul and Zakiyah
Big Brother 18 Alliances Help Guide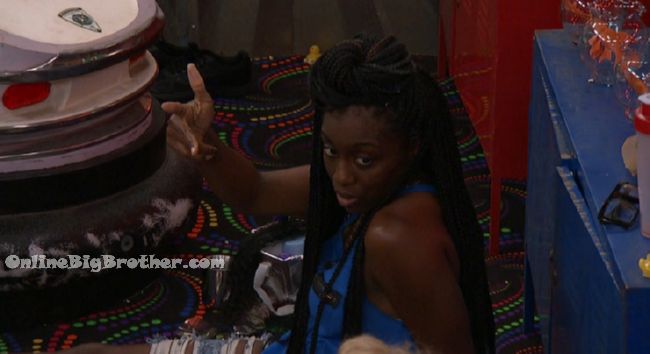 8:57pm Michelle, Da'Vonne and Zakiyah
Da'Vonne saying that Frank has to go during double eviction and James right after him.
Zakiyah – I won't feel too bad sending Frank home
Michelle – do we have the votes..
Da'Vonne – not till jury
Da'Vonne – we got to get out some of these boys..
Michelle says Bridgette is with Frank watch what you say to her and count her vote as a frank vote.
Da'Vonne agrees.
Da'Vonne thinks Paul would put up Michelle or Paulie.. Or Tiffany/Michelle .
They agree Frank is running the house. Zakiyah is certain he brags about it in the Diary room.
Da'Vonne wanting to get Tiffany out before some of the other players outside the 8 pack alliance. .
Da'Vonne and Zakiyah think Natalie will put them up. They are convinced the boys will be able to control her HOH. Da'Vonne says Tiffany came up to her and said Bronte, Bridgette and Natalie want to team up with all the girls. Da'Vonne isn't buying it.
Da'VOnne – I feel like we send Bridgette home we send Bronte home we send Paul.. Natalie will be lost.
Michelle – Tiffany is really good at talking game with those girls..
Da'Vonne – her true alliance is with Paulie..
Michelle – that's crazy..
Nicole joins them says Frank really wants Tiffany out next week instead of Bronte.
Nicole – He thinks she'll put him up for something.
Zakiyah – why is paul so down on the list.
Nicole brings up Frank saying they shouldn't nominate Paul next week they should give him a break.
They laugh. Da'vonne mentions Frank is building a 'Guys thing"
They start considering pulling in the other girls into a girl power alliance to take out the guys.
Nicole and Da'Vonne don't think James and Corey are part of Frank's guy alliance.
Da'Vonne says their 4 is the strongest alliance in the house (Nicole, Da'Vonne, Zakiyah, Michelle)
They bring up how weird it is that Frank is sleeping in the HOH every night
Da'Vonne – there's no need.
Nicole agrees Tiffany and Paulie have a final 2. Da'Vpnne now saying maybe they should agree to something with the other side's girls not an alliance an agreement to target boys.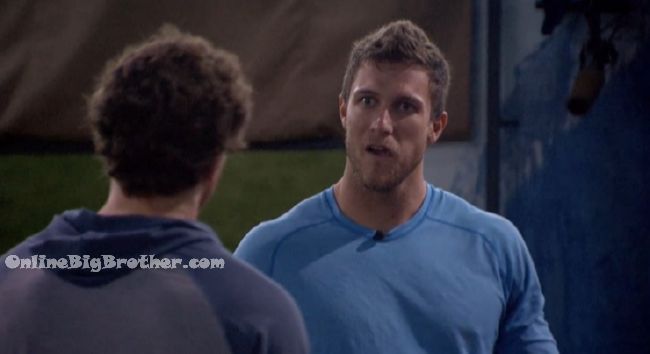 9:23pm Frank and Corey
Frank freaking out that Paulie is saying he really trusts Tiffany. Frank doesn't get it and it's worry him.
Corey says he likes Nicole but he's been trying to separate himself from her lately. Corey thinks she's a great girl and all but it's hurting his game ant.
Corey – I wouldn't date her AT ALL.. IF Ever…
Frank and COrey agree when Victor leaves the other side is a lot more likable.
They talk about who to bring to the end. Frank warns him not to take Michelle because she'll win the Final hoh. They agree Da'Vonne has good memory of the dates.
9:42pm Corey, Nicole and Victor backyard
They are talking about saving the alcohol they got tonight which the house is saving for tomorrow.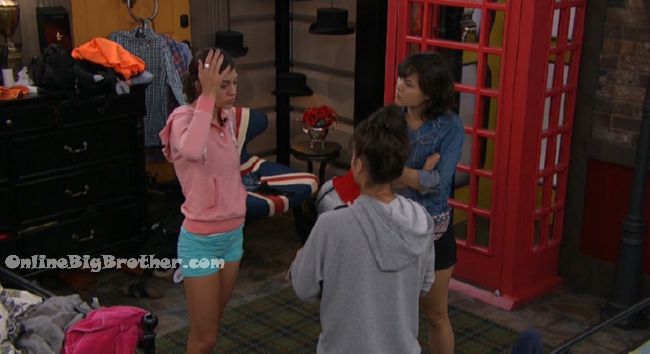 9:44pm Natalie and Bronte
Natalie says she talked to Paulie and Victor is going up .
Bronte says her's the best guy here he's the best player America's going to be bummed to see him go. (lol WHAT)
Bridgette joins them. They start comparing notes.
Bronte says she say Nicole, Frank and Paulie whispering today.
Bridgette says Michelle rubs her the wrong way or maybe Bridgette is rubbing Michelle the wrong way.
They agree Da'Vonne can't be trusted especially after she did what she did to Jozea but they are hoping a girls thing can be worked out with them.
Bronte saying they should just hide and hope the rest of the house in power forget about them and take out each other.
Bronte says Paulie doesn't like her once he won HOH he's been giving her dirty looks. She suspects this is because of her comments about him flirting.
Natalie says she needs to work her magic with James, "start talking game with him"
Bronte says if Tiffany is in danger of going home she'll through them under the bus.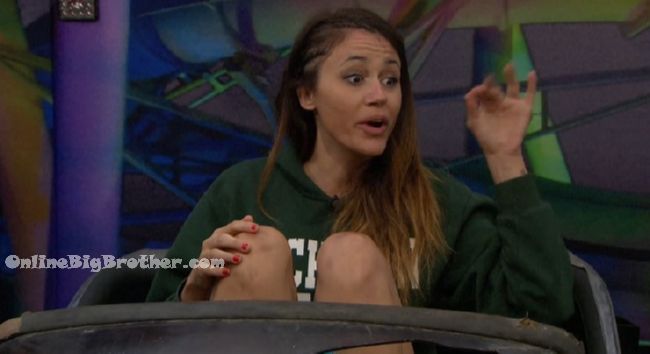 9:49pm Tiffany and Da'Vonne
Tiffany says Bronte, Natalie and Bridgette are 200% onboard with getting guys out.
Tiffany is warning them of Michelle says she's the one girl that might not stick with the girl alliance. Tiffany says she wants to win the next HOH and backdoor one of the big guys.
Tiffany recommends they start talking to the other girls socially. They want a girl to win so bad they won't put any girls up.
Tiffany warns them how good Frank is at this game. tells her to keep all this to themselves it's dangerous talking like this when you are on the block.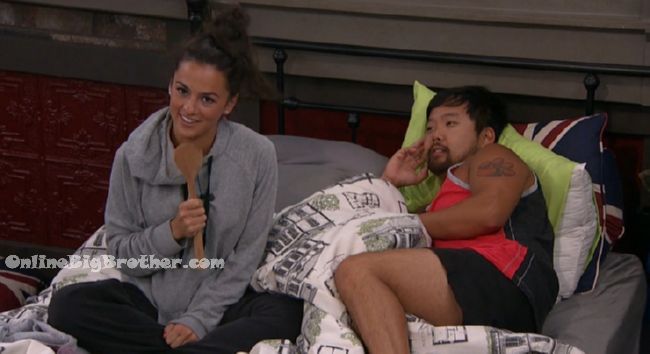 10:11apm Natalie And James teasing around pretending they are on a talk show. Natalie uses a big wooden spoon as a microphone.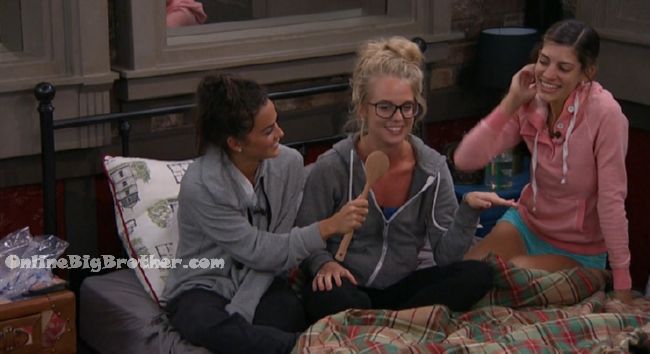 At 10:38pm Nicole joins them and they ask thee what is going on between her and Cpry
Nicole says he's super cute.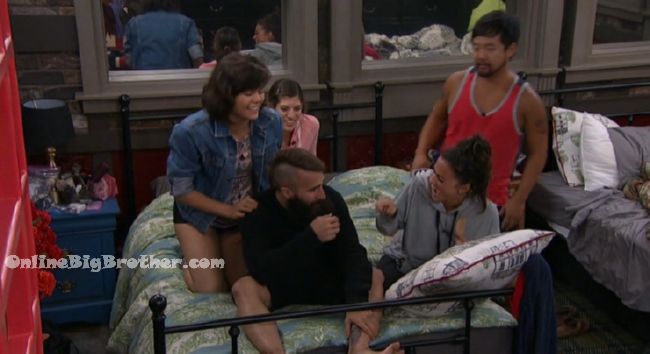 Paul is their next guest.. He says he's pissed he's on the block second week in a row.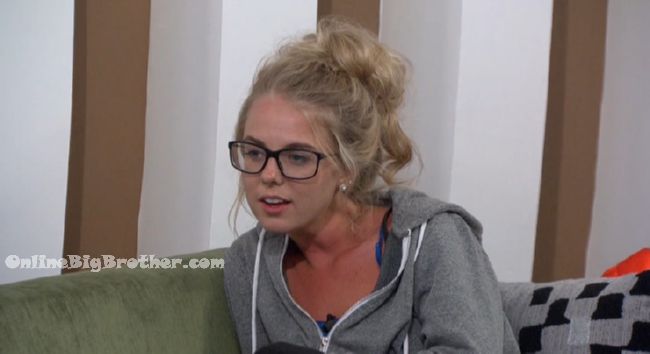 10:45pm Nicole, Zakiyah and Da'Vonne.
Da'Vonne suggesting Tiffany and Frank teaming up now after they had that falling out. Points out how they are in the have nots right now.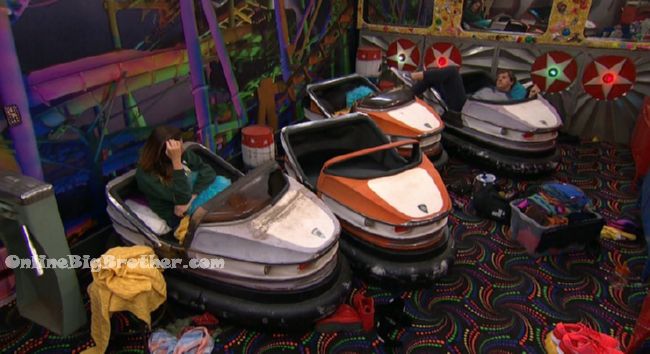 10:55pm Tiffany and Frank
Frank saying that Victor has 'sociopathic tendencies'
Frank – He almost looks angry when he's laughing.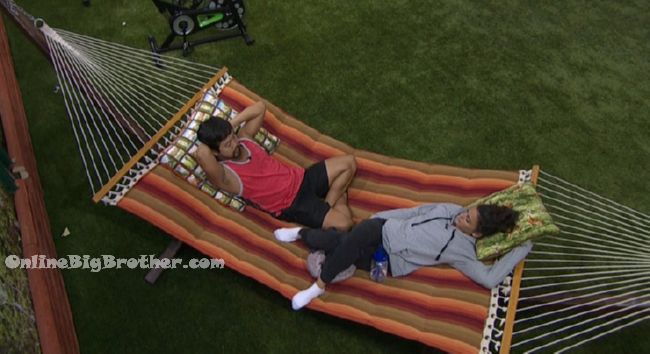 11:33pm – 11:50pm Hammock James and Natalie
General chit chat..
James is telling her if they win the HOH she might not want it to keep the heat off them. Natalie says they might want it to keep them safe.
James- right now yo don't want to go against the house.. what you were all looking for with Jozea that group…
Natalie – I know
Natalie asks who they should put up if they win HOH
James says if he wins HOH he'll talk to the house ask the house who they want up and go with that. Again reiterates how you don't want to go against the house. (F*** the house)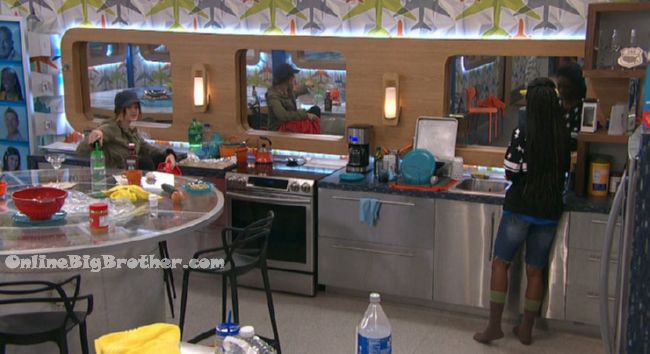 11:48pm Da'Vonne and Michelle
Da'Vonne is suspicious that Tiffany hasn't come to anyone about a final 2. Da'Vonne thinks Tiffany may be secretly with the guys.
FLASHBACK and watch everything you missed: CBS All Access FREE Trial!

[polldaddy poll=9459672]