POV Holder:
Paulie
POV Competition
July 1st?
POV Used
?
POV Ceremony
July 3rd?
HOH
Paulie
Next HOH
July 7th
Roadkill Competition Winner:
Victor
Original Nominations:
Paul, Bronte and Tiffany
After POV Nominations:
? and ?
Have Nots
Da'Vonne, Paul and Zakiyah
Sign up and watch the 24/7 Live Feeds: 1 Week FREE Trial!:
Big Brother 18 Alliances Help Guide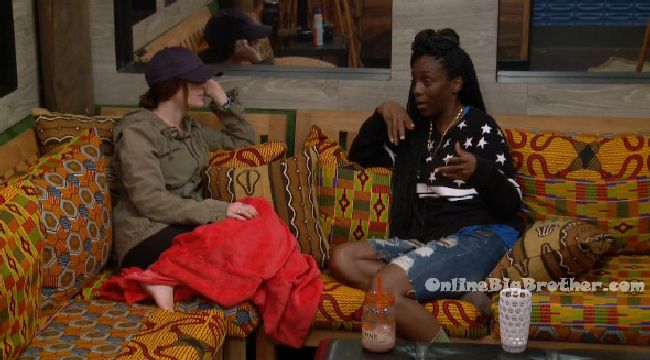 12am DaVonne and Michelle head into the safari room. DaVonne says something tells me they will try to push out Tiffany to push in Paulie. Michelle says fine with me. DaVonne says but for how long do we keep Paulie in this game. That's my only fear. DaVonne says my problem is that Frank said Bridgette, Bronte, Tiffany. Michelle asks to what? DaVonne says to get out. These are all girls .. why are we not going boy, girl, boy girl ..until its just us eight left. Michelle says I feel like he might start rubbing people the wrong way soon. DaVonne says not the guys. The thing is I don't think Vic is gunning for us. And if he gets put up he is definitely not gunning for us. Its too early for us to do anything about it. I am almost hoping he comes back because he won't be gunning for us he'll be gunning for them.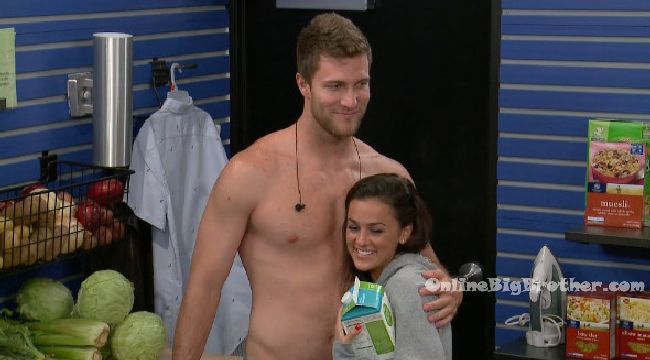 12:15am In the storage room – Natalie asks Corey if he and Nicole are in a showmance. Corey says she's just a friend. It really makes me mad when people say sh*t like that. Seriously!? Natalie says I'm sorry. Corey says me and Nicole are strictly friends. If people bring it up say no they're not. I don't want her to think that either because I don't want to hurt her feelings.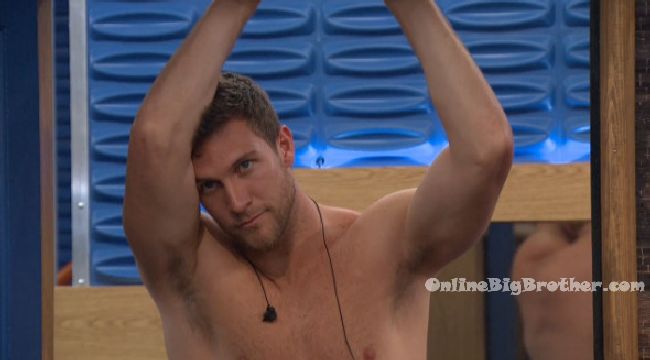 1am They're cooking pizza. They set a timer and it went off but no one told Frank. Frank says ya'll are f**king j**koffs. Nicole says the timer went off. Frank says it doesn't matter, I only set the timer so that we could check them and make sure. James says we can put them back in there. Frank says but now they're cooled off and the whole heating process is f**ked up. Nicole says calm down Frank. Frank says ya'll are f**king idiots. Ya'll were like shouldn't have cooked two pizza's and now ya'll are just wasting two of them! They're f**king idiots. If a pots black, I'm going to call it black. Paul says that's racist. James says that's racist, you shouldn't call anything black. Frank says I'm going to talk to my teammate and one of ya'll are going to be on the f**k block by the end of the week. Paul puts on his glasses and becomes Patty. He tells Frank get your a$$ out of my kitchen. I slave over the god damn stove all day .. get your curly a$$ head and go to bed! Frank grabs the cucumber called Frank and says he's going to throw it in Paul's bowl. Paul grabs it and Frank wrestles for it back. Paul says this is considered r@pe in a few countries. Paul says somebody screen shot this:
1:30am The girls clip in hair extensions into Frank's hair.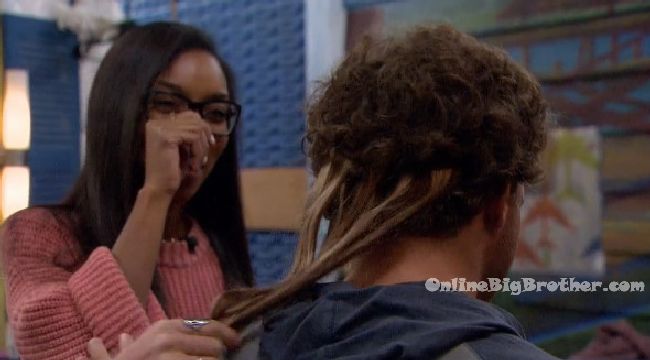 1:40pm Frank, Nicole and James are in the bedroom talking. Frank says I'll tell you what after Vic finds out … I am not sleeping down here any more. He's going to smother me with a pillow in my sleep. James says he's been really calm with everyone.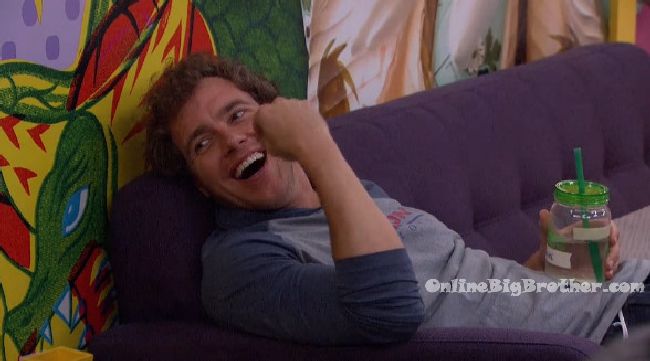 2:30am – 2:45am In the kitchen – Nat Nat, Corey and Paulie are finishing off the pizza. Natalie says that she's bombed all the roadkill comps. Corey asks even the taking off your clothes comp. Natalie says I don't have that much experience with that. If I'm not in love, it ain't happening. Meanwhile in the bedroom – Frank, Zakiyah, Nicole, Michelle, Paul, Bridgette and James are chatting about random things. They talk about what hotels they stayed at during the land before time.
2:50am – 3am Havenot room –
DaVonne tells Zakiyah that Nicole came to her today about a final 3 between me, you and her. DaVonne says Nicole wants Bronte out bad but the house wants Tiffany out. Zakiyah says I don't trust her. She's a guys girl. She's another Bridgette. DaVonne says I want these boys out but Nicole is right .. right now we have to dance to their tune. DaVonne says to herself I need to somehow someway get Frank out of this house. Should I trust these girls to vote him out. Its too early. Maybe I have to start doing the same thing, making sure I've got the votes in jury. Walking around here like blaa bla bla.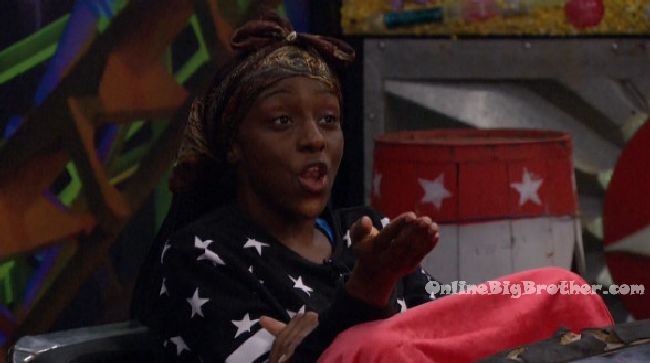 2:55am – 3:20am Michelle says that one valentines day she made a fake facebook account called Brody Schiller and went to Walmart and took a photo chocolates and posted it saying best boyfriend ever!! She says later she was dating a guy and he would never get jealous so I started commenting using the Brody Schiller account. He got jealous and eventually admitted it was fake .. he almost broke up with me because he thought I was crazy. Paul says you're a psychopath and I love it. Michelle says she photoshopped her face and his together. She says she also photoshopped a fake bus pass because "that sh*t gets expensive, 60 cents each way!"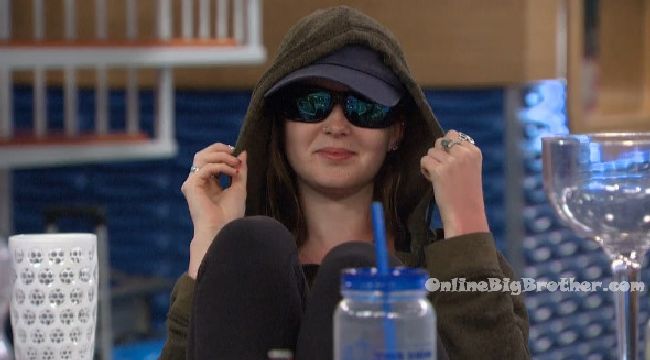 3:35am Zakiyah and Michelle head to the hammock. They talk about Bronte. Zakiyah says she is freaking annoying. Michelle says I think Paulie and Frank are trying to make a final two deal like Derrick and Cody. Who would you vote for if they were final 2? Zakiyah says I would not vote for Frank. Tiffany makes me nervous.. I don't like the way she's trying to link up with Paulie. Michelle says I don't think she's playing a very good game.. its suspicious. Zakiyah says that her and Paulie don't talk that much any more. Michelle says watch when you get HOH. Zakiyah says then he'll be up my a$$.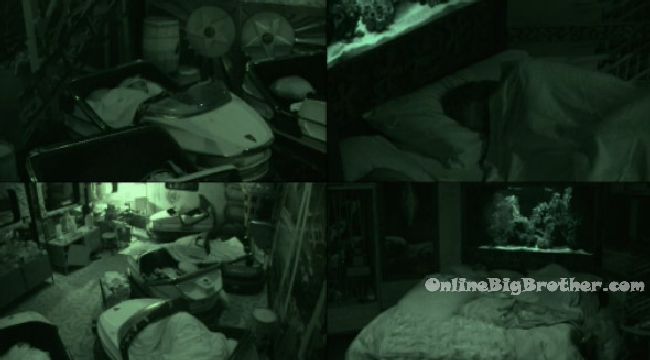 7am The house guests are still sleeping..
FLASHBACK and watch everything you missed: CBS All Access FREE Trial!

[polldaddy poll=9459672]