POV Holder:
Paulie
POV Competition
July 1st?
POV Used
Yes
POV Ceremony
July 3rd?
HOH
Paulie
Next HOH
July 7th
Roadkill Competition Winner:
Victor
Original Nominations:
Paul, Bronte and Tiffany
After POV Nominations:
Tiffany, Bronte, Victor
Have Nots
Da'Vonne, Paul and Zakiyah
Big Brother 18 Alliances Help Guide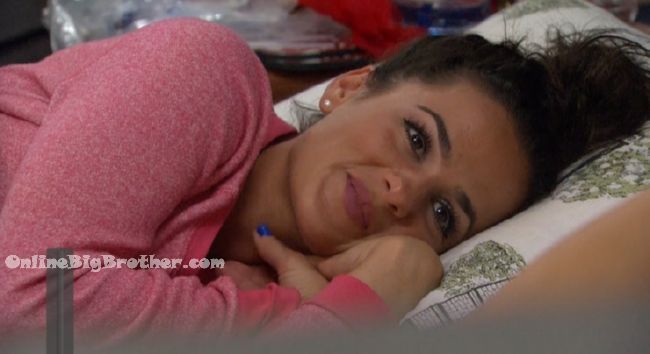 8:22pm Feeds back Everyone is stuffed having all ate too much. Even the have nots got food.
Bronte and Natalie talking. In the room. Bronte starts by saying she doesn't think the group of 7 that voted Jozea out is going to split up. Natalie thinks it is says theres a girls alliance brewing.
8:25pm James, Vanessa, Corey, Frank and Paulie
Talking how Victor is convinced he's staying.
Paulie – He thinks the girls are voting for Bronte to leave so he has little or no votes.. He thinks if it's a tie I'll keep him.. Umm no
Corey – 10 – 0
Paulie – Natalie Bridgette and Paul won't vote for him
Frank – He's not counting Bridgette's vote
Paulie – He thinks Michelle is voting out Bronte
They laugh at the fact Paulie went through all this trouble to get rid of Victor and Victor still can't see it.
Corey – When you took Paul down he should have known he was leaving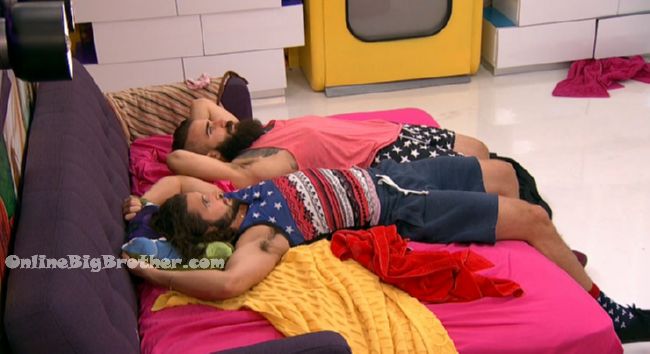 8:31pm Paul and Victor
Victor says he's fine from what he's heard today. He's not sure about Natalie. He'll wait for Bronte to talk to her. Victor is going to lay off the campaigning for a bit now.
Paul says he doesn't trust anyone in this house. If Victor goes he's screwed. Victor says Da'Vonne, Corey, Frank, Nicole and hopefully Natalie are all on board.
Victor says he misses Jozea but teaming up with him really screwed them, "We're paying for it… "
Paul – I hope he's like OK… he was really hurt I could tell
Victor – I was in shock bro.. I just wanted to hold on to him
Paul – I felt really bad.. That he was lied to
Victor – my heart sank.. I was like f** we're next..
Victor – I'm happy I put up Tiffany instead of James.. I knew if he won Veto I was going up.
Victor starting to clue in that "Something weird" is up with Paulie using the Veto. At first he thought Paulie used it because he felt bad for putting Paul up but now not sure, "Why ruffle more feathers" Victor says it's been really hard to hold his tongue.
Victor says they are in the house with snakes.
Paul recommends he goes up to the HOH and hang out they can't be seen talking like this.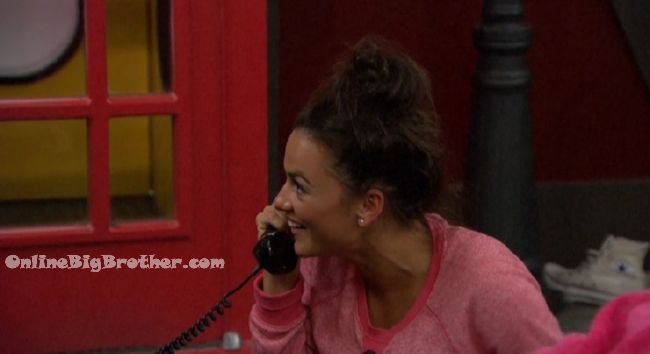 8:46pm Playing with the Phone.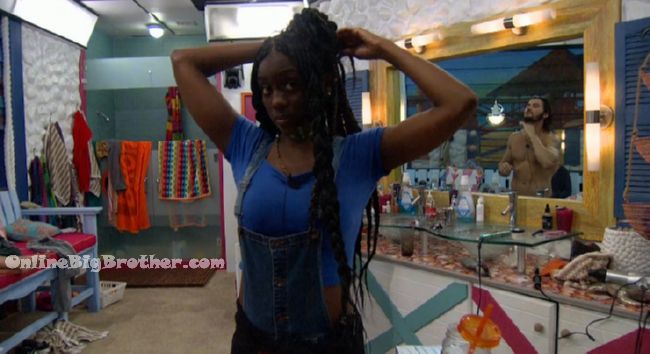 8:55pm Da'Vonne and Nicole
Da'Vonne saying Natalie isn't coming after any of them she still doesn't want her in Jury because that's a vote for James.
Da'Vonne says they were saying her season was going to have a "BuyBack" because a lot of personalities went home early.
Nicole thinks they will have a "PreJury Buyback" this season.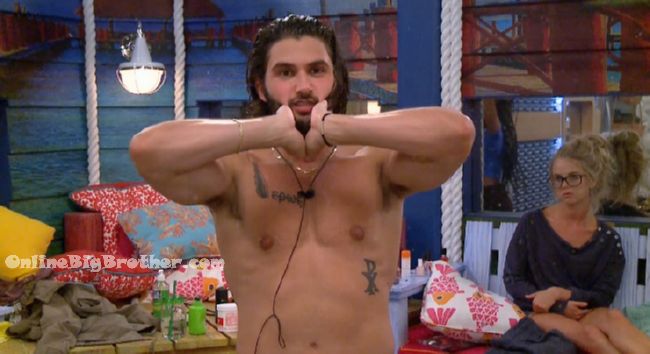 9:05pm Victor, Nicole and Da'Vonne
Victor – I'm getting crazy in this house
Nicole – what do you mean
Victor explain she's missing home..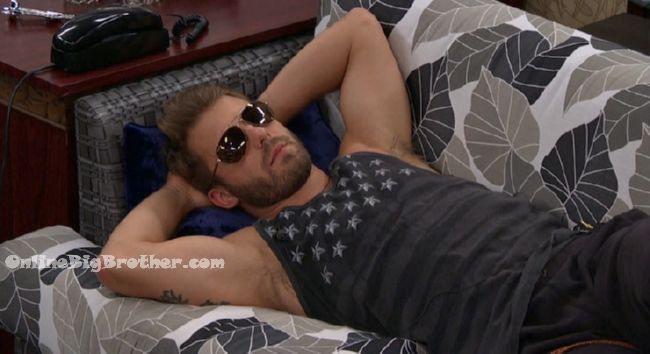 9:05pm Corey, Paulie with Frank sleeping
Corey about Paul "He's Vic in my eyes"
Paulie – I see them all and I see Jozea.. He left a lasting impression
Corey thinks Paul is the most likely to lie out of that other group. Corey mentions all the stories Paul tells that are obvious fabrications.
Paulie asks about Michelle
Corey – Michelle loves us.. She's so onboard with what we are doing..
Paulie – use three
Corey – She adores us.. She would not mess with us I'm for dang sure
Paulie says Da'Vonne, Nicole and Zakiyah all have their backs.
Corey says Bridgette and Natalie are starting to annoy him.
Corey and Paulie agree Bronte has a wild side.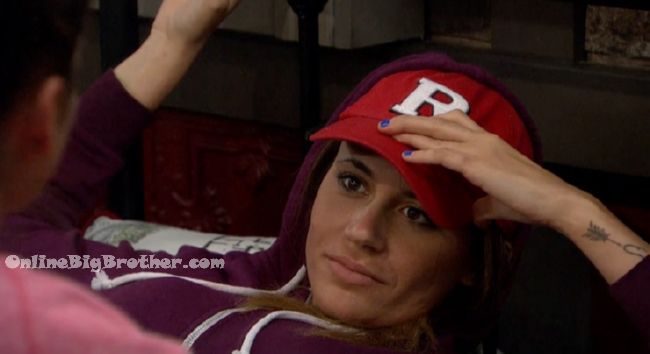 9:33pm Feeds back after being off for 30 minutes.
9:35pm Tiffany and Natalie
Talking about how fake Victor is.
Tiffany – he's so clueless
Bronte joins them
Tiffany – it's going to be 10 – 0
Bronte – what about PAul
Tiffany explains Paul is voting the way Paulie wants him to for paulie using the POV.
Tiffany – I even threw the Veto competition for this to happen… I knew not winning would be better..
Natalie says if she wins HOH she's not nominating a girl.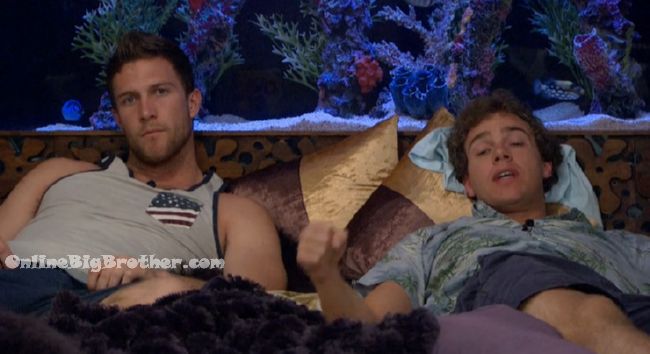 9:51pm HOH Paulie, James, Frank
James warns them every time he's in the london room Tiffany is huddled with Bronte and Natalie.
Frank telling them Bridgette is filling him in with what the girls are planning. says Tiffany does not like him called him a male Chauvinist. James chimes in that's what Vanessa called him last season.
Frank – they think me and you have something going on
James – me and you… we don't even hang out that much
Corey joins them. Frank is proposing they take out Bronte and Tiffany.
James- we keep taking the guys out they will turn.
Frank and James agree Tiffany and Bronte are "Girl power"
Paulie – Bridgette is girl power..
James says Tiffany know she's not close to Michelle but she's trying.
Frank clears up they still take Victor out this week.
Paulie says that leaves Bridgette, Natalie and Paul.
Corey now saying they get rid of Victor then Tiffany/Bronte followed by Paul
They want to give Zakiyah the HOH because it's her birthday. Frank says Corey's and James' teams need to throw the HOH for the next 2 weeks.
They all agree Nicole, Da'Vonne and Z are solid on their team.
10:16pm London room Nicole and Tiffany.
Tiffany – weird that they pick our team to win HOH though.. (Feeds cut)
Tiffany – what do yo think of Paulie
Nicole likes him
Tiffany like him to but points out he's not in the alliance..
Nicole agree says he basically is in the alliance.
Nicole thinks all the guys have their best interests for now.
10:52pm Nothing is going on…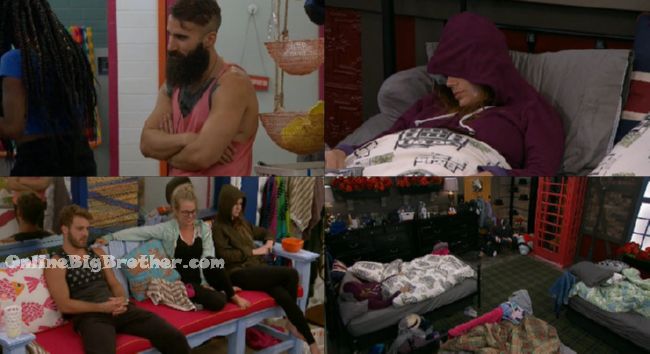 11:13pm Chit chat..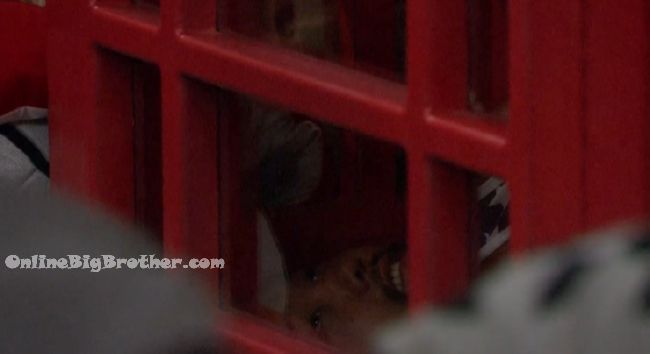 11:30pm James ready to pounce.
FLASHBACK and watch everything you missed: CBS All Access FREE Trial!

[polldaddy poll=9459672]