Quick Big Brother Spoilers
Head of Household: Daniel
Nominees:
POV Players:
POV Winner:
Veto Ceremony:
Evicted:
Havenots: Joe, Michael, Monte and Kyle
Lock your day 2 ranks in before midnight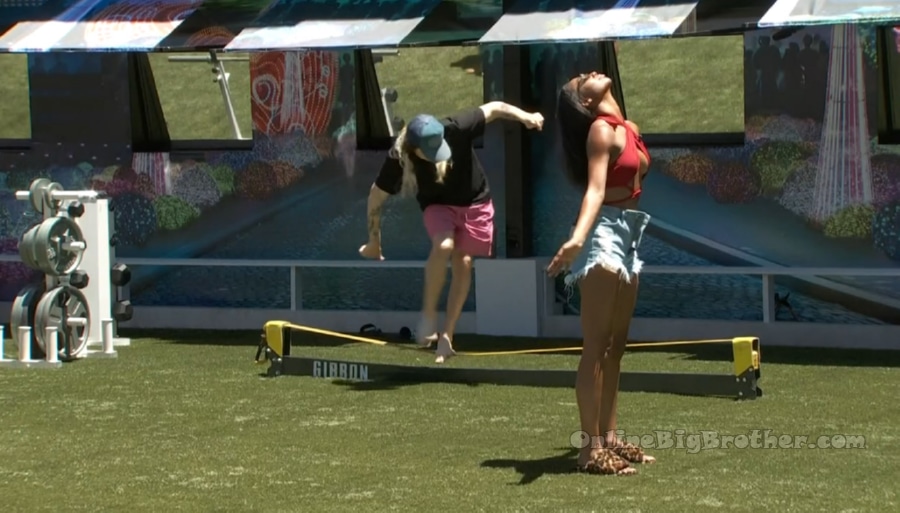 12:23 pm the backyard is open for 2 hours.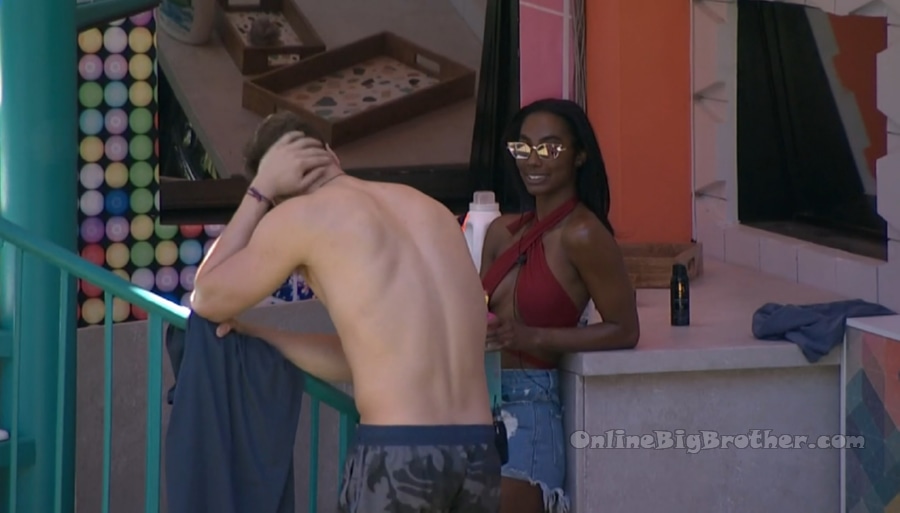 12:34 pm Kyle and Taylor
Taylor asks if he's been talking game
Kyle – It's been low key. everyone is trying not to be the first to say anything
Taylor – Everyone saw Frenchie (the clown) from last year and said won't be me.
Kyle – I'm no saying a word.. two weeks in I'm still not saying
Taylor – it's scary because when you're not talking you are thinking is everybody else?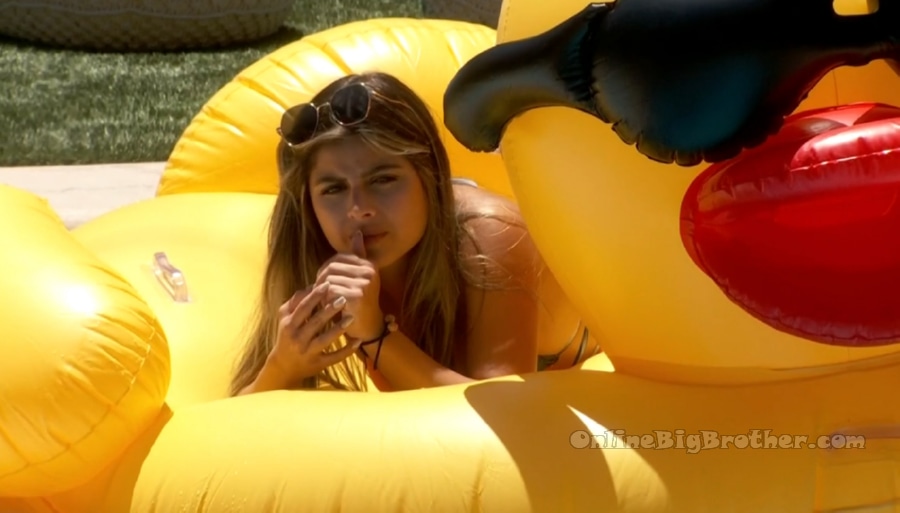 12:41 pm more or less the entire house out near the pool. Chit chat.

#BB24 We get 2 hours of the Backyard feeds today. pic.twitter.com/tN8QyvXru5

— OnlineBigBrother.com (@bigbspoilers) July 7, 2022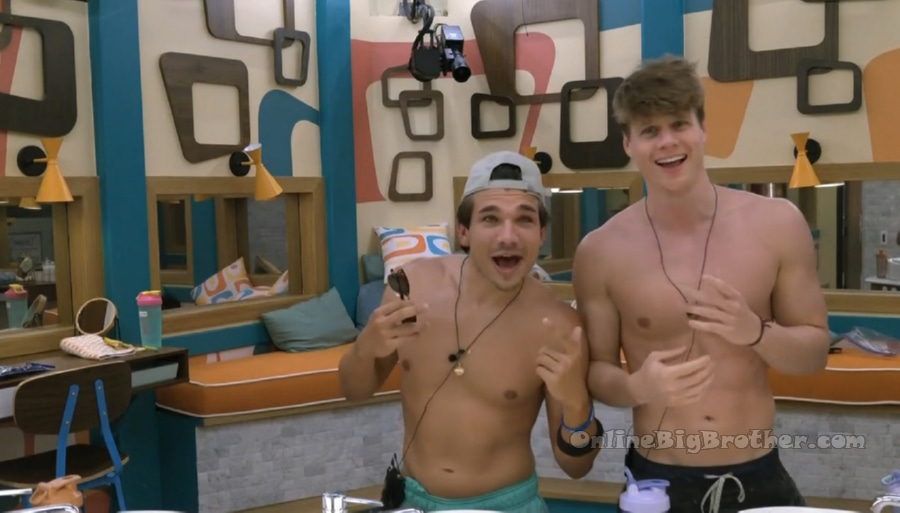 1:16 pm Kyle and POOCH
They joke around about being called "The blue-eyed bash Bros"
Kyle – did you talk to Daniel a little about..
POOCH – yeah
Kyle – do I approach him?
POOCH – for sure.. I'm going to sell it.. I got you next week. With him he's super cool. but I see him saying lets get out strong guys .
Kyle- Gameplay smart
Pooch – girl wise.. you want the numbers you want 8
Kyle – I like Nicole she's strong
POOCH- absolutely
Feeds flip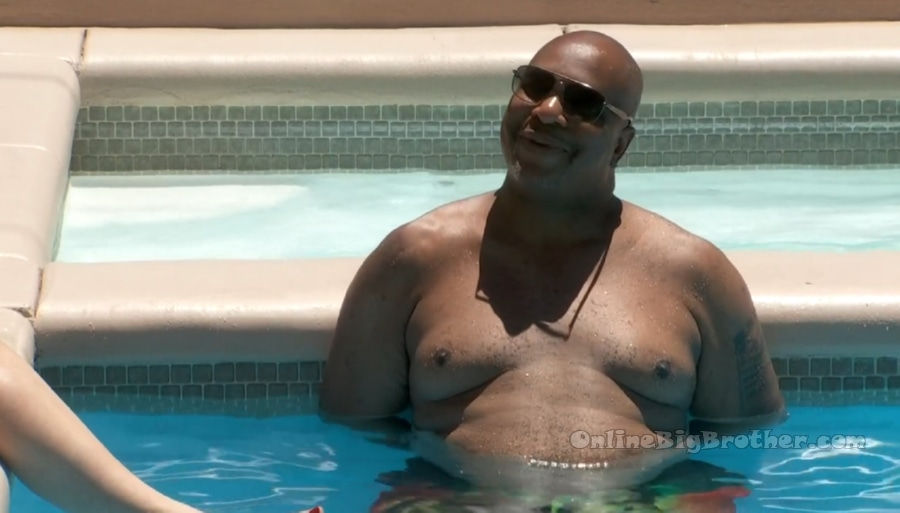 1:31 pm Terrance, Brittany
Talking about their Spouses. Hard to hear but sounds like she was hoping to form a "Crew" of people that are married.
Terrance – Me, you, Jamsine, Nicole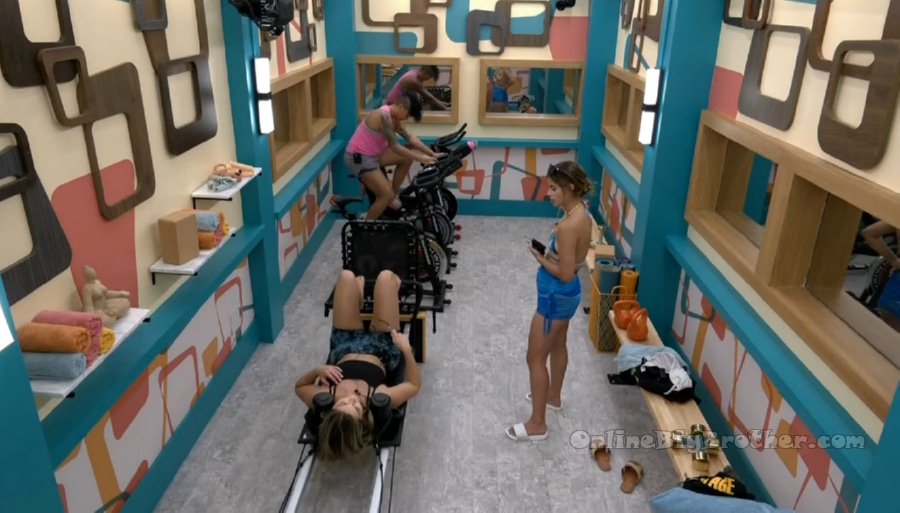 2:30 pm Chit chat, work outs etc etc.. Backyard time is over for the day.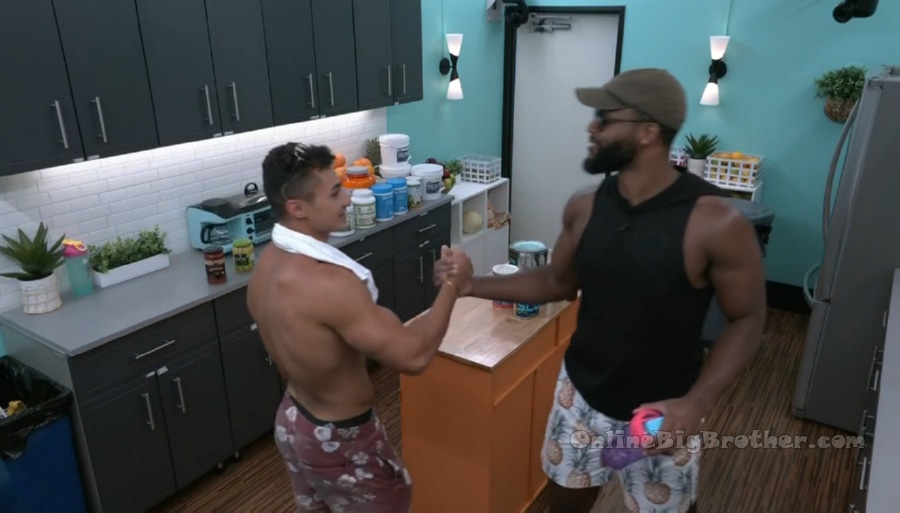 2:35 pm Joe and MOnte
Broing out
"Lets get it man"
"All I got to say is I gotta run a week with you when we're not like this.. I'll leave it like that"
"Real talk…. real talk…we're definitely not full strength"
"We're not full strength and like.. bro you're good peoples and we gotta keep that around… 100% "
(LOL)
"yeah yeah yeah "
"The second I saw you and you made the GQ clown … "
….
"what do you think about flax seeds"
"Bro bro I'm all for these vitamins just becuase of our diets"
"We need to get it in"
"we need to sub.. "
"Phyto based"
"This one is pretty solid" (They have what seems to be a dozen Protein powders)
"what? that protein"
"I think this one is better"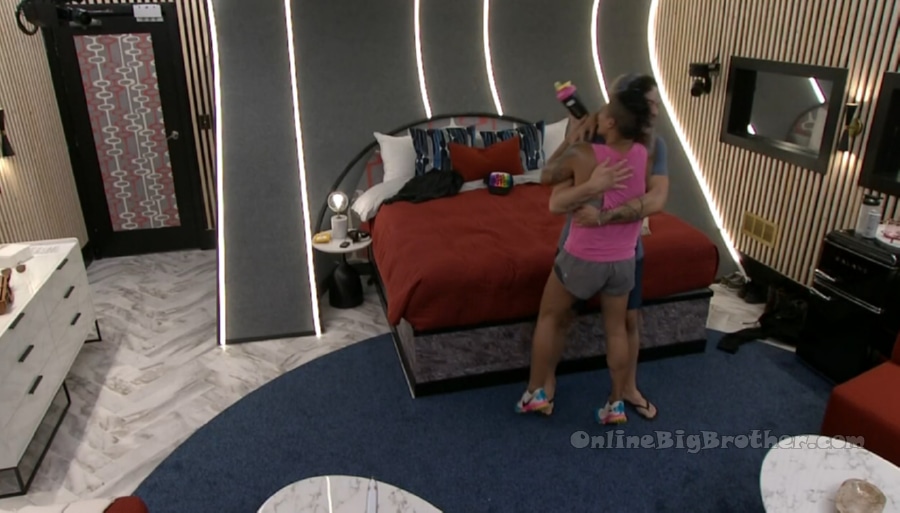 2:43 pm Daniel and Nicole
Nicole – has anyone come up to you yet
Daniel – Ameerah is the only one .. I'm pissed (pissed nobody else has talked to him)
Nicole – I'm pissed
Daniel – you're my number one I'm telling you now
Nicole – you're my number one you're giving me goosebumps.. lets do this oh my god
Daniel – no matter what happens next you'll be my number one
They agree to "Vibe" with other people and keep their final 2 secret.
Daniel – when you see me with these other f**ing guys.. I don't want a machoman to win this f**ing show I want them out. But we have to do it strategically not right away
Nicole – we need to figure out how to even the house out to.. nobody wants to talk strategy nobody wants to talk game. It's bothering a handful of people down there
Daniel – if you see me with other people it's because I'm trying to advance our game. I'm going to try to link up with these big f**ing dudes and me like 'HEY YO Know'
Nicole – I'm hommies with Monte and Terrance
Daniel – we need one BIG dude that can also be a target later on
Nicole – that's where I feel like it's going to be hard .. they'll protect each other to the point they will push to get someone else out
Nicole – is there anyone you are not feeling at all
Daniel – F*** … game wise? it's tough. I think Indy maybe.. only because we haven't talked.
Daniel – I'm pissed that no one has come up… at all today. I'm not supposed to be search out you guys
Daniel – if you have Terrance and Monte I have Paloma.. she's dope we're getting along
Nicole – Turner is my little Hommie..
Daniel – will he win comps?
Nicole – he won yesterday
Daniel wants to call their group "Rouge Rats, From rats to riches"
Nicole – if we build alliances outside of the two lets try to keep each other on the up and up
Nicole says POOCH gets to compete in the HOH next week
Daniel – I'm getting dope vibes
Nicole – I am too. I want to see if he approaches me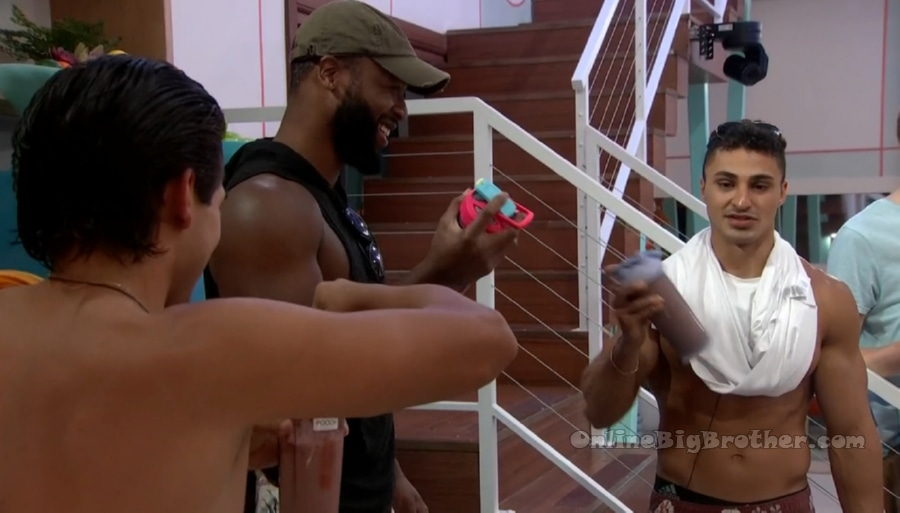 2:49 pm Happy Bros finally get their protein shakes.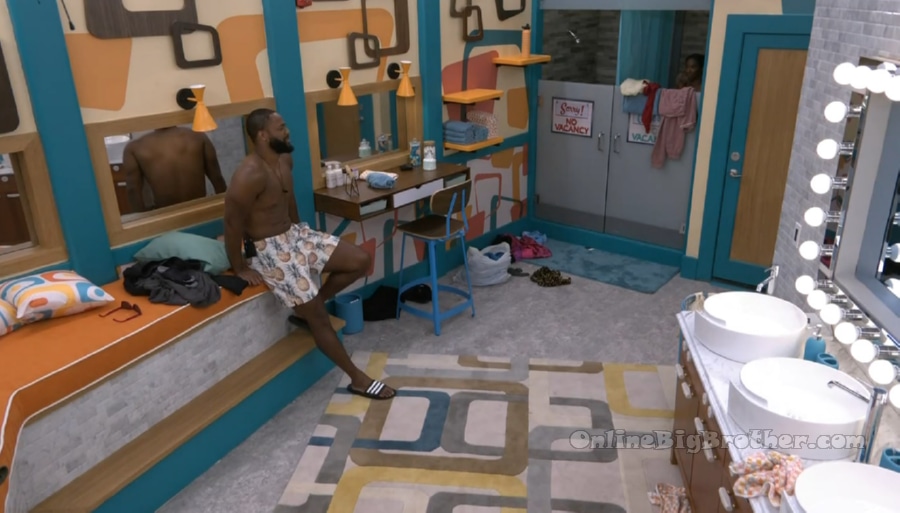 3:24 pm Monte and Taylor
Chatting about how nobody is talking game.
Taylor says nobody wants to get Frienchied (the clown) and play too hard too soon
Monte asks if she's vibeing with anyone
Taylor – I get along with a lot of people really well but I'm not super close with anyone
Taylor – I really like Nicole a lot
Monte – Nicole is great
Monte likes the group they talked with during the first competition with the porta potties. (Monte, Kyle, Jasmine. Nicole and Palomar.)
Monte – POOCH is cool people and I really like the porta potty group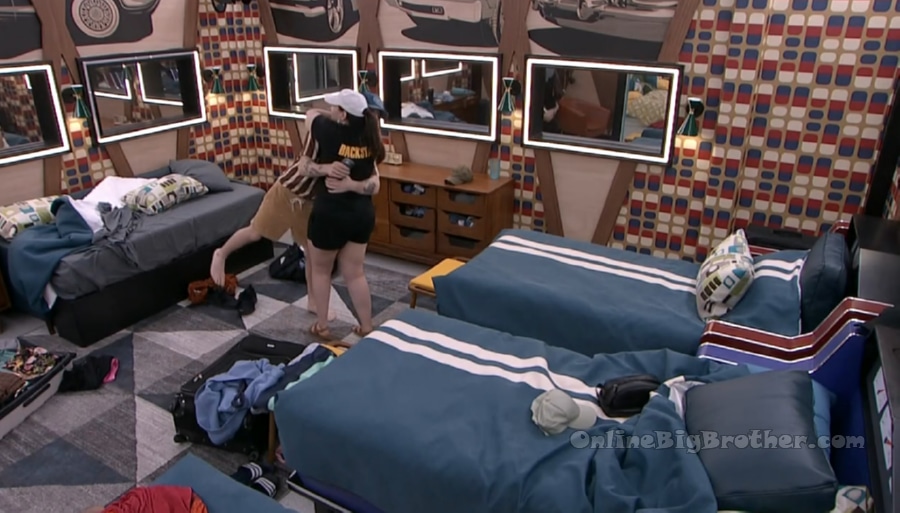 3:50 pm Brittany and Turner
Brittany – I swear I will ride with you to
Turner – hell yeah
Turner – we have something now lets go. I will never nominate you you will never nominate me
Brittany – we're a good compliment.
Turner – I come to you with sh1t you come to me with sh1t. keep this between us.. us till the end baby lets go
Turner – I don't know anything. that's why I didn't want to go to be. I as like are people talking?
Brittany – we need to be careful with the girls.. that's all I'm saying
(another final 2)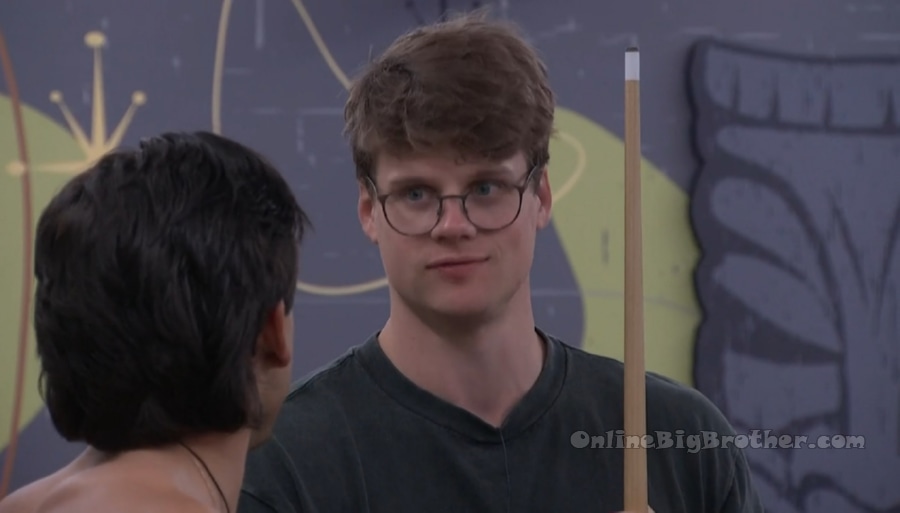 4:03 pm POOCH and Kyle
They tried to get some time in the HOH with Daniel but were interrupted by Michael. Kyle is a bit nervous if the Nominations are tonight and he doesn't get a chance to talk to Daniel.
POOCH – which girls do you like?
Kyle – I don't know dude which girls do you like
POOCH – Some of the older girls are cool. You can see Daniel and Nicole are happening like in a group.. Taylor she's not dumb you can see she not afraid to speak her mind. She's not somebody I want to be tied up with. She's got to go. I don't think he'll put her up. She;; show her true colours.
POOCH – whoever puts her up it'll be a loud week. A loud week.. I would do it but it's not worth the f**Ing headache.
Kyle – that's a later game move.
Kyle – she wanted to talk game with me earlier..
They both like Monte and agree he's someone they need to get clsoer to he'll be good at challenges.
Kyle – I like Joe to.. I hate to say it but a Boys alliance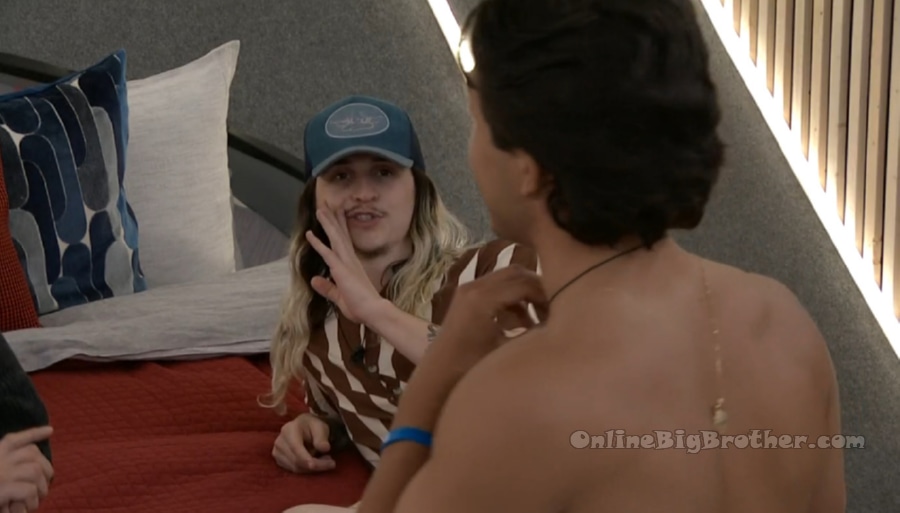 5:05 pm Daniel, POOCH, Turner
Turner says if he had to drop a name he would say Michael.
POOCH – it's only week one it's a hard decision
Turner – If it was me he would be on the block
Turner – should we have an alliance name bro
Daniel and POOCH are down.
Turner suggests a name they can't use but would be fun to call the alliance production.
Daniel – is there someone you are vibeing well with?
Pooch – I have one person. I really like Kyle. Good dude.
Turner – The people I see that looks like they can be winners is Monte and Kyle.. Both big a$$ dudes.
POOCH – Monte reminds me of Xavier from last season.
Turner- I'm vibing with Alyssa.
POOCH says he vibes with Nicole.
Daniel – I'm going to hit her up (Alyssa) and be like we are kind of waiting to see what happens with the backstage.. just so you know
Poooch – we got your back
Daniel – we got you're back. Just want you to know we like you a lot.
Daniel – if it flows we'll bring her into this sh1t
Turner – is there anyone you aren't vibing with.
POOCH – the only person I would be scared to work with down the line
Monte joins them game talk ends. (Another final 3)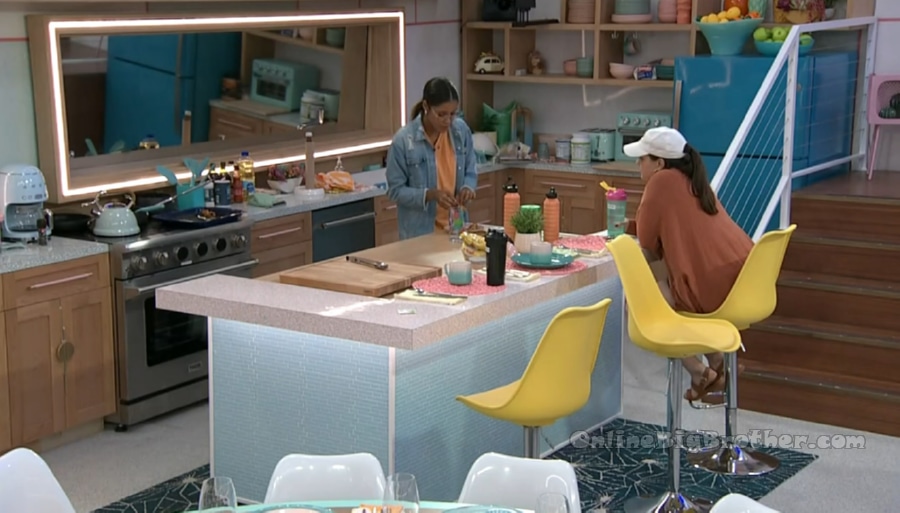 5:25 pm Ameerah and BRittany
Ameerah – something is up with Taylor. She been around the girls more today. I think she's trying to umm .. like why is she hjagning out over there?
Ameerah – you know what I mean?
Ameerah – she's wandering around in circles
Ameerah mentions how she wishes they could trust Taylor because they need all the girls they can get but it's too late. Ameerah trust Nicole more than Taylor
Brittany – Nicole talks to the boys a lot
Ameerah she also talks alot with Indy..
Ameerah – do you trust her?
Brittnay – I do
Ameerah – she's close with the boys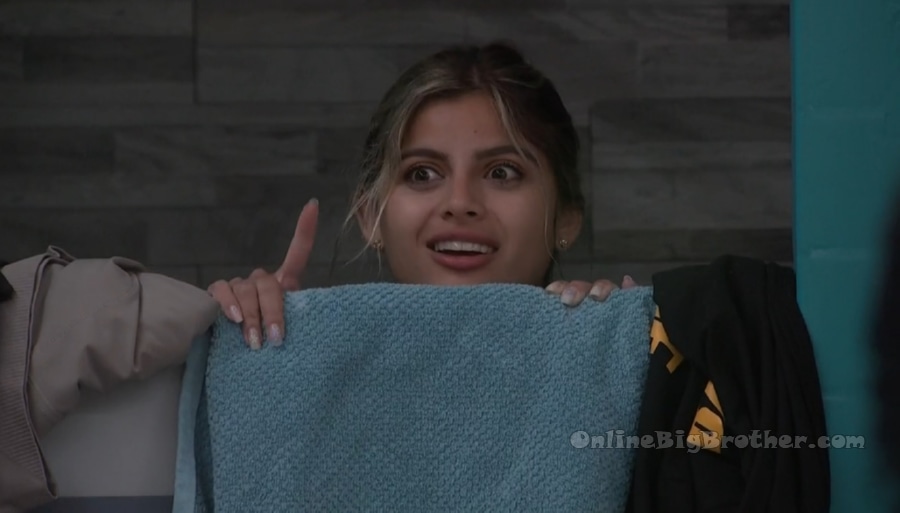 5:33 pm Ameerah, Paloma and Jasmine
Ameerah going over her conversation with Daniel earlier today.
Paloma says a guy has got to go this week.
Ameerah – if a guy doesn't go you know he's working with them
Paloma stresses they have to get two guys on the block.
Ameerah – he (Daniel) said why don't I put up Michael and a strong player
Jasmine – I think Britney's loyal
Ameerah – I just talked with her in the kitchen she's solid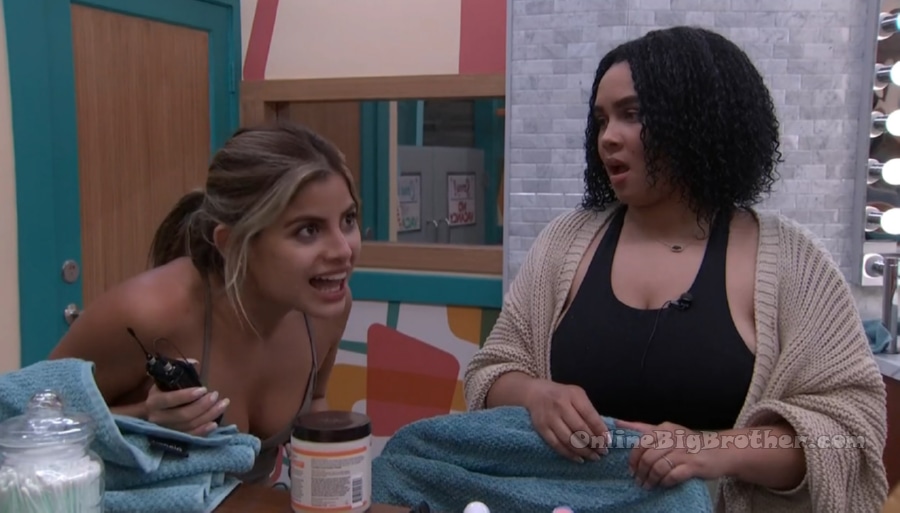 5:45 pm Paloma, Jasmine and Ameerah
Paloma – when I was taking a shower. Taylor was doing her makeup over here and then i'm like.. washing my body I pop out and go "oh HEY"
Paloma – She said oh my god why do you look like that.
Jasmine – she is on a whole other level of..
Paloma – she's in a whole other level.. Oh my gosh why do you look like that
Ameerah – I hate that
Paloma – Brio aren't you aware you come across as a b1tch. I don't even know she tries to be a b1tch
Ameerah – it's natural
Ameerah – she's been trying to hang out.. I think she's a spy for them
Paloma – one of the guys

6:05 pm A chunk of the house is hanging out in the HOH sharing random stories.
Terrance is a big Coldplay fan.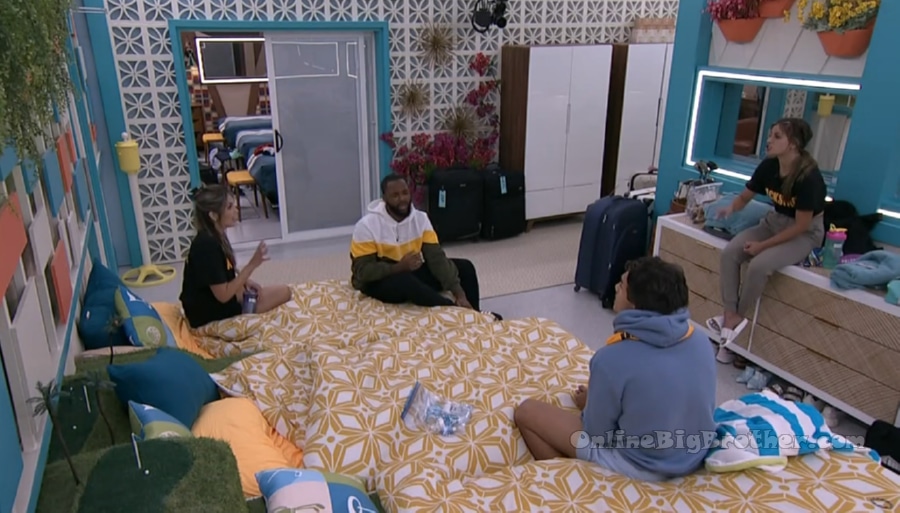 6:24 pm Monte, POOCH, Alyssa, Paloma
Talking about what girl they need to bring in to lock down their 6 with Kyle.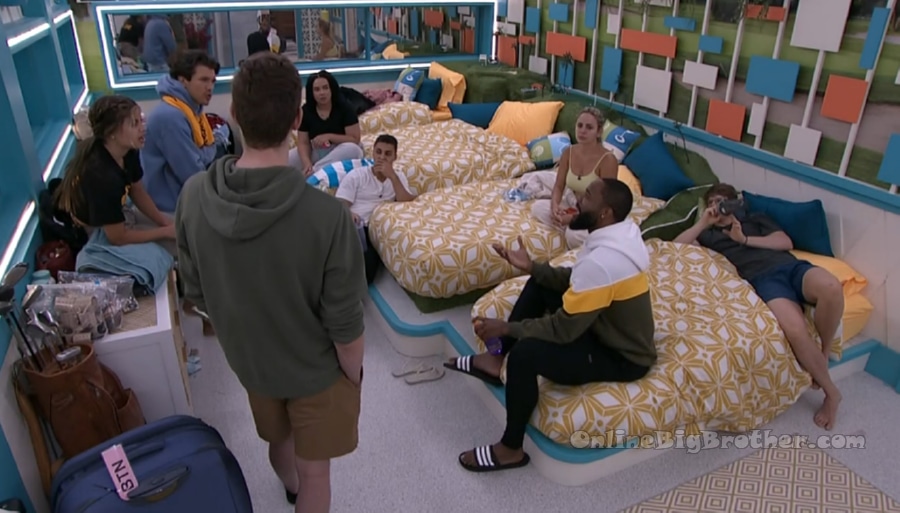 6:46 pm Chit chats