Quick Big Brother Spoilers
Head of Household: Daniel
Nominees:
POV Players:
POV Winner:
Veto Ceremony:
Evicted:
Havenots: Joe, Michael, Monte and Kyle
Lock your day 2 ranks in before midnight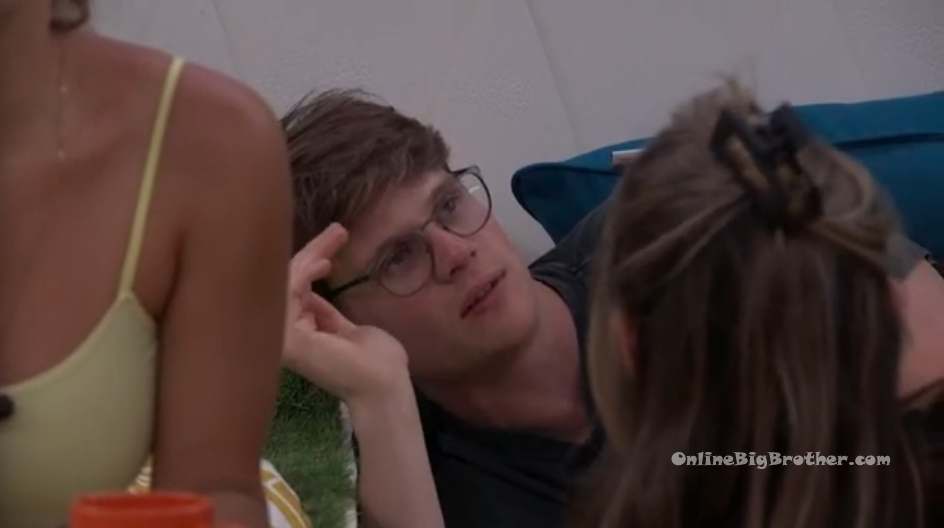 7:05pm Bedroom – Kyle and Alyssa
Kyle – have you ever gone live on tiktok? Alyssa – no. Kyle – I do all the time.. you can make a lot of money doing that. Alyssa – do people send you gifts and stuff. Kyle – yeah. Alyssa talks about how she does social engagement for companies. Working from your phone so much is nice to not actually have it. Kyle – what are they doing while you're gone? Alyssa – I don't know. I don't know if I'm going back. Jasmine joins them. Nicole (the chef) comes in and tells them that Tylor needs help in the kitchen with dinner. She says she is feeling really weak and needs to lay down. Nicole – I was literally standing with her in the storage room and then I just couldn't stand anymore. Kyle – is it something you ate? Nicole – it feels like I didn't eat enough and then laying out in the sun too much. They talk about going to bed early once 10 o'clock hits. Kyle – last night no one wanted to go to bed and be left out and now everyone wants to go to bed early because staying up all night isn't sustainable. The live feeds are going to be dead tonight except for us (havenots) tossing and turning trying to sleep.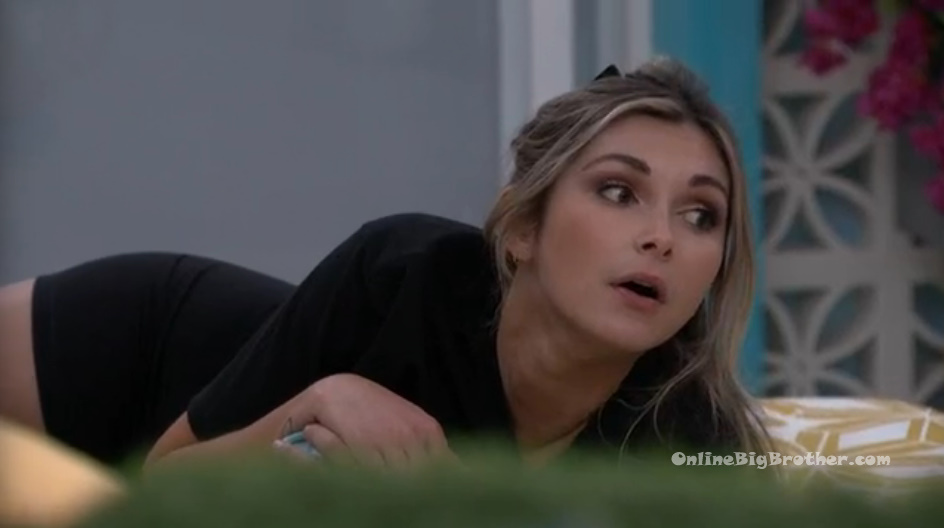 7:25pm Storage room. Monte and Pooch.
Monte – I think we have a solid thing going on with the two girls. Pooch – Good people! Its tough because you want to be with people that you might not realize. Like people that are younger but you get along well. Monte – yeah, I think Alyssa is going to be solid for keeping her cards close to herself. Pooch – I think that she just doesn't open up to too many people. Monte – which is good. You don't want wildcards. Pooch – if you want wildcards, you want them on the outside. Monte – like input information but it can't get out. Pooch – its important that we pick the people wisely. Me, You, f**king Kyle, the two girls (Alyssa and Paloma). One, two, three… five people right there. Monte – and one more girl.. they said they feel good about Ameerah. Monte – we'll see how it rocks. Pooch – I'm good with that. Tucker .. or ah Turner is good to .. low key. The other person is Tylor. I don't think she is a bad person .. she is just a dangerous person to be teamed up with. You can tell that she gets nervous quick. I think she could work a political game really well. We have to make sure its not too obvious… I am trying to make sure I spread myself thin and hang out with every group. Monte – we need to find time to solidify it. Pooch – hopefully when the backyard opens up there might be time late at night. Monte – in terms of Daniel.. Pooch – we need to make sure this week goes the way we want it to.. so before we go to him we need to know what we f**king want. Monte – and we can set it up like not place targets on people outside of the alliance but.. Pooch – its very dangerous to be like we want this person up because Daniel might like that person a lot. Monte – I think then next week we go for HOH like crazy! Pooch – I don't feel safe without the power. Next week is a big HOH for us. Monte – the thing is just not showing our cards as an alliance. They end the conversation and leave the room.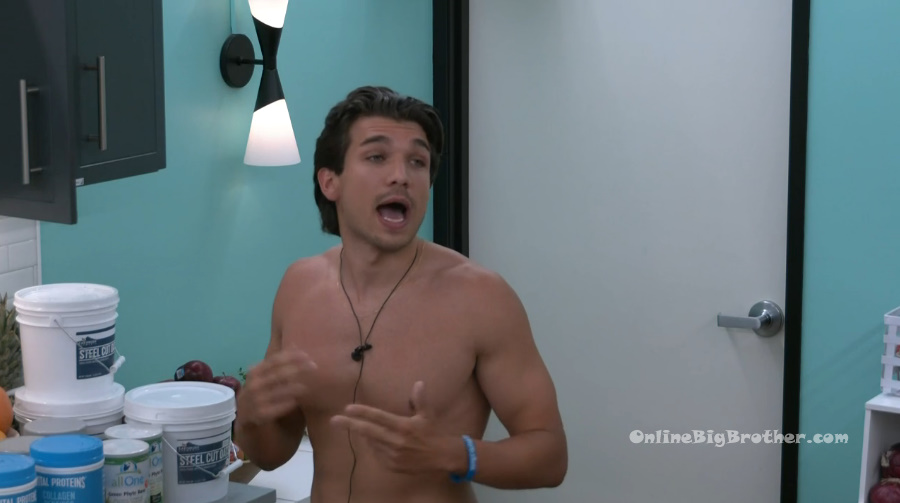 Storage room. Jasmine and Ameerah.
Jasmine – I'm scared. (Daniel will nominate her) Ameerah – don't be scared. Jasmine – I still need to talk to him. Ameerah – no definitely talk to him tonight but like what I think he is going to do .. I don't know what he is going to do. Jasmine – tell me what you think? Ameerah – I don't know.. I think that he is going to do two guys. Jasmine – you think he would? Ameerah – I don't know but Pooch and Monte are DEFINITELY a thing. Those two were talking in the kitchen and when I came in they started whispering and started talking about bullsh*t. They are definitely a thing and they're trying to get him (Daniel) in on something with them. Or he is already in on something with them. Jasmine – they're probably going to be like kill the comp. Ameerah – yeah, yeah. Jasmine – Joe is too! Ameerah – oh yeah, they got to go!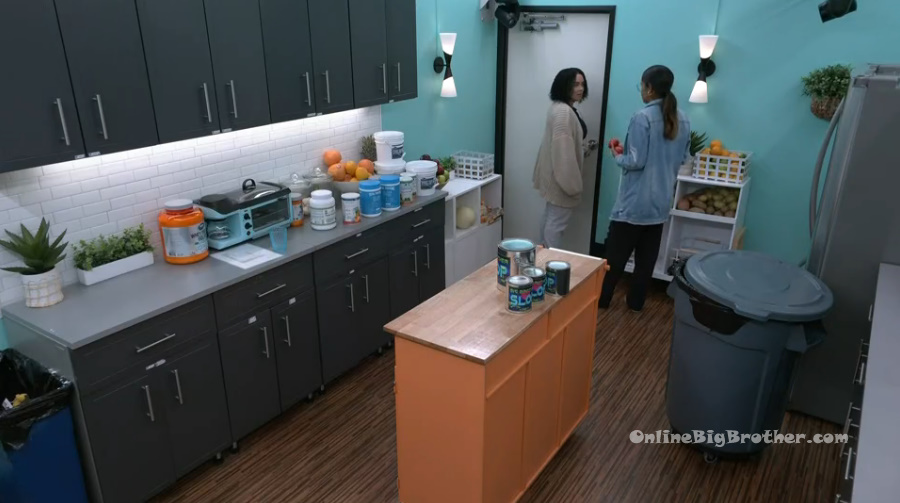 8:10pm Indy made a friend.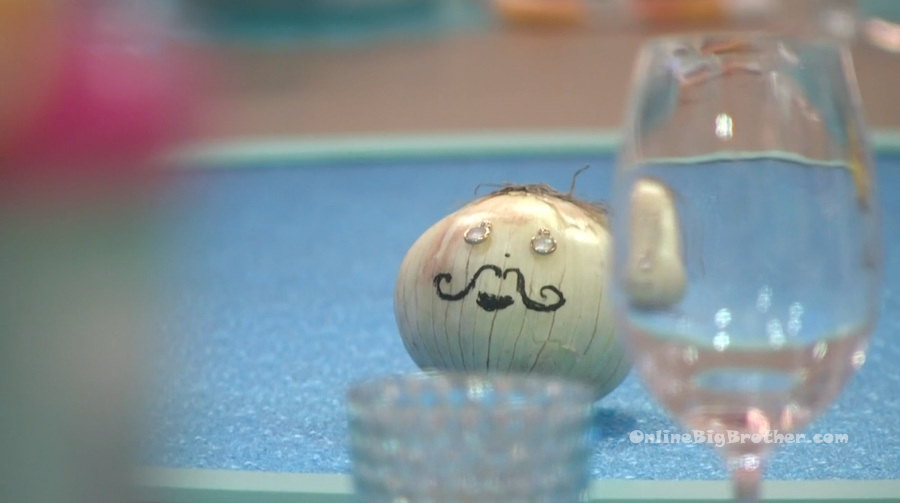 8:15pm Storage room. Pooch and Tylor.
Tylor – who do you feel like you can trust so far? Pooch – I really liked Monte from the jump, you know?! Good dude! Tylor – yeah. Pooch – he's a really good big brother type. And Kyle has been super .. he's a genuine dude because like he is goofy, nervous, he's cool, he's a sweet dude which I really like. Girl-wise there is no one that I need to have out of the house. Tylor – I am down for Nicole. Pooch – oh for sure, absolutely. She is very loyal for sure. Tylor – 100%! Pooch – I don't know if anyone has talked to her. Tylor – everyone is kind of sussing everyone out for vibes and like nobody is trying to go hard in the game. And like I get it, no one wants to go Frenchy. I get it. But I am not trying to have last minute game sh*t happen after noms go up. Pooch – yeah like you don't want to be shot week one. And when there are so many people you don't want to be on the outside week one. Pooch – Daniel is cool. We talked a little bit. Tylor – he is quiet. Pooch – we were isolated a little bit .. where we were .. like it gives us something in common which is good because we're different people. I don't know what his thing is. I don't know if its to go for a big target.. Tylor – it doesn't make sense right now. Pooch – yeah and its one of those things where if you swing you got to hit it. I am hoping to talk to him more because I haven't talked to him too much. They both agree there is no one they really want out right now. For him (Daniel) being the HOH and still being down here doing the dishes .. I respect that because he could have been like I'm sitting pretty I don't need to do that. I'm going to talk to him more. Tylor – I am going to talk to Monte more. Pooch – good, do that.
9:10pm All the house guests are hanging out in the kitchen chatting.
9:25pm Joe and Kyle.
Joe – oh my god yeah the veto too is going to suck. Kyle – yeah its intense. You got to save someone .. because saving someone crews over the HOH because they'll have to put another person up. Joe – its one thing to volunteer for what we did (havenots) but like for eviction or being a pawn. Kyle – oh dude that is going to be so tough. Especially the pawn part. Especially end game ..like people are going up the block so fast. Double Evictions. Triple Evictions. Joe – and like you're losing your friends so fast. Kyle – I mean its crazy everyone that we're building a relationship with at some point has to go home. Its intense dude! Michael – yeah as soon as it (tv) says nominations .. it is going to feel really real.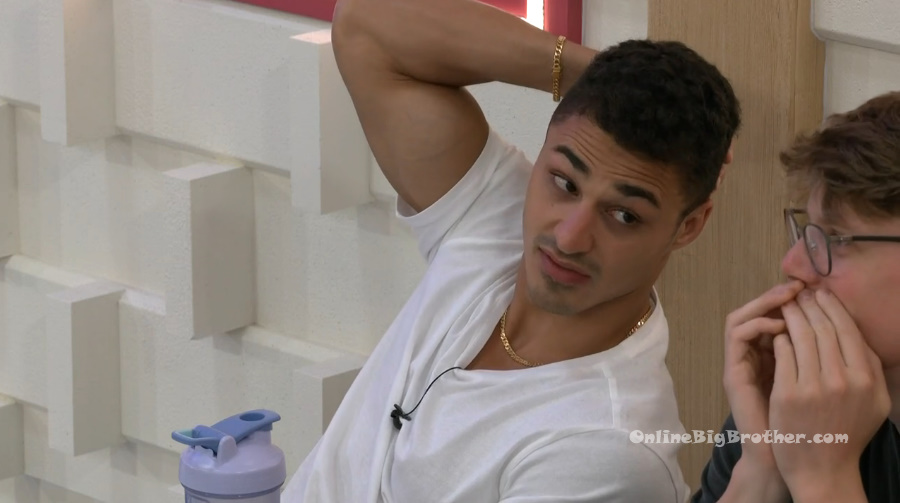 9:40pm Bedroom. Alyssa and Paloma.
Paloma – oh big news.. okay so I talked to Monte, Pooch and was that all that was there?? Alyssa – ah yeah I was there! Paloma – I am dying! Your a$$ was there and I was like which other girl!? I am so tired right now! Oh me and Daniel talked in the pool. Ameerah feels like she is a f**king homie. And she talked to Daniel. She was the first one to go into the HOH room. Indy joins them and the conversation ends. They talk about Pooch. Indy – I think he is going to end up being your person (Paloma). Paloma – me?! No! Alyssa – is he not your vibe? Is he not your type? Paloma – no. He is a sweetheart like he is so nice. Alyssa – what's your type? Paloma – I am going to sound like such an a$$hole but like athlete, tall, like goes to the gym. Alyssa – Monte? Paloma – Yes, but like no! No its like Paloma is like doing her thing and nothing is getting in the way. Alyssa – yeah. Paloma – they have to be over 6 feet. I want to be the baby spoon. No actually .. my type is tall nerd. Alyssa – so like Kyle. Indy – do you think he is cute. Paloma – no, like .. I am not even there.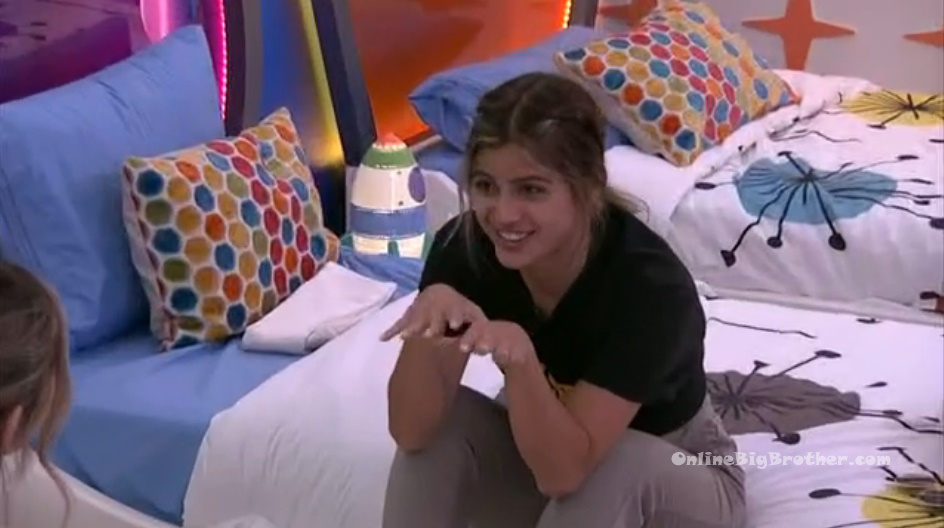 10:20pm – 10:40pm Bumper pool time.