Quick Big Brother Spoilers
Head of Household: Daniel
Nominees:
POV Players:
POV Winner:
Veto Ceremony:
Evicted:
Havenots: Joe, Michael, Monte and Kyle
Lock your day 2 ranks in before midnight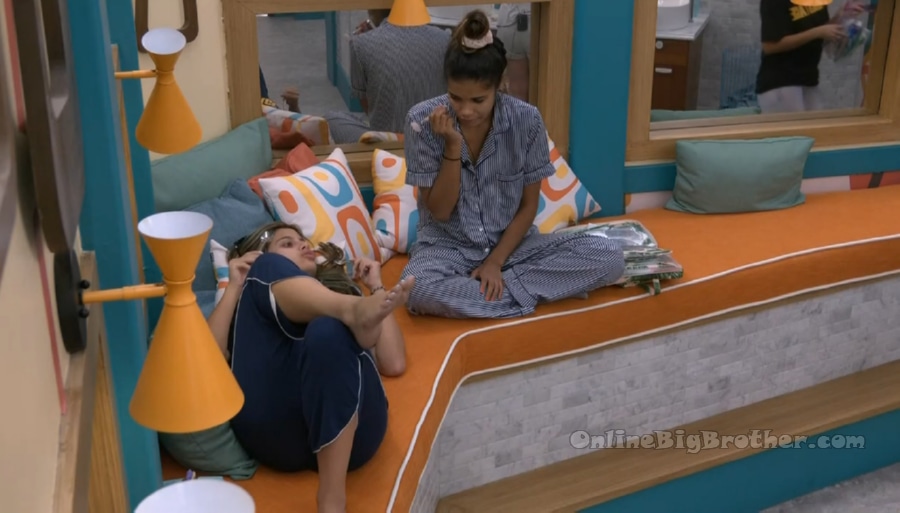 9:20 am Ameerah, Paloma, Jasmine and Alyssa (Tough to follow)
Ameerah and Paloma are comparing notes about where Taylor was spending her time last night. Alyssa and Jasmine are getting ready. Everyone throwing in their two bits about Taylor being a Guys Girl and which Guy they will work to further their Girls alliance the PSL or Girl's Girl.
Paloma – she was up there all night by herself.. so something..
Ameerah – I was waiting… last night I was up in the have nots with all of them. Stayed up the all night to see if they were talking.. NOTHING which makes me think they already did what they need to do.
Ameerah – NOTHING and we were talking about everything.
Paloma – we need one of these guys. one of those keys is Key
Alyssa – who.. Kyle?
Paloma – Michael..
Brittany joins them.
Paloma – he will be the least disillusioned for sure.
…
Jasmin asks if anyone would mind if the washed her hair in the sink in the kitchen.
Ameerah says yes.
Ameerah – Taylor got mad at her (Paloma) brushing her teeth in the sink..
Jasmnie – what
Ameerah- she didn't get mad but she said something to me.
Jasmine – OHHH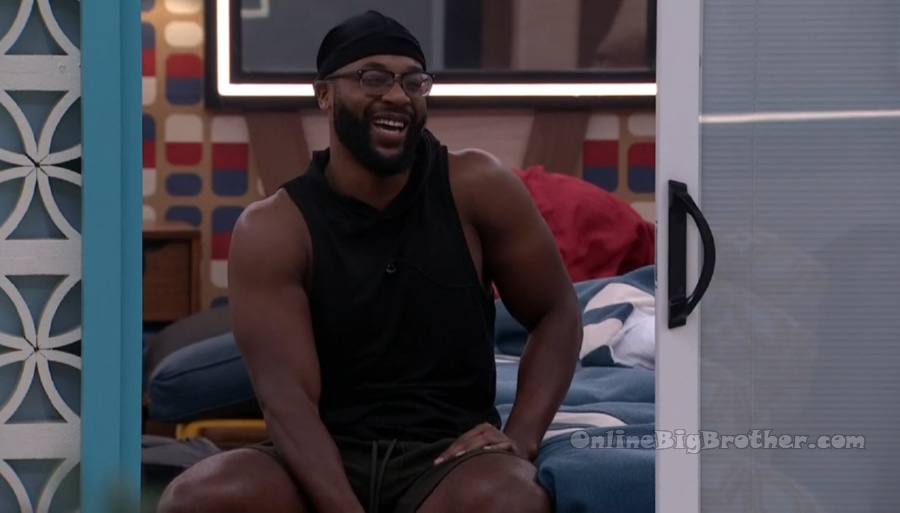 9:40 am Monte, Terrance and INDY
Chit chatting about the languages Portuguese and Spanish.
Indy – are you guys happy?
Terrance – A little nervous about today.
Terrance thinks the nominations are today.
Monte – does the veto comp happen today too?
Indy – Maybe
Terrance – it may be a veto competition today.

10:26 am
Paloma and Indy
Chit chat about Paloma being Greek. Alyssa joins them.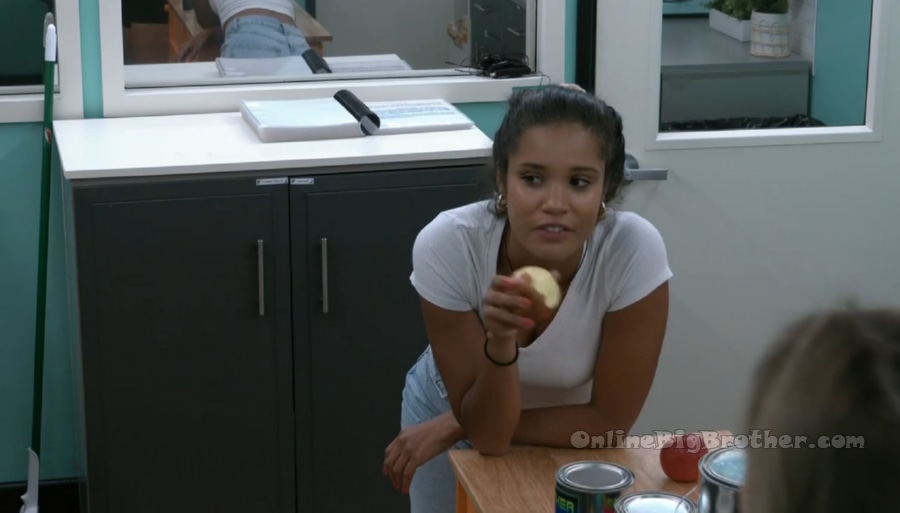 11:06 am Alyssa and Ameerah
They have no idea what Daniel will do.
Alyssa – Did you talk to him?
Ameerah – no I have to. I'm going to go talk to him I think I'm going to get nominated. he doesn't have many to choose from
Ameerah – the have not I don't think he's going to choose them.
Alyssa – he's going to try and keep the guys
Ameerah – which is not good for his game. I feel like he should try and get rid of the strong guys
Alyssa – it's the only way.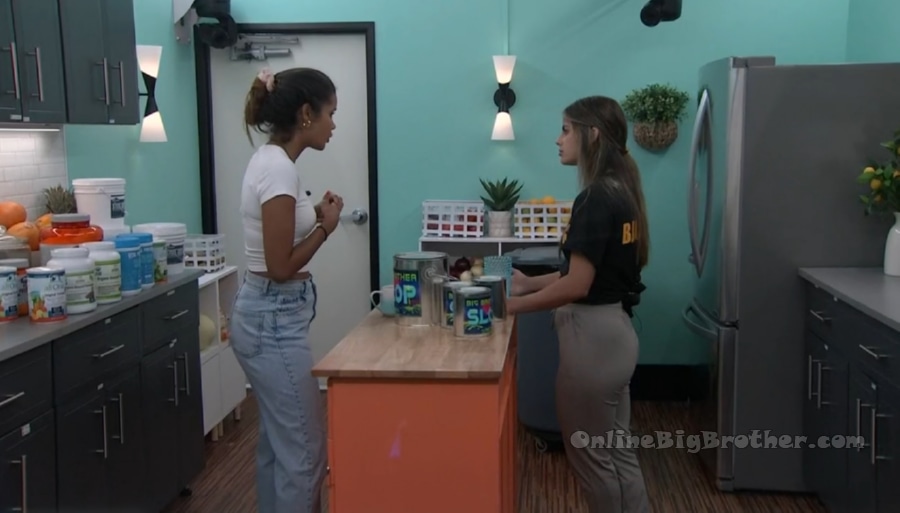 11:15 am Ameerah and Paloma
Paloma talking about tired she is from staying up until 7 am talking game on the first night of the feeds.
Paloma – any intell on the alliance?
Ameerah – Last nights nobody said a thing. it was the have not room so it was all the have nots, me and Taylor.
Paloma – did she try to bro it down with you? did she (Taylor) talk any game?
Ameerah – no, we had a few moments when it was just me and her she could have said something but she didn't
Paloma – I find it so strange that she's not trying to talk to any of us
Ameerah – I think she's already with them (Guys)
Paloma – for sure. we have to sniff it out. There's six of us.
Ameerah – We have to keep each other safe this week.. If one of us has the veto we have to use it
Paloma – I can't get nom'ed so I'm fine
Ameerah – you can't vote either
Paloma – ohh frick I can't vote.. I got your back
Ameerah – I'm going to be nominated
Paloma – no you're not. We aren't putting that into the air. rewind.. do not say that. He's going to nominate Terrance.. Like I really like Terrance.
Ameerah – nooo
Paloma mentions Terrance knows what he's doing. "he chills when he needs to chill I really respect his game"
Ameerah – he's a super fan
Paloma – He's a super fan and a lot of people are over talkers in the beginning and they run themselves into the ground.
Ameerah – yup
Paloma – that's what I've learned this morning I don't care I'm goign to talk to everyone I need to talk to and then take time for myself.
Ameerah says she's going to talk to Daniel. They start talking about having a "Kick Ass" alliance name.
Ameerah – Something cute in Portuguese too
Paloma – we should get Indy make it
Ameerah – do you think she is IN IN?
Paloma – I don't know
Ameerah – I'm not positive either
Paloma – we're good with vibes.. I just knew it.
Ameerah has doubts about Alyssa. thinks she's solid now but she might drift away. Adds that Brittany is solid "but we need to include her"
Ameerah brings up last might when they were all talking and Brittany came in and they stopped, "She's in our group"
Paloma Agrees.
Ameerah – I think you, me, Jasmine and Brittany are in in in
Paloma – Ride or DIE
Ameerah says she walked in on Indy talking Portuguese to Nicole
Paloma – Nicole can speak Portuguese
Ameerah – no.. it was good morning and she hugged her.
Paloma wonders if there's something with Nicole and the guys.
Paloma – who's the closest with Nicole in our group? Indy but I don't trust Indy
Ameerah – I don't either.. we have to keep smoozing but we have to keep Alyssa close because I see her drifting.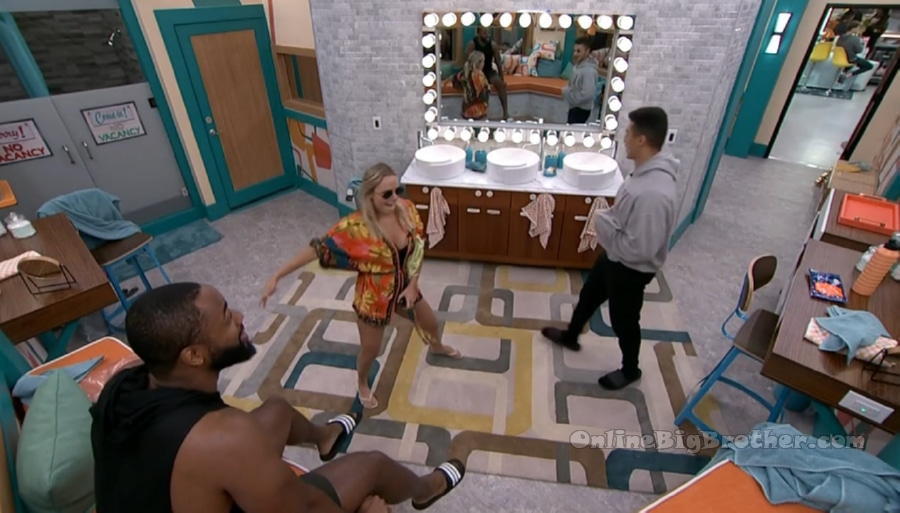 11:33 am Indy comments that Production took all her bikini bottoms "it's so sad"
Terrance and Monte are bummed out
Monte – America needed to see those
Indy – I have 300 bathing suites it's my favorite thing
Indy says she needs a nickname for Monte because she can't remember his name.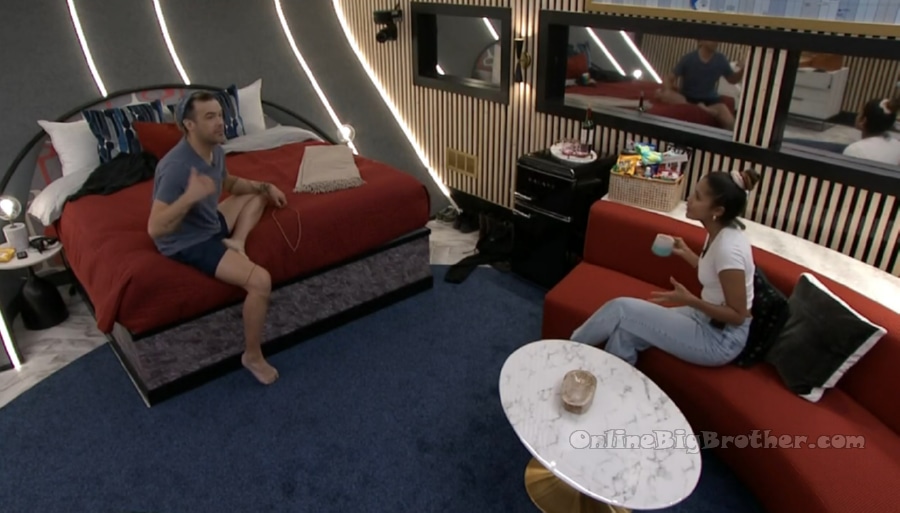 11:46 am Daniel and Ameerah
Ameerah The peopl that are good physical players those are the people winning comps and winning veto s they will be the harder ones to get out in the future. That is where I would personally go. I feel bad because a lot of those people volunteered to be in the have not room but that is why they volunteered.
Daniel – REALLY yoy think so ?\
Ameerah – I know so. I'm 100%.. those are the strongest players physically.
Feeds flip. when we're back
Daniel – how do you feel about Indy
Ameerah – I don't know that I can trust her
Daniel – she's the one that came up last night when I came up to unpack my bags.. she came up here and I was like you are the one person I don't want to talk game with/ As soon as I met her out there I was like You're feisty and I don't know if I can trust someone with that spice. I can't trust her with information
Ameerah – she is a little spicy. I'm not sure. The people I feel good with now are Alyssa, Paloma, I like Brittany she's a genuine person. I'm looking for the genuine personalities.
Ameerah – something about Taylor I don't know about her.
They both add this is all very surface because they just met.
Ameerah tells him she thinks Taylor is with the have not guys "That's Strong squad right there"
Ameerah – whoever you put up I'm 100% goign to back
Daniel – if I put up two physical threats what happens next? there will be a veto and they will probably KILL it. Ort do I put up a Michael?
Ameerah – put up a strong player and a casual player.
Ameerah explains if the strong player wins the veto put another strong player up.
Daniel – If Michael goes home he's a super fan so it's ok
Ameerah – Michael won't go home people will vote for the stronger player.
Daniel says she's the first person to come talk to him.
Ameerah – imagine the endurance comps and we're going up against two physical trainers?
Daniel – after hanging on that bar I was like I'm not ready for the endurance competition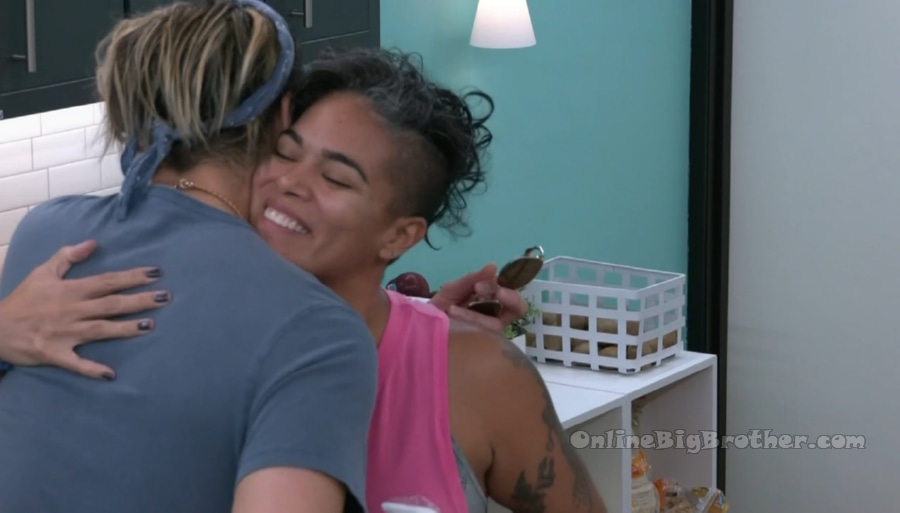 12:04 pm Nicole and Daniel
Daniel wants to work with Nicole "I'm going to ride this with you. are you down?"
Nicole – I'm down .. oh my god I love it
Daniel – I just knew your Vibe immediately let's go
Nicole says she feels like a fish out of water but with Daniel it's different.
Daniel – hit me up later so we can talk cause I need help. Let's f**ing go all the way to the end .. I'm down
Nicole – I'm down..
Daniel – don't f** with me
Nicole – I'm not f**ing with you I'm down.