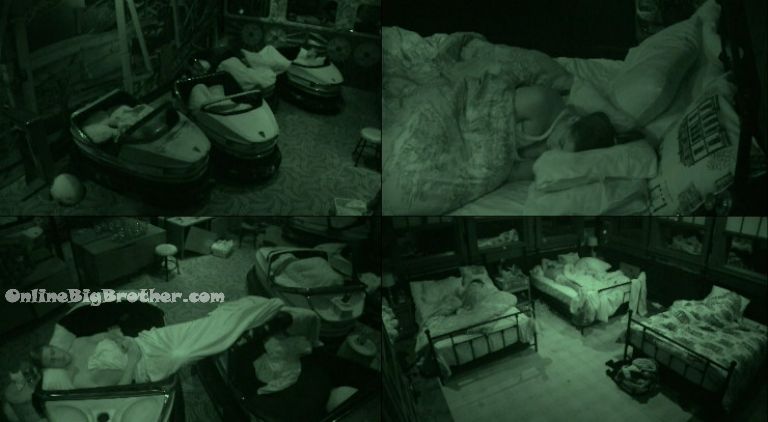 2:52am Everyone sleeping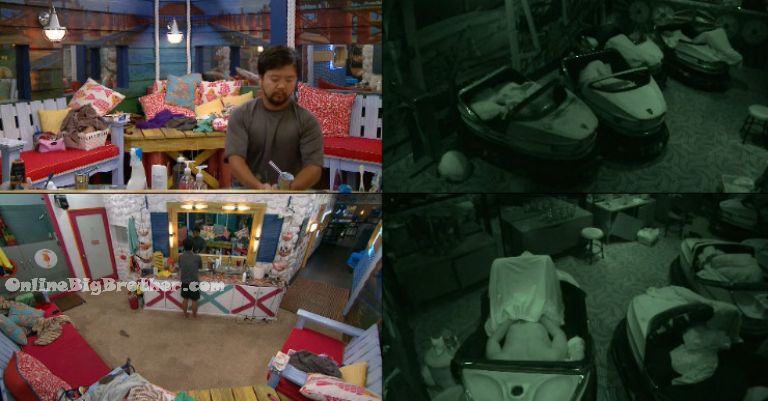 5:28am James is up on the feeds having still trying to poo.. (Yes.. its come to that I'm updating at 5:28am on James bowel movements…)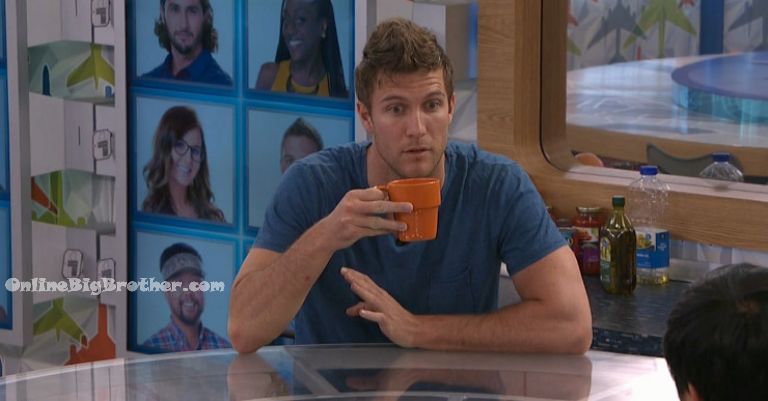 5:51am James and Corey Kitchen
James- that's the most f*** up feeling ever
Corey – that does suck
James – my stomach is playing games.. sensation.. you gotta go.. you do have to go.. no you don't..
James says the Double is coming up he can feel it in his bones.
Corey – that will be nice man.. these weeks are long
James- wait 10 weeks just to get one person.. just depends on who wins double
Jame s- we're all down to everybody we're cool with
Corey – we're the next 4 weeks we're pretty solid
James asks Corey who Victor would put up.
Corey – those girls Bridgette.. Zakiya.. that is what Paulie was saying..
They agree Zakiyah has been acting crazy lately
Corey – I don't know why she acts like that
Corey says Paulie wants to get Victor to take out Zakiyah
James- he'll have to put up Natalie or something.. I know that's what's going to happen..
James – Natalie would be a good person to take to the end.. I'm telling you you know what I'm saying.. we can send her home but…
James – you, me, Paulie, Natalie, Nicole.. That's it.. I dunnno..
James – it's getting down to crunch time..
Corey says Bridgette trust him and Paulie the most right now..
Corey – she would never put up me you paulie up..
Corey says Bridgette knows Frank had a big mouth and people didn't like that so she's not upset because of them sending Frank home.
James says Bridgette was just collateral damage sitting next to Frank.
Corey says Bridgette's knee is busted she's not going to be winning much nowadays..
Corey – she's freaking hungry to get those girls out..
Corey – Michelle.. She's going to be good at those mental comps..
Corey – Zakiyah she ain't going to win anything every
James- FLOAT'in…
James – I told Natalie the same thing to stop using that she can't win comps to not go on the block
Corey – who's going to want Natalie out when she next to Bridgette
James – or Victor
Corey – we only need 4 votes to stay in.. after this week it's 3..
Jame s- there will be 2 double evictions.. One this week or next week then 2 weeks go by and we'll have another one
Corey – I hope the doble isn't this week a lot of people want Bridgette, DA and Vic out..
James says Vic has a 70 to 80% chance to win the veto so you have to backdoor him
Corey says Vic will put up BRidgette and Zakiyah
James- Paulie wants Z gone
Corey thinks Bridgette would go home
Corey – I really want to win this next HOH
James is excited the coffee might have done it he's finally able to take a sh1t.
Comes back and they start talking about the ticket. James says he feels like he has the ticket.
James – I wonder who gets the next care package that will change things too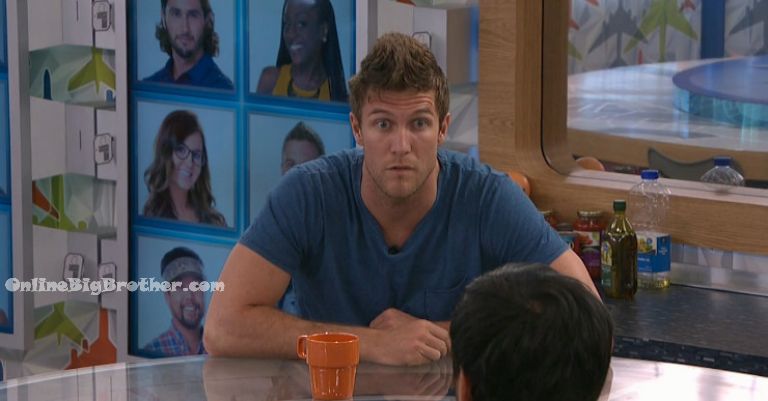 6:41am Corey James still talking…
Corey – I hated that Coconut comp..
Corey says during one of the HOH comps Tiffany yelled at him he didn't like her much after that point he hopes that was aired.
James- I can't believe she quit
Corey – in the comp..
James – ya
Corey can't understand why everyone was so sacred of Tiffany because she was the worst at competitions and had a poor social game.
James says Tiffany got a bad wrap because of Vanessa.. "Vanessa played a crazy messy dirty game… "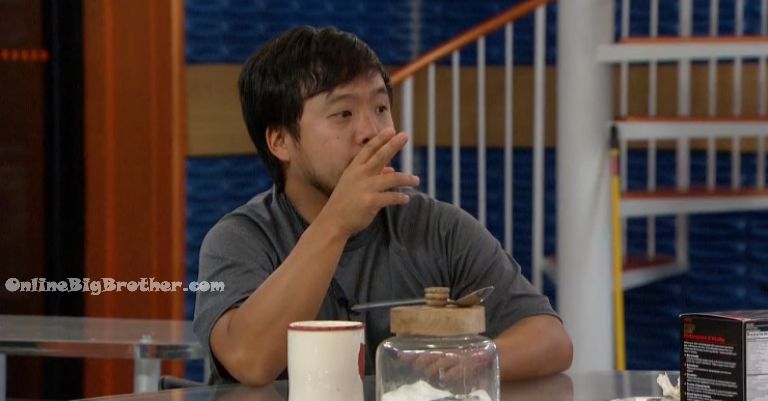 7:00am Kitchen James and Corey ..
Bridgette limps in.. "what time is it"
Corey – 7
Bridgette – wholy f***
Bridgette limps into the Bathroom..
Corey – damn she's limping bad
James says she wasn't limping that bad until he mentioned it to her.
Corey – really… it's really swollen..
James- i'm just f***g with ya
7:05am Kitchen..
Corey says he doesn't love baseball he was just good at it.. " I was like I do not like this.. I did like throwing" Corey adds he loves playing Football and Basketball. says his father really pushed him to keep playing. Corey tried to stop playing at 13 but his dad forced him to stay with it. Corey is glad he did because he later got really good at it.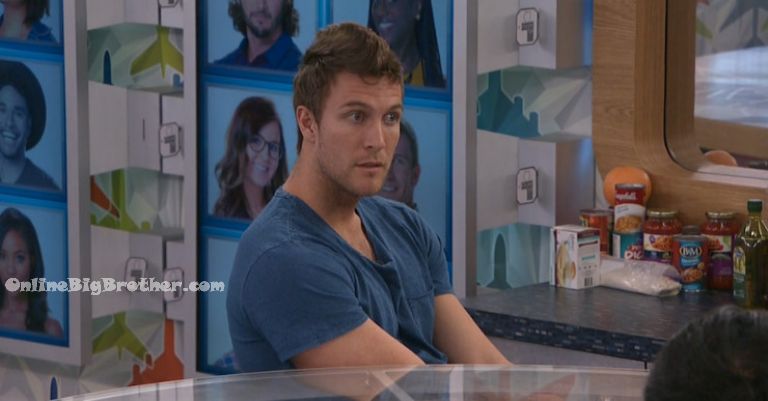 7:43am Kitchen..
James- I will never put you Paulie, Nicole and Natalie up
They wonder when the music is coming on.
Corey says the live feeders don't care if people are sleeping right now. "They're probably at church"
James says he had a d1ck slip last season. He says if anything it helped him people were .. "Damn James.. packing.. "
James- my roommate Jason is like that's his hand bro…
8:16am Backyard James and Corey still up….
James still hurtting – I feel like I gotta poop again, man.. but I know I don't I'll just sit on the toilet.. Big Brother what did I eat..
James and Corey start to play pool..
James- damn let me see if I can work it in the pocket
Big Brother – That's what she said…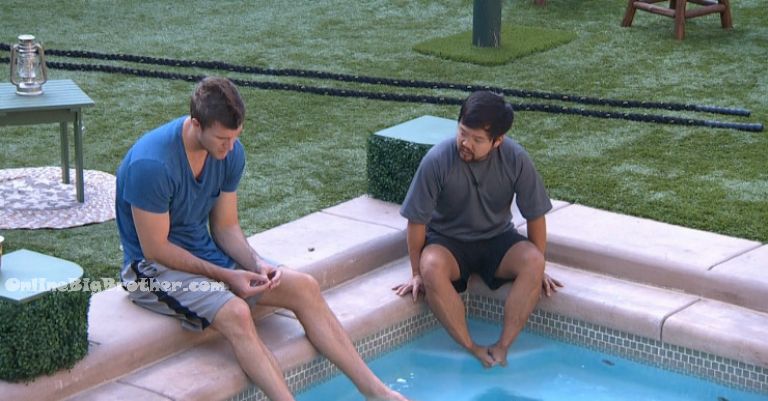 8:44am James thinks he swallowed some Jacuzzi water that is why he's sick.
James says he hasn't slept yet
James- i'm scared if I fart if i'll have Diarrhea or fart..
James- you and Nicole after the show
Corey – I'm going to stay close for sure.. We've talked about it.. I'm nor even remotely close to be ready…
James- be in another relationship..
Corey – Dude I dated that girl for 4 years than it was on and off on and off..
Feeds switch to sleeping houseguests.. .
When we're back..
Corey – I don't want to lead her on if she wants to date other guys…
James says he's been trying to sort things out with Natalie, 'The lng distance thing.. and Natalie.. she's a really cute girl.. i'm not saying she's not going to be loyal.. it'll be hard for her
Corey – yeah she'll have celebrity status.. in New York city
James – if she was close for sure..
Corey – with Nicole, getting in a relationship with her would be stupid because it's so long distance..
James – I don't even know how serious Natalie is to be honest with you
Corey – hopefully Nicole will be cool with people really good friends than just go from there..
Corey didn't have any intentions of meeting a girl on the show.
James – I as like dude no showmance I did that last season and it didn't work out
Corey says it seems like everyone is pairing up this season.
James says Frank was going to take Natalie with him and Bridgette to the end..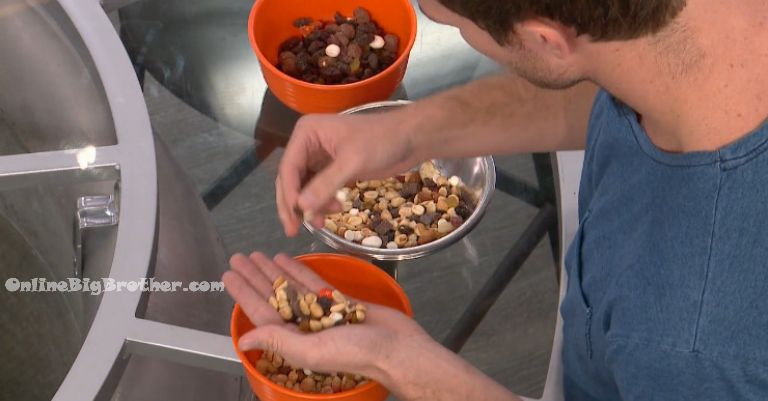 9:06am… Corey picking though the nuts James eating tums to help his stomach..
9:09am Corey feeding the cat (Cat is Mcihelle)
They laugh apparently Corey lays a saucer of milk out for Michelle Every morning.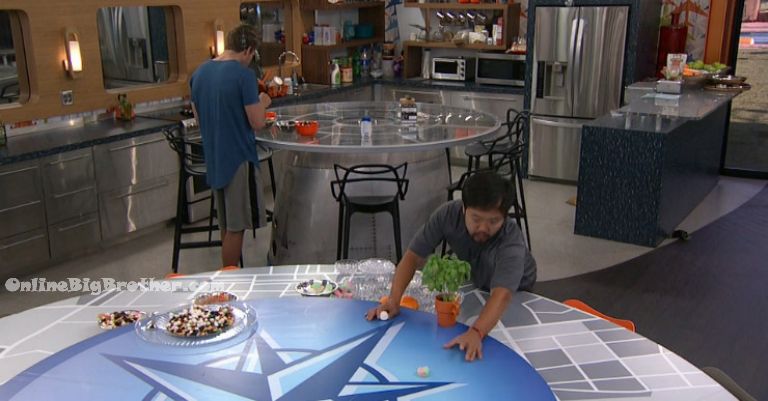 9:30am
James – I've took more poops today than I have in the whole 2 seasons I've been here
Corey – really
James – ya
Corey – Damn
(LOL I swear i'm losing my mind…. )
9:50am Corey – "I would love to be a college baseball coach that would be dope"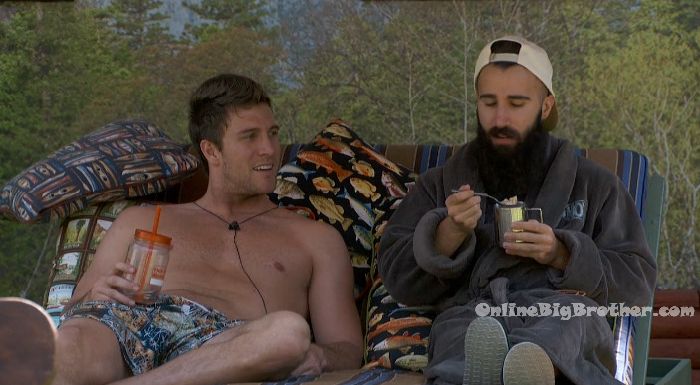 10am – 10:45am James finally goes to bed. He says his sleep pattern is all messed up now and he's going to sleep all day. Corey heads out into the backyard to work out. Corey talks to the camera and says he misses his mom and dad. Corey complains about not being able to sleep in the bumper car. America I'm a little upset that I didn't get a Never-Not pass … but I'll deal with it. Big Brother blocks the feeds to wake up the house guests. Paul joins Corey on the lounger. James gets up. Corey says ain't nobody got time for that. James says ain't nobody got time for sleep! James says I think Natalie is pissed at me. She said James I'm not sleeping with you. Paul says I think its because you have diarrhea. James says no, I think its because I kept waking her up.

11:15pm In the kitchen –
Michelle says that Chinese tourists are a real problem in Europe because apparently they will just take dumps in the middle of the street. There was a whole news montage on it. Paulie and Paul head into the safari room.
11:50am – 12:05pm Backyard – Corey, Meech and Nicole. Corey talks about how when he was younger her wanted to the Ironman. Nicole tells him he could still do it. Corey says not now .. I weight 210 – 215 pounds. The guys that do it are like Paul's size at a 150 pounds. Michelle and Nicole tell Corey he should do modeling. Corey says he doesen't take it seriously. He says he was asked by LuLulemon before.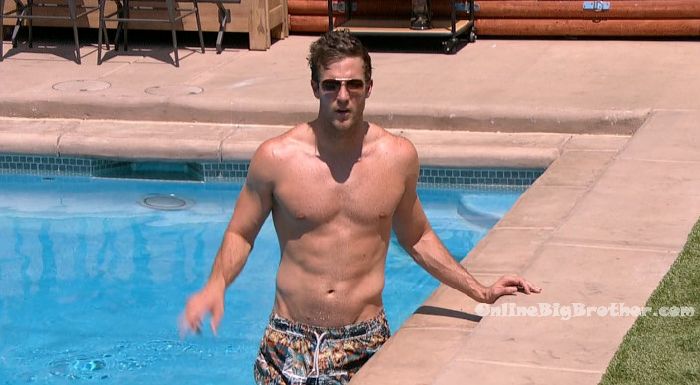 "ELIMINATE TWO EVICTION VOTES"
WEEK 2 – July 31 to August 5th
The winner of this care package could single handedly flip the house by preventing two house guests of their choosing from voting in next weeks eviction.
*** Since Voting ends August 5th the recipient of the care package will not use it until August 11th. Any votes for Da or Bridgette will not count if they are evicted this week.
[polldaddy poll=9486231]
[polldaddy poll=9485811]
[polldaddy poll=9485817]
Share it YO!!
Tweet