POV Holder:
PAulie
POV Competition
July 30th
POV Used
?
POV Ceremony
Aug 1st
HOH
Paul
Next HOH
Aug 4th
Original Nominations:
Bridgette AND Paulie
After POV Nominations:
? AND ?
Have Nots
Natalie, Paulie, Corey, Zakiyah
CBS All Access: Live feeds are only $5.99 per month – Try it FREE for 1 WEEK!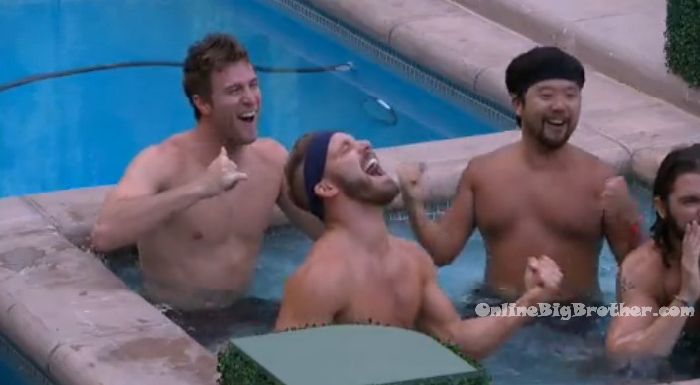 7pm Backyard – Vic says I think he will put up Da. And his excuse will be hey you volunteered. Nicole comes out. Corey, James, Paulie and Vic start yelling. They ask Nicole about her dream about Derrick (Big Brother 16 winner ). Nicole says it wasn't like that. They ask her what room they were in? Nicole says multiple rooms. The guys go off yelling and screaming. They ask her what they were doing. Nicole says playing big brother. The guys go off yelling and laughing. Nicole says we were just playing, I'm pretty sure Cody was there too! They guys go off.. Nicole says I'm done. I'm not talking about it any more! James, Corey, Paulie and Vic hold up their fingers and whistle. James says we're holding up our districts. Nicole says it was the most innocent dream ever! Paulie asks what were they wearing? Who was going after who? Nicole says no one was going after anyone. I can't even remember it any more.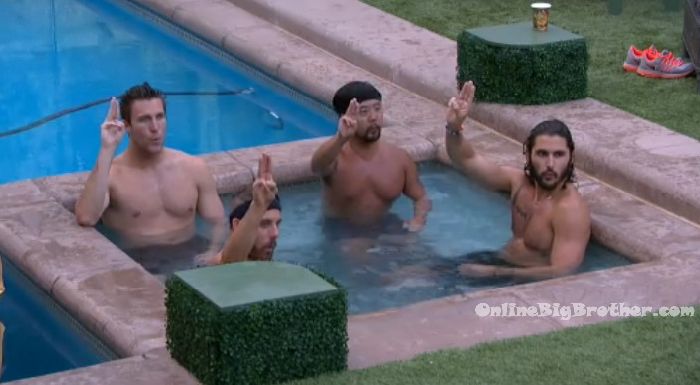 7:25pm – 7:35pm Natalie wants to do the water condom thing where you drop a condom full of water on someones head and it wraps around their head without breaking. James and Natalie fill up a condom with water and it breaks. James grabs a second one out of his BB bag. They fill up another condom and are about to drop it on Paulie's head but it breaks. Paulie jumps up screaming saying its really cold water. James grabs a third condom from his bag. They all ask him why he has so many condoms in his bag. They fill it up again and it breaks. Natalie says to be continued.
Natalie tries dropping a condom full of water on Paulie's head @bigbspoilers #bb18 pic.twitter.com/Pycau6ys0e

— Dawg (@DawgsBigBrother) July 31, 2016
7:50pm Nicole tells Z that Corey said he really likes me. He said he's interested in a 24 year old girl with blonde hair and green eyes. Z says I think a year after this one of you might be making a move. Nicole says I think he might get back with his ex. Z says I don't think so he wouldn't be doing all this on national television.
8:30pm Big Meech and Z are talking on the backyard lounger. Z says that even if she got second place it still wouldn't take care of her student loans. $28,000 a year as a teacher doesn't cover anything .. that's why I'm moving back with my parents. Michelle says I want to see me, you, Da even but I don't think she will make it to the end because of the boys. …Nicole, James and I feel like Paul would even win if he made it to the end.
8:35pm In the phone booth –
Pauli chugs a glass of wine and 2 beer. Vic heads to the kitchen to get another beer for Paul to pound. (Get ready for him to go from 0 – 100 and then crash in the next hour)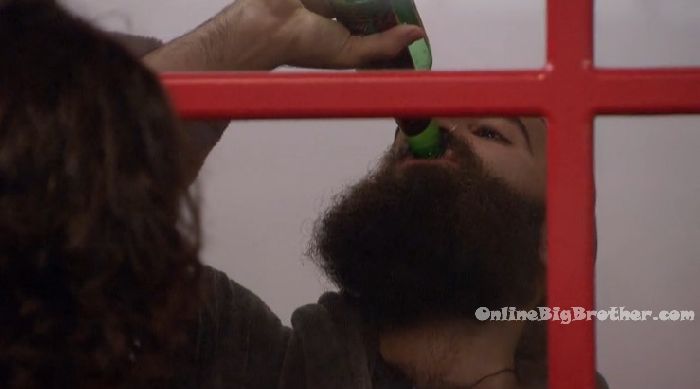 8:50pm Backyard – Paul comes out into the backyard with another beer. He says he's had 4 beer and a glass of wine. Michelle asks what did they want with you in the DR? Paul says they wanted to make sure I wasn't going to die. Paul heads back inside. Michelle says this is going to sound weird but I think Paul is really cute. He's growing on me. I think he's too good for me though. Z asks why?! Michelle says he's dated Disney actresses and stuff. Z says you should sleep up stairs. Michelle says don't tell anyone. Nicole joins them with a big glass of wine. She asks them not to let her do anything embarrassing with Corey. Nicole asks how fine is he though!?
9:05pm London Bedroom – Paulie says we could probably keep the heat of him if we keep Bridgette. Corey says she really trusts us. She trust Nicole too. Paulie says Vic is pushing to win HOH. He would put up Natalie and Z. James would be pissed at him and go after him next. Either way we tag Da this week, another girl next week and then we ride the wave all the way to final 5 dude. I could see the final 4 being me, you, James and even Paul. Corey agrees. Z joins them. Paulie says I'm going to use the veto and I have a good feeling Paul will put up Da. Z asks do we know how it will play out. I think she (Bridgette) will leave. Paulie says I'm voting Da out.
9:20pm – 9:40pm HOH room – Corey, Paul and Nicole. Vic joins them. Paul feeds the fish! F**k you fish! You have gills .. never knew lungs! Paul asks what do you call a fish without an eye? FSH! F**k I'm so funny!
Nicole "What's the password YO?!"
Vic "Friendship OPEN!"@bigbspoilers #bb18 pic.twitter.com/dpxfwfnxEP

— Dawg (@DawgsBigBrother) July 31, 2016
10pm Natalie asks if she knows who is going up. James tells Natalie they're going to backdoor somebody. That's all you need to know. The less you know the better. Nat says that's all you had to say. Bridgette said she was happy for me that I have you in the game. James says that's good we should kiss. James tries to kiss her and she tells him to stop it. James says we're boyfriend and girlfriend .. we should kiss.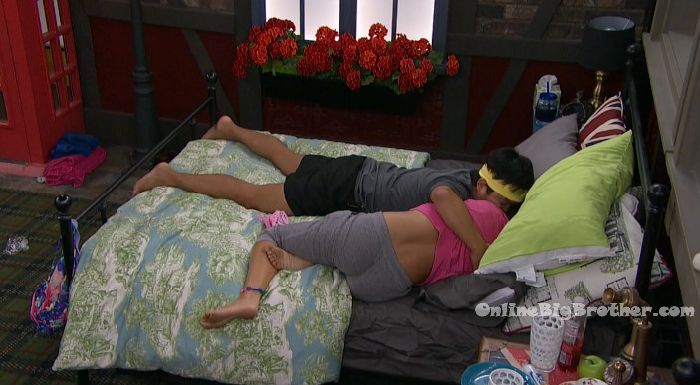 10:15pm – 10:30pm Nicole & Corey head to the hammock. Nicole asks Corey to get her more tums. He gets up to get them for her and she falls out of the hammock.
Tipsy Nicole falling out of the hammock@bigbspoilers #bb18 pic.twitter.com/aamNnVQ9wg

— Dawg (@DawgsBigBrother) July 31, 2016
11pm – 11:45pm Hot Tub – Paulie, Paul and Vic – Natalie joins them and gets into the hot tub with her shirt on. They laugh about how Corey made his havenot bed and James messed it all up. They joke about James being the saboteur. Paul says America vote me as the saboteur, I will make you very happy. Paul says his pool is 13ft deep. I jump of my parents balcony into the pool and get boned. Friendship! Natalie says she thinks Corey is rich. He has a lawyer and an accountant. Natalie says I have over 80k in student loan debt. Michelle says I have 60K .. maybe 40K. Vic says I paid all mine off.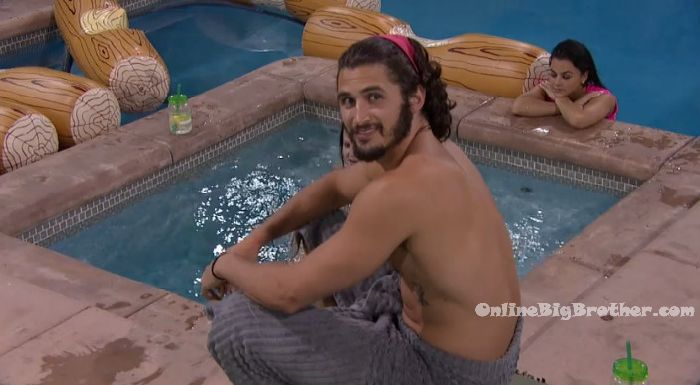 11:55pm – 12am Big Meech talks about how she feels ugly and not herself. Natalie tells her a couple days of exercising and she'll feel better. Vic tells Michelle she has mascara all over her face. Michelle puts her tank over her face and goes inside to shower.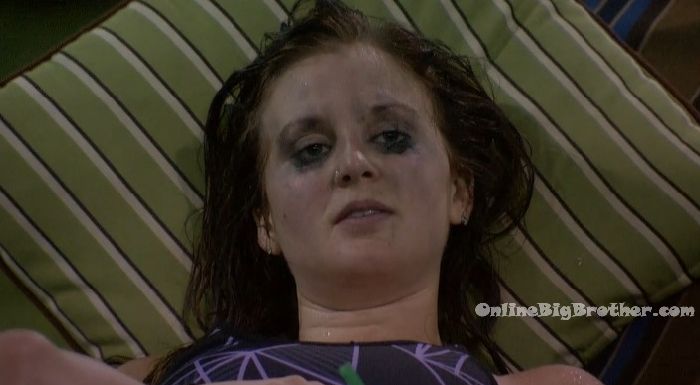 [polldaddy poll=9486231]
[polldaddy poll=9485811]
[polldaddy poll=9485817]