POV Holder:
PAulie
POV Competition
July 30th
POV Used
?
POV Ceremony
Aug 1st
HOH
Paul
Next HOH
Aug 4th
Original Nominations:
Bridgette AND Paulie
After POV Nominations:
? AND ?
Have Nots
Natalie, Paulie, Corey, Zakiyah
CBS All Access: Live feeds are only $5.99 per month – Try it FREE for 1 WEEK!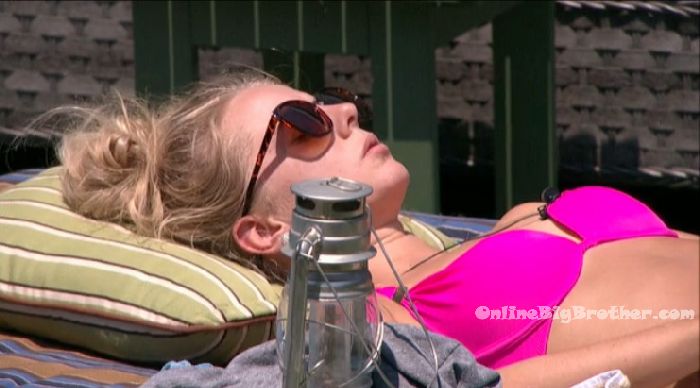 In the safari room – Corey, Paulie and Paul are talking about clubs in New York, LA, Dallas and Las Vegas. Paul gets called to the diary room. Paulie comments on how he sees how Cody and Derrick are really tight now after this experience. They talk about Cody choosing to take Derrick over Victoria. Paulie says Cody doesn't regret it at all. Paulie says I love it. I'm so glad I met you and crazy Paul. I would do anything to help you out.
1:20pm Natalie checks on James. Natalie tells James that he'll have to eat banana's bread and rice. You'll have to eat a bland diet. That's what the doctors told me.

1:50pm – 2:10pm Backyard – Michelle tells Natalie that she can't believe she got a care package. Natalie thinks its because I'm so close to James. Natalie tells Michelle you are literally one of the nicest people in the house. Michelle asks really do you think so, thank you. I'd like to think I am but its hard when you get frustrated you know! I think I finally got to the bottom of why I got in such a tiff with Bridgette. Originally I thought it was because of the comments she had made but I think it was really that I was really close to Frank in the beginning. Me and him were really tight and I really wanted to work with him. Then all of a sudden he started hanging out with Bridgette 24/7 and I heard rumors of them having a final 2 deal so it was like I felt really betrayed and jealous. Like what does she have that I don't… like ex-girlfriend thing. I thought he was really cute. That's why I have had nothing negative to say about her since he left. Natalie says I feel like most people in the house think I'm really dumb. Michelle says you have a college degree. Don't ever feel like that. I felt like that throughout my life like people used to call be dumb blond. I definitely think I'm the ugly duckling. Natalie says you're not. I was telling James I feel like I'm trapped in a body that's not mine .. I just need to work out more.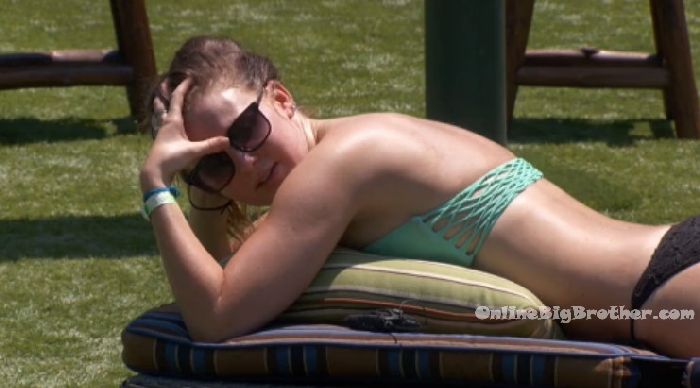 2:20pm Backyard – Corey is playing pool by himself. In the kitchen Nicole jokes that Corey's playing pool with all his friends. Paulie tells Corey and Corey comes into the kitchen and says he was playing with all his friends like she was with all her friends when she feel out of the hammock last night.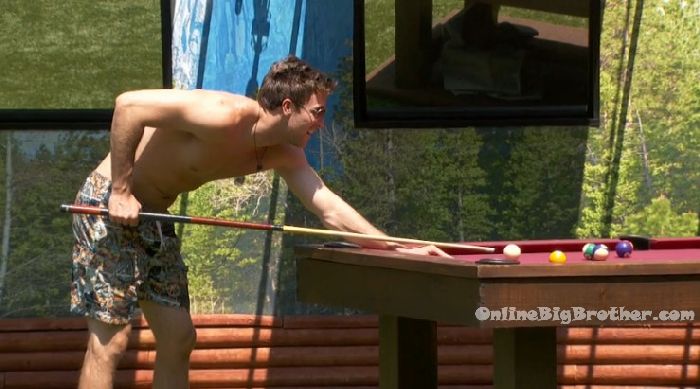 It's been a quiet day in the BB house..



3:15pm Safari room – James and Paul are talking. Paul asks you ate tacos and you sh*t your pants? James says I don't know, the only thing I ate was a pizza with taco meat on it. Paul asks how do you feel about Day? James says I know she's rubbed people that wrong way. Paul says that's the replacement but my objective is not to get her (Da) out but since everyone feels a certain way I will respect a certain decision. I'm just here to give you the options, you know. I know that her and Bridgette both want to go after Nicole and Corey. For me personally I think Bridgette is the bigger threat. James says Da never brings you up. Paul says that's the thing, my objective is to get Bridgette out. I think the whole house feels the same way. James says if you replaced it with someone like Natalie. Paul says I don't want to do that because I made a promise to you. Do you think the house would vote out Da if she went up? James says I don't know maybe a few people. I'm just worried about you the speech with Bridgette was pretty blunt. Unless you've talked to her. Paul says Da has said a few things. My goal is to get Bridgette out because she's a loose cannon. Vic joins them so they leave and head up to the HOH room to talk.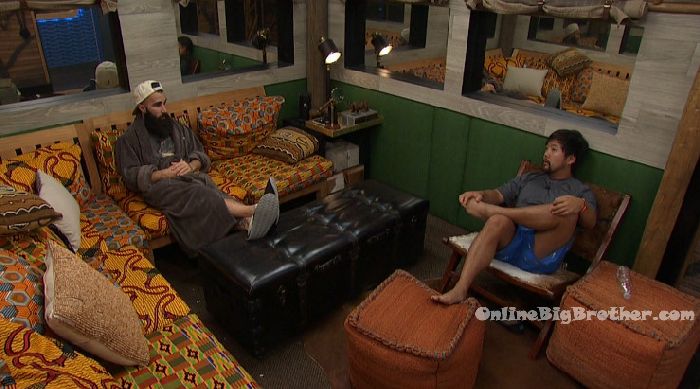 3:35pm HOH room – James and Paul. Paul says he (Vic) likes to noisy into all the conversations. Paul says Da did volunteer. I want to put someone up there that won't freak out. I don't think Da would freak out. If the house agrees to out vote Da to Bridgette then there must be something that Da has done. To be honest I only trust you and Paulie to talk to about sh*t. You are a man of your words. James says if you judge me from my last season .. I don't want to be a dirty player like Frank. Paulie joins them. Paul asks would you feel comfortable voting Da out? James says yes. Paul asks would you be still comfortable with Bridgette in the house? James says yes. Paul says she is going after the girls. Eventually when the guys start taking out all the girls they will band together. Paulie says right now Da is the only one that can whisper that. James says Da just asked me about replacement noms. Paul says because she's worried. Paulie says all the sh*t that Da pulls with me is before competitions. Vic joins them and they end their conversation.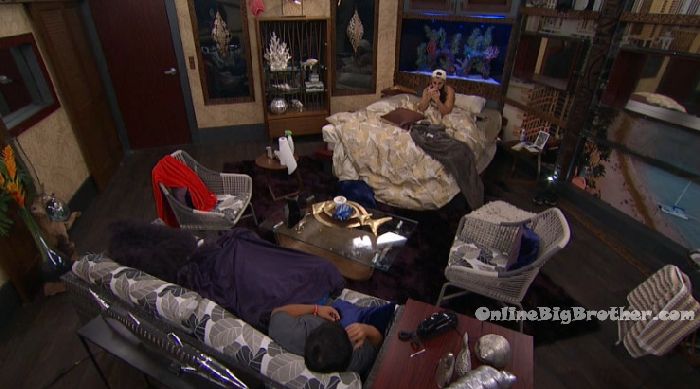 4:15pm James and Natalie are talking. James tells Natalie that no one sees her as a threat. You're not going up as the replacement nom. Natalie says its okay it wouldn't even bother me if I was. I could handle it.

4:15pm HOH room – Da comes up to talk to Paul. Paul says I think Paulie is going to pull himself down, which I would expect him to. Everything that I wanted to happen, happened. Bridgette didn't win. Da says surprisingly she came to me and asked what she could do to survive. I told her to talk to you about getting Nicole put up beside her. Paul says I need someone up there that will not freak out. I want to put someone up that I can trust. Someone that will not spread paranoia. Its done Bridgette is going home. Who would be the best person I could put up that would just trust me. I don't want to put you in that position again but at the same time I just need someone that trusts me. Da says why not put up someone who has never been up there .. never felt the heat. Paul says because they'll freak out. I don't want votes to go anywhere but with Bridgette. Da says if someone goes up that's never been up and starts freaking out .. then you know where the trust is. Da says the only reason I don't want to go up is because I don't trust them two. I don't trust Corey or Nicole. Paul says right now they want Bridgette gone. I think they would much rather want you here than Bridgette. Da asks what's up with Z? Paul says if she wants to do it. Just help me finish this job. Da asks didn't Nicole fully volunteer? Paul says she did and then she came up freaking out. I'm just trying to think of the best way to keep everyone quiet. I would love it if he (Paulie) would keep noms the same of course I would because then I wouldn't need to fill that spot. Da says if you put me on the block I'm a pretty big target. If you put me next to Bridgette everyone plays the sympathy roll because of her let .. I might get sent home. Paul says these past few weeks I've heard no ones name but Vic and Bridgette. Da says I think it would be weird for me and Z if you put me up because I picked you. Paul says just as it was weird for me to put up Paulie. Paul says I don't think you're a target at all. I don't think you would be paranoid at all. I know you trust me. Z would freak out exponentially. People just don't have balls at the end of the day. Da says its just that the option to win the POV is done. How do you unf**k what you f**ked up. She is going home. Da says if it is me that goes up just don't make it so I find out during the veto ceremony. Paul says he would let her know.
4:38pm – 4:45pm
Da and Z are talking out in the backyard. Da says I think I'm going up. Da relays her conversation with Paul. He didn't say it out right but it sounds like he's putting me up. I did mention your name but I didn't throw you under the bus. Everybody can panic .. and no one wants to rock the boat… but why is it okay for me to panic!!! Da starts crying. Why does everybody get a pass but me?! It makes me feel like I'm not apart of the group. Z says I don't trust anyone else. I don't trust Nicole or Corey. Da says the more he was saying it, I was getting PISSED! Saying I've been there and everyone else would freak out. Z says that's not fair. Da says I was genuinely excited when he won HOH and if I go home on his HOH … I will look so stupid!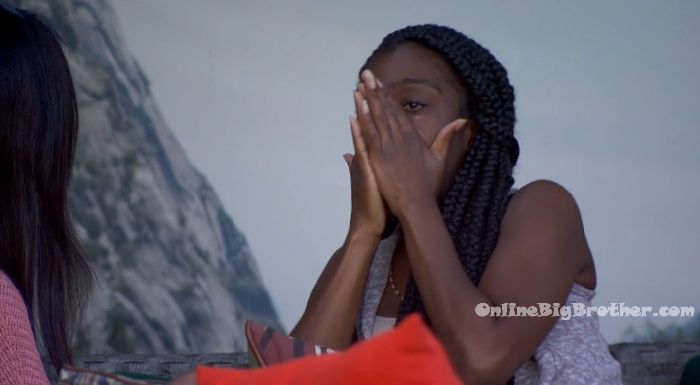 4:45pm HOH room – Bridgette comes up to talk to Paul. Paul says the plan is set. People are saying you are super confident and comfortable. Bridgette says I've been sleeping. Bridgette says that Da keeps telling me to talk to you about putting up Nicole. Paul says that's funny because she tells me you keep approaching her about that. Bridgette says oh my god! I hate her!! Paul brings up how Da was asking why not put up Z .. that's her closest person. If she is willing to have her thrown up, then how can I trust her when that's her closest person. Bridgette says I hope you know how thankful I am. When Frank left I thought I was dead meat. Bridgette asks does Nicole know Da is talking sh*t about her? Paul says I don't care … if you involve yourself in something that isn't your sh*t it becomes your sh*t. Bridgette agrees.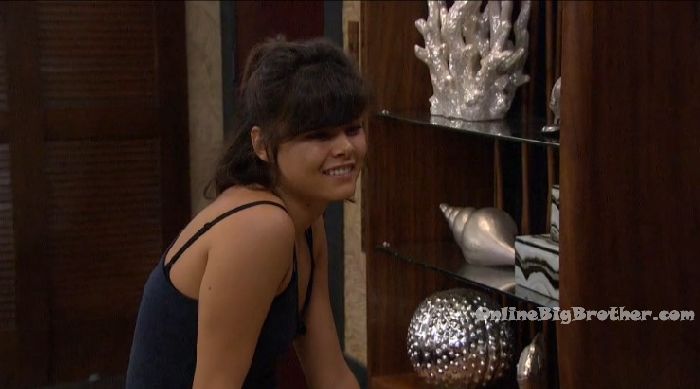 5pm Backyard – Da asks Natalie if I was on the block next to Bridgette who would you vote for? Natlaie sasy that would put me in a tricky situation. If you want me to vote for you, I will. Da says but that's your friend. Natalie says but you're my friend too and we have more conversations. I know you have a kid too. Da says I know James will vote for me 100%.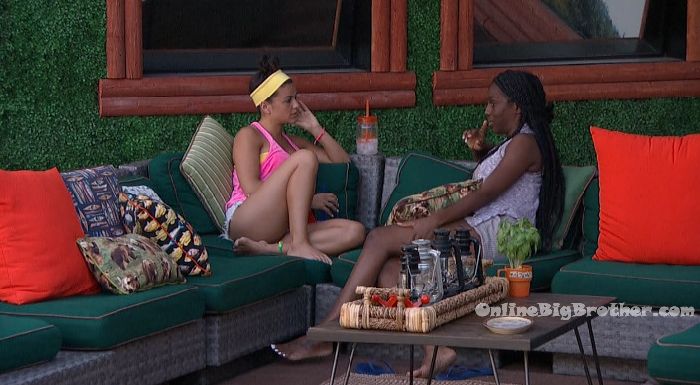 "ELIMINATE TWO EVICTION VOTES"
WEEK 2 – July 31 to August 5th
The winner of this care package could single handedly flip the house by preventing two house guests of their choosing from voting in next weeks eviction.
*** Since Voting ends Friday, August 5th the recipient of the care package will not use it until August 11th. Any votes for Da or Bridgette will not count if they are evicted this week.
[polldaddy poll=9486231]
[polldaddy poll=9485811]
[polldaddy poll=9485817]