Head of Household Winner – Cody
Have nots – Ian, Kevin, Memphis, NicoleA
Nominations -Keesha and Kevin
Power of Veto Players are – Cody, Kevin, Keesha, Enzo, Kaysar, Ian
Power of Veto holder -Enzo
Power of Veto Ceremony – ENZO YO!
Safety Suite – Kaysar & Janelle
Live feeds —-> Grab your Live feeds here. Try it free.
Rank the houseguests —-> Big Brother 22 Ranking
Spoilers – Enzo is not using the veto as of Sunday morning. The plan is to evict Keesha.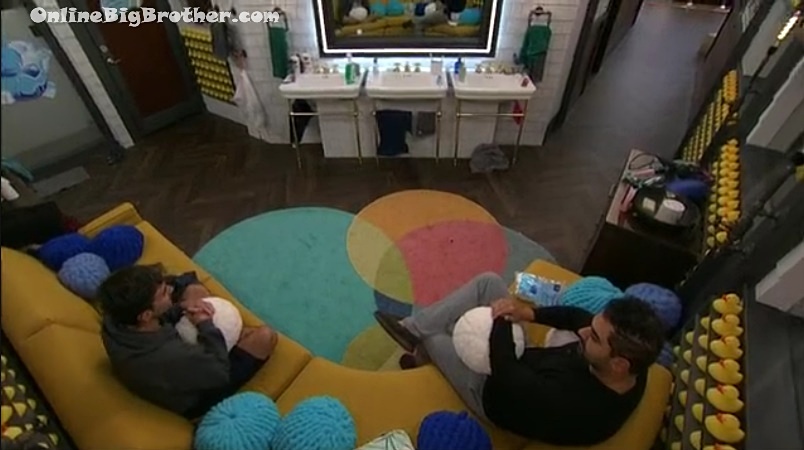 8:52 am Kaysar and Ian
Ian says he was able to go to the "restroom" a first time in a while.
K – how do you feel about what's going on in the house
Ian – to be honest, I'm not sure exactly what is going on. The nomination ceremony we had Friday is probably oner of the first time to a nomination ceremony where I was unsure what the nominations were going got be
Ian – Like the first few in mine. yeah
K – Its a litter unclear right now
Ian – Definnelty is murky
Ian says he wasn't feeling great yesterday (He's been puking from slop)
Ian – I haven't put my finger on any groups or alliances that's what my problem is. I'm not getting a good read on anything I feel like it's a little bit like poker you gain the information when stuff happens. It's so early we've only had that much occur gamewise. I'm having a tough time getting a read.
Ian – what about you?
Kaysar – umm, I feel like people are talking but don't have anything to substantiate that.
Ian – correct
Kaysar – I don't even know if it's meaningful at this stage
Kaysar – I wonder if certain people are afraid of people like you and I for being too smart or if they are OK with it
Ian – I feel like that is a problem with people like you and I will run into a game like this. I think my counter to that is just because I'm book smart doesn't mean I'm socially smart. I think that is the more important skillset in this gave.
Ian – the big brother graveyard is littered with people that are smart and that was used as an excuse to boot them early
Kaysar asks him how does he compensate for not having a good social skillset, reading social queues etc, "You won once"
Ian says there are advantages to being book smart and last time he was on the show he was in much better shape than he is now.
Kaysar asks him if on a social level if there is anyone he trusts? "Or are you not quite there yet"
Ian – I'm not quite there yet. I have a comfort with Janelle because I've played with her. "
Ian says day one he had a conversation with Janelle and it felt "Really warm, and that felt nice"
Ian – the ice has been broken, it helps
Kaysar – when you don't see a person for a long time.. people can change.
9:45 am Ian and Kaysar
Ian says he doesn't talk about Big Brother with people in his personal life, "In the past I did there's only 2 or 3 people that know this.. "
Of Course, Feeds cut.
When we're back.
Ian says the first few days on his season he felt that it was a mistake. "Those first few days I honestly didn't want to be here"
Kaysar – people are saying hey why don't you have some medicine to make you feel well because you are on slop.
Ian – I don't want to be seen as a no whinner last time I was on this show I wasn't known not to be a whinner with slope
Kaysar – why is it important for you not to whine
Feeds cut
When we're back.
Ian – I didn't want to burden people. My instinct is to not complain but I think that I don't want to burden
(Feeds keep cutting … )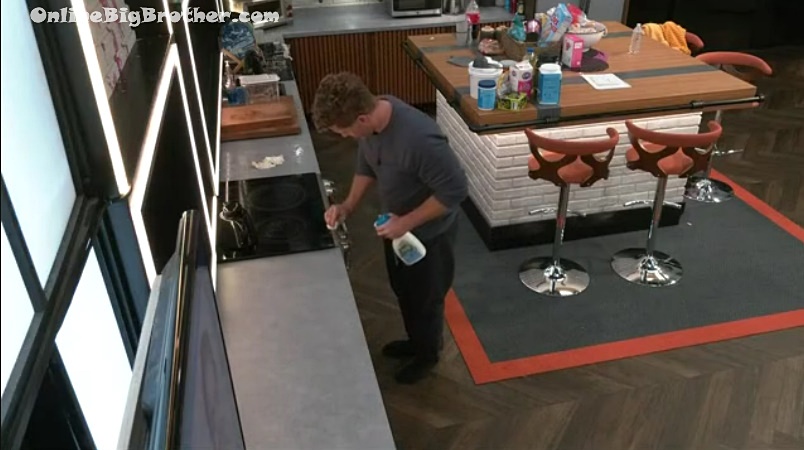 9:22 am Memphis is cleaning the kitchen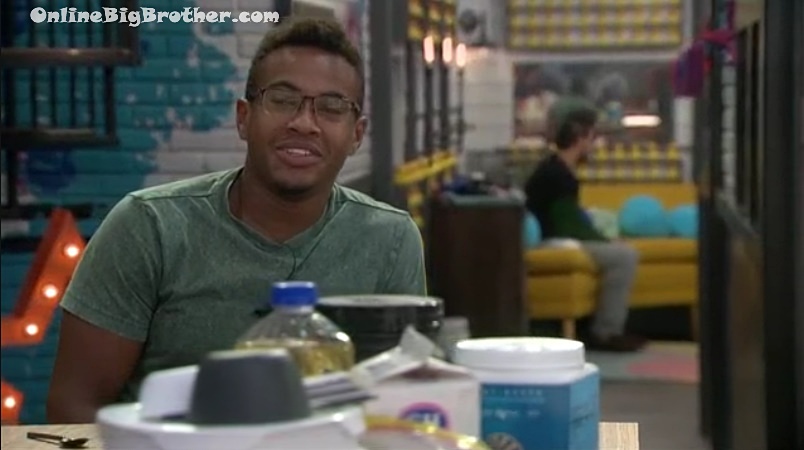 9:42 am David and Memphis
David saying he doesn't mind the Have not room the only thing he doesn't like is having to get up in the middle of the night to take a "Piss".
David – You have bit of a journey
David mentions that after his season he was like "F*** reality TV" but then CBS called him and he was like "This isn't that bad"
After some chit chat David starts to clean the kitchen with Memphis.
10:18 am everyone getting up. (Some are taking longer than others)
Nicole and Keesha getting batteries in the storage room. Chatting about the floor in the POV moving.
Nicole – it's really good you did that at night you know how hot that would have been.
Keesha – it's crazy when we're given our stacks inside we're told how much we can build
Nicole – oh my gosh it's probably like are you kidding me. How much did you get it up to?
Keesha – 17 so I was one away
Nicole – ohh no
Nicole – I think it was when you turned around to run back everybody's would shake and fall you know. cause so many people's fell when you weren't by it
Keesha – I didn't realize the floor was literally shaking
Nicole – we would just see them move like this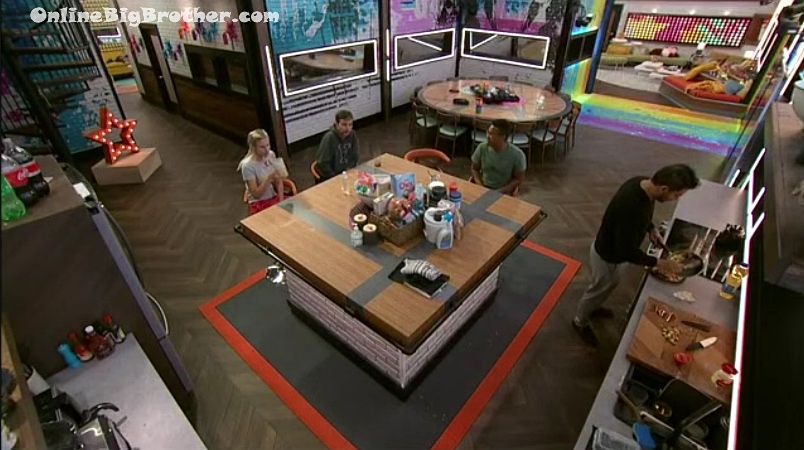 10:30 am Christmas, Keesha, David, Kaysar and Ian
Ian gives an update on his positive bowel movements. (We're covering the important points nowadays)
Everyone cheers.
Ian says he's taking the day off slop today Memphis told him it helps.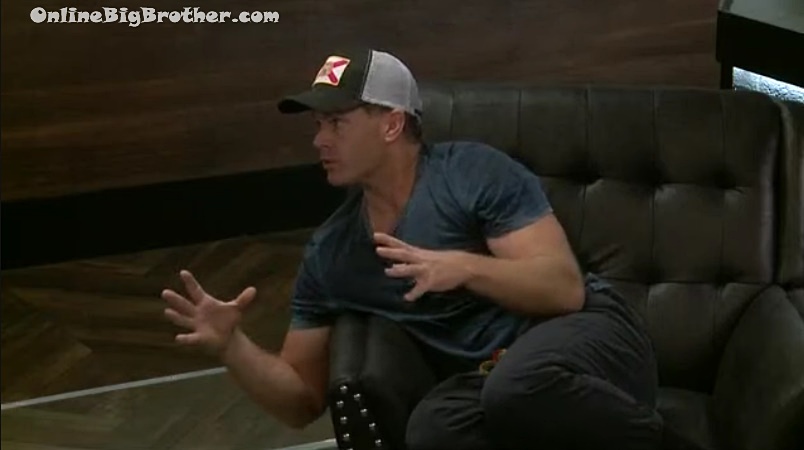 10:35 am Memphis and Cody
Memphis getting excited about an alliance says the six of them can all hold their own socially.
Memphis doesn't want it to be a public alliance he wants it to be quiet.
Memphis – Kaysar automatically assumes it's going to be me, Janelle him and Keesha
Memphis – I'm like F*** off dude that's too obvious
Cody and Memphis are saying that Kaysar isn't natural he's working too hard.
Memphis – it's funny..
Cody – you keep him close he'll realize when he get s close ohh sh1t I'm not in an alliance.
Memphis saying that Dani and Tyler are a good fit for their alliance.
Cody mentions Christmas.
Memphis brings up Bayleigh "Trying to get us all in one room is going to be difficult" (Yeah an alliance of 1/3 the house day 5 is tough to schedule private meetings)
They keep going over how to pull in all these people into their alliance, Christmas, Dani, Tyler, Bayleigh, COdy, Memphis.
Memphis – we're going to fight for each other give each insight keep each other off the block.
Memphis – build a circle of trust
Memphis says he'll go up to Dani and say something like "Hey" he's building something you want to be added in?


Memphis – either the usual suspects or the unusual suspects
Memphis – I was thinking the committee or the executive committee (Derrick didn't like these names so told him no)
Memphis – all 6 of those people are spread out ..
Memphis goes on about how nobody will suspect their alliance.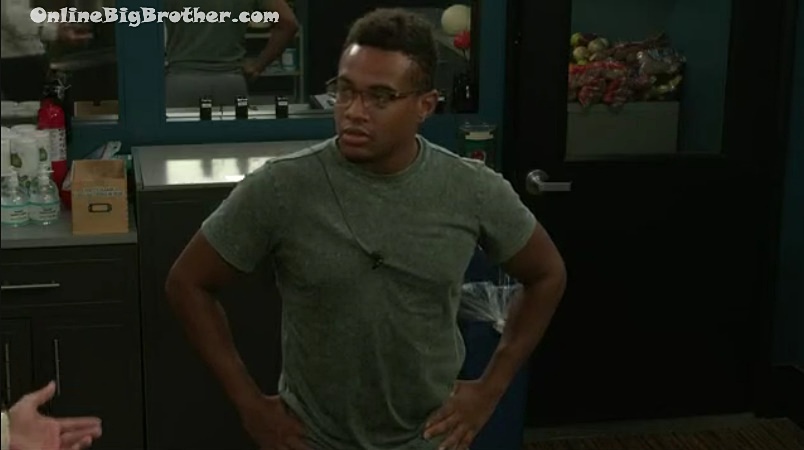 10:55 am Cody and David (Or Kevin if you ask Cody)
Cody tells him he's got his back.
Cody – yeah bro I got you. it's just a matter of finding people you Vibe with and just protecting each other. If I ever hear anything about you .. like I heard this about Kevin (David) I'll let you know and we'll figure out how we're going to dodge and deflect.
Cody – If I hear anybody say your name like in a negative way I'll deflect the sh1t outta it
David- Ok
Cody – getting nominated isn't a thing as long as you have the numbers
Cody – You are extremely likable no one is going to come out and say Kevin's a problem (Again it's David)
Cody – you're not going to go out early like you did last year.
Cody – this week you are definitely not going home because I'm tellin Enzo to not use it (LOL)
Cody – and if he did use it you wouldn't be someone I put up anyways. you don't have to worry about that sh1t at all
David – I feel good
Cody – don't get too comfortable because every week it changes
Cody – I wrote it down when I was in sequester 'never get too comfortable never get too comfortable"
Cody – you know who really likes you, Ian. He was like Kevin I really like Kevin
Cody – talk to Ian
David – David
Cody – ohh my bad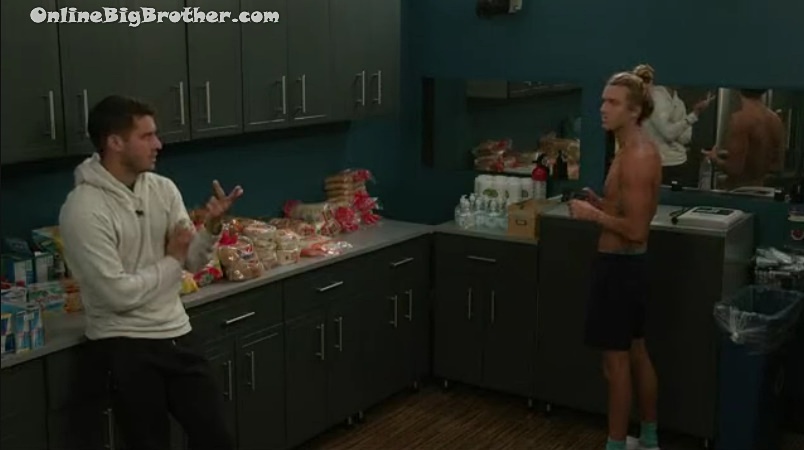 11:00 am Tyler and Cody
Cody – how are you feeling
Tyler – Feeling good
Cody says he doesn't want Enzo to use it.
Cody says he talked to Memphis and he wants to form something he mentions you.
COdy says "Some people" are speculating that there's a guys alliance happening already with Tyler, Memphis, Enzo, and him.
Cody – he said Dani said it. I was like F***
Dani comes in.. Tyler leaves.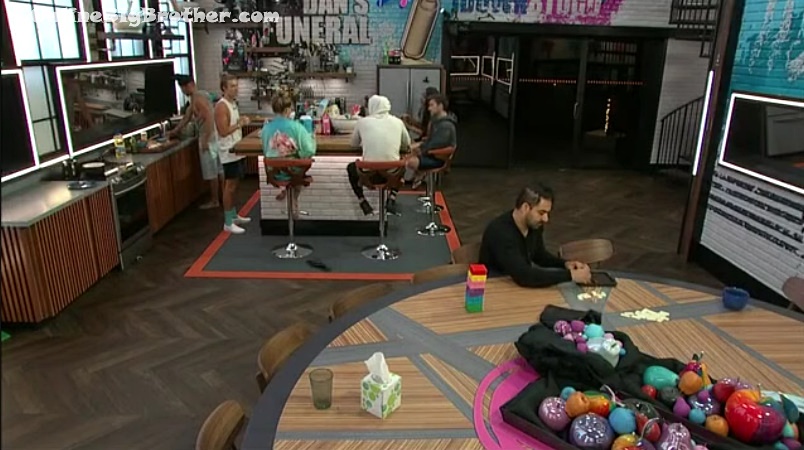 11:23 am Kayasr pulls out the backgammon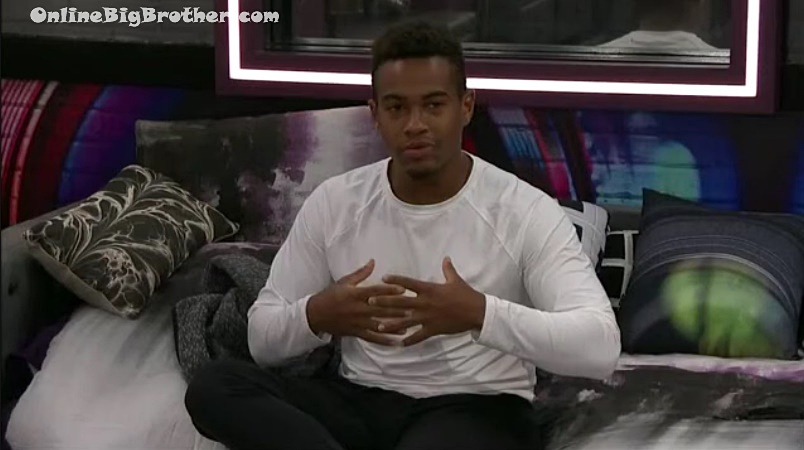 11:31 am David and Enzo
David talks bout his Sunday routine it's his long run day. He tries to run 7 miles.
David explains he uses "headspace" a meditation app that guides him there's a coach and a meditation person.
Enzo – that's dope
David – keep the same pace use less energy ..
Enzo – they adjust you while you're jogging
Says the running helped "calming my COVID Anxiety"
Enzo says he use to run a lot but it started "Cutting into his muscles" so now he bike rides.