POV Holder:
Frankie
Next POV
Aug 23rd
POV Used
Yes
POV Ceremony
Aug 25th
HOH Winner 1:
FRANKIE
HOH Winner 2:
Derrick
Battle of the Block Winner
Donny & Christine
Next HOH
Aug 21st
Original Nominations:
Derrick's Noms (Donny & Christine) Frankie's Noms (Caleb & Cody)
Final Nominations:
Zach & Cody
Have Nots
Christine & Victoria
POV Players
Cody, Caleb, Frankie, Victoria, Donny, Christine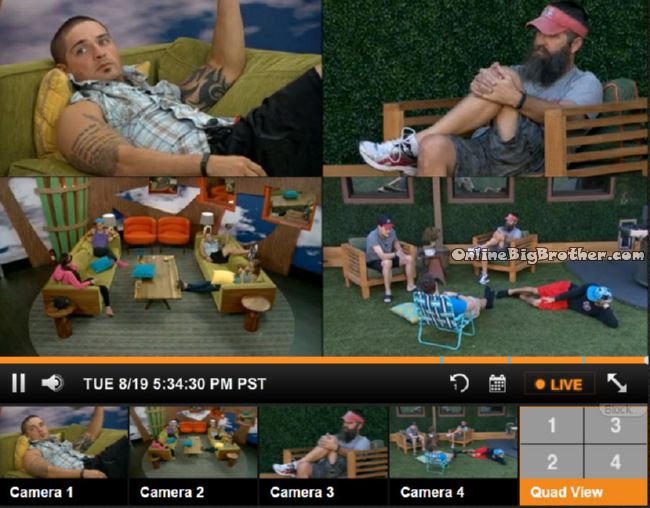 5:34pm Chit chat.. topics range.. Golf, Jobs, Frankie's sister, Frankie, nashville, Frankie, Vista verde golf course in texas, Frankie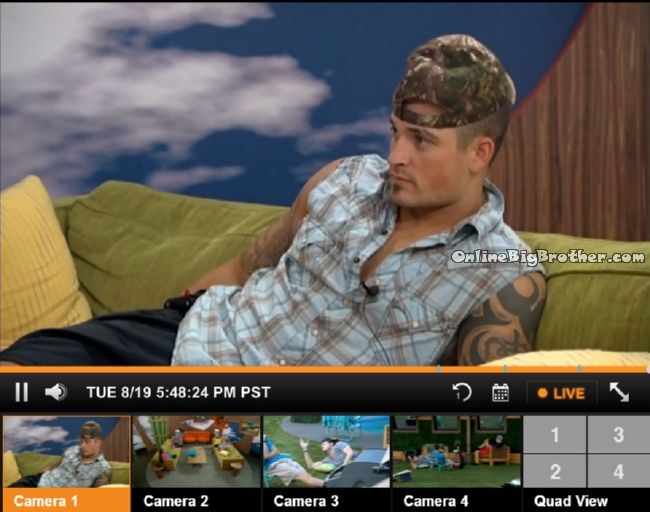 5:50pm living room Victoria, Beast mode and Frankie
Caleb saying he's looking forward someone leaving it means he's one person closer to the money.
THey wonder if there will be a buy back.
Vicotira says people were pised last year with the buyback "Why would someone like that"
Caleb – there's going to be no buyback.. not this week
Frankie says they can unite against whoever comes back
Caleb – but they are usually safe for one week
Victoria – everything changes so much in this game.
Frankie thinks there might not do the BuyBack and DOuble eviction because they had the battle of the block.
Victoria doubts it says the last 4 weeks would be boring otherwise..
Frankie – THis season has not been boring
Frankie – I think it's possible there's a double eviction this week and a buy back next week and BOB for two more weeks… what No.. SIngle eviction this week.. buy back next week followed double eviction.
(THey have no idea)
Frankie – Nothing has been fair this entire season.. this game isn't fair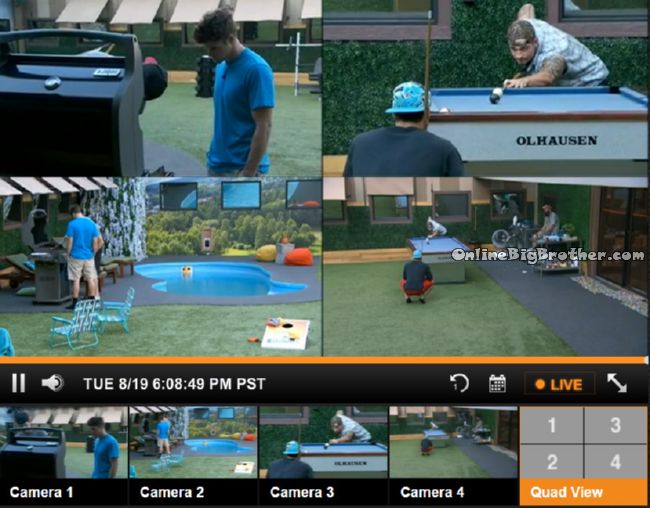 6:08pm Pool and BBQ
They agree the BBQ is really good brand "Webber". Zach wonders how profitable the season is with all thie stuff they buy for the hou8se guests..
Zach and Derrick talking about CBS making money off Big Brother because they keep running it every season. Derrick says they are getting 13000 each for stipend. Someone might buy a advertising segment for a couple hundred thousand there might be 5 per segment and multiple segments. Points out one episode could be the winners prize money.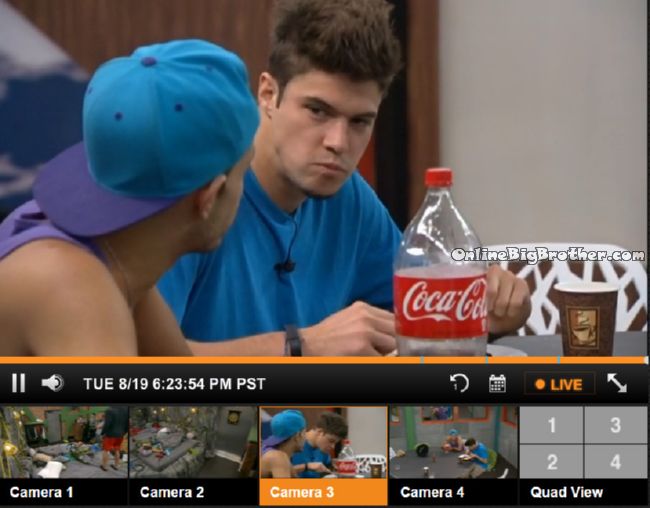 6:23pm Kitchen Zach and Frankie
Frankie – Frankie you're a mess
Zach – Frankie your disgusting
Frankie – I hate you beast mode cowboy
(They are talking about the people shouting out to them in the backyard last night)
Frankie says the game is starting to get to Caleb he's getting paranoid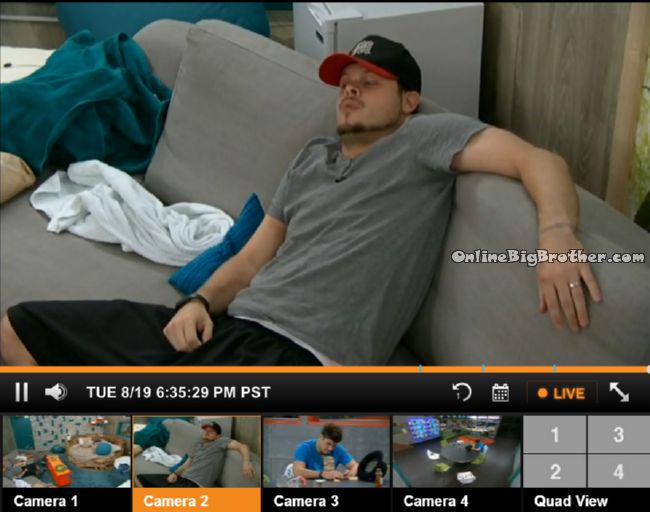 6:35pm HOH Derrick and Frankie
Frankie – Caleb is convinced it's Victoria now (Saboteur).. Zach thinks it's COdy
Derrick – Caleb said it twas cody.. regardless no one thinks it's us
Frankie – Zach is still doing good
Derrick – He's better than he's ever been.. I think the guy we see now is the true him he has a$$hole moments but he's not a A$$hole.. i think he played it up for the cameras he got a lot of play.. He's going home.
THey agree JOcasta is the best person to come back in but realistically it will probably be zach or HAyden. Frankie would rather Zach over Hayden.
Frankie about the BOB – it was designed to get rid of floaters .. No no no it's designed to keep floaters.. because you need them to put them up every week.. I wonder what the gamers thought of our strategy..
They think the case is production has all the competitions planned out and built but they leave it until the season starts to figure out the order.
Derrick says Donny came to him this morning "He didn't say like last week you and Frankie are safe this week"
Frankie – "We have to rely on our numbers
Derrick – rely on our numbers then after go to him and ask him what's up
Derrick – Who knows what he genuinely thinks..
They agree they will never know until after the show is over. Derrick is thinking Donny knows Christine tried to throw the BOB buts doesn't think they are involved.
Derrick says Donny is making moves with Caleb and Cody.. he's going to Cody saying there is a pecking order..
Derrick doesn't blame Donny for it says he's trying to break the bond they have with Caleb and Cody.
Derrick thinks it's dumb of Donny to take them out because they have their TEam America bond. "I don't think he will put us up but we'll be the back door option"
Frankie – My gut is he would be stupid to come after us because we want him gone the least.
Derrick – we're his only chance unless he thinks he's developing something with Caleb and COdy
Derrick brings up Caleb sneaking around, Frankie says it's weird to eavesdrop.
Derrick says they are in good shape for next week. If Christine wins HOH Donny/Victoria
Frankie – Caleb Donny/Victoria
Frankie – Cody?
Derrick – I don't know about him.. I think Donny/Victoria.. who would he put up me and Caleb..
Frankie – What i'm concerned about is who that person will backdoor
They think Donny will put them up in a heart beat.
Derrick says everyone will want to take Victoria because they will win the money against her.
Derrick – honestly as a fan of the show it wouldn't be good for the show
Frankie – THey are pissed zach is going
Derrick – in your eye or ears I should say what was the wording from last night
Feeds cut… (Ohh c'mon)
Frankie says Big BRother is harder than sitting out in a tent in Malawi for 3 weeks.
Frankie – Zach cracked week 2 he''s cracked 6 times since then..
Derrick – these down days do it..
Frankie – after this Survivor will be easier
Derrick – Jeff interviewed Hayden and he said Survivor is a lot harder
Derrick tells him he knows a guy that did amazing race if Frankie is interested he can hook im up.
Derrick says Beast Mode said he has a spot signed up.. you don't think that's true
Frankie – I think at some point a casting assistant asked him would you prefer to do Survivor
Derrick – oh as a personal questions
Frankie – Correct..
Feeds cut

When they come back Caleb is there.. Frankie is talking about his dream Survivor Big Brother Tribe.. it would include Hayden and Caleb.
Frankie says the Survivor competitions are rinky dink compared the the ones for Big BRother.. he goes on and on about how the production costs for Big Brother must be a lot greater than Survivor, "OTEV cost a million dollars.. thats a set an elaborate set"
Frankie thinks twice about that estimate says 100 thousands. He adds that's the reason why the winning money for Big brother is less because the production costs are more.
Frankie says he needs to get wilderness certified it's going to take a week out of his life but after that he can get anything done in the wilderness, he'l be ready for Africa, Amazing race and Survivor. Frankie is inviting Caleb and Derrick to come to Africa to build schools with him.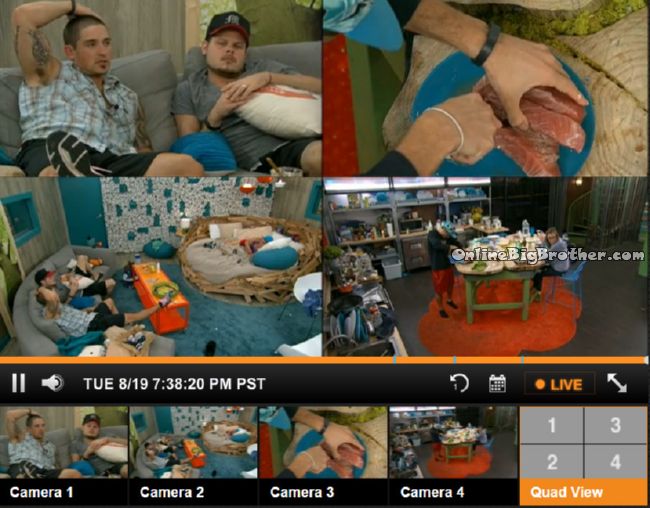 +
7:39pm
Cody hacking away at Tuna.. Caleb is telling them about castrated Hogs and how huge they get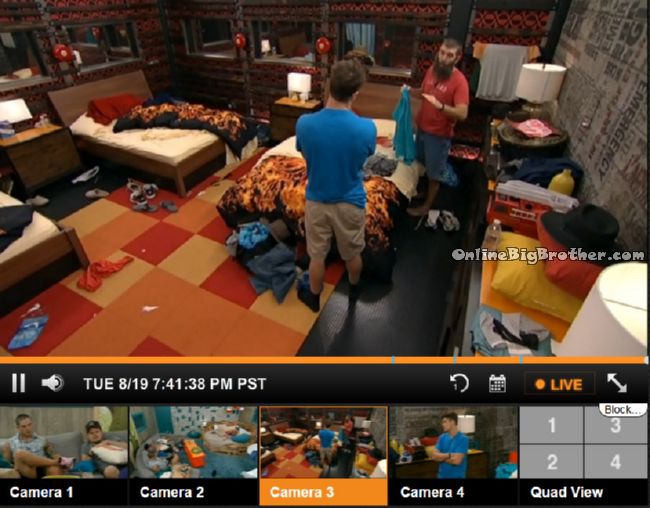 7:41pm Donny and Zach
Zach is going to tell Christine if he doesn't vote for him he's going to put her on blast in front of her husband. .
Donny feeeeewww…
Zach – thats a low blow
Donny – she might now care..
Donny says don't use his name but he should target Frankie he can always do what he had planned to Christine Thursday morning but he should work on Frankie.
Donny – Frankie has a lot of power if he wants to keep you he'll keep you
Zach – Even if he doesn't have a vote
Donny – definitely.. cause they are together..
Donny tells him to go to Frankie about being the number one target really push his paranoia
Donny – No one will take you your sister made you the biggest target.. that might scare him… He's the most paranoid person in the house.. Derrick is calm as a cucumber..
Donny stresses to jsut do this one time..
Alliances
"The HITMEN" – Cody & Derrick
Team America = Donny, Derrick, Frankie
More polls here https://www.onlinebigbrother.com/big-brother-compendium/big-brother-16-polls/
[polldaddy poll=8255055]