POV Holder:
Elissa
Next POV
Aug 24th
POV Used
YES
POV Ceremony
Aug 26th
HOH Winner:
Aaryn
Next HOH:
Aug 22nd
Original Nominations:
Elissa and Helen
Current Nominations:
Helen and Spencer
Last Evicted Houseguest
David, Nick, Jeremy, Kaitlin, Howard, Candice, JUDD, Jessie
Have Nots (head cheese and habaneros)
GM, Amanda, Helen and Elissa
4:55pm HOH Aaryn and Spencer
Aaryn says Amanda told her he is targeting her.
Spencer says he's not and he doesn't think she would listen to Amanda. Aaryn explains what made her mad last night was that Amanda/McCrae can go around and make deals with everyone in the house but when some else tries to do it they freak out.
Aaryn says she knew Andy, McCrae and Spencer wouldn't vote out Amanda so she choose Helen.
Aaryn: "Helen is equally dangerous.. "
They both Agree helen leaving is best for both their games.
Spencer says he doesn't have any deals with Amanda/McCrae.
Spencer explains the only reason he is not the target is Amanda and McCrae need his vote once he isn't needed he'll be the target . Spencer Points out it will start with Amanda planting little seeds like he is coming after Aaryn . Spencer adds that Amdan tells a lot of little lies which travel out faster and come together quicker.
Spencer sees what Amanda is doing doesn't want Aaryn to worry about him he's got his own plans. He says next week Elissa goes and the week after than he's hoping he gets the power because he knows what to do. (hinting that he would try to take out Amanda)
Spencer: "This is god's honest truth the only game I talk with Amanda is what the current week is"
Clownie found dead again.. :(
Big Brother 15 N*de flashback times here
5:30pm Hot tub Helen, GM and Aaryn
Aaryn says that after seeing Candice leaving in the clown suit she felt bad for her. Helen says she was cheering Candice on when she was yelling at Spencer but after it happened Helen felt sorry for Spener because his family would have had to seen it.
GM: "Thats for you Spencer.. putting that fat b!tch in a clown suit"
5:52pm bathroom Aaryn and Amanda
Aaryn: "Something is going to happen with the photo booth I just know it"
Aaryn brings up Big Brother 13 when they had the balls. They wonder if there will be a competition based around it.
Amanda asks if if everything is OK, she's acting like something is on her mind.
Aaryn I just know that going forward is going to be tough. She adds that after Elissa leaves it's going to get really intense for home.
Aaryn invites her to the HOH to talk
5:57pm HOH Aaryn and Amanda
Aaryn doesn't want Amanda to start coming after her. She feel that sometimes when Amanda targets someone it's all of a sudden.
Amanda: "I trust you I trust you.. I have no choice.. I know you are not coming after me I believe you that you trust the alliance.. I trust the alliance"
Aaryn says she knows how it feels to be a fake target and a real target she just doesn't want to go up as a fake target and it changes to a real target.
Amanda says that Aaryn is a fantastic competitor in the game probably the best. Aaryn tells her that AManda and McCrae's social game tops everyone else. Aaryn adds the only person that is close is Andy.
Aaryn: "Do you think Andy and MCCrae are going to get close to Spencer and move away from them"
Amanda: "Nope"
Aaryn says Helen came up to the HOH after the ceremony and was bawling..
Aaryn: "She was saying she's going home and she wants me and Elissa to work together"
Amanda: "Does Helen want ELissa to go after me and McCrae"
Aaryn: "Do not tell Andy this but I think she's more pissed at Andy"
Amanda: "both"
Aaryn: "yes.. they are on to it"
Amanda: 'That is Andy's downfall.. no one will take him to the final 2 because he'll beat all of them.. "
Amanda says Andy has been blindsiding everyone in this game whereas Amanda tells people right to their face.
Amanda: "If you and me make it to the final 2 it will be the hottest final 2 ever"
Aaryn: 'It will be a mixed votes.. it'll come down to one vote"
Amanda: "People will have a hard time deciding because we've played such different games"
Amanda: "we make the perfect player together".. Amanda points out if Aaryn was a social player like Amanda or Amanda was a competitor like Aaryn they would be gone already.
Amanda says she will never cross Aaryn .
Aaryn says McCrae doesn't want to take her as far as he tells her.
Amanda: "doesn't matter I do and Andy does. "
Aaryn says Spencer and GM are guaranteed wins for people. Amanda groans does not want Spencer to win this game.
Aaryn is concerned that MC will try to get her out saying she is a pawn.
Aaryn: "Did ya'll think I would put you up"
Amanda: "Yeah.. and when andy said you were b!tching about me I was like … oh f****"
Aaryn: "He said B1tch "
Amanda': "no.. he said you were complaining"
Aaryn: "I was fine until Andy saif ya'll were targeting GM"
Amanda: "I have no idea why he said that"
THey agree they've gotten sick of GM talking about Nick. Amanda wonders if Gm is like this with other guys.
Aaryn: "I think she is attracted to gay guys.. she say all the guys she's dated her friends are gay"
Amanda: "I would think she was attracted to guidos"
Aaryn: "Me too it's weird.. I just don't like all the down time I wish we could just power through it "
Amanda says that the first time she kissed MC it was horrible she had to tell him "You need to slow down and use more tongue .. it;s perfect now"
Amanda: "He tells me he loves me"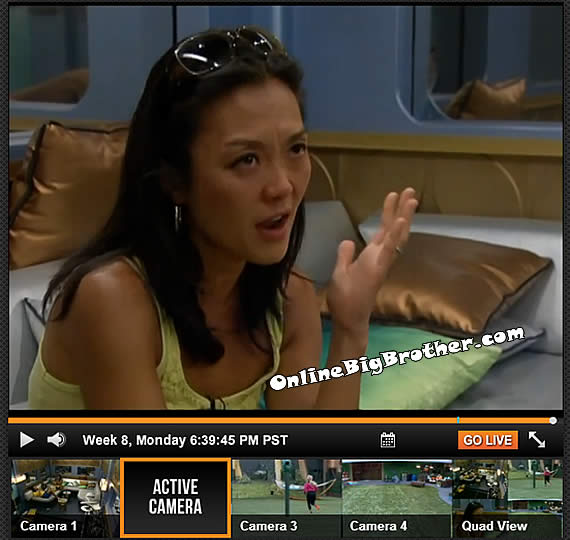 6:21pm Cockpit Helen and MC
Helen says she's been hearing things about MC she wants him to know she's told nobody about the MC, Andy, Helen alliance. Helen knows Amanda wants her gone this week and this makes it tough for MC.
Helen: "I need your vote.. I know Amanda would hate it and you are afraid of her wrath"
Helen says Amanda is not being portrayed well at all and MC doesn't want to be portrayed as the puppy dog following her along.
MC: "Ya 4 sure.. ya ya "
Helen says if MC votes to keep her it will show people that he thinks for himself.
Helen: "I am not going to leave like Jessie that made up stuff that's not true.. there comes a point in the game you have to play for yourself.. "
Helen says she wants to take Amanda out but doesn't want to touch McCrae she wants MC to make it far with her.
Helen tells him to think about the way you are being portrayed and how voting Spencer out will change how he's being seen by the fans.
Helen says she has Elissa on her side and Spencer is just going to be "Pawned out" so his best bet is to go with her and Elissa.
MC says he needs some collateral information he can use to persuade Amanda. Something that he can use to make someone else a larger target.
Helen: "Honestly McCrae I haven't done very many things wrong in this game"
MC asks about the MVP. Helen: "I don't know I know the first 3 weeks.. i'm sorry"
Helen: "I hope you play your own game and I am good for your game.. you are going to need that extra vote… "
Helen: "You know you haven't been on the block yet and people think that you should go on the block at least once.. this is what people are saying"
MC: "Yay yup ya"
Helen: "Why don't you stick up to her.. why play her game.. "
MC: "Ya it's the worst… yup ya"
Helen: "Tell her you know for my game she is good.. if she won't listen to you MCCrae with something important to you.. life is going to be hard with her "
helen starts to cry
She tells McCrae that marriage is tough and it breaks her heart seeing the way Amanda talks to MC
Andy and Elissa join them
(MC's only response to this madness is ya yup ya)
Helen: "Why are you so scared of her"
MC:' I'm not scared ya yup ya"
Helen: "You are not seeing this game right.. "
Helen again points out that Amanda isn't being portrayed nice and everyone wants her out.
Elissa: "Do you not see when you talk to the DR"
Helen: "All that stuff that happened last night had nothing to do with me"
MC: "Oh of course"
Helen:" If you can't make a move without Amanda why even talk.. why even compete"
Helen: "America is watching this and America is seeing you as the swing vote.."
MC: "Ya yup Exactly yup"
helen: "People are going to see you as being manipulated by her.. if your friends are watching what would they think"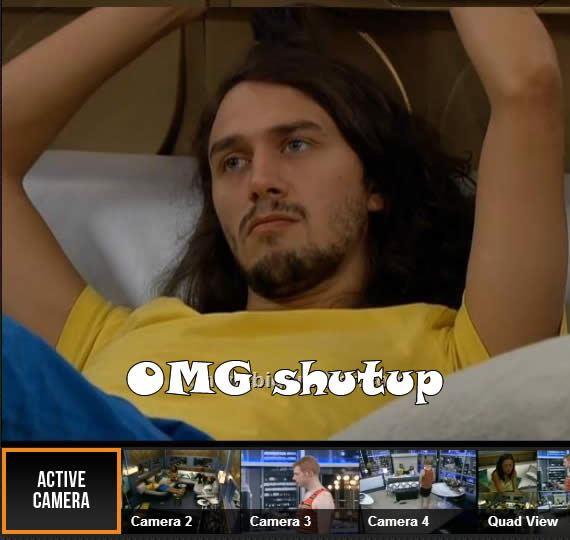 Helen: "If I leave I cannot guarantee that you have Elissa's vote.. we're a two deal package"
Elissa: "I don't know why we don't stick with the solid game"
Helen says the Dairy room told her she was the target even when Aaryn told her she wasn't (gotta love the DR)
Elissa: "If you put your foot down she would go with it"
Helen says being in a relationship with someone is about compromise.
Helen: "I don't tell my husband this is what I want.. I would never do that to my husband.. we disagree all the time about that"
Helen: 'Don't be afraid and timid.. the only reason you would keep Spencer is he's a chummy friend"
Helen: "You are going to be on the block and thinking shit I needed Helen's vote and now I don't even have Elissa's"
Elissa leaves and Hleen reiterates everything a couple more times. Eventually Amanda comes in Helen says they are just talking about how much she's missing home.
(This conversation was classic)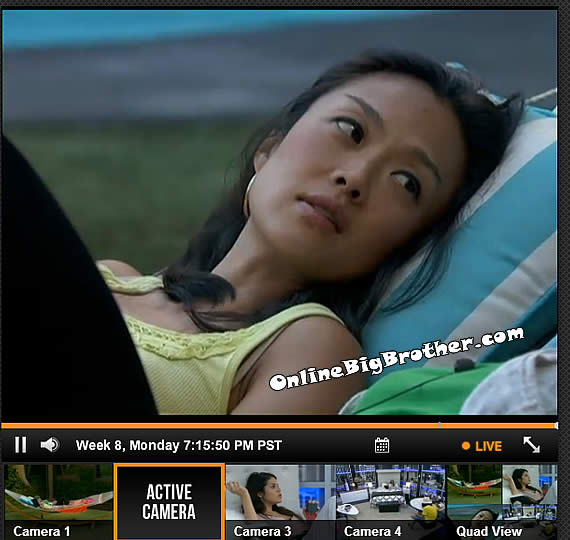 7:10pm Hammock Helen and Elissa Helen going over her conversations with MC and GM. Helen knows she's in trouble but is going to try every angle.
[polldaddy poll=7329443]