POV Holder:
Elissa
Next POV
Aug 24th
POV Used
YES
POV Ceremony
Aug 26th
HOH Winner:
Aaryn
Next HOH:
Aug 22nd
Original Nominations:
Elissa and Helen
Current Nominations:
Helen and Spencer
Last Evicted Houseguest
David, Nick, Jeremy, Kaitlin, Howard, Candice, JUDD, Jessie
Have Nots (head cheese and habaneros)
GM, Amanda, Helen and Elissa
3:05pm
lockdown over.. Aaryn heads up to the HOH McCrae is right there behind her hoping for a Pandora's box.. There's nothing in the HOH room.
3:06pm HOH Andy, McCrae and Spencer
Andy saying Helen and Elissa are telling people they cannot trust Spencer. Andy: "Just stuff you would expect"
Spencer:' Hey did GM seem like she's buying any of it"
Andy: "No"
McCrae says GM is the one that worries him.
Andy: "Doesn't matter there are three solid votes"
McCrae: "no I mean moving forward.. she just gets something in her head"
MC: "If I had gone up on the block I would have died.. cause I threw it and to have that safety then throw it away"
McCrae seems pretty convinced that a jury member is coming back soon. He says if JUDD comes back he would go after Him and AManda.
Spencer: "I don't think so"
MC: "I was thinking about that last night.. i think that it would happen"
Spencer: "All he wants to do is make a big move..His big move is coming back from Jury. "
MC says he thinks the 4 Jury members will compete to come back into the house like Season 13.
Spencer: "So like JUDD Vs. Helen"
MC wants Jessie or Candice to come back because they are the weaker of the 4 players. If JUDD comes back he will have staying power.
Amanda joins them. They tell her they're talking about jury members coming back. Amanda groans.
Amanda:" Helen hates me.. she said she loved me until spencer went up as the replacement nomination now she hates me"
Andy says he is screwed if he votes Helen out and she comes back
Amanda says it doesn't matter whoever comes back we can get out right away.
MC: "anyone that comes back in the house other than JUDD will get booted right back out.. JUDD has staying power"
Spencer: "If I get out and come back you are all F***"
Aaryn joins them.
Amanda asks her about what the speech was about with Aaryn.
Aaryn says she wanted Helen
Aaryn: 'Helen really really wanted me to put Amanda up as the replacement nominee.. She really thinks she has the vote"
Amanda: "Who did she have"
Aaryn: "GM, Andy and Elissa." Aaryn adds that Helen was telling her that the Amanda/McCrae duo is more powerful than the Helen/Elissa duo so putting Amanda up means the stronger pair get's split up.
Amanda: "Not to mention Elissa hates you and is only nice to you when they need them"
Amanda:' Who is Elissa going after":
Aaryn: "Me Gm.. or me and Spencer"
Amanda: "Helen will tell her to come after me"
Aaryn explains the thing is ELissa cannot play alone she will never work with GM, Aaryn and Spencer. She will work with Andy and Amanda because that is all she has.
Amanda: "WE just have to make damn sure Elissa doesn't win the veto"
McCrae leaves..
Aaryn says Helen is on high alert right now and when you are on high alert you notice everything. Aaryn explains that Helen doesn't think she had Andy's vote and she knows Andy is closer to Amanda. She noticed that Andy went up to HOH last night after he told her he was going to bed.
Amanda brings up the scenario where they backdoor Elissa next week. Spencer says he doesn't want to go on the block again. Amanda thinks it's a bit risky not putting Elissa up. McCrae joins them that the odds of Elissa not playing in veto are 1 in 6 which are not very good odds so it really doesn't matter.
Aaryn: 'There's this thing about Elissa when she is on the block she fight balls to the walls"
Amanda and McCrae think that once Helen goes Elissa will not have the fight in her especially if the veto competition is of the "What would you do for veto" variety.
They start talking about Elissa saying she doesn't want to go to Jury. Spencer says once Elissa is gone he vote mind who wins the money.
MC: 'I'm so f*** sick of walking on eggshells around Elissa"
They go back to talking about returning houseguests. All 4 of them are thinking JUDD is coming back. MC wants them to all get together and have a house meeting to agree if someone comes back they vote them right back out.
Andy: "Thats not fair.. as a fan I hate when people come back "
Spencer: "you have a mental vacation"
Andy: "I played this game so meticulously to get taken out by someone we've already evicted"
You can re-watch ever second on the feeds using the flashback feature.. It's just like a DVR and is super easy to use. click this link for a Free Trial —> Subscribe to the Big Brother Live Feeds
3:50pm HOH Spencer, Aaryn, Andy, McCrae
Aaryn says Elissa turned into rachel during the OTEV competition.
Andy says Elissa almost lost the second road to Helen and she almost lost the third road but she "Enzo'ed" Andy.
Andy says he wants Candice to come back because she sucks so bad. Spencer says that Candice and GM will fight so much.
Spencer brings up how Ginamarie came up to him and asked the last wrestlemania
Spencer and MC laugh that GM watches wrestling still they haven't seen since they were kids.
Spencer: "If Rachel comes back in this house you will see a spencer you've never seen before… "
MCCrea: 'Evil Spencer"
Specner jokes says he would stick his hand in her food and throw haridryers in her shower, "Like CLonbiwe"
McCrae says he would be pissed too if Rachel comes in the game.
Aaryn says Yeah Clownie is doing great he's still alive after 24 hours.
Spencer: "Helen is going to be dissecting everything people are saying and doing"
MC: "I know i'm trying to not talk to her"
Andy: "She keeps threatening me.. I mean you heard her up here"
Aaryn: I thought she was funny"
Aaryn says Helen told them they are going to go tell Spencer he is safe this week but he must do what they want the following week or he goes home. Spencer: "I would have told her to f*** off"
Andy: "I love Helen but the way she's talking…. I love her as a person so much but as a game player i'm so over it "
Aaryn: 'She called Andy a rat"
Aaryn says the MVP twist made her so made.. all it gave you was a nice room and safety for a week. All you get is all this blood on your hands.
MC agrees.
Aaryn gets called into the Diary room
4:14pm HOH Spencer, Andy and McCrae
Andy: "She talks to me like she carried me this entire time"
MC and Spencer agree this is how she talks to them.
Andy says Helen is already planting into Elissa that he is not trustworthy. Andy is only worried about GM's vote but. Spencer says Gm is solid. Andy now agreeing says that Aaryn will tell GM where to vote Thursday morning.
Spencer is certain if Elissa wins HOH she will want his blood. Spencer: "Ginamarie is headed for a major f**** explosion.. she has stayed mad for so many days.. "
MC: "Then Candice comes back"
Andy: "Honestly that would make for the best TV"
MC: "That would.. "
Andy: "Oh my God.. I feel like Candice comes back saying I'M BACK" Andy explains that once GM sees Candice walk back in she's clothesline her Candice will be dead and GM will be removed from the game.
Andy: "I don't' think Candice is this vile awful person that GM paints her out to be.. she's not this crack baby wh*re"
Big Brother 15 N*de flashback times here
4:21pm Hammock Helen and Elissa
Helen says she talked to GM in the cockpit. GM told her that she will talk to Aaryn before the vote. Helen: "This is why it's important that we keep working on aaryn that the target is Spencer"
Elissa says that Andy said the same thing to her.
Helen: "we need to spend a lot of time with Aaryn, Andy and Gianmarie"
Helen: "I really think Aaryn wants Spencer to go you know but Amanda is going to get in her ears a million times"
Helen: "Amanda is being all nice to Aaryn.. the second she's gone she is going to go back to being the horror show she is"
Elissa wonders if Andy will betray them, she cannot believe that Andy would go with Amanda and MC over her and Helen.
Helen says Andy is so impressible. .he so easily manipulated.. "you know"
Helen says they have to reiterate with Andy that the Brenchel army is rooting for Andy to vote out Spencer.
Elissa says that the fans are going to thing this week is boring if they do what the house wants.
Elissa: "I'm ready to feel fired up"
Helen says if you play the game too safe you are going to lose you have to make moves and take risks. helen brings up when she got Jeremy out was a big move.
Helen: "He's played so safe that he's too scared to save his closest ally you might as well play in the park because the sandbox is more his game ……… you know"
Helen tells her if she goes out it's going to be up to Elissa, GM and Aaryn to take out MC/Amanda. Andy doesn't have the balls to do that.
Helen: "You know"
Elissa: "Ummm hmmm "
H: "it's ok to have a split vote sometimes.. "
Elissa asks who is more dangerous AManda or McCrae. Helen says Amanda is.
Elissa asks her if Aaryn will ever vote for her to stay.
Helen: "If you are up against Amanda yes if you are up against Andy no"
Elissa: "Gosh we were doing so good for a couple weeks"
They join Ginamarie in the pool.
Elissa starts talking about the guys taking over the house. GM says don't control sh!t.
4:42pm HOH MC, Andy, Spencer and Amanda
Amanda says that Elissa is saying that she is allergic to slop. Amanda adds that Elissa is saying she has trouble breathing.
Amanda says that her and Helen are now saying they are allergic to slop.
Andy: "Well if that is the case I'm allergic to Double Evictions"
Amanda gets called into the diary room.
MC says the plan for the comp this week is to start fighting with Aaryn and tell Elissa they are going to target Aaryn if they win HOH. The hope is Elissa drops once she gets too cold.
Aaryn comes in they start chatting about the have nots comp.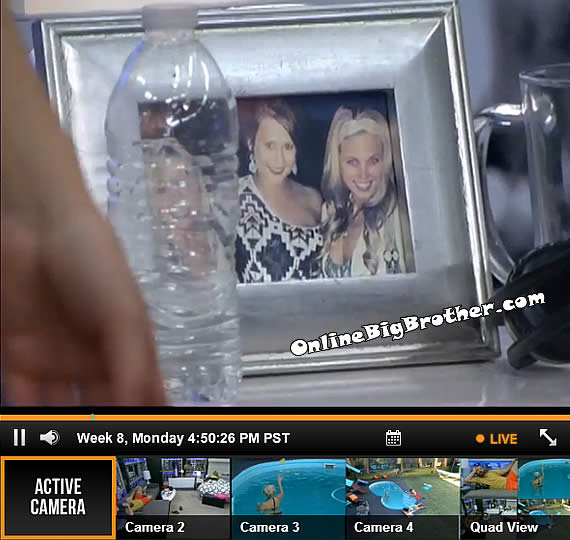 Spencer tells Aaryn she looks hot in her HOH pictures.
[polldaddy poll=7329443]