Head of Household Winner – Tommy
Have note are: No Have nots this week, Jack, Tommy, and Jackson were given punishments as part of the veto.
Nominations are: Cliff, Kat & Christie
Power of Veto Players are – Christie, Cliff, Kat, Tommy, Nick, Michie
Power of Veto holder – Tommy
Power of Veto Ceremony –
Powers in the game *** LINK ***
Grab your live feeds —-> BB21 Live Feeds Subscription Link
Rank your houseguests —-> Big Brother 21 Ranking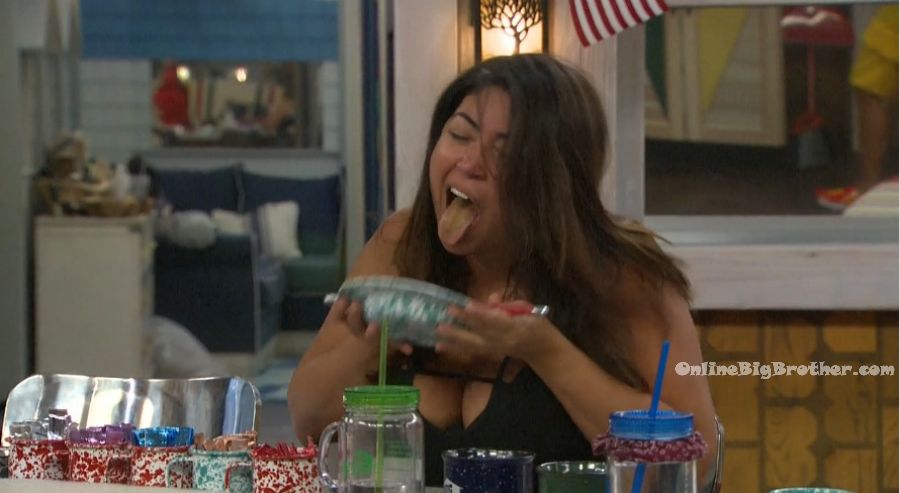 12:25pm
Nick, Nicole and Tommy are in the backyard watching a bird that can't figure out how to get out of the backyard. Tommy heads inside. Nicole to Nick – I spoke to her yesterday. Nick – about me? Nicole – yeah. Just picked her brain. Nick – what did she say? Nicole – she wouldn't nom me. Nick – she said that .. next week if she won. Nicole nods. Nick – how do you know? Nicole – because that's what she told me. Nick – who would she nom? Nicole – oh, I didn't ask her who she would nom. I asked about you and then I said would you? Nick – what was she saying about me? Nicole – she was just asking my thoughts on everybody and regarding how last week went she was asking how I felt about you in regards to trust. And I said I think we're good. He did what you wanted for the HOH, so he trusts you and it should be a two way street. Nick – ah you helped her see that I voted exactly how she wanted me to. Thanks Nug! Nicole – I try, I do my best. The conversation turns to Nick talking about the veto comp. Holly, Sis and Jackson join them.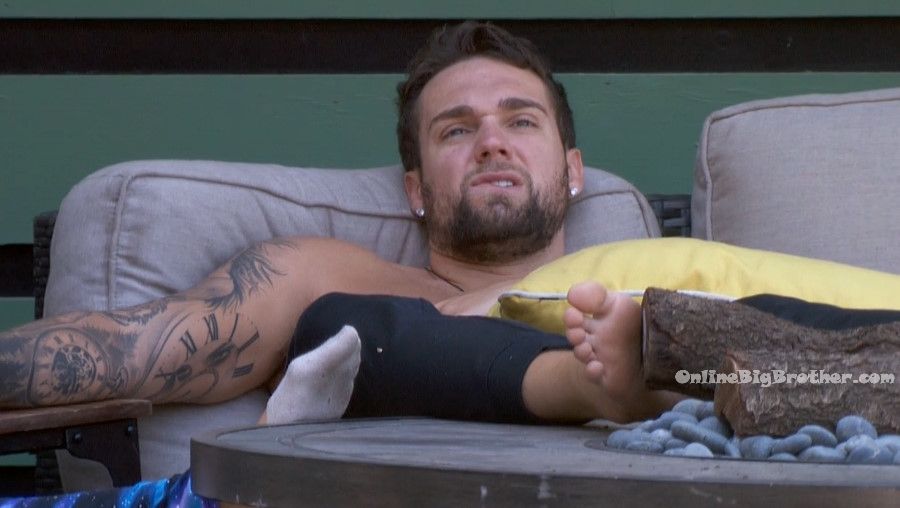 1:25pm Backyard. Nicole and Sis.
Sis – its going to be really hard because you're close with both of them (Kat and Cliff). Nicole – and maybe its just me but even last week.. me and Jack had this conversation because we didn't talk game all the time but it was still a very difficult decision to try to because I always get stuck on the personal level instead of the game level. Sis – yeah. Nicole – and that's where I struggle. I just feel bad for anyone that is on the block. I don't know I am weird. Sis – no I get it. It does suck a lot. Nicole – its tough because obviously I am going to be talking to both of them this week and they ask do I have your vote? I'm like I can't answer that.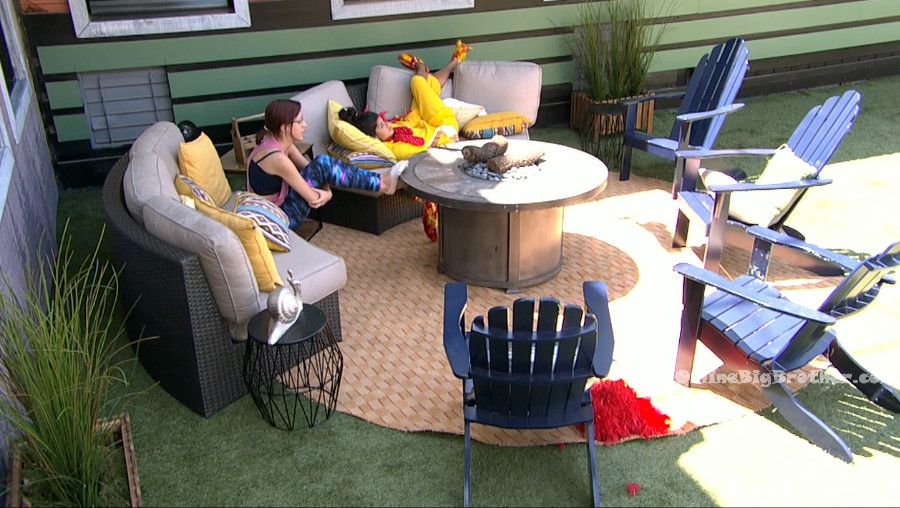 1:35pm Sis has to do her egg punishment again.. Sis gets her eggs and heads inside to cook them. Kat then climbs in the cage and tries moving the eggs through the cage. Kat – I always wanted to try this.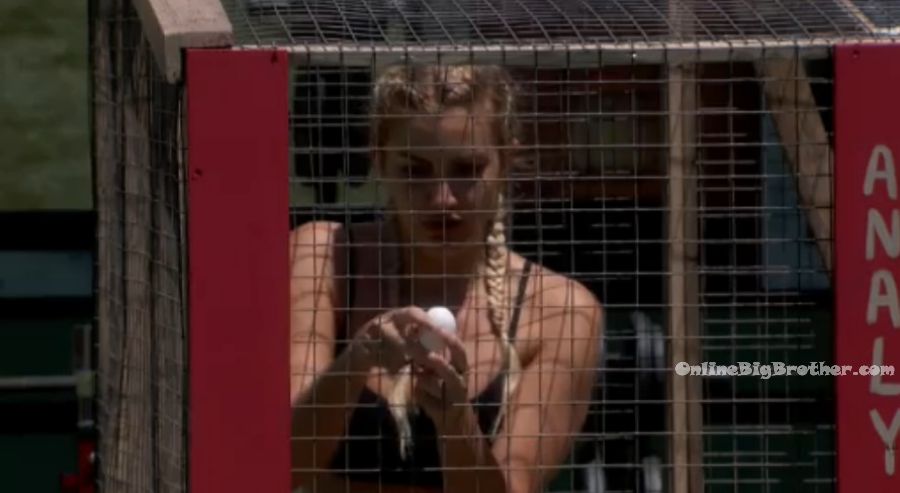 2pm Holly and Kat. Holly – you need to talk to Jess. Kat – I did. Holly – what did she say? Kat puts her hands up in the air. Holly – because she wouldn't say anything to me last night but I didn't know if it was because Jackson was there. Kat – she isn't really saying anything. Holly – she isn't saying that she would vote for you?! F**K! That worries me! I would think that she would just automatically vote for you. Kat – yeah I would. And I would have her back automatically. At this point I'm pissed. At least I have you and Jackson. If I stayed I would be like I'm loyal to you 7 Jackson.. because they always had my back. Holly – I need to talk to Tommy. I don't want it to be dirty. Kat – I don't want it to be dirty either.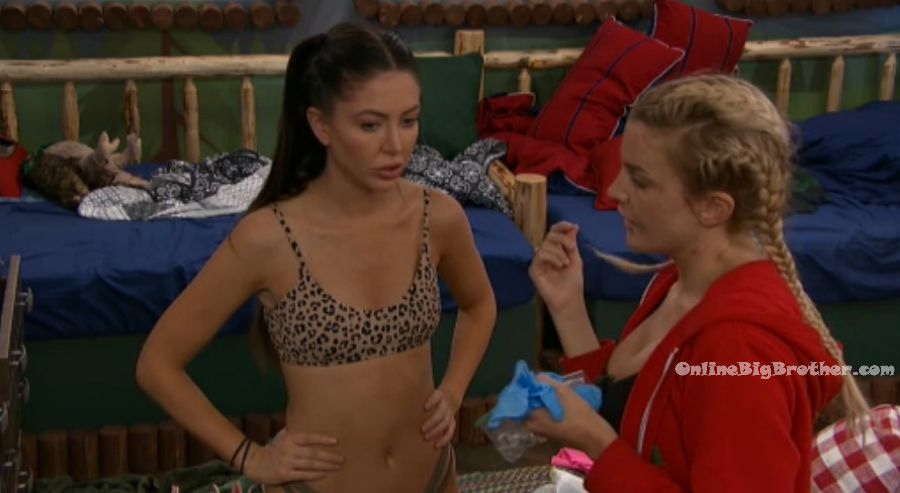 2:30pm Sis finishes making the deviled eggs and takes them outside. Everyone loves them. They all say BAWK YEAH!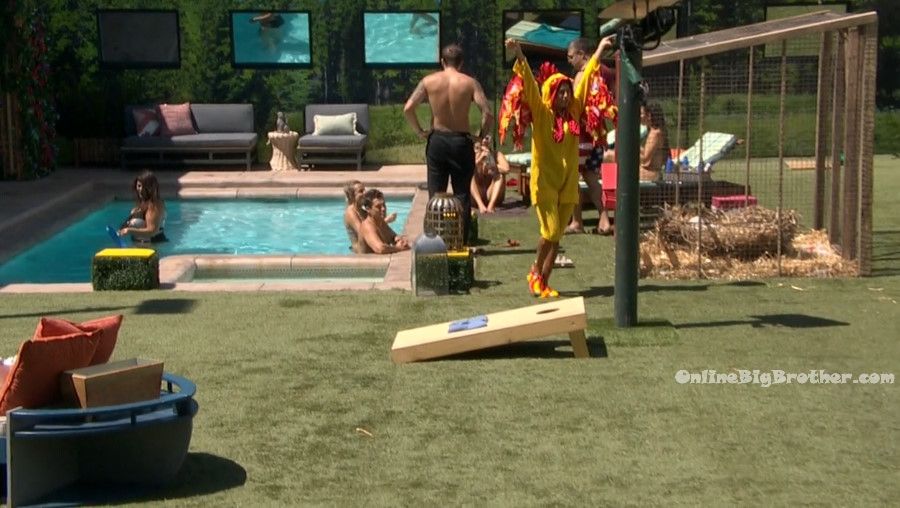 3:15pm The house guests are lounging out in the backyard chatting about random things and suntanning. Sis goes into her chicken coop and lays out in her nest.
Nicole "Oh My God! I almost sh*t my pants!!" #BB21 @bigbspoilers pic.twitter.com/iYhkihi6cU

— Dawg (@DawgsBigBrother) August 11, 2019

4pm Kat and Sis in the boat room.
Sis – right now I don't know what I'm doing. But I have been thinking. Right now I don't know where I stand with Cliff. He always says we're good but I continue to hear my name come out of his mouth that he would put me up so that is what scares me and what scares me with you is that me and you don't really talk that much game. Kat – no we don't. Sis – And I don't know where your head is at so that could be a reason why you would put me up on the block. Kat – I like you a lot. And honestly I wouldn't put you up. You're not on my radar of who I would put up. You remind me a lot of my friends back home so I love having you in the house. I don't want to leave the game. Sis – we will definitely talk more as it gets closer. Kat – just keep me in the loop. They hug and leave the room.
4:15pm Kitchen. Jackson, Cliff and Holly
Cliff – if its me that goes I will shake hands and walk out the door. It is what it is. I don't want to go. And I think I can provide support to people going forward. Y'all included. Y'all especially. Kat's been on the block twice and she's never gotten a vote against her. It is hard to vote against Kat so I get it. Holly – at this point I have not even the slightest idea. Cliff – fair enough. Cliff leaves. Holly – I hate this one.. a lot. Jackson – what does Tommy want? Holly – I don't know. He hasn't said anything. I don't want Cliff to go home but Kat CAN'T go! Jackson – he (Tommy) wants me to vote how he wants.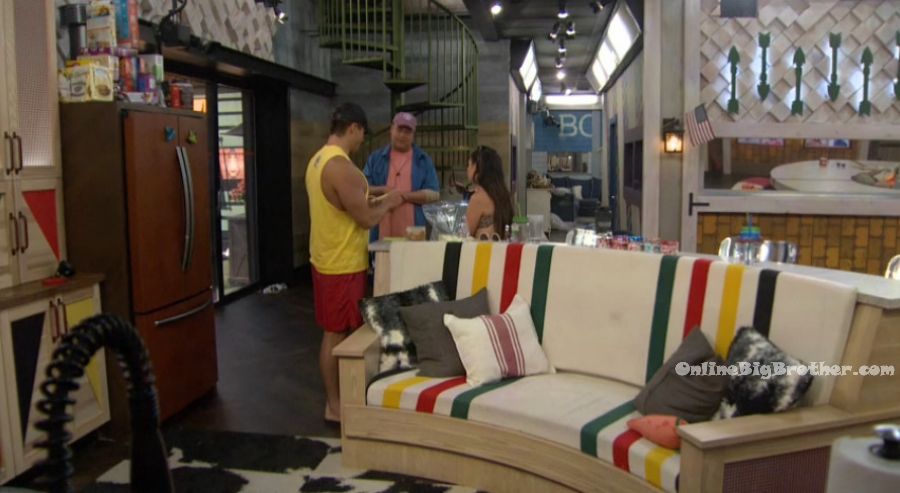 4:40pm – 5pm The house guests are in the backyard chatting about past events of the season.
5:04pm
Sis has to do her egg punishment again.. BAWK, BAWK, BAWK..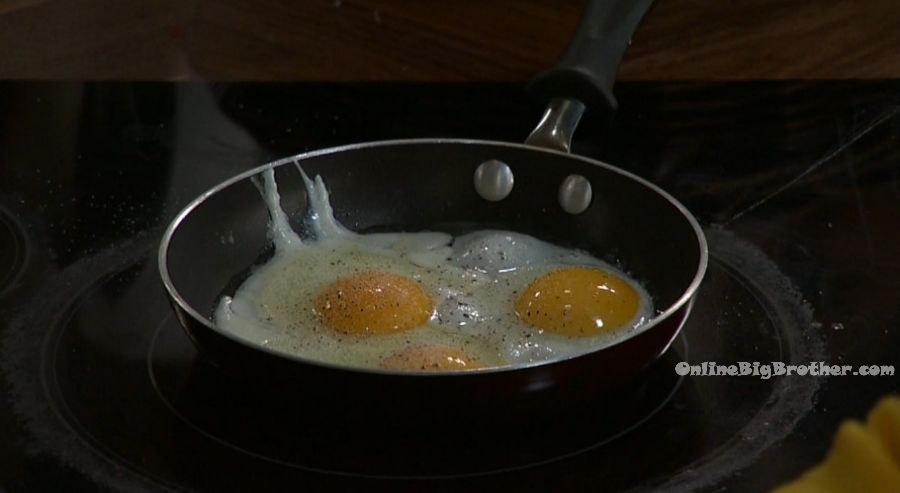 5:53pm – 6:07pm Boat room. Kat and Tommy.
Tommy – I have no news honestly. I talked to Cliff and told him that I wanted to talk to the house. I want to know where people's heads are at. The thing is I am telling you and Cliff that I am probably taking Christie off. Kat – well duh!? I don't think Christie would have gone home anyways if she was on the block. Tommy – I don't know, I think she really could have honestly. With the whole thing with Michie and Holly its still not great so I didn't know what was going to happen. The reason I was gunning for that veto is because I wanted to take the third nominee off. It don't think its fair. I didn't want anyone up there… because I didn't want the votes to be funky at the end of the week. It could have been two, two, two.. and I would have to be like you stay, you stay, you go. So I am probably going to take her off. Everyone loves you. You've never had a vote against you. I really think that you have a great shot. Kat – now I know .. time to get on a team. I always wanted to work with y'all but then I heard other people were also number 7. Tommy – no, you and Cliff were 7 and 8. Kat – I don't want to be the target this week. I want to stay here and keep playing. Tommy – I want you to stay. I love you. At this point you get scrappy.. Kat – what does that mean? Tommy – Like you come up with .. get creative. Kat – all I know are campaign cookies. That's all I got. Tommy – figure out why it is best for everyone that you stay in this game. They hug and leave the room.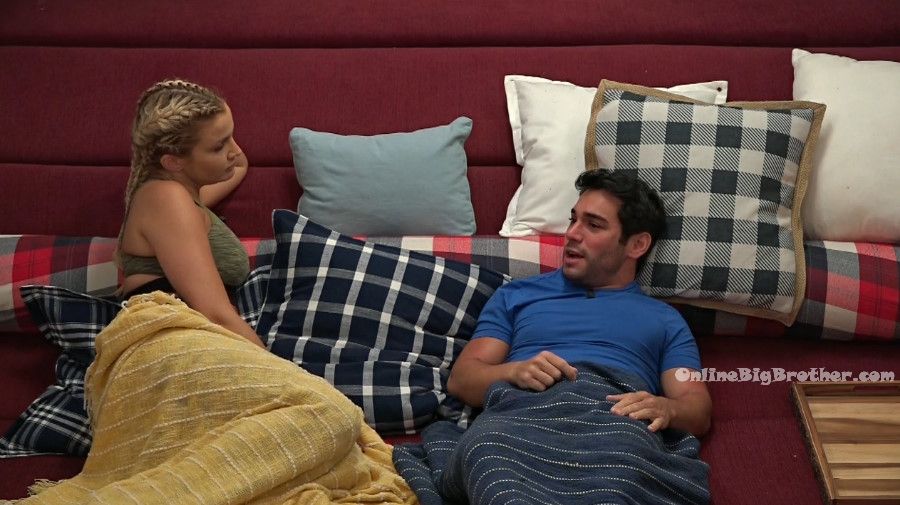 6:33pm – 8pm Tommy gets the HOH snap chat glasses..
They want to do a skit for the snap chat videos. Holly – so go to the DR are and tell them we need beer for it. Tommy laughs. Tommy tells them their names have to be previous house guests names. Nicole – I'll be Rockstar. (Oh god.. Nicole just dropped 40 points.) Cliff – I'll be Donny.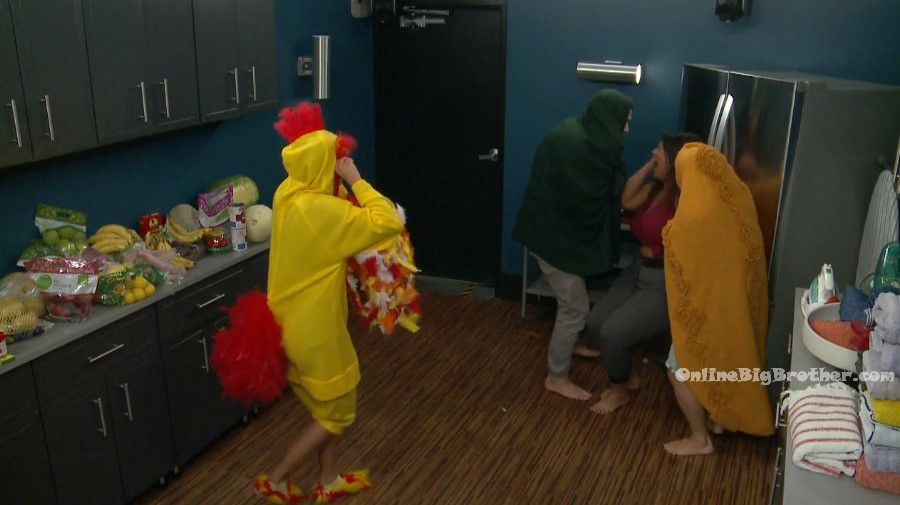 Jess to Kat – I probably wouldn't campaign until after Tommy does everything. (Veto ceremony) Kat – I'm not really trying to campaign, I'm just trying to find out where everyone's head is at. Jess – isn't that kind of the same thing? Kat – is it, I don't know. Jess – if you're asking where peoples heads are at.. Kat – that's true. I still want to talk to Christie though.