Head of Household Winner – Tommy
Have note are: No Have nots this week, Jack, Tommy, and Jackson were given punishments as part of the veto.
Nominations are: Cliff, Kat & Christie
Power of Veto Players are – Christie, Cliff, Kat, Tommy, Nick, Michie
Power of Veto holder – Tommy
Power of Veto Ceremony –
Powers in the game *** LINK ***
Grab your live feeds —-> BB21 Live Feeds Subscription Link
Rank your houseguests —-> Big Brother 21 Ranking
9:00am part two of the Sis punishment.
She has to wake up early in the morning sit on eggs then proceed to make scrambled eggs. Sounds like she has to make 4 different types and deliver at least 1 type to every person in the house. While she does this she has to assume the role of a chicken only saying "BOK BOK"
Sis delivering eggs
10:19 am Christie, Jess, Sis, Cliff
Christie – She's not allowed to speak English
Christie – she had to do one round of sunny side, one round of Hardboiled and one round of Scramble
Christie – this is her fourth round
Jess – why don't I have 4 plates
Christie – she doesn't have to deliver them every time. We got sunnyside
Christie explains she can pick and choose who gets what eggs
Jess – ohh so you don't have to wake everyone up
Christie said she never ate the Sunny Side but they looked good.
10:44 am Holly, Jackson and the RV get hardboiled Eggs
After completing the punishment she runs back to grab the eggs from Jackson and Michie to egg them in her sandwich.
10:51 am
Sis panicking that they'll ask her to make a poached egg
Jess says it's a steamed egg. Christie doesn't know.
Cliff – you crack it into boiling water
Christie now agrees with Cliff, "You crack it into boiling water"
10:53 am Sis gets called again to make omelets with only egg whites
Cliff – Sis I'm so sorry, you know how to separate eggs?
Christie – I'll show you
When Sis comes back with the omelet ingredients
Christie shows Sis how to separate whites.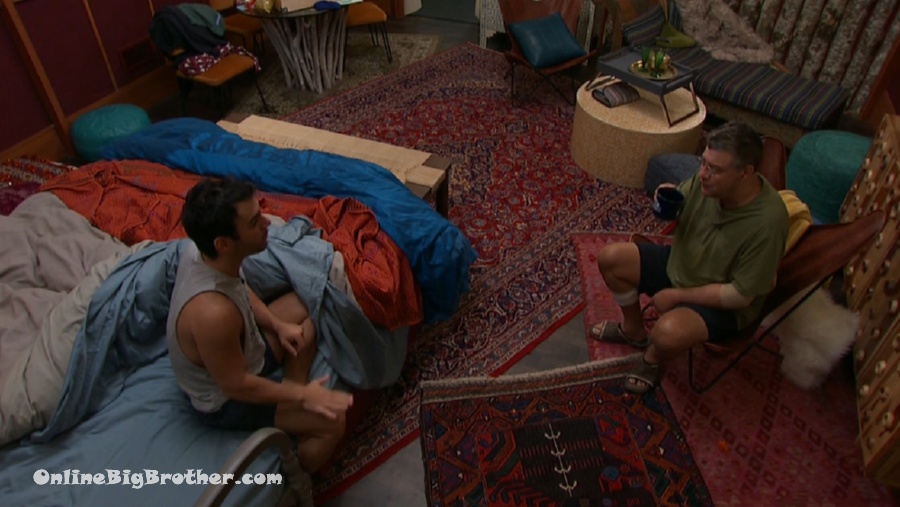 11:00 am Tommy and Cliff
Tommy says he's leaning to using the veto on Christie. Claims he would do that for anyone if there were 3 nominees. "I want there to be two people on the block come Thursday"
Adds with three nominations the votes could get "Funky" and he doesn't want to risk that
Cliff understands.
Cliff says he's open for a deal if he survives this week. Tommy heard that Cliff was coming after him. Cliff says everyone in the house was saying Tommy, Sis, and Christie as the next to go after jack was Cut. "everybody in the house and I was part of that"
Tommy – I totally understand that
Tommy wants 2 weeks of safety
Cliff – Tommy, I'll give you more than that
Cliff says he never wanted Jack to win because he wasn't a fan of the game only saw one season. Plus Jack was controlling the group. Cliff doesn't feel that way about Tommy he wouldn't mind him winning because he's a fan of the game.
Tommy says Cliff is a guy and he wants to keep more guys in the house.
Cliff – I saw JEss and Sis talk so much this morning
They agree there's no girls alliance though.
Cliff brings up his HOH and keeping his word to Christie as proof he can be trusted once he keeps his word
Cliff – I have no problem making deals
Tommy – I want it to be a fun week.. I want to do easter egg hunts.
Tommy – I love you I would love to work with you in the furture.
Cliff brags that he's watched 13 seasons and he's won each one making his own decisions. Explains while watching the episodes and applying his "personal strategy" to the players of that season's decisions. (WTF)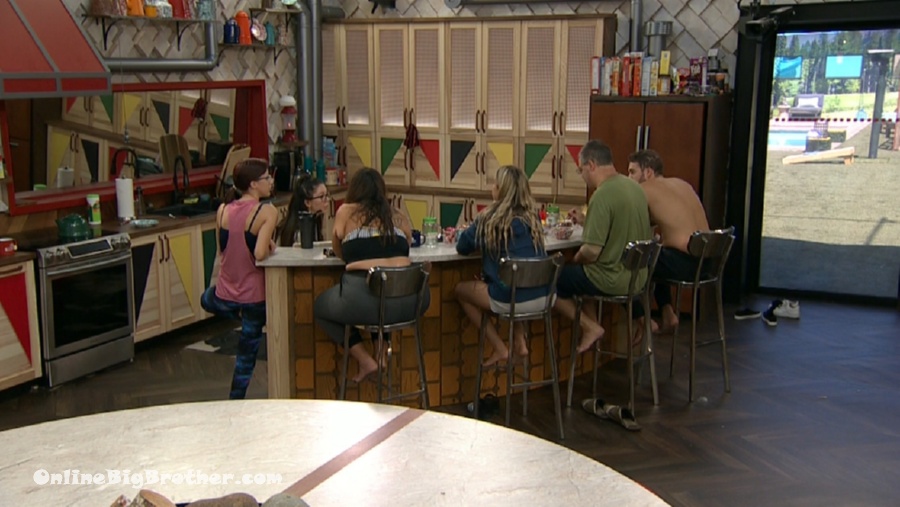 11:45 am
Holly knows how to make poached eggs etc etc .. explains it to them.
(The chick coop is the same one they had in the field trip competition)