Head of Household Winner – Tommy
Have note are: No Have nots this week, Jack, Tommy, and Jackson were given punishments as part of the veto.
Nominations are: Cliff, Kat & Christie
Power of Veto Players are – Christie, Cliff, Kat, Tommy, Nick, Michie
Power of Veto holder – Tommy
Power of Veto Ceremony –
Powers in the game *** LINK ***
Grab your live feeds —-> BB21 Live Feeds Subscription Link
Rank your houseguests —-> Big Brother 21 Ranking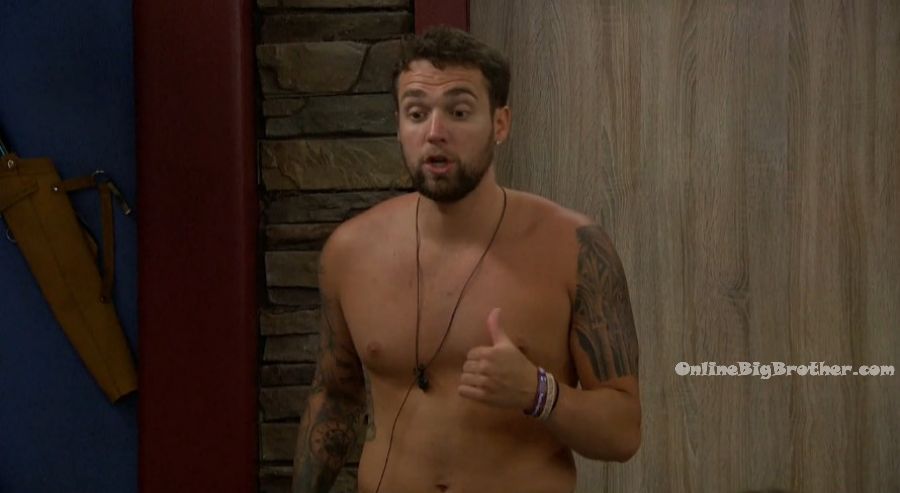 8:13pm – 8:40pm Nick, Sis and Christie. Nick – we're good with getting rid of Kat. Christie – how do you know? Nick – Nicole already told me she wants to keep Cliff. Christie – I want a deal (from Cliff) .. you (Nick) are already good .. I want a deal until after the double that me, Tommy, and Sis are not going up. Nick – why don't we just stay till 6? Sis – I will do that if he f**king tells me. Christie – he doesn't break his word. Sis – I know but I don't want to offer it to him .. I want him to offer it to me. So that I know its coming from HIM! Christie – I agree. I want it coming from HIM. One thing I like about Cliff which I don't trust about Kat is that he will not break his word. Sis – that's true. So if we're already getting out Kat, I'm on board. Christie – I love Kat but she is dangerous. Jess told me .. but it is concerning to me (Jess) that I am one of her best friends and I don't know where she stands. Sis – I want on Thursday for Cliff to come up to me and make this deal with a handshake. Nick – he would. Sis – okay, then I would vote Kat out.. but if he doesn't then I am going to reconsider. Nick – I'm down for whatever. Sis – If we do go down to 6 I want to make sure that you're going to choose me over them (Nicole and Cliff). Nick – what do you think I am going to put you and Tommy up? Sis – I'm not saying that. Christie – or me. Sis – I am just making sure that you're choosing me over Nicole and Cliff? Nick – YES! Christie – straight up I am just letting you know that if you and Cliff went to final 2, you would lose. No one is winning over Cliff. Nick – I know. Why do you think I am trying to bring Cliff to final 2? Sis – but you would win over Nicole. Christie – that's because we would be so f**king pissed at him. F**K you man! Nick – I told Tommy .. I would rather go up against someone that I know I could lose to, than someone I know I would clean sweep. I'll win the double and put up Michie and Holly. I swear to god I would take you guys to four. I'll shake on it if you want?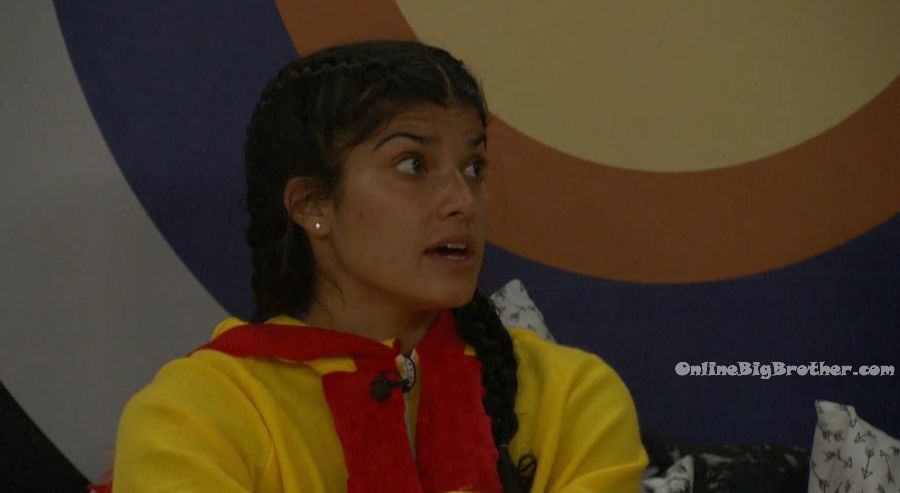 8:36pm – 8:50pm Jess, Nicole and Cliff. Cliff – its going to be really tough for me because no matter which way the vote goes .. Kat and I are going somewhere else. Our paths end and maybe it picks up .. it could pick up later Thursday night for all I know. But at least for that little time.. our destinies are two different places and there is nothing I can do about it. I like Kat as a person, I like hanging out with her. She is a joyful person. Jess – I think what it comes down to is that we don't get to choose who we are on the block with.
9:10pm Hammock – Kat and Nicole.
Kat – so it is going to be me and Cliff on the block unless there is some twist that America brings.. which I highly doubt it because they usually only do one a week. Then its going to be Cliff and I .. which sucks. And I don't want to campaign because I don't want to do anything to throw him under the bus. I just want it to be clean. Nicole – I will tell you the same thing that I told him .. Don't campaign against the other person just campaign for yourself. Kat – yeah. If it were Cliff to leave.. this isn't my official campaign .. this is my preliminary I would fight and play for you, me and Jess to be final 3. I do think I am good enough to have on the team… So with the veto comps and the endurance comps I know I can hold my own in those. So if it comes down to one of you on the block I can totally play for the veto, win it and take you off. (Like you did this week?) I would play with the plan of us making it to the top. Nicole – I am playing for us to make it to final 4. Kat – I had a good talk with Sis today. Everyone one loves Cliff and I equally.
10:07pm – 10:30pm Holly and Jackson.
Jackson – If I win I am probably going to put up Christie & Nicole. Here is what I am going to say .. if its a double (eviction). If its not a double, I am not playing this card. I am going to tell Christie that she is a pawn. And that she is only up there because people would expect me to put her up there. And then I am going to tell Nicole that she is a pawn and that I am only putting her up there so people don't think I am going after her. Ideally Christie goes home but there is no blood on my hands because I didn't mean to.. Holly – with the six shooters… do I even call it six shooters? Jackson – no we out of bullets. I don't even want to associate my self with.. Holly – me neither .. I just don't know what else to do. If Cliff or Kat go .. either one .. they the strongest allies on that side. Cliff joins them and the conversation stopp.s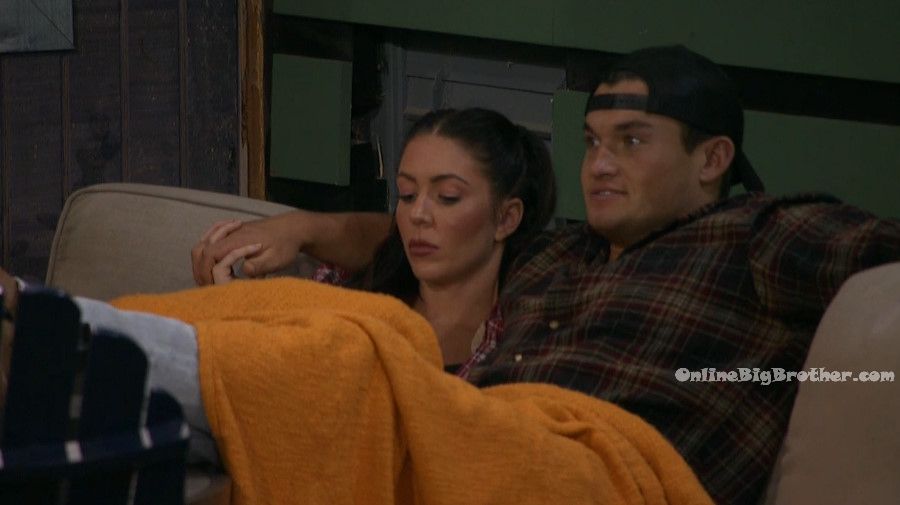 10:30pm- 10:40pm Big Brother gives the house guests all the inf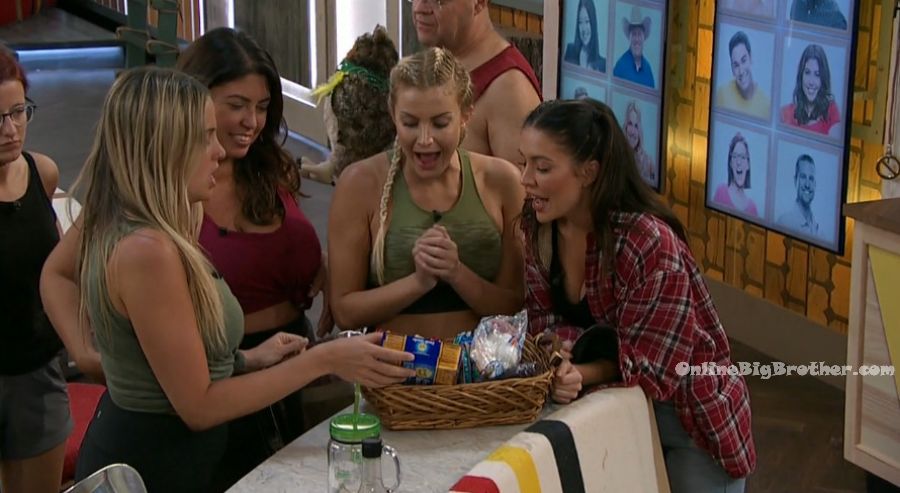 11pm – 11:15pm Backyard. Jackson and Holly.
Holly – is Cliff even going to make it to the final 3? Jackson – but if CLiff has Nicole's vote, Nick's vote and Jess's vote .. what are we going to do .. vote against them? .. and then we're definitely on no mans island? F**k! Because if Tommy wants Cliff gone, you know Sis and Chris are going to vote with them. Holly – I am hoping that Tommy decides he wants Cliff. Jackson – we have screwed Cliff over so many times. Holly – I know. Jackson – and I love Cliff. Holly – I know, I love Cliff. Jackson – I am really starting to question myself in this game. Holly – me too. I just wish that it weren't those two on the block. I wish that Tommy could just magically open his eyes and leave Christie up there. I hate, hate, hate that its those two on the block. And I love Cliff also.. but the fact that he knows he has Nick and Nicole's vote means he has something going on with them. So even if we make a deal with him .. it doesn't mean we would take precedence over them. Holly – we don't have to make a deal with Kat. She will have our backs in this game no matter what. Jackson – we need to convince other people to keep Kat. Holly – sis is leaning towards Kat. Tommy joins them. Holly – what I am thinking is that Jack offered him (Cliff) 4 weeks and he still turned it down. Jackson – he wanted Jack out. Holly – that speaks volumes ..for not wanting to work with us. That is a huge deal and decision. Tommy – Cliff is injured. Without Cliff the house is 6 versus 3, boys versus girls. That scares me a little bit. Holly – all though he is playing it up. Tommy – both have agreed that if they stay they will not target me for the next couple weeks. Jackson – if they won't target you they will target who is closest to you. Tommy – that's out of my control. Cliff and Nicole join them and the conversation ends.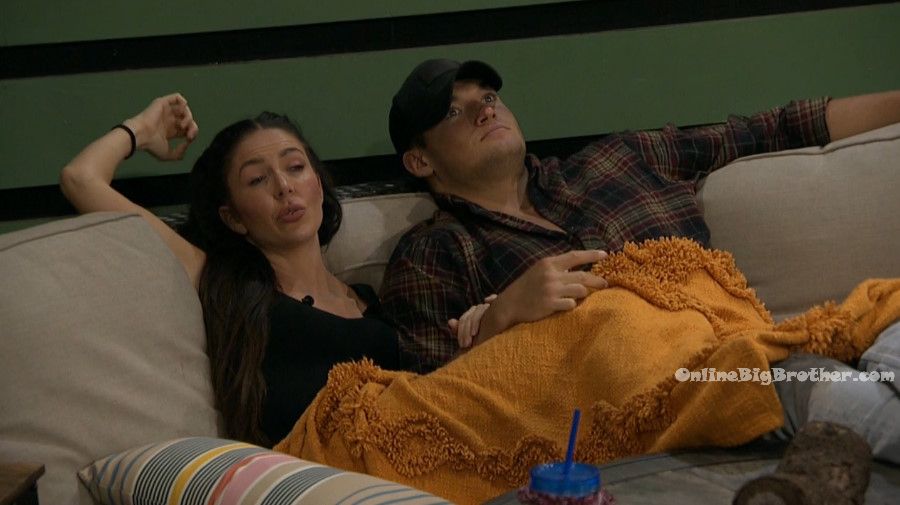 2:10am – 2:40am HOH room. Tommy and Nick.
Tommy – I know that so much has happened in this game but this is something that just crossed my mind today .. I want you to know that I really do ..like I know that you had to go through so much in this game that you didn't know how you could trust. You can 100% trust me. I have your back. Nick – I know you do. Tommy – and I would love to sit at the final 2 with you. Nick – so would I! Tommy – I f**king love you. Nick – so do I! I feel the same way. I have no doubts about you. Tommy – even when you said the other day .. you had thoughts you were going up. Nick – I never thought I was going up but there …. I was like why is he taking so long? Tommy – you never have to worry about this stuff. Nick – no I know. Tommy – I promise you since day 1, I have only wanted you here. Nick – I know that and I was like Tommy would never do that. I'm not worried about it. Still there was like his .o1% chance why is he taking an hour and a half. Tommy – they were putting the couch. Who besides Cliff would have put me up? Nick – Cliff told me that you were his target going into this HOH. Tommy – he told me the whole house wanted me out. Nick – I think it was Nicole that told me this.. that you were more of a target than Christie. If I was to guess I would think it was Cliff, Jess and Kat. I was shocked. It doesn't really matter. We're both going to be targets.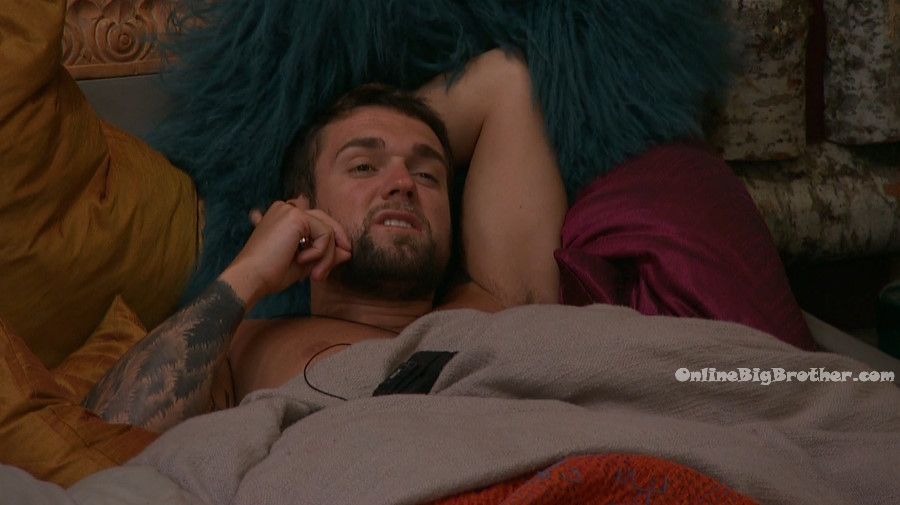 3:15am All the house guests go to sleep..