Quick Big Brother Spoilers
Head of Household:  Turner
Nominees: Taylor and Brittany Kyle
POV Players: Turner, Taylor, Brittany, Alyssa, Monte, Michael
POV Winner: Michael
Veto Ceremony: Micheal used the veto on Brittany. Turner nominated Kyle.
Havenots: 
Lock your ranks in before midnight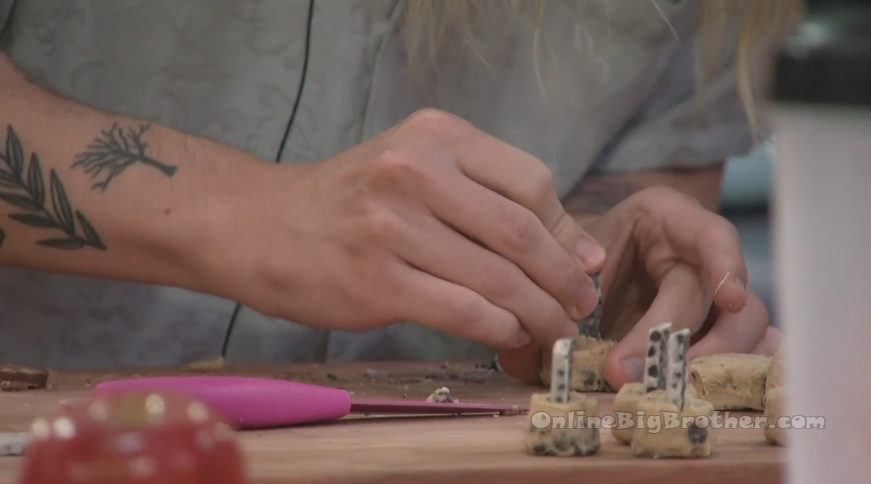 7pm Kitchen –
Michael, Turner and Alyssa having a big brother baking show competition. Taylor is hosting with Monte, Brittany and Terrance as the judges. They're using cookie dough, candies and chocolate.
The final judges score was 40 for Michael, 39 for Turner and 26 for Alyssa. Michael won the baking competition. He now holds the title for veto king and Ba-king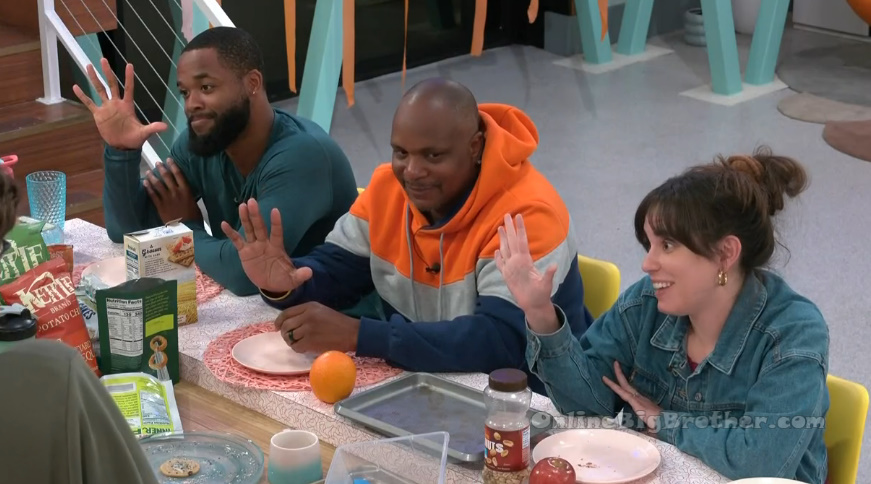 8:15pm Bumper Pool Room – Alyssa and Kyle.
Kyle – I wonder why production has been so nice about me sleeping. Alyssa – because you're depressed. Kyle – could be that. Kyle – are we still friends? We are. I am sorry I am so sleepy.. I'm like an old man. Let me shrivel up and die. Alyssa notices that Brittany goes into Turner's HOH room. Alyssa – she is going to try and trap him and ask him game questions. Do you think? Kyle – I don't know. I have not thought game much. Alyssa – you haven't? Kyle – hell no. What am I going to think about? I still have hope that when you go home and watch the season you're like I don't hate Kyle. And maybe we could hang out in a scenario where he isn't lying to me. Alyssa – would you lie to me in real life? Kyle – no. Alyssa – maybe one day we go on Amazing Race. Kyle – there is zero chance I ever go on another tv show ever again. Yeah, lets bring Kyle back he was a real hit! Thanks though for that .. thanks for the optimism. Am I going to get Boo'd? Alyssa – I don't think so. Kyle – come on? Alyssa – I don't think so. Kyle – I am prepared for it. I was crying to the doctor, they're going to boo me. I was like are you going to be there in the audience throwing tomatoes at me? She was like I promise I won't be in the audience throwing tomatoes at you. I was like you will! You lie, you're lying. You're going to throw tomatoes at me. She was like no I won't. Kyle – I can't wait to tell people that I kissed you. Like yeah this girl was into me. No, I swear! I swear she was! Alyssa – I thought you were going to say this girl… I .. I thought you were going to make a dirty joke. Kyle – what? Alyssa – Like I was "in" this girl. Kyle – oh my gosh! No, please don't. That is too much! I probably would never joke ..but maybe I will now. Kyle – its crazy to look at this in this group and be like one person is going to walk away with 750K. Alyssa – that is a lot of money. Kyle – it is, would you give me some? Alyssa – I'll give you 5K back from having to deal with that. Kyle – no I don't want it.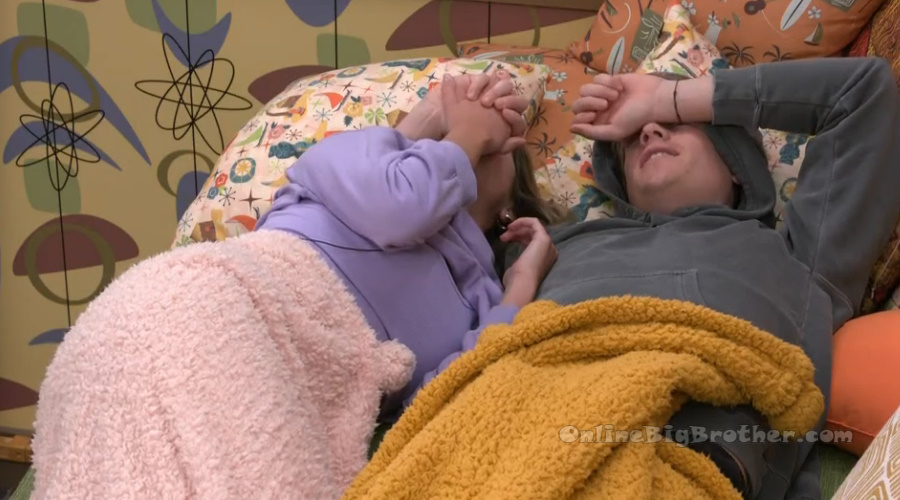 8:40pm HOH room – Turner reading his HOH letter.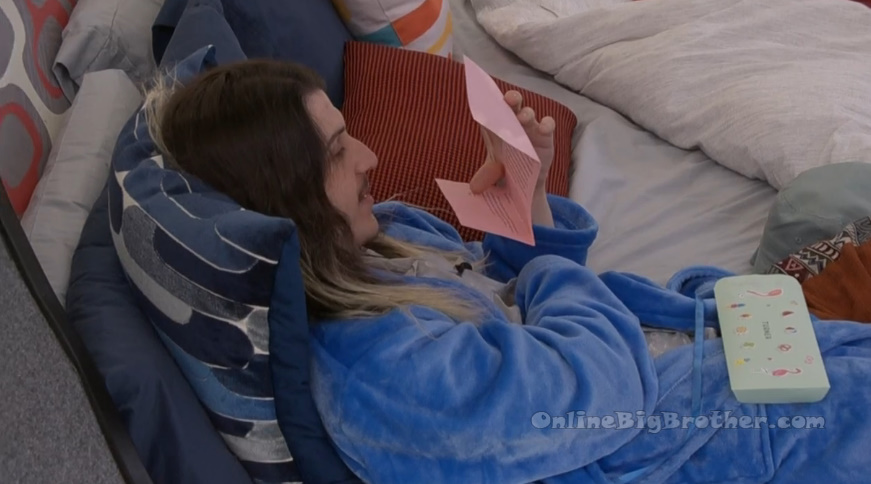 9pm Kyle – I am not telling anyone ever that I was ever on this show. I am deleting it from my life. I will never mention this show. I am Kyle Capener from Utah that's verified for no good reason.. just because. Alyssa – oh HI, I'm Alyssa. Kyle – are you from that TV show .. what's it called.. my mom really likes it. Alyssa – no. Kyle – no, you were. Aren't you the one that won Big Brother? Alyssa – I wish. Kyle – I believe you can. If you make it to the end you can 100% win. Alyssa – don't say that out loud. Kyle – I think you're perfect. Alyssa – no way. Kyle – you are 100%. There is nothing I would change about you.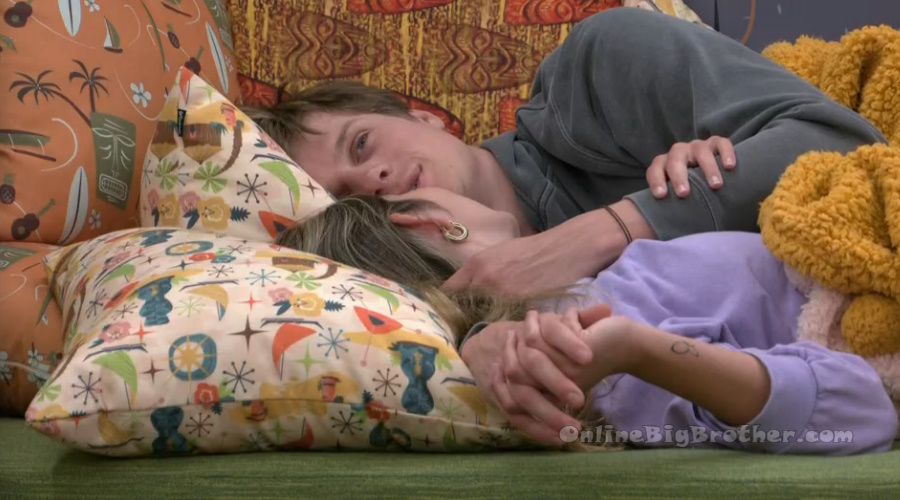 9:12pm The quad cams are on FIRE!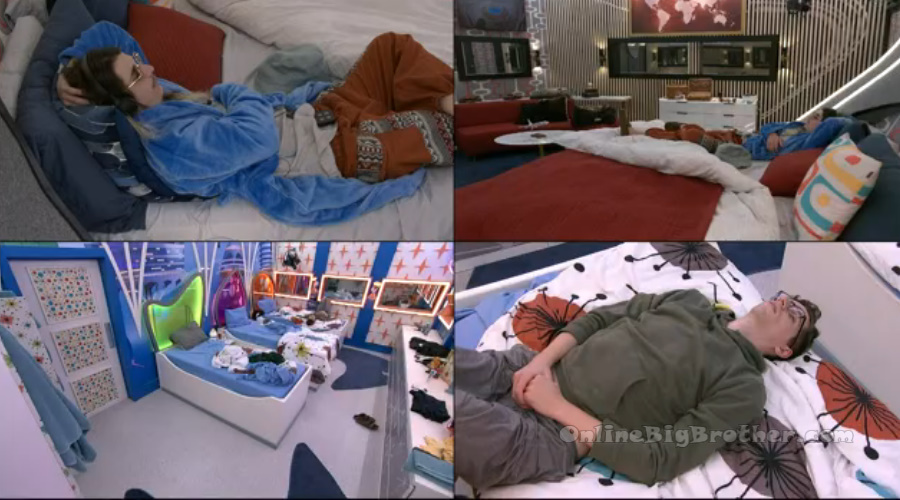 9:46pm – 10:15pm Havenot Room – Kyle and Alyssa move into the havenot room to lay on the infamous butterfly floatie.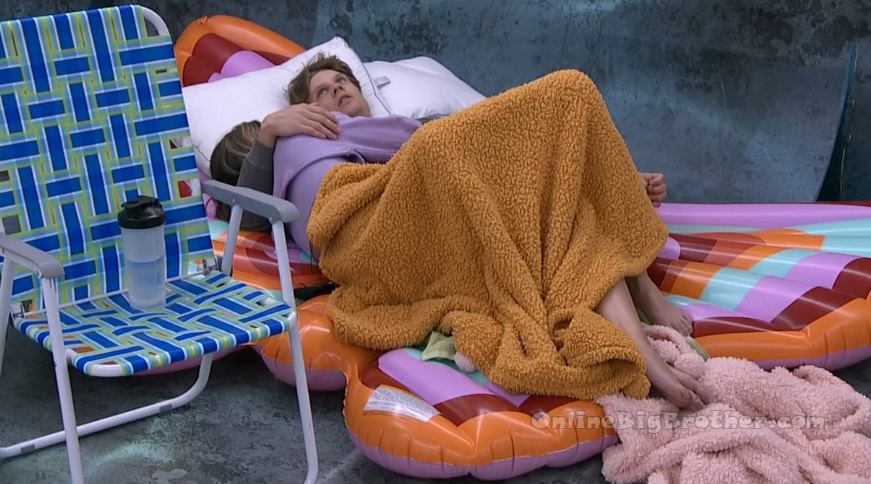 11:45pm – 1:45am Kitchen –
Monte, Taylor, Michael, and Brittany. They're hanging out and chatting about random things. Kyle and Alyssa laying in bed talking about shomancey things. Kyle – this is my last night. Alyssa – what do you want to do. Kyle – what if I get Boo'd. I think there is a high likely hood that I will. Alyssa – you made a mistake and you're doing what you can to fix it.
Without reader support this site and these spoilers wouldn't be possible.
Please consider a donation to keep the madness going.
Any amount is greatly appreciated!