If you plan on buying anything from Amazon. Use this link Amazon home
Doesn't cost you anything and we get a small cut.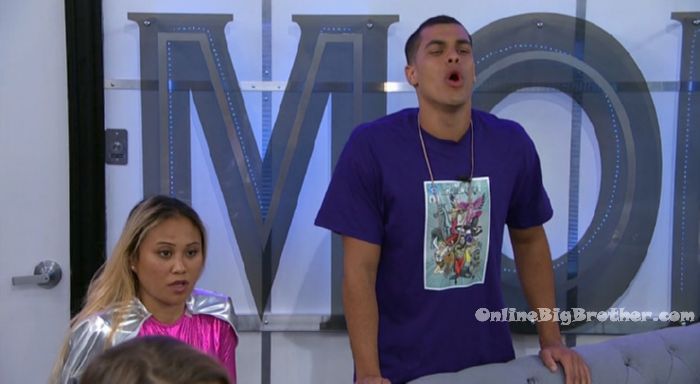 HOH WINNER: Josh
9pm – 10:30pm Big Brother blocks the live feeds for the HOH competition to happen. When the live feeds return – Josh has the HOH key around his neck. Josh is asking the other house guests what he should ask for in his HOH basket. He says that he will ask for Justin Bieber unless someeone wants something different. He wants ideas for what candy / snacks he they would like because he can't think of anything.


In the storage room – Kevin tells Paul – I did what you asked. I did what you asked. Paul – you're here right? Kevin – yeah. Paul – I know what I'm doing. Kevin – tell him to put someone else on the block. Paul – I will.
10:40pm The house guests are sitting around the living room talking about random things. Josh hopes his HOH letter is from his mom again. Christmas – I snapped at her on the live show. I'm not happy about that. I told her I needed a few minutes. She kept saying I got you, I've got you. I said get the F**K out of my face! Alex – she did not have your back. Christmas – she was trying to give me a sob story. Kevin comments on how she did a cartwheel when she walked out. Christmas – I just couldn't take it. Alex – she did not have your back. For a girl that's had so many surgeries she should have had compassion for what I've gone through. Paul – I don't know why she wants to date 35 year olds. Alex – I think they're established at that point and don't want kids. Christmas – she definitely showed Matt that she was capable.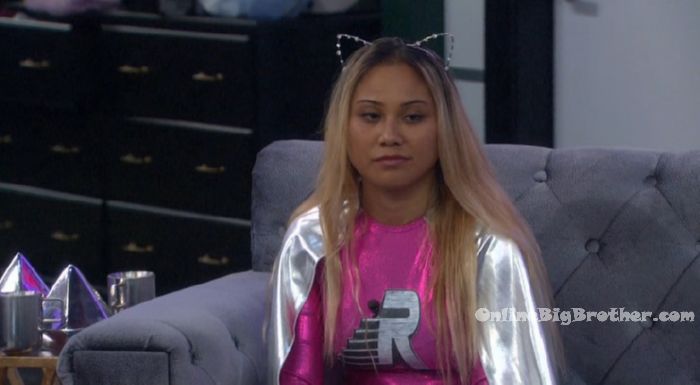 Paul tells Kevin that the POV is what is important this week.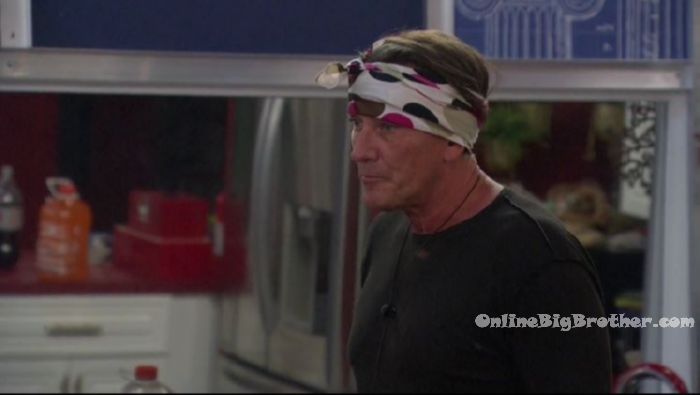 Kevin asks Josh – are you going to put me up? Josh – yes. Kevin – why? Josh –
"tranquilo" (calm) Kevin – what does that mean? Josh – stay calm. Kevin – okay I will. Josh – we can't talk about sh*t. Kevin – I know. Josh – you know I love you. Kevin – I won't come up and bother you. Josh – you can. Kevin – man every f**king week. Kevin asks next to who? Josh – you'll see. Kevin heads to the bathroom and says to himself – man I'm gone next! Motherf**k!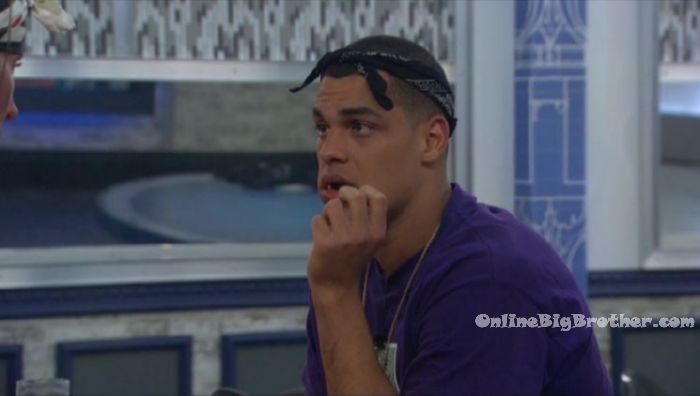 11:35pm Bedroom – Paul – we pulled everything off exactly how it was supposed to be. Josh tells Christmas and Paul that Kevin asked if he was going up and I said yes. He asked next to who and I said you'll see. Paul – best case scenario, hommie wins the veto because Alex is not going to expect him to use it on her. Christmas – she is going to be good at it. Paul – but so am I and so is he, and so is he, and so are you. Josh – next week you have to win. Paul – I know. Next best case is she (Christmas) wins. Josh – he is going to gun for HOH 4. Paul – and I am not? Josh – thank you for believing in me. Paul – I was about to jump up and start answering. Paul to Josh – You know what you need to do when it comes to final 4 – blow the f**k up on Kevin! Paul – he gets heated. Say – you think your family is going to be proud of you? Josh – no, whoa, whoa, I would never do that. Never. Those words would never come out of my mouth.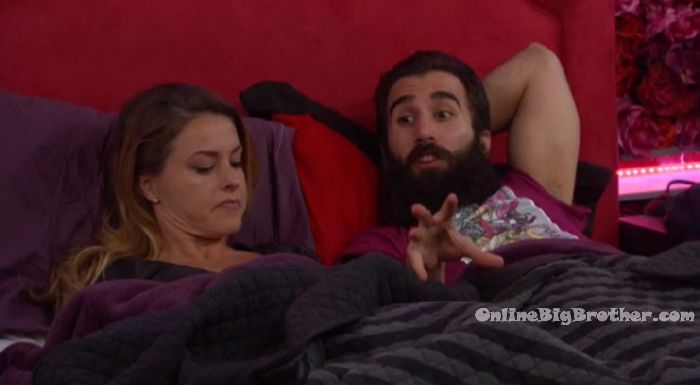 How does this motherf**Ker run his yap like a f**king b***h every f**king time. It sickens me that he thinks he is going to go to the final 2 and that he thinks he could win. You haven't done nothing this whole season besides me screaming at you. He has literally floated himself to final 4. Jason will vote for him.
FLASHBACK and watch everything you missed: Live Feed 7 day FREE Trial!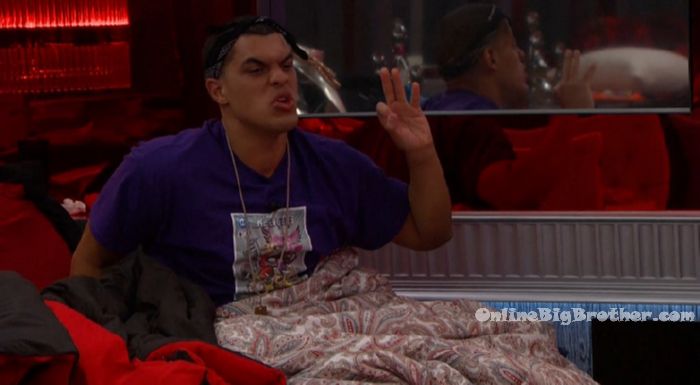 12am Bedroom – Kevin says to himself – Now I'm f**ked. Kevin tells Christmas that he's always had her back. Kevin – I thought the HOH tonight, you were going to win? Christmas – I tried. I f**Ked up. I got two of them wrong. Kevin – oh… he didn't know about it though? Kevin – if you see me not talking. I'm just being quite. I've been sitting here by myself for 9 days. I've got your back. Christmas – I know. Kevin – she's (Alex) so mean to me. So I said I would just sit here by myself. He should be mad at her. Bossed him (Jason) around the entire summer. I used to say Hey Jason, everyone sees that she's bossed you around all summer. Christmas – I think she (Alex) is getting her HOH basket. I don't mean to be distant. Kevin – no I know. I understand.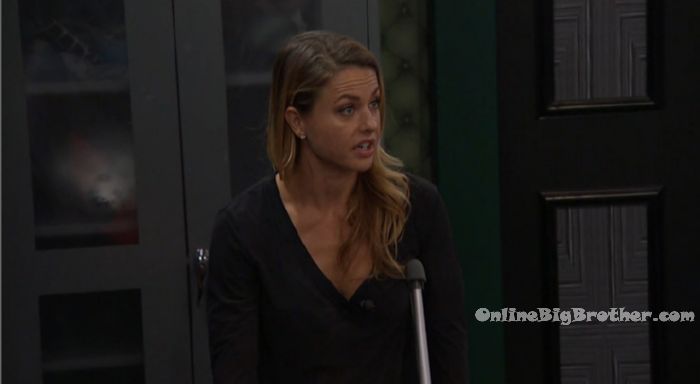 In the other bedroom – Paul and Josh are talking.
Josh – do you know how heated Jessica and Cody are that we made it this far. They're f**king heated!!! They're like what the f**k! Paul – they played themselves big time! Josh – what are thinking? Paul – the end. Josh – two more weeks. Josh – I just hope I made my parents proud. Paul – you did homie. I hope I made them proud this time. Kevin joins them. They talk about how Raven walked out and didn't hug anyone. Josh – we spent 80 something days together. Its brutal. Josh comments on how two weeks isn't enough time for Jason to get over it. Paul – the second you walk out those doors everything gets tossed behind you, you stop giving a fuck about the game. You don't care any more, unless you're f**kgin crazy.
See what they can't show you on TV Try the live feeds for FREE!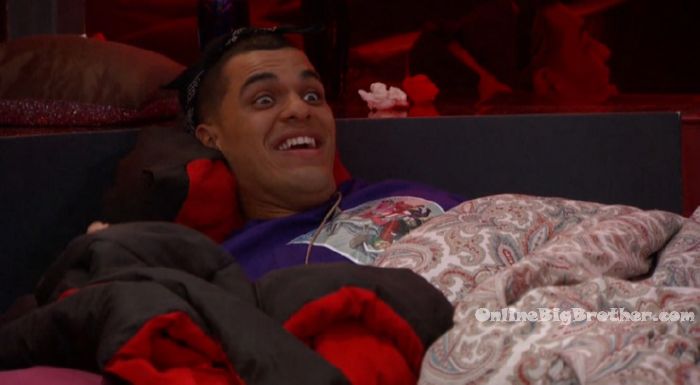 12:54am Alex gets her HOH basket. Her HOH letter is from her sister.
Alex looks at the photo of her nephew and says it was taken after her moms dag bit him. She says her mom's dog has PTSD because he's been attacked by coyotes. She says her nephew was kicking the dog and fell on it and the dog bit his face. She says they didn't report it because they didn't want the dog to be taken away.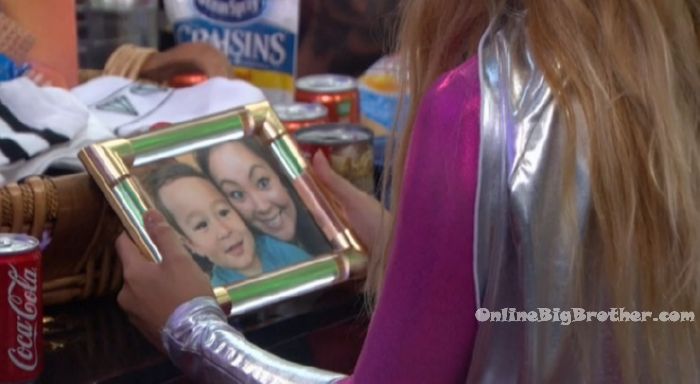 1:30am Paul is counts the apples in the lounge room.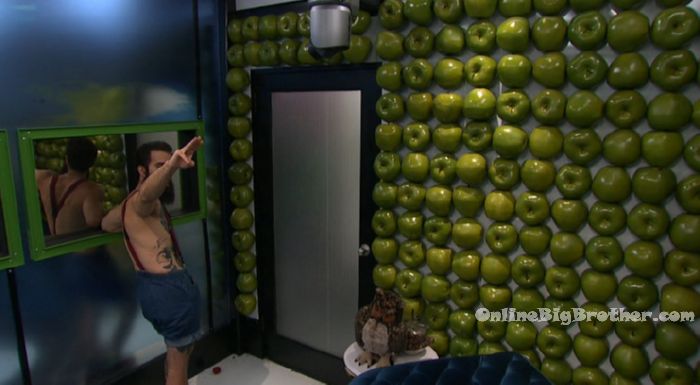 1:45am Alex, Paul and Christmas talk about how Raven's stories don't add up. Paul – she says she has a bachelors degree in dancing. She said she got a bachelor degree and minor in two summers.. that's not possible. Paul – she said she has a stand up grand piano. He explains how its either one or the other. They talk about how Raven pretended to know what a Brothel was but when they asked her to explain what it was she couldn't.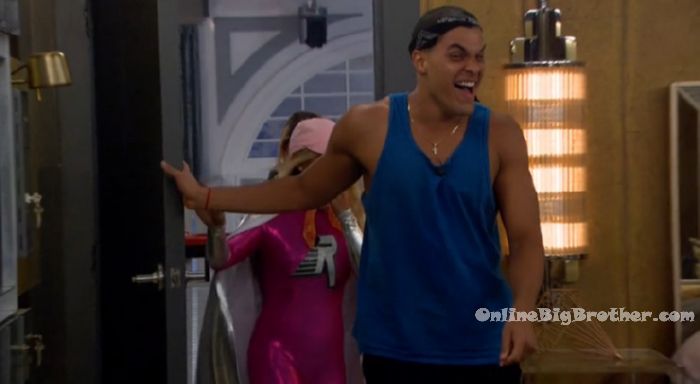 2:11am – 2:25am
Josh comes out of the diary room. "Who wants to see my HOH room!" They all head up to the HOH room. Josh – Oh my god I hate that picture. All these photos are awful! Alex – you look like Rob Kardasian before he got heavy. Josh reads his HOH letter from his sister. His HOH music is Justin Bieber. Josh – whoever whats this HOH bed can have it after tomorrow. I get lonely so whoever whats it can have it or share it.
Kevin's personal closet
2:40am – 3:30am Paul gets called to the diary room. Kevin leaves the HOH room. Josh, Alex and Christmas chat. They talk about how if Kevin doesn't have any beer they will have 3 each. They talk about how Raven didn't do anything. Christmas – but you know in her mind she thinks she did. Josh – its like Matt and her got VIP passes to watch. They keep asking BB to call Kevin into the diary room next so they can drink the beer without him.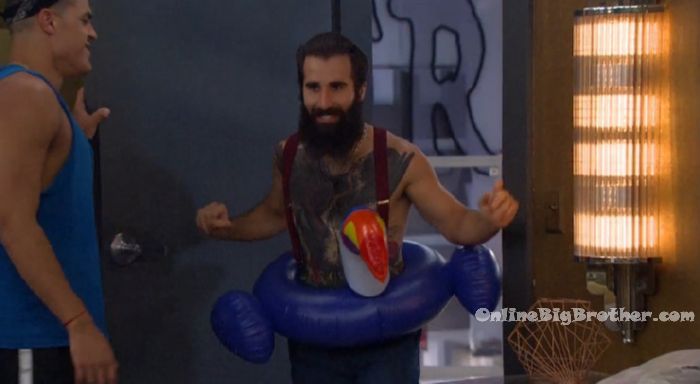 3:35am Paul comes back up to the HOH room from being in the diary room. They each have a beer. Josh and Paul chug theirs. They sit around drinking the other beer and chatting about random things. Christmas heads to bed.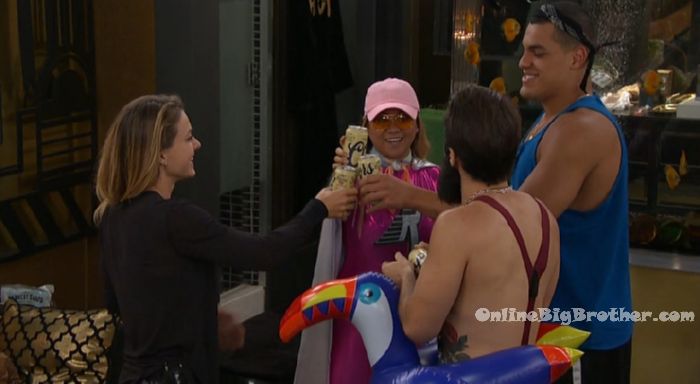 5am Alex and Paul head to bed.
5:50am Josh is up staring at the memory wall. He then heads back to the HOH room and listens to his HOH music.
If you've enjoyed our live feed updates this season, please consider donating.
Simon and I work 24/7 all season long to keep you updated on everything that happens inside the house. Any amount is greatly appreciated! Your donations go directly to paying the fees required to run this site.
Links to the ranking system
Rank your house guests here
For those of you that like Statistics here are some expanded reports.