POV Holder:
?
POV Competition
Aug 13th
POV Used
?
POV Ceremony
Aug 15th
HOH
Victor
Next HOH
Aug 11th
Original Nomi1nations:
? AND ?
After POV Nominations:
? AND ?
Have Nots
?
Watch the next week of the feeds for FREE – 1 week Trial!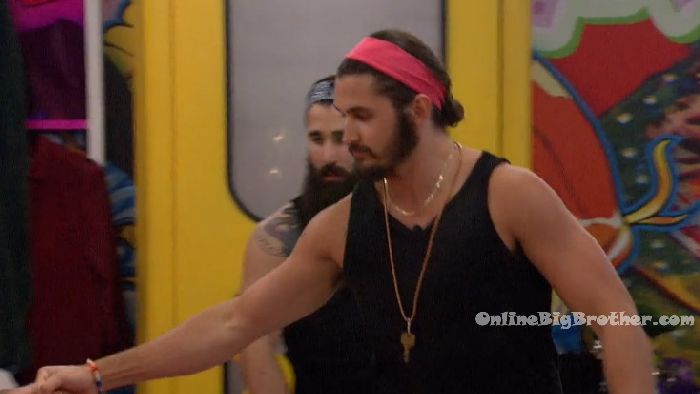 HOH WINNER: VICTOR
The live feeds return – James, Nicole, Corey, Natalie and Meech are in the kitchen chatting. James says I wasn't the first one out. Victor says I asked for volunteers. Natalie says I would do it. James says well technically you can't be named a havnot. They talk about wanting Zingbot to come into the house. Meech says calls me out for being a cry baby and then cries. I just can't control it.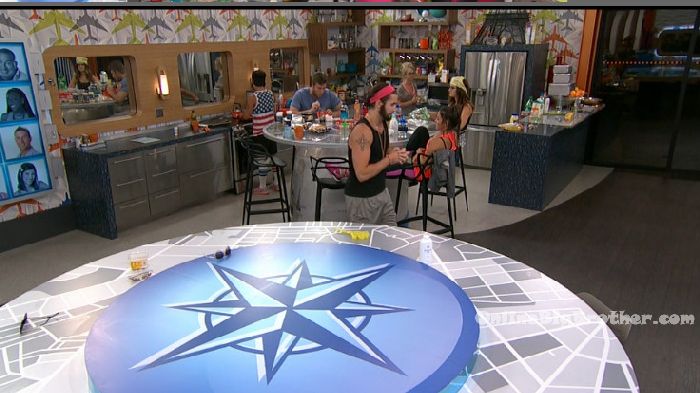 FLASHBACK and watch everything you missed: CBS All Access FREE Trial!

10:10pm In the bedroom – Paul, Paulie and Victor are talking. Paulie says it was a risky move leaving both Bridgette and Meech. But it worked out and if freed me up from Zakiyah. Who apparently might have been doing some sh*t. Paul says I am telling you she was going to turn around and shoot you in the face. Paulie asks do you think? Paul says yes! Paulie asks do you think she was using me? Paul says 100% yes. Paulie asks do you remember in your HOH room and she was questioning everything. Paul says I think a lot of it was a lie and for strategy. At the end of the day do you think she would give up 500K for you!? She would tell you to go D your own hay! Paulie says I know Corey will clip her (Nicole) but I think James is trying to bring her (Natalie) as far as possible. Paul asks do you think? Vic says or just string her alone. Paulie says if we stick to the plan and get Michelle out and then Nicole. I'm not about keeping her around. But its up to you guys, I'm not all about getting called out for making decisions any more. He (James) called me out for that up there. He said we're only getting out my targets. Vic says I think we put up two girls and see what happens in the veto. I don't want to use anyone as a pawn. Paul says we don't even need to talk right now. Vic says I'm good with putting two girls up and ones a pawn for the other. Vic rhyming a nom speech I don't know if ya'll have noticed but the girls in this house are weak and one of you are leaving this week. Paulie tells Corey I don't think Vic would f**k us. Corey says no shot.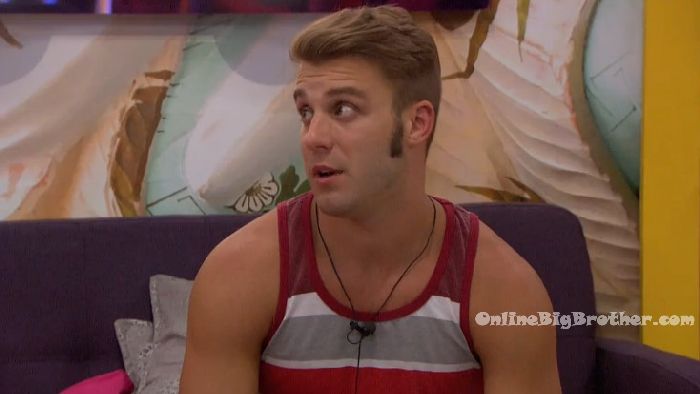 10:25pm – 10:35pm Bathroom – Paul talks to Victor. Paul says if they win the POV they will not use it. They will not use it. We're all playing. Vic says I don't want all the attention in the house. Paul says If we don't make this move now, we're f**ked! We have the numbers to get them out. Just trust me! Please Please just trust me. Paul says just trust me. Vic says you're not the one that's going to take the wrap for it, I am. Paul says They don't want a final five with guys, they've made that clear. Now Nicole already has distaste for him because of the comment James made. If you put up Paulie and Corey .. one of them is going home. We reel in Nicole. If oen of them don't go we are f**ked next week and you can't play. Vic says alright, alright .. I can't confirm anything with you but.. (BB rules you can't say outright who you are putting up before noms.) Paul asks do you think they want to take 2 guys to the end that are matching comp wins. No. Vic says if Paulie gets himself off the block. Paul says he is playing in it anyway and if he wins it he is not going to use it because he knows he is getting replaced. He knows the game really well. He's not an idiot. If you put them both up, one of them has to go. You see how Nicole isn't hanging around them, she jumped ship. Paul says blindside them. Do you trust me? Vic says I trust you. You should have thrown it to me, I would have done it. We take a swing, we don't miss. Blindside him.. sh*tting his pants. Who's been boys since day 1, them two. Who's been boys since day 1, us two. You don't think they say that?! Vic says sitting ducks. Vic says he put me up on the block and backdoored me .. I don't forget that. Paul says we need to think about our game. Whatever you do I have your back and James has your back. If we don't swing now, we will never have the numbers again.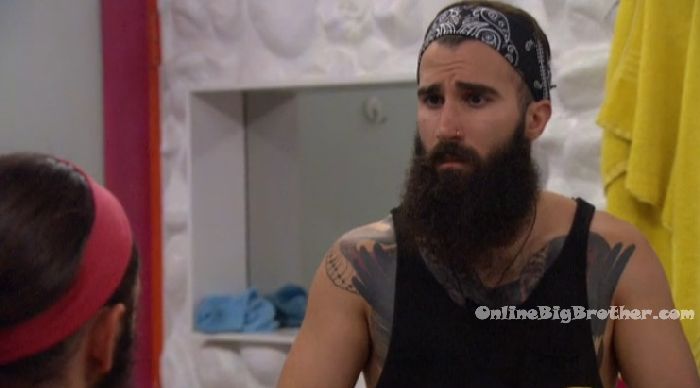 In the havenot room – Paul, Vic and James talk about putting Paulie and Corey on the block. We're getting rid of one of them. Paul says if Nicole wins she will not pull one of them off because she will go up. They're the only two we have to beat in the veto. You get my logic here?! (Wrong – if Nicole wins the veto she can pull Corey off and she is safe.) Vic says They tried to play us for fools.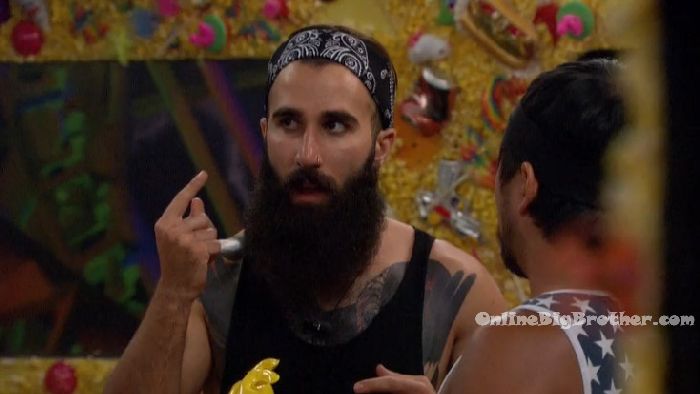 10:45pm – 11pm London Bedroom – Paul joins James and Nat. Paul asks why the f**k would they take people that are competitors to the end. I'm ready to play this game. I'm tired of these two d-hays! I've been on to them for a minute. They talk about how Paulie pushed at a door really hard and almost hit Nat. Paul says I was ready to put him in a head lock.. he talks about playing this game with a level head. James says it seems like Paulie is sh*tting on a lot of people. There was a plan to backdoor you during the double eviction and Paulie was the one that said it. Vic says I'll get the job done. (Putting up Corey and Paulie) James says we've got your back. Vic says the only thing is we don't know what the care package is, we'll see after that happens. Vic says I have a perfect reason to put him up he backdoored me.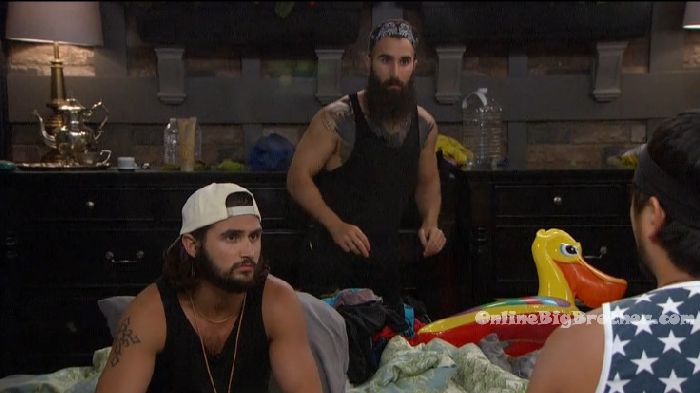 Paulie & Corey going up on the block.
Paul is like FUCK YOU, FUCK YOU, FUCK YOU!@bigbspoilers #bb18 pic.twitter.com/NFwlyEFB3W

— Dawg (@DawgsBigBrother) August 12, 2016