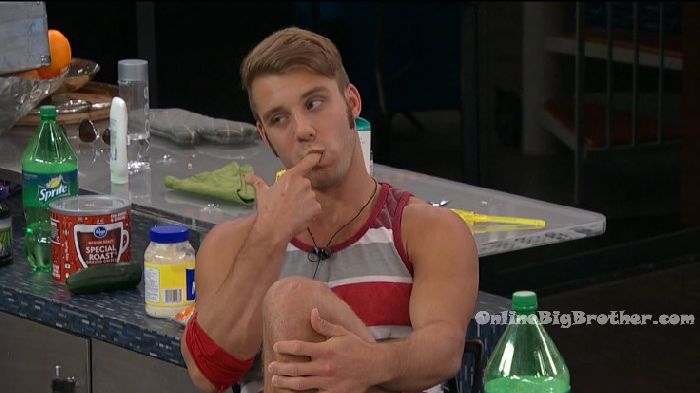 Nicole says I do not want to sit on the block. Basically if Michelle dodged what she dodged tonight she is going to win this game. Paul would rather have Michelle in the game than me. James would rather have Michelle and Nat would rather have Michelle in the game. Nicole says you could have struck against them. Corey tells Nicole to stop her thing with James. Nicole asks why he isn't going to trust me. Corey says even James said Michelle is a lose cannon. Nicole leaves. Corey talks to Vic. Vic says he's glad he won to secure his safety. Corey says as long as we're safe I'm cool with that. Corey leaves and Nicole talks to Vic. Nicole says I think I could be good for your game. Vic asks how so? Nicole says I wouldn't put you up or backdoor you. Vic asks have you heard anyone saying my name to put me up or backdoor me? Nicole says let me think. I definitely think that was thrown around. Vic asks if you don't know that's fine. If you do tell me I won't use it against you. I feel like you do know. Nicole says I head it, .. you promise you won't throw me under the bus? Nicole says the persons mouth that it game out of was James. Vic says and who else was in the room Paulie and Corey.
11:40pm
Michelle says Wait I thought I didn't blow your game, looks whos on the block now. Paul tells Michelle we kept you safe you have to get under their skin this week. You know how mad he still is about those comments. Michelle says I would rather see you guys win. Michelle says I still feel bad for Bridgette. Did you guys like my speech? Paul and James say yes. We thought you were going to say more though. Michelle says I wanted to say about the door but the DR said they watched it and said it didn't happen like that. Paul says he will literally blow up. Michelle says I know I'm excited I want to do pots and pans.
12:15am Paulie, Corey, Nicole and Victor talk about Natalie's comments. Vic says I had to answer questions about it in front of America. I literally had to answer 6 or 7 questions about it. I felt like I was on trial for doing something I didn't do. You can't go and accuse someone of something before you talk to them first. Paulie says I see a girl get her a$$ slapped and I'll punch the guy in the face. God forbid its my girlfriend or my sister .. they're dead!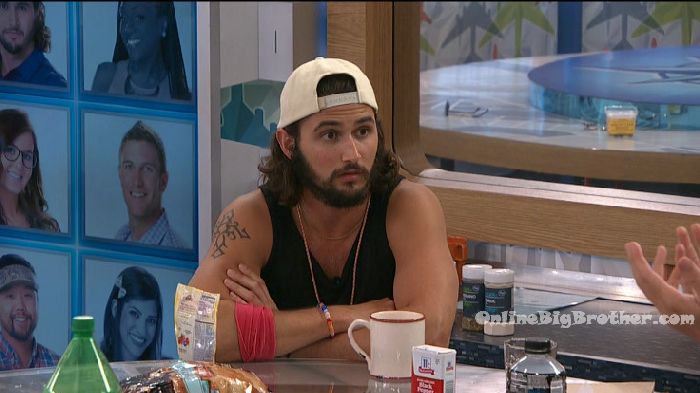 HELP keep the spoilers coming. Show your support by making a donation.
[polldaddy poll=9491180]
[polldaddy poll=9491957]
Share it YO!
Tweet