POV Holder:
?
POV Competition
Aug 13th
POV Used
?
POV Ceremony
Aug 15th
HOH
Victor
Next HOH
Aug 11th
Original Nomi1nations:
? AND ?
After POV Nominations:
? AND ?
Have Nots
?
Watch the next week of the feeds for FREE – 1 week Trial!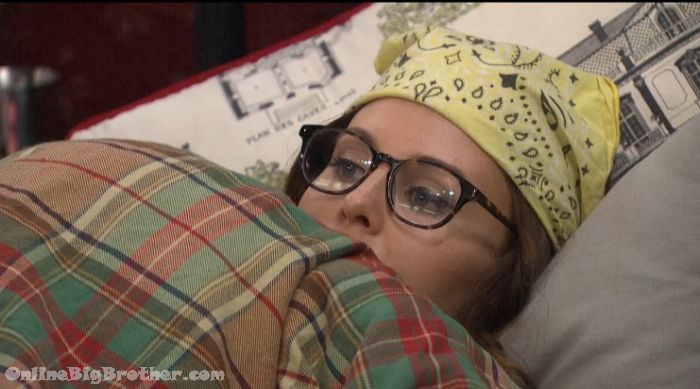 12:21am MEECH and Paul London room
Meech is saying they should get Nicole out for the next HOH so she leaves the same time as last season. Paulie mentions how PAulie is still going on about everything. If he had nothing to hide why is he still trying to explain himself. Michelle is glad they did what they did. Paulie is claiming to have had a inkley what Paulie was doing and when they came to him it was enough.
Paul – Bridgette took a bullet
Michelle – that's what I'm saying.. And I feel like shit
Paul thinks as long as Paulie is out this week she'll be happy.
Michelle – Bridgette I love you
Paul about Paulie – He's super aggressive.. We can't have that in the house even at a game level
Paul says that Paulie was almost close to punching someone "It's a game and someone who claims they are an athlete and are composed in games. You're a 28 year old man and you almost lost your sh1t to a 23 year old girl called you out.. Are you sure you are composed.. "
Meech – that was just a preview.. You just wait
Meech – you heard him shouting sh1t
Meech says PAulie makes fun of people for crying, "He's just funny when he smiles.. "
They mention he was trying to psych Michelle up before the HOH and he ended up being the first one out.
Meech – sorry if I disappointed you guys
Paulie is saying what she needs to not "Feed" into anything "these" people are saying
Paulie explains they will try to tell her that PAul is after her and say "sh1t" to her that'll make her question if they are telling her the truth.
Meech says they are already coming up to her telling her that Bridgette is playing both side.
Paul says that's bull sh1t
Meech says Paulie is still denying he had anything to do to get her on the block even after Victor confirmed it.
Meech about Zakiyah/Paulie – "Do you believe that they f***d … I do .. I think they did .. I f***g heard"
Paul – I wonder if the Dr's caught it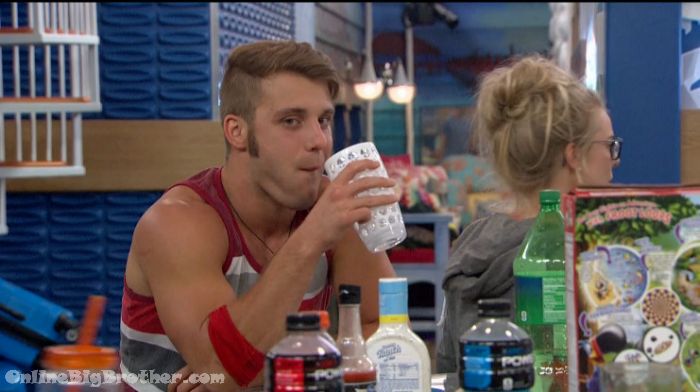 12:23am Corey, Nicole, Victor and PAulie Kitchen
Nicole, Paulie and Corey being salty. .Paulie says that Natalie only got the care package because of James' followers. Nicole points out the strangeness of Bridgette and Michelle being enemies all season then BFF's for a week.
Corey – if you don't want to be made fun of for having fake T!ties than don't get fake T1t!es.. If it hurts when you do that than don't do that.
Paulie saying he called Natalie out "It's very hypocritical .. don't come to me and say one thing and you're doing the exact same thing but you're a girl.
Paulie – I'll hang out with Zakiyah, Nicole, but I won't hang out with any of these other people maybe glen.. I would hang out with Frank
Victor – i'm hanging out with everybody outside the house for the only reason I don't have to see them again. Victor is going to give everyone another chance and if they are shitty after that fine he doesn't have to hang out with them.
Victor – i'll give you the benefit of the doubt until you give me a reason otherwise.
Paulie – it's going to be weird sleeping in a bed alone
Big Brother tells Michelle who's in the living room to put on her microphone
Paulie – How much f***g scheming could you be doing right now
Corey – a snake OH MY GOSH
Paulie looks at the camera says the people in the other room must be talking about him because the cameras are following him around the kitchen.
They thank Corey for keeping them safe during the double.
Paulie – Thank you for getting rid of that Vindictive Feminist ER Nurse
Paulie – you should work on both genders equally ..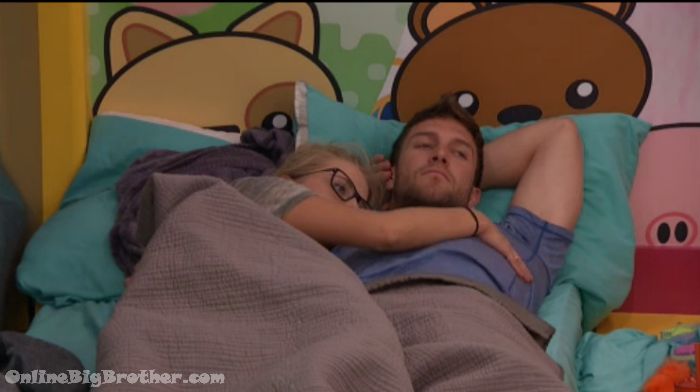 12:45am Corey and Nicole Tokyo Room
Corey – that was a close call way too close
Nicole – you could've let me win veto
Corey – no, I wanted to win that.. In that veto i'm like i'm 1000% going to win this.. I was determined.. I was looking at Paulie he was staring me down like Bro you gotta do this
Corey says James is going to regret turning on them. Corey thinks Michelle and Natalie are going up and out of those 2 he wants Natalie out.
Nicole – whatever I get in trouble for saying that stuff it was nothing but the truth
Corey – I wouldn't worry about James and Natalie winning big comps
Nicole – they picked Natalie over us three
Corey – he's going to regret it
Nicole – they are making it look like AMerica's sweetheart … I came here to play and i'm devfeileinely playing I had my fun round now i'm playing.. For being a snake i haven't sat on the block it's pretty impressive
Nicole – I'm ride or die..
Nicole says her, Corey and Paulie still need to stick together and they can pull Victor in that's half the house. As long as 2 of them don't go up.
Nicole wonders if Paul can convince Victor to do that.
Corey – no way
Nicole wonders who told Victor. Corey tells her he's tired of talking game. They hug
Corey – backstabbing little brat thinks she's going to go far in this game.. And I snip her.. Ohh i don't know I don;t know anything… BYE
Nicole – you tried so hard with her.. You tried so hard
Corey says he was only a little bit sincere with Bridgette, "I definitely tried to keep her as close as I could"
Nicole says Michelle told her if Bridgette had won it would have been Nicole, paulie or Corey leaving.
Corey is glad Bridgette is gone he doesn't have to be fake around her \
Corey – dude i'm exhausted.. They need to hurry up
NIcole – everything will be fine..
Corey – should I take a shower.. Ugh.. I want to do it in the HOH room
Nicole rubbing her chest telling him to calm down..
Nicole – I just hope Paulie doesn't throw us under the bus
Corey – he won't.. I need Paulie to win HOH
Corey – dude I thought we were so screwed earlier..
Nicole – I was praying in the booth
Corey – I prayed too.. I pray at least a couple times a day..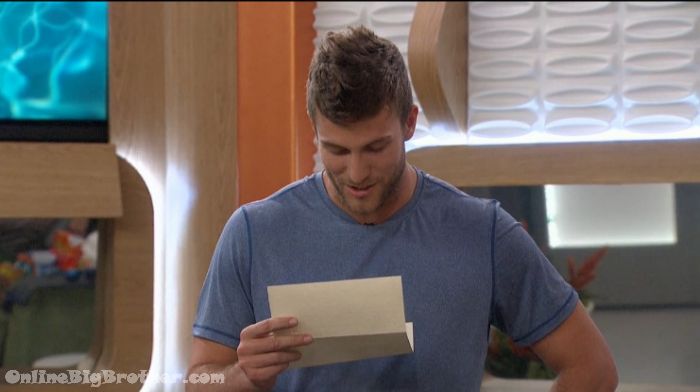 1:05am Corey gets his HOH basket Living room
Reads out his letter from his mom, sister and dad.
(Roars or Rory is Corey's dog)
"Corey we miss you and of course think about you all the time and so does roars..She is staying with us much of the time and running with Kelly almost every day. "Roars" is getting strong and everytime you say your name she looks for you we have been at the frat house at least 1 a week in an attempt to keep it half way clean.."
"We went to your hose the other day removed from trash .. forgot to tell you Mom's starting to work with roars on a few new tricks.. Frisbee catching.. Kelly is busy with work.. "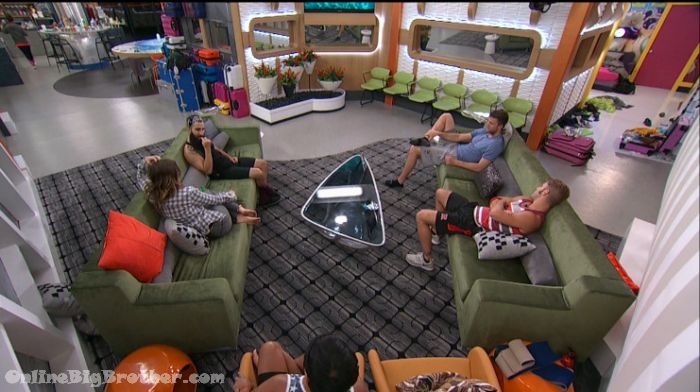 1:42am Awkward time in the living room Chit chat.. Everyone is talking but Paulie, Corey and Nicole. waiting for Victors HOH room to open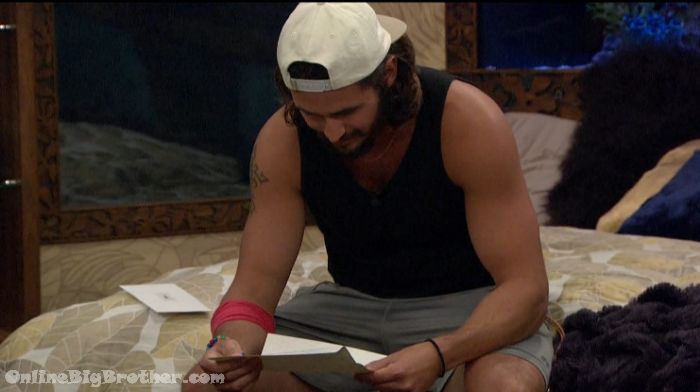 2:06am Victor gets his HOH room
His letter is from his big sister, Spanish music, a pillow he made as a kid, 14 bottles of gatorade, foam roller.. Etc etc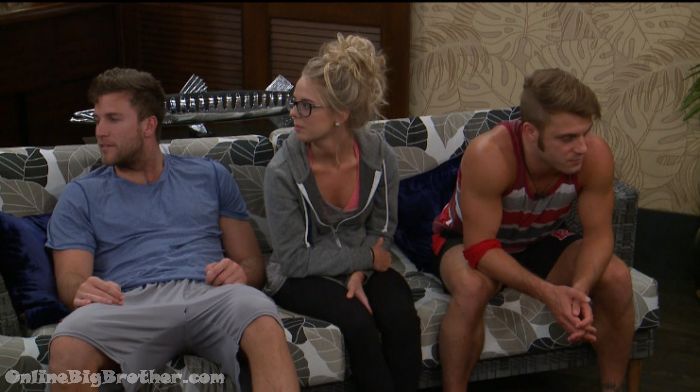 Sad :(
(Corey is the only one that really is talking outta these three )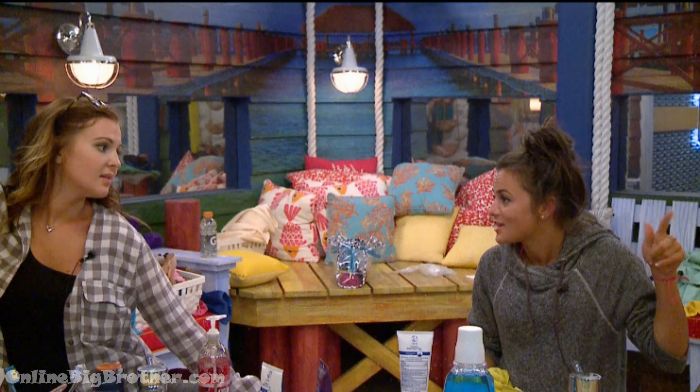 2:25am Bathroom Natalie and Michelle
Michelle comment how scared Paulie has been he's not saying a word.
Natalie says right before the double Paulie came up to Jaems and was promising him to have his and Natalie's back. Just last night Paulie was rampaging around promising he was going to evict Natalie.
Paul comes by says best case they win the next HOH worst case one of Nicole, Corey and Paulie have the ticket and come back.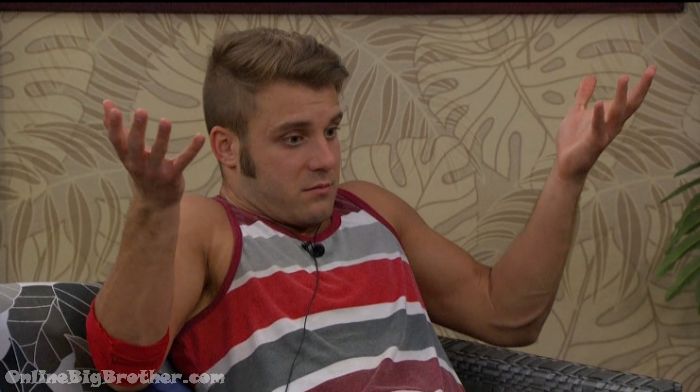 2:27am HOH Paulie and James
Paulie – did Paul know the plan before the vote
James- I don't think so
Paulie – I can't believe who one
Paulie – I just don't think someone so fake can come across and so so much damage
James- ya
PAulie – he won't tell me he's saying sh1t.. People were bombarding me.. I assume it was Michelle and Bridgette
James – who paul
Paulie – ya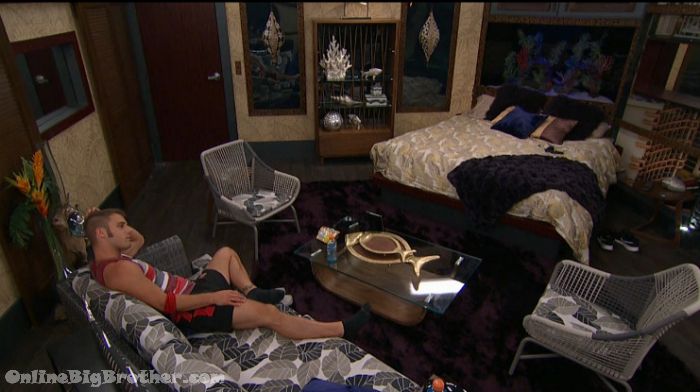 Alone in the HOH.. Sad :(

2:34am London room James, Paul and MEECH
James saying Paulie was trying to find out if Paul knew about the plan for the votes
Paul – don't worry when he goes up tomorrow..
James- he's still on it he's still trying to talk game with me
Natalie comes in
James – he's (Paulie) trying to find out information
Paul – good let him
Paul leaves..
James- he is paranoid
Michelle – he doesn't think I blew up his game.. I can't take all the credit I had help..
Paul – y'all made that man mentally drained.. Mentally drained..
They talk about Paulie 'tripping" during the HOH competition.
James tells the girls they have to vote out whoever Victor wants them to vote out. James tells them Victor is going to go down with the plan but he's not sure who out of the three he wants out. Michelle says she's shocked even after she said all those things Nicole and Paulie still voted to keep her
James- what more could you have said.. She did not expect to go home.. She did not see it coming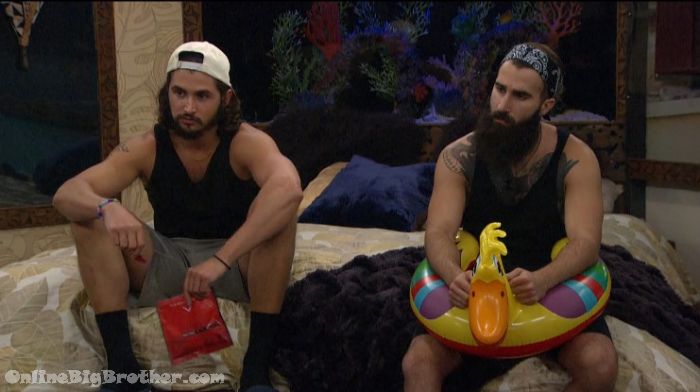 2:39am Victor, Paulie and Paul
Paulie is telling them if someone gets a power from America's care package they will need to put that person up to flush it out.
Paulie thinks there might be a Diamond power of Veto.
Paulie- I don't know what the F** Michelle and Bridgette have been saying about me Bro
Paul – I don't care… not that I don't care.. Bridgette is gone.. Why you worried..
Paulie says he is pissed off at Michelle POV ceremony Speech – "It did work.. It literally worked"
Paulie says in Victor's speech he should say Michelle out of all the HOH competitions how many have the guys won..
Victor 7 out of 8
Paul – why did you guys keep her over bridgette
Paulie – she was the bigger threat
Paul – after what she said about Nicole .. the snake..
Paulie – In my mind i said F*** her
Paul says last week people lost their minds
Paulie says he doesn't know what the f*** he did
Paulie – according to Michelle Zakiyah was feeding into it..
Paul tells him he needs to calm down. Paulie says tomorrow we'll be "WhOOOOOW" back to how he was.
Paulie says in hindsight it couldn't have worked out better, Zakiyah is gone, Bridgette is gone and now another girl is going. Goes on abotu really being serious about the guys alliance.
Paul leaves..
PAulie – at least the exec's won.. and the board.
Paulie says if they keep the board going they will "walk" to the final 3
Victor – like taking candy from a baby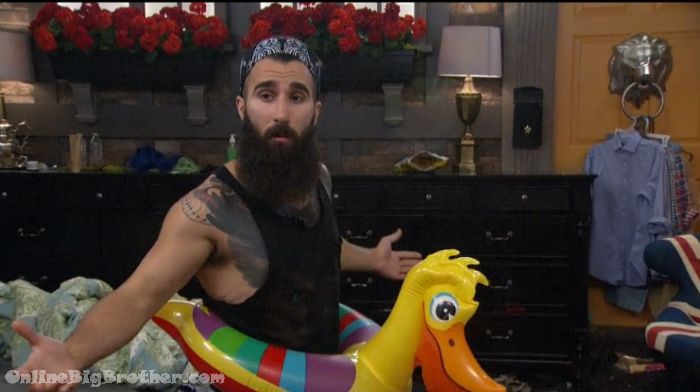 3:09am James, Natalie, Paul and Michelle London room
Paul to James – Hey he was sh1tting on my to you.. guess what he was sh1tting on you to me again"
Michelle – can he ever shut his mouth up
Paul saying that Paulie cannot get over what happened.. "he's telling me James James James and to James he's saying Paul Paul Paula' .. they all giggle
James – we can go up there and blow him up again.. I swear to god..
Paul to Michelle- "you need to do that again because he cannot get over it
James – that's why he's so heated man he can't
Paul – He's so frustrated.. it's not what he's saying he's just sitting there in his own thoughts. he's mind fucked…he's mind fucked. tomorrow when he goes on the block I need you to shit on him again"