POV Holder:
Bridgette
POV Competition
July 9th
POV Used
NO
POV Ceremony
July 11th
HOH
Bridgette
Next HOH
July 14th
Roadkill Competition Winner:
Frank
Original Nominations:
Paul, Tiffany, Bronte
After POV Nominations:
Paul, Tiffany, Bronte
Have Nots
Nicole, Corey, TIffany
CBS All Access: Live feeds are only $5.99 per month – Try it FREE for 1 WEEK!
Big Brother 18 Alliances Help Guide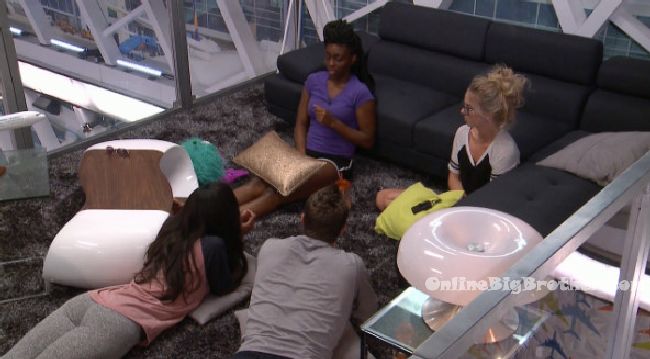 5:20pm Nicole, Zakiyah, DaVonne and Corey are chatting outside of the HOH room. DaVonne says I don't want to give him the opportunity to play in the veto. But if ya'll think like that's what you want to do then we can. I just don't want to swing and miss. I don't want to be in jury with him. Nicole leaves. Tiffany joins them. She asks Corey you're going to gun for HOH right?! Corey says I guess. Tiffany tells DaVonne he must think you're alone. He must think I am too, to just throw me up.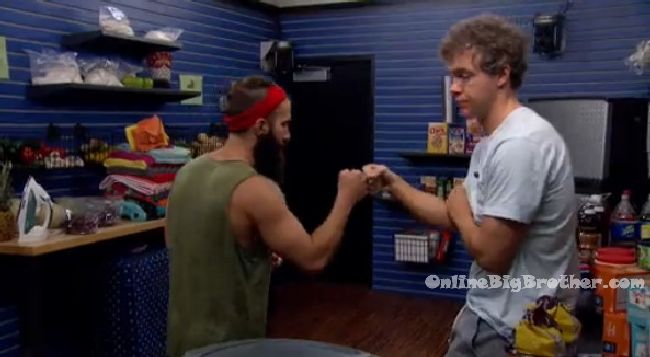 Storage room – Frank says she (Tiff) asked Michelle the other day if she should make a deal with me. I'm one vote. You want me to sway the vote, you sway the vote .. you got yourself up there. Am I on anyone's pissed off radar? Frank says no just mine about the underwear. Paul asks moving forward what happens next week. Frank says I would be careful not to win HOH because the house wants those two girls up and I wouldn't want you to damage your relationship with Bronte. I don't want to put them up. I like Bridgette and she's close to them. Paul asks who is the best bet to win? Frank says I wouldn't mind if Corey or Nicole won it. I would let Michelle take it from my team or even Paulie. I don't want it either. Frank says its too early to get your hands dirty bub. Paul heads to the kitchen and tells Paulie, DaVonne and Zakiyah about how Frank told him he wants Nicole, Corey, Paulie to win. Its too early to get your hands dirty bub!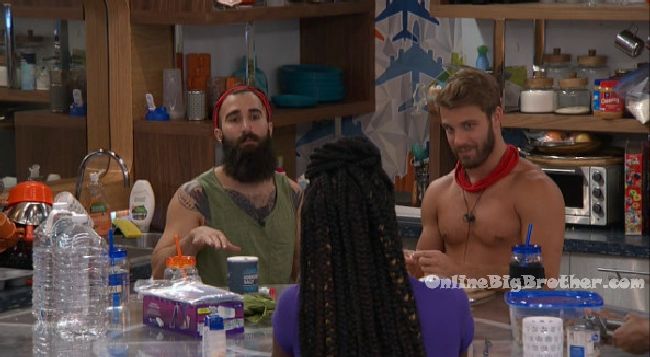 5:35pm Bedroom – Frank says if my team doesn't win ..Paulie. James asks Paulie? Frank asks don't you think? James asks ah ..I'm thinking maybe some girls instead. Is it too early to take out a big guy? Frank says I'm just worried him and Z are getting too close and he's going to be a target anyway. Frank asks what girl do we send home that's not on our team? James says man I'm thinking maybe ..like a vet? Frank asks who are you thinking? Day?! Hold on is that really what you're thinking? I wasn't sure you would be on board with that. James says yeah. (James is lying to Frank, telling him whatever he wants to hear.) I'm down to do whatever the house wants. If we can get other people on board. Frank says I was thinking the same thing but wasn't sure anyone would be on board. Bronte and Natalie aren't winning anything and if they do win we're not going up. I wasn't sure you two had something or not because you were on the same season. She was hinting she wanted to put up Corey and Paulie. She was saying she wants to make some big moves. And that's what scares me.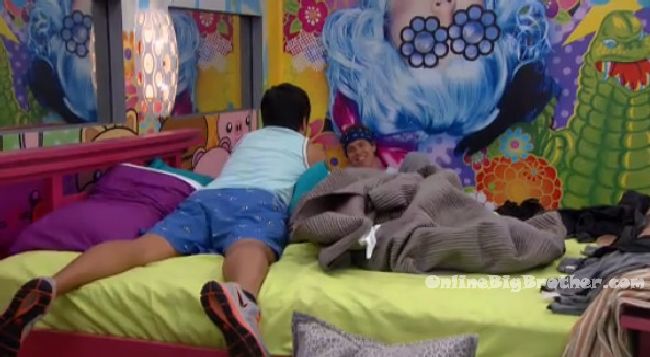 5:50pm Nicole and Corey are talking in the Havenot room. Corey says she's bad news. Nicole says that Zakiyah and Day are too close. Corey says We need to get the roadkill. Nicole says I want to make a big move. Say if Paul is HOH and puts up Frank. I'm putting freaking Day up. And she's freaking going home. Just the way she presents information .. she's sketchy as hell. She changes the topic.. she changes what she says. She was saying you weren't on his radar and then when you came in she made it sound worse. I told her that Frank was wanting to backdoor her. I want her to be worried. James joins them. They talk about Nicole's first boyfriend and how they were together for 5 years before they had s*x.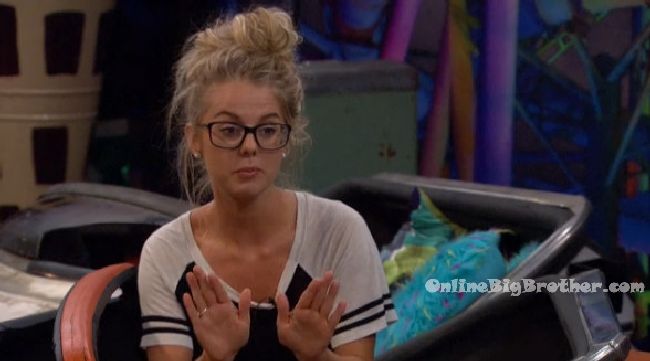 6:15pm DaVonne, Zakiyah and Michelle. DaVonne says the way he is playing is stupid. Like he wants to get caught and sent home. Michelle asks do you guys really trust Paul to win it? DaVonne says I'm going to try and win it. I think he's a good guy. Zakiyah says he said he would hand it off to us if he could. Zakiyah says Bridgette has to go right after (Frank). Michelle says yes give her 10th place.. not even single digits. They talk about how Frank was thinking of saying to Tiffany "Your sister got 3 place and you got 13th.. have fun talking about that over Thanksgiving dinner. Zakiyah says ugly. Being ugly. Paulie joins them. DaVonne tells him how she thinks Frank wants to go home. Like he wants to be caught.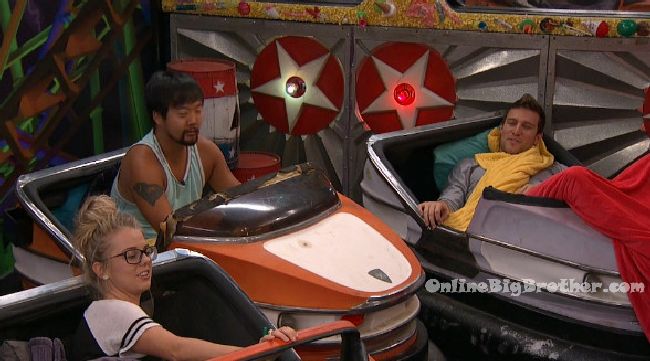 See what they can't show you on TV – CBS All Access: 1 WEEK FREE Trial!

Havenot room – Tiffany and Nicole. Tiffany says I've got.. Day, Michelle, James, You and Corey. That's five. Tiffany says I think I would at least deserve to not be blindsided. Nicole says I would feel that way too. Tiffany asks you would tell me wouldn't you? Nicole says yes and if it changes I would run and tell you. So you talked to Day and she's good. Tiffany says Day's good, Michelle's good, James said he's good. And then you two. Nicole asks what about Paulie? Tiffany says he says he'd good.
6:40pm Frank tells Corey about how James said he wanted Day out. If he's on board with it, then I'm on board with it. I was worried he would be butt hurt if we did that. He's worried about the numbers. He wants a girl to go home. He knows everyone else would want to see Natalie or Bronte go. The only other alliance member he is worried about is Tiffany. It makes sense, its the only one I'm worried about after Tiffany. He knows if he wins he can't put up Natalie and Bronte they're on his team. Paulie joins them. Frank says like I was telling him (Corey) our team or his team need to win HOH. Paulie says I wouldn't mind another week of safety.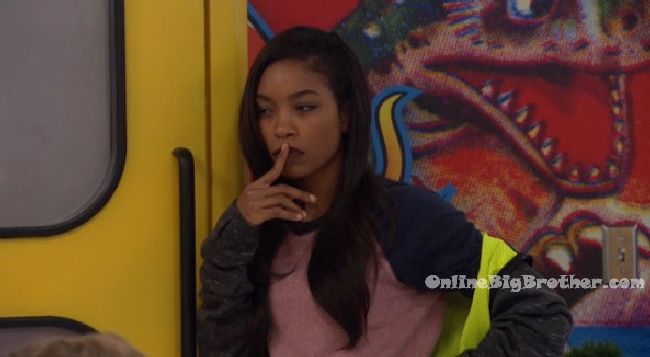 6:50pm – 7:15pm
Big Brother blocks the feeds. When the feeds return the house guests are discussing videos they saw. (They watched photos on the living room tv and need to remember details for the HOH competition tomorrow.) In the bedroom – Paul, Nicole, Tiffany, DaVonne and Zakiyah are studying together. Nicole says crap I should have paid more attention. Tiffany says he (Frank) was so cocky he kept walking away.
HOH room – Bronte and Natalie are studying. Bronte says that Frank said he won the last one (Comp similar to this one in his season.) Natalie says Frank has a really good memory. Bronte says my goal is for us to be safe. I don't care who goes home as long as its not us. i don't think Frank will come for us. He is really close to Bridgette. Frank is probably going to go after Day or Z. I don't think frank is an idiot… if the house is plotting to send him home, I bet he knows. Natalie says this game gives me a headache. Bronte says I would prefer Frank win over Paulie. Natalie says I'm not going to have any targets. What ever the house wants the house can get.
7:30pm Safari room – Corey and Frank are talking. Frank says Day was all up on those pictures. I don't think Paul will do well, all he did was memorize the names. I'm going to go to Tiffany and says why don't you get a good night's rest to you'll look great for Julie. I don't think Nicole will do well at it. Corey says Day said I got it. Frank says she said that about the math roadkill comp too. Frank says the one thing I like about these comps is a big chunk of people will get knocked out quick.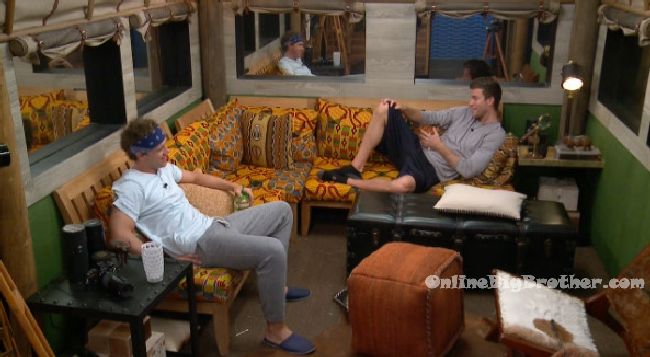 7:45pm Nicole, Day and Zakiyah are in the bathroom. Tiffany tells Michelle not to make fun of her bland speech. Michelle says I hate bland speeches. Tiffany says help me then! Michelle says no, you do you. Tiffany says I just don't want to think about it. They say that Frank and the power puff girls can't win it.
7:55pm Kitchen James and Paulie. James says you know who would give him (Frank) a run for his money in this one… Tiffany. Paulie says I might talk to Bridgette, Natalie and Bronte and give them wrong information on purpose.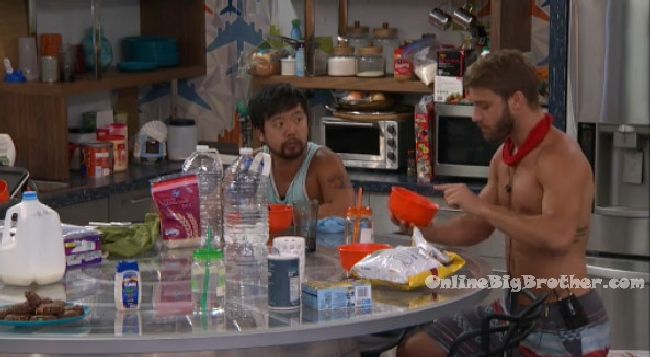 FLASHBACK and watch everything you missed: CBS All Access FREE Trial!

[polldaddy poll=9465176]
[polldaddy poll=9464369]