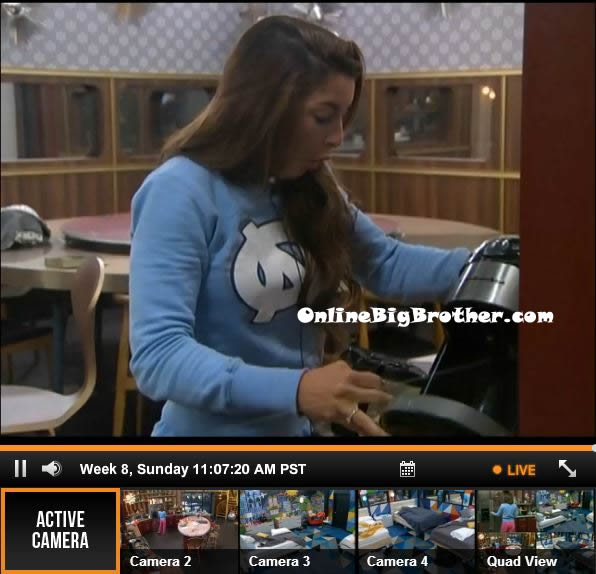 10:40am – 11:15am Big Brother wakes up the house guests. When the live feeds return – Helen and Elissa are in the bathroom getting ready for the day. Ginamarie joins them. Elissa heads to the kitchen and fills the coffee pot with 12 cups of water and then knocks over the coffee pot spilling all the water out onto the counter. Big Brother asks the house guests to clean the bathroom. Elissa heads into the bathroom to clean it. Aaryn comes down from the HOH room and starts making her breakfast. Big Brother calls her to the diary room. Out in the backyard Helen is running. Aaryn comes out of the diary room and heads up to the HOH where she finishes eating her breakfast, cleans up a bit and then goes back to sleep.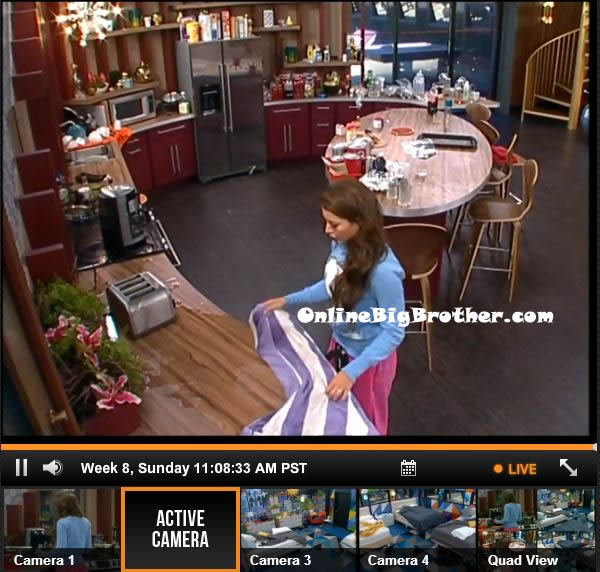 11:55am – 12:15pm Helen and Elissa are cleaning the bathroom. Elissa says we have been living in squalor. Helen comments that her, GM and Aaryn have all cleaned the bathroom. Elissa says I am glad GM cleans the bathroom because she is one of the messiest people in here. Elissa says we are living on a TV set. Helen says that is why we should keep it cleaner. Elissa says I take no part in the sloppiness. Elissa says these razors look like an infestation of bacteria and tetanus. Helen tells Elissa that she trusts McCrae but not Amanda. Helen tells Elissa that you can threaten them with all the secrets of the knockouts (Knockouts Alliance: Andy, Amanda, McCrae, Elissa, Helen, Judd) if they don't vote for me to stay. Don't do anything yet, I am going to lobby for votes. Elissa tells Helen that she overheard Ginamarie talking about Helen lobbing for her vote, but she was still going to vote her out. Elissa says that she can't handle their trashy behaviour. Helen asks Elissa do you think Amanda is trying to get me out? Elissa says I don't know, probably. Elissa then says don't bring me into anything. Helen says she won't. Elissa says I just know Spencer feels really really safe and that's weird you know. Obviously they want to breakup our votes. Helen agrees.
12:20pm – 12:30am Elissa says if they are working together, they for sure want you gone. Helen says of course. It's going to come down to you, Andy and McCrae. Elissa asks did Andy, Amanda and McCrae try to make an alliance with you? Helen says no, we have gotten close but never made a deal like that. Helen says Aaryn, Amanda and I only worked together to get Judd out. I know Amanda is coming after me, it's obvious. Helen says she needs to get McCrae to vote to keep her. Elissa asks do you think he will? Helen says I don't know. Helen says that McCrae would trust me more than Spencer. Elissa says I don't know if he will care as long as he gets it done. Elissa wonders if McCrae would want someone here to go after Amanda. Helen tells Elissa if I leave you are the swing vote, you can vote however you want. That will drive them crazy. Elissa goes to lay back down. Helen heads out to the backyard to do more laundry.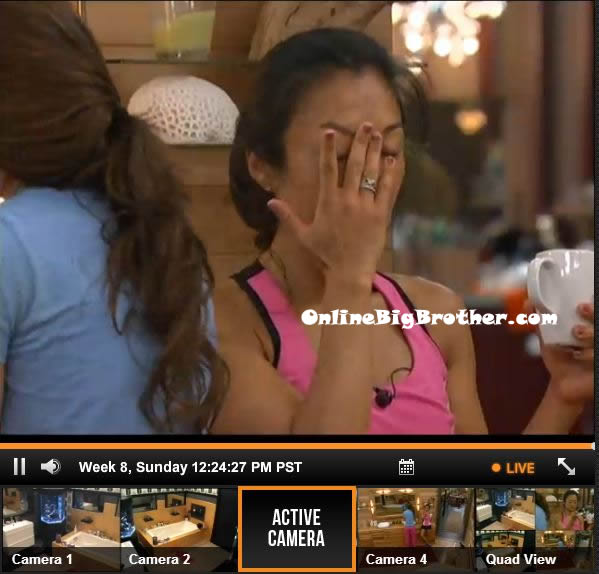 12:30pm – 2:15pm Helen cleaning the kitchen while all the other house guests continue to sleep. Helen heads to the bathroom to shower and get ready for the day. She does more laundry and then heads to the kitchen to bake slop muffins. Aaryn is awake in the HOH room getting ready for the day. Meanwhile downstairs Andy is wake and in the bathroom but goes right back to bed. Elissa is now awake again and in the kitchen. She puts Helen's sloppy muffins in the oven.
CLOWNIE LIVES!!! It's a miracle after TWO attempted SUICIDES @bigbspoilers #bb15 #cbsbigbrother #bigbrother15 pic.twitter.com/QRQZdiS1mI

— Dawg (@DawgsBigBrother) August 18, 2013
Use the Big Brother Live Feeds to FLASHBACK to SEE what they can't show you on TV:
[polldaddy poll=7329443]