POV Holder:
Elissa
Next POV
Aug 24th
POV Used
POV Ceremony
Aug 19th
HOH Winner:
Aaryn
Next HOH:
Aug 22nd
Original Nominations:
Elissa and Helen
Current Nominations:
Last Evicted Houseguest
David, Nick, Jeremy, Kaitlin, Howard, Candice, JUDD, Jessie
Have Nots (head cheese and habaneros)
GM, Amanda, Helen and Elissa
2:25pm – 2:45pm Helen heads up stairs to the HOH room with Aaryn to talk to her. Helen says first of all I wanted to say that the OTEV Competition sucked, Congratulation you got it over with. Helen says I don't want it to be awkward with everyone if I go out the door. I don't want to go out like Jessie. Helen says I think Ginamarie would be my deciding vote. I talked to her last night and I want you to know that I told her that I would be the deciding vote to keep her if you and her were on the block. I am going to tell her when she wakes up that I can't keep that deal if I stay in the house, which will probably mean I will lose her vote to stay. There are people in the house that are trying to get us to go against us. If I leave then Elissa will go work with them. I know if I stay I get her to work with you and I. Amanda has been playing you and I. She is playing a great game, she is manipulating you and I. Helen says I want Elissa to go after Amanda and I am the only person that can get her to do that. Andy is going to just go with the house. If you want to back door Spencer I would appreciate that. The game changing move could be me, you, Elissa and Andy teaming up finally to go after Amanda and McCrae. Amanda has been pinning us against each other. If we all go at each other it will be McCrae, Amanda and Andy sitting in the last spots. Amanda will use you as a competition threat to get everyone out. Aaryn says I have wanted Spencer out forever and it kills me to keep him here. Helen says I want anyone in the house to win but Spencer. If I go, please evict him after. Helen says I kept Amanda safe and could have gone with Jessie to get out Amanda but I didn't and it kills me. Helen says now that Elissa and I are on the block Amanda is treating me in a way that she has never treated me before. Amanda is trying to tear Elissa and I apart so that she will work with her and not you. You should look at the long term picture. Aayrn says I thought we were going to work together till the end. And now I hear that things got back to me that you are coming after me and things we have talked about have gotten back to me. Helen says as far as you and I working together till the end I never said that. We were working together so that we could go after the people we can't take out ourselves. I need you to take out Elissa and you need me to take out Ginamarie. Let's make a deal to go to the end together. If I stay, let's just do it. I am ready to make that deal and lets not tell anyone. If I go then you will have to worry about taking out Spencer. Helen says that she is worried Aaryn says if you stay you can't take out Elissa and I can't work with her. I am done! Helen says I really don't like that I heard Elissa doesn't even have to go to Jury.. that really bothers me. Helen says if I stay and Elissa wins the HOH I will tell her that I will be voting to keep you if she puts you up on the block. And then I will have her take out Amanda. I won't have her go after Ginamarie. Big Brother cuts the feeds. When they return – Helen says if you, me, Ginamarie and Elissa can come together then we can take out the middle.
Big Brother 15 Live Feeds: FREE 2 DAY TRIAL
2:45pm – 3pm Aaryn says I just really don't like how there are a lot of fake deals going around and I can't believe when someone comes to me for a deal because I don't know if its real or fake. I didn't think you were coming after me but not I hear that you are. I don't like that I am looked at as a threat because of my competition wins. Helen says I am here to play and to win, I know that Elissa and I will be friends after the game. Aaryn says that Elissa is coming after me and Ginamarie so we can't work with her, she will never go against Amanda. Helen says not true. Helen says I can get her to go after Amanda and even if she did put you up I will tell her I am voting to keep you. Helen says I can get Andy to vote out Amanda too, I can manipulate him. Helen says Elissa is more loyal to me than to Amanda. Aaryn says I am just scared of it being a fake deal. Helen says we can all come together and talk about it. Aayrn says everyone is wanting to keep McCrae and I don't understand why. Aaryn says you talk to Elissa and I will talk to Ginamarie – I am down with this if we can all work together. I just don't want this getting back to Amanda and McCrae. Helen says it won't get back to them.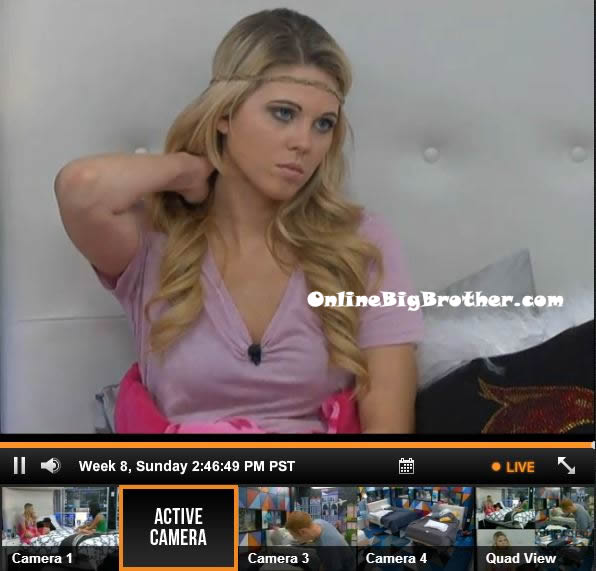 Use the Big Brother Live Feeds to FLASHBACK to SEE what they can't show you on TV:
[polldaddy poll=7329443]