POV Holder:
Elissa
Next POV
Aug 24th
POV Used
POV Ceremony
Aug 19th
HOH Winner:
Aaryn
Next HOH:
Aug 22nd
Original Nominations:
Elissa and Helen
Current Nominations:
Last Evicted Houseguest
David, Nick, Jeremy, Kaitlin, Howard, Candice, JUDD, Jessie
Have Nots (head cheese and habaneros)
GM, Amanda, Helen and Elissa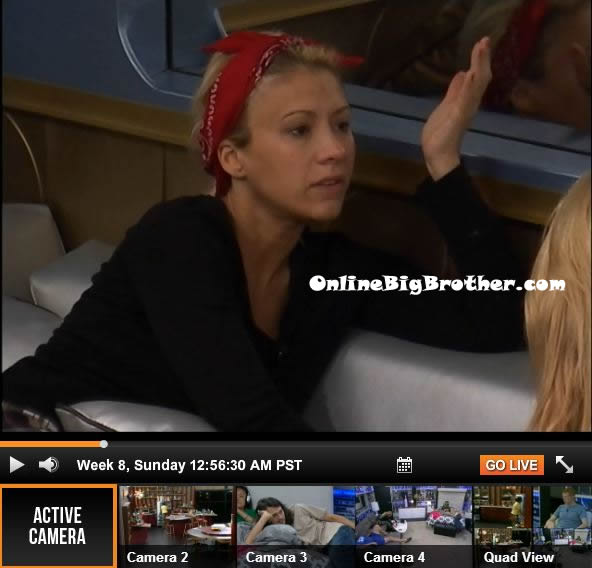 1am Aaryn and Ginamarie head into the lounge room. Ginamarie is crying and upset because she wanted to win the POV today. Aaryn says I wanted to win that today because I am HOH and I didn't want to get more blood on my hands. Now I have to get more blood on my hands because I didn't win it. You know how bad I want to have a record so it was devastating not to win. Ginamarie says that she tried but couldn't find anything, I really thought they were going to do a Nick thing and I just wanted to find his name and to hold It up and be happy, you know what I mean. They didn't even say anything about him. F**king Jessie and Judd they weren't f**king nothing. Aaryn says it's just because they were here longer. I know it sucks. That was legitimately all about luck. Ginamarie says I just wanted to have your back and to not change the nominations. Aaryn says its fine, even if you don't win HOH next week. Spencer has to go next week. Ginamarie says that she can't win things that are based on luck, the physical and mental things I can push through the pain and win. Gina says that she just wanted them to say something about Nick so that I could laugh about it and then I wouldn't be upset right now. Aaryn says we are over half way you will see him soon. Aaryn tells Ginamarie that she needs to win the next HOH to put up Spencer. Aaryn says then after Spencer goes, Elissa will be next. Aaryn tells Ginamarie that both her and Andy have her back. If you are up against Spencer both Andy and I will vote to keep you. Aaryn tells Ginamarie that she won't ever turn on her even though at some point Amanda and McCrae will want her to. Aaryn tells Ginamarie to stay focused because a half a million dollar can change your life. Ginamaire heads back up to the HOH room.
Big Brother 15 Live Feeds FREE TRIAL: FLASHBACK FEATURE
1:20am Up in the HOH room – Amanda, McCrae, Aaryn, Elissa, Ginamarie, Spence and Andy are talking about random things. Amanda says she would murder a puppy to have oeros and milk right now. Just kidding America I wouldn't murder a puppy, I love puppies. Aaryn tells McCrae that what Amanda says reflects on him. McCrae says no it doesn't. Amanda says wait what?! Aaryn says I am just trying to make McCrae paranoid. The conversation turns to talking about the fights/confrontations during the season. Amanda says I think I have been in the most fights with people. Amanda counts off all the fights she had with people – McCrae, Spencer, Jeremy, Aaryn, Candice, Jessie, Elissa, Kaitlin. They talk about how Jessie's behaviour the last few days before she left. Andy laughs about he had a final two deal with Jessie. Elissa heads down stairs.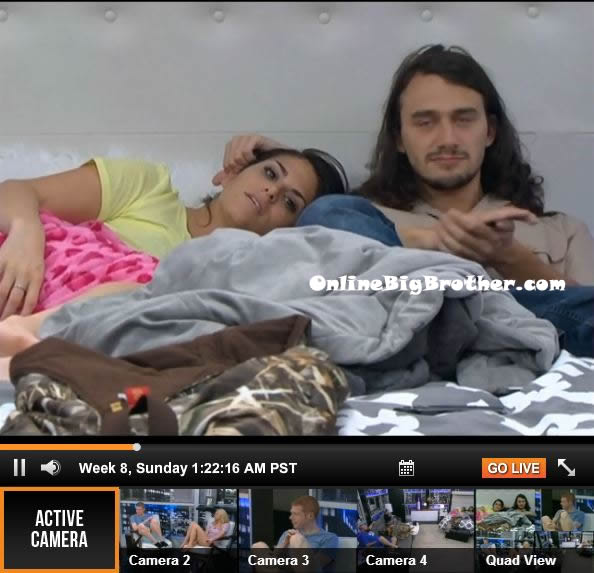 They talk about how Elissa has no spatial awareness. Spencer says that was the closest Elissa has even sat beside me. Amanda asks Aaryn what exactly she said about the fish. Aaryn says that they are segregated and that scientifically black fish swim on the bottom because its dark and they want to hide. Amanda says first off you started with segregated and that's a racial term. Aaryn says no its not! Amanda says that segregation has to do with race. Aaryn says so it does and the fish are black and white. Spencer and Andy agree that you can segregate anything and it not be racist. Aaryn says you only think of racism if that is what is on your mind. Lighter fish swim on the top because they are camouflaged on in the light and darker fish swim on the bottom because it's dark and they stay camouflaged in the dark. I am talking about that and somehow it gets turned into racism. The person who misconstrued that was racist, not me. I am f**king sick of talking about it and I am annoyed. Amanda says you brought it up! Aaryn says no, you brought the fish up. Amanda jokes and says I know, I'm joking with you! You're having a blonde moment. Aaryn says she isn't. McCrae says they're both having a nutso moment and it's driving him f**king crazy.

2:50am In the HOH room – Andy, Aaryn, Spencer, Ginamarie, Amanda and McCrae talk about Elissa and how they don't understand her. They talk about how Elissa won't talk about when she got married or her anniversary date. They think it's because her son isn't her husbands. They talk about how she is hiding her personal life. They think she has an illegitimate kid and that she never mention her step kids. Aaryn says it's disgusting that her husband is 40. Amanda says that Elissa said she was a virgin when she got married. They talk about how none of them know anything about Elissa's life. Andy says he feels like he knows all about everyone's personal lives and he feels he is Elissa's closest friend and he doesn't know anything about Elissa's personal life. Ginamarie says that Elissa has a sugar daddy type sh*t. Amanda says Elissa lies a lot about her family life. Aaryn says she feels like a lot of it might be lies. Amanda worries Rachel will tell Elissa how much sh*t she talked about Elissa and not let her go stay with her in Vegas. Spencer says I would rather pay for a place to stay than get sh*t for free and have to stay in her sh*t hole. The only reason I would go into her place would be to jack off on her sh*t. They continue to talk about random things.
Big Brother 15 Live Feeds: FREE 2 DAY TRIAL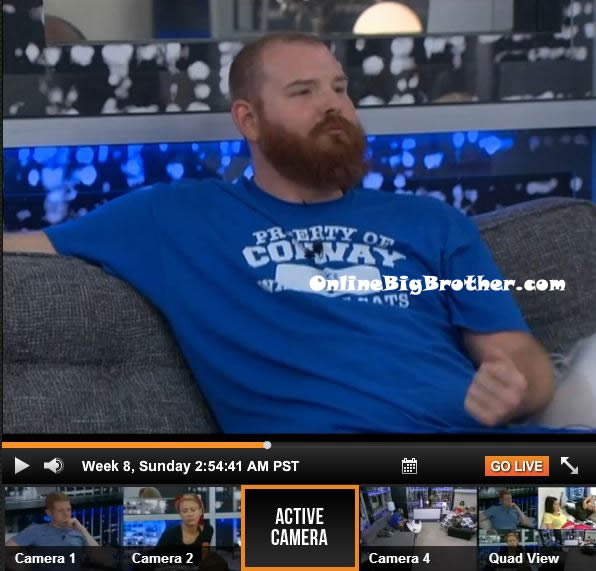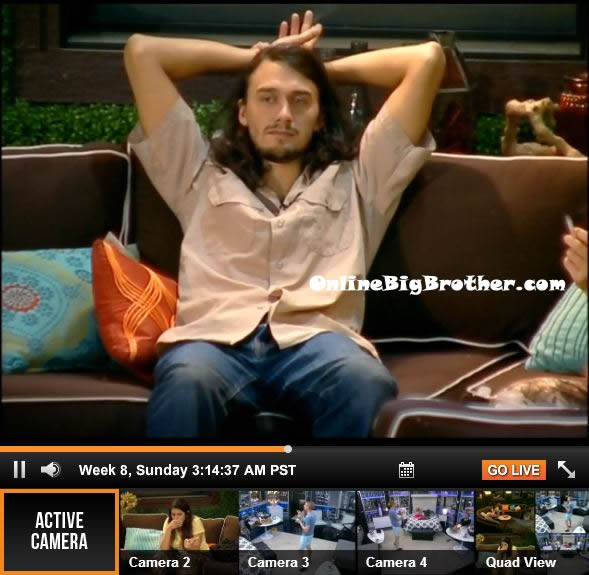 3:10am The backyard opens up and McCrae and Amanda head outside for a smoke. Amanda and McCrae talk about how Elissa has step kids. McCrae says that he found out last night and says that really bothered him that she never talks about them. McCrae says that he thought he was close to Elissa until he heard that. The conversation turns to talking about Spencer. The will keep him close until he is too dangerous and then they'll get rid of him. Andy joins them. They talk about Elissa. Andy says that he knows more about David than he knows about Elissa. McCrae talks about throwing a random vote to Spencer to make it a 3-2 vote to evict Helen. They know Elissa is going to vote to evict Spencer. Amanda and Andy don't think that's a good idea. Andy says that he thinks it's too risky. Andy says that it could also keep Elissa on our side if one of us votes out Spencer over Helen. Spencer and Ginamarie join them. They continue to trash talk Elissa and talk about other random things. Spencer and Ginamarie head to bed. Amanda and McCrae talk about Spencer. McCrae says he thinks Spencer would take out Aaryn before he would take you out because she is more physical and better in comps.

4:45am – 5:40am In the bathroom –Amanda and McCrae talk. McCrae thinks Aaryn is a better competitor than Andy. He says that Aaryn is more dangerous. McCrae says if we let Aaryn get to the final four then there is a good chance that she will win. They start to go over different scenarios going forward in the game. They head to bed. Amanda to the havenot room and McCrae to the other bedroom. McCrae and Spencer talk about us three boys (Spencer, McCrae, Andy) taking out the girls. Spencer says well dude I have been loyal and honest with you since day 2 and it's not going to change now ..lets keep trudging along. If we can strike first then we make the move. Spencer asks if Amanda is good with Aaryn over Ginamarie in the final 5. McCrae says she is, she already thinks Aaryn is trying to move in on me. Spencer says if Aaryn makes it to the final two she will win. They talk about needing to win HOH next week. Spencer says he will get so much satisfaction with Helen leaving. She told me my game is really sloppy. OH you b***h! McCrae says that he keeps telling Helen she is good so she thinks she is staying. Spencer says my game will be better when she is gone. Spencer and McCrae decide to go to sleep.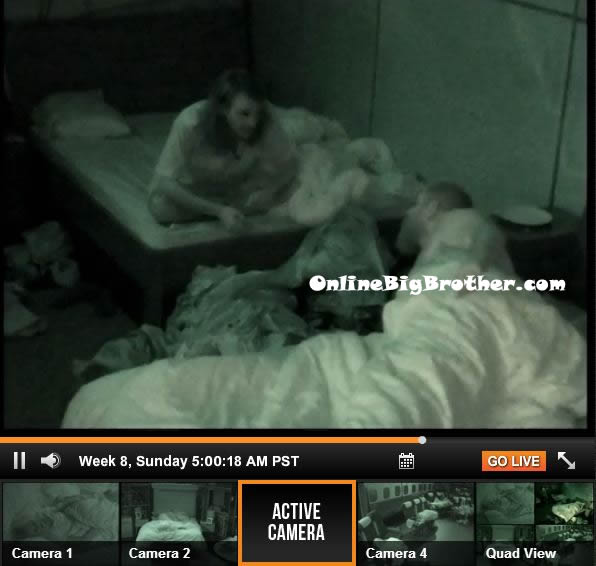 9:40am All the house guests are still sleeping..
10:10am Still sleeping..
10:40am Big Brother switches the live feeds to the we'll be right back to wake up the house guests.
Use the Big Brother Live Feeds to FLASHBACK to SEE what they can't show you on TV:
[polldaddy poll=7329443]