POV Holder:
Elissa
Next POV
Aug 24th
POV Used
Yes
POV Ceremony
Aug 26th
HOH Winner:
Aaryn
Next HOH:
Aug 22nd
Original Nominations:
Elissa and Helen
Current Nominations:
Helen and Spencer
Last Evicted Houseguest
David, Nick, Jeremy, Kaitlin, Howard, Candice, JUDD, Jessie
Have Nots (head cheese and habaneros)
GM, Amanda, Helen and Elissa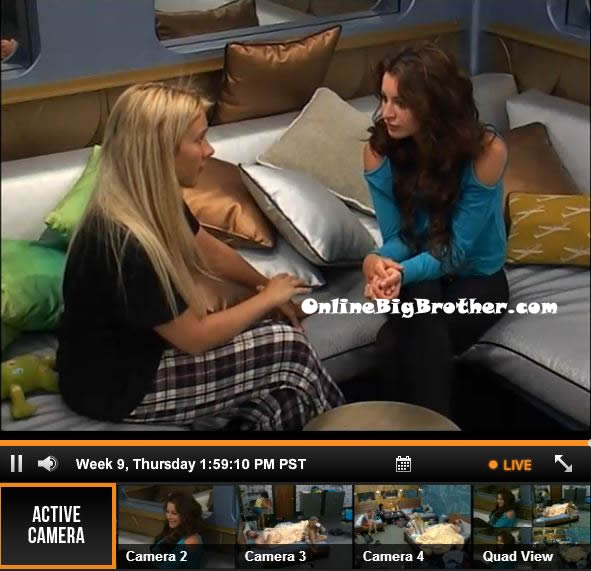 2pm In the lounge – Gina and Elissa are talking. Gina tells Elissa that she love Aaryn but doesn't like that Amanda is in her ear telling her what to do. Gina tells Elissa that she is cool with her and likes her. Elissa agrees. Elissa asks should we make a deal now? Gina says it's my birthday I don't want to make a deal now and I would like to have Aaryn pass the key to me. I want everyone to compete for it. If we are the only two up there then we can talk. We can talk about a one week deal. You are cool with me. Gina says that we are all in it for ourselves if we win the money we go off on our own but Amanda and McCrae are in it for each other and will share the money. I want to cut them in two. (Gina wants to break up Amanda and McCrae and get one of them out.) Gina talks about how rude it is that Spencer isn't packing. Elissa agrees. Gina says good luck to day. They hug and leave the room.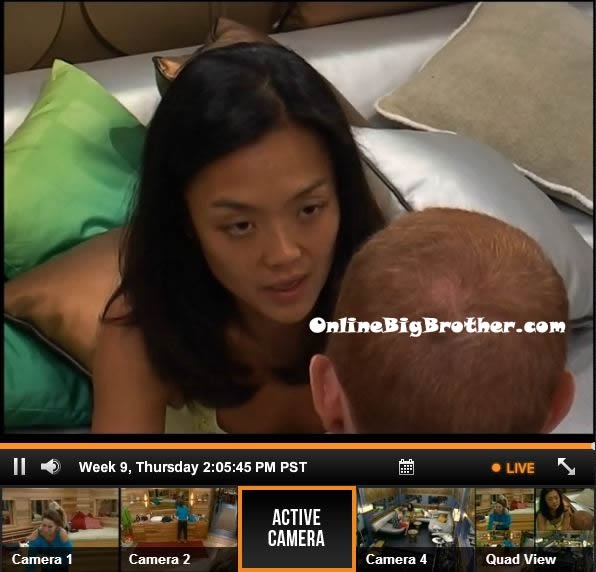 2:05pm – 2:10pm Helen and Andy head into the lounge room – Helen tells Andy that she knows he is working with Amanda and McCrae and that's okay. Helen confronts Andy for telling McCrae and Amanda about her wanting them out. Andy says that he was mad and that's why he did it. Andy asks Helen if Amanda told her. Helen says yes. Andy says he is not stupid and know he has to take them out. Helen says I just need you to wake up. Andy says I have. Helen says you are smart and know what you need to do. Andy asks what else did Amanda say? Helen says that was the worst of it. Helen tells Andy I love you and we will be friends after this. They both leave the room.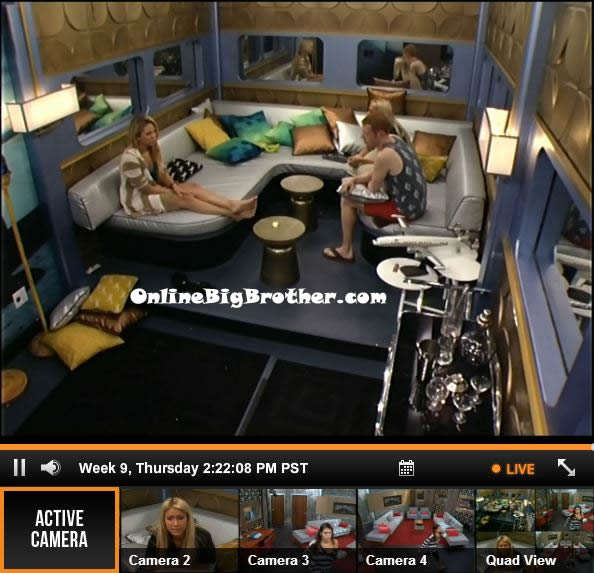 2:20pm – 2:35pm Aaryn Ginamarie and Andy head into the lounge room to talk. Andy asks Aaryn do you think we are doing the right thing 100% to get rid or Helen? Aaryn says yes. Gina and Spencer say they aren't sure. Andy says we know were Helen is at and we cannot trust Spencer. He is 100% working with Amanda and McCrae. If we keep her she would be with us. Andy says Helen pulled me in here and she 100% does not want Amanda to win this game. Andy says we will do what you want, this is your HOH. Gina says Amanda lies to everyone. I know Helen lies too but not as much. Amanda joins them and asks if she is interrupting them. Andy says no. Gina says no we are just talking. Andy says we are just making sure we are making the right decision. Amanda asks are we questioning it?! Gina says Spencer is just to comfortable and its rude he isn't packing. Amanda says he is just waiting for garbage bags. Aaryn says I just want it to be clear that I did not call this meeting. Amanda says well tell me if its changing. Amanda leaves. Aaryn says this is bad. Gina says no its fine. Aaryn says 100% this is the right decision we do not want Helen in here and in power. If you two do not vote out Helen I will freak the F**K OUT! Gina and Andy say we will we just wanted to check with you. Gina says go get Amanda so we can tell her everything is fine. Aaryn leaves. Gina says I don't get why she doesn't believe us. Spencer joins them. Amanda joins them and Spencer leaves. Gina tells Amanda that she was just nervous about Spencer and wasn't sure who he would put up. Amanda asks them if they are good with getting out Helen. Andy and Gina say yes. Gina says I trust Helen a bit more than Spencer but I know Helen makes Elissa stronger so this is better for the group. Amanda reassures them that Spencer's target is Elissa. Amanda says that she wants Elissa out and then Spencer out next. Gina says okay good. Aaryn joins them again. Aayrn is annoyed that they are bringing this up right before the vote, I thought this was done! Aaryn asks Elissa is getting in your head isn't she?! Gina says no. Andy says we are good.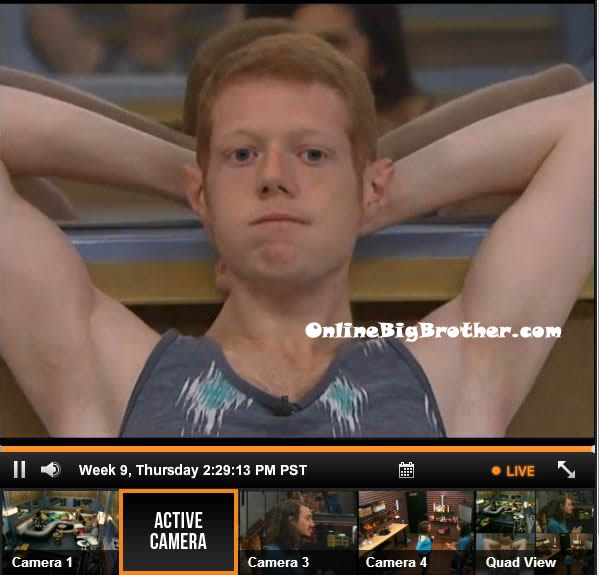 2:35pm Gina talks to Spencer next and tells him that there is nothing to worry about I just wanted to confirm that voting out Helen was the right decision. I want to make sure you are getting out Elissa if you win HOH. Spencer says of course I would, why would you think that isn't the plan?! Gina says okay good, I just wanted to make sure Elissa or Helen weren't getting into peoples ears. Gina says we are voting out Helen. Gina then asks him if he is packing his sh*t? Spencer says yes of course. Gina says okay I thought that you weren't and figured it was weird. They leave the room.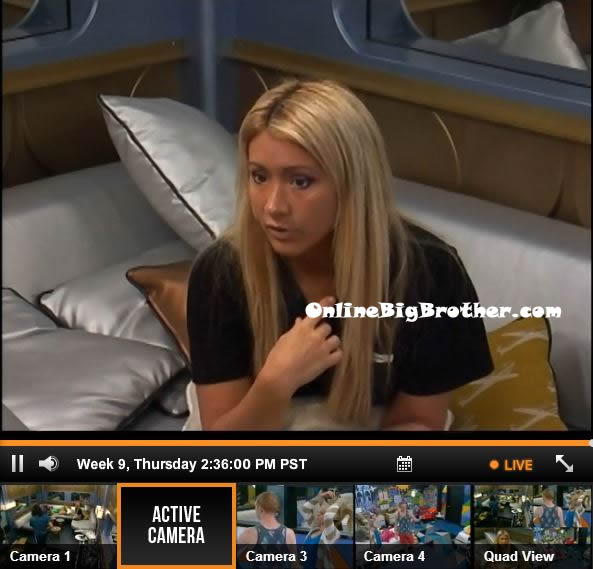 2:35pm – 2:45pm In the rainbow room – Aaryn and Andy confirm they are good. Aaryn says that she is upset that he and Ginamarie were even considering keeping Helen. Andy says that it was Ginamarie's doing. He reassures Aaryn that they are evicting Helen. Aaryn says that Amanda and McCrae already piss at you two. Andy comments that he knows Gina is with them and that she would battle to the death for them. Her word is good. Aaryn leaves and Andy talks to McCrae. He tells him that he wanted to distance him self in Ginamarie's eyes from McCrae and Amanda. McCrae says that's good. Andy says that its also good because it show just how solid Aaryn is with us. McCrae says yeah that's good. Andy says that Aaryn started to freak out and it scared him. Spencer joins them and they talk about the same thing.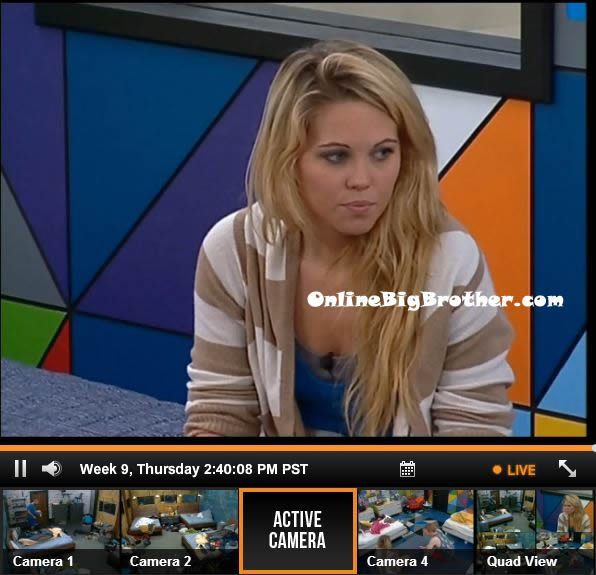 2:50pm – 3pm In the rainbow room – Amanda tells Aaryn you need to get Ginamarie's focus off me and McCrae. Aayrn says that it is, it's on Elissa and Spencer at least until they are gone. Then its just down to me, Andy, you and McCrae. Amanda says okay good. Aaryn says that it just freaked me the f**k out that things could flip in the last minute. Amanda tells Aaryn to stop questioning the four of us, because if you don't it will hurt you! Amanda says that it's Ginamarie that needs to stop doing things like this. Aaryn asks Amanda why McCrae came up to her and said "if I win HOH you just have to trust me" what the f**k does that mean, is he going to put me up?! Because that freaks the f**k out of me! Amanda says no he wouldn't do that, I think that he was thinking he would put up you and Elissa. Aaryn asks why? I would be a vote to evict her! Amanda says it doesn't even matter he wouldn't do it. You need to stop this scared freaked out attitude. You need to trust the four of us. Andy and McCrae join them. They all tell Aaryn that Elissa is the target. Aaryn says that what Gina did really scares me that she even questions what I want. Andy says she just need re-affirmation each week. McCrae tells Aaryn that she needs to be on top of Gina all the time just in case she wins HOH. Aaryn asks what will Spencer do? McCrae says he will put up Elissa and Gina. Aaryn asks so then I would be the replacement? McCrae says Spencer. McCrae says that he will not give up or fall tonight unless I am really hurting.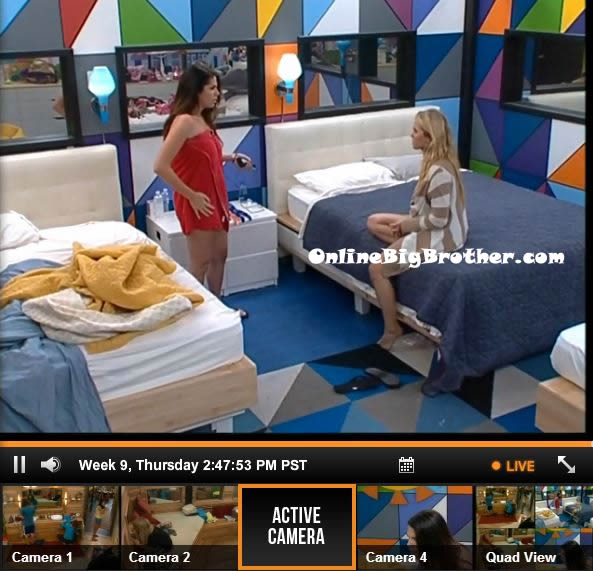 3:10pm – 3:17pm McCrae says that they are just a little worried how close Gina and Aaryn are. Aaryn says well that's the same thing with you guys and Spencer. We just need to prove to each other that is not the case. Helen joins them and McCrae leaves. Helen tells Aaryn just how much she loves her and how her feels about her have changed. Helen says if you make it to the jury we will welcome you with open arms. If you make it to the end I will base my vote on who played the best and who helped me get as far as I did. I made it 63 days and I am proud of that. Andy joins them. (WTF!!? He butts into every conversation!) Helen starts crying and tells Aaryn how much she cares about her and how she has always had her best interest at heart no matter what she has heard or thinks. Helen tells Aaryn that America is going to love her. Helen leaves. Andy tells Aaryn that he loves Helen so much. He says but that is why she has to go. Andy starts talking about how Elissa is acting weird. Meanwhile Helen goes to the lounge room and says goodbye to Spencer. Helen says if you think you know who the final three are going to be, you're probably wrong… Big Brother cuts the feeds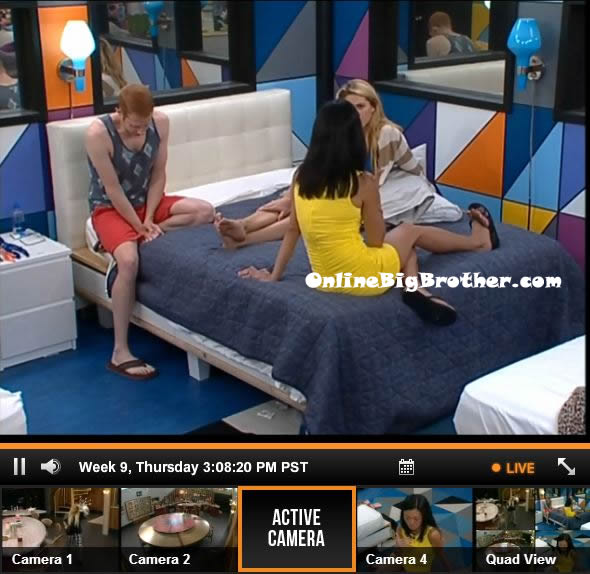 3:17pm Big Brother switches the live feeds to TRIVIA ..
4:15pm TRIVIA Continues..
Use the Big Brother Live Feeds to FLASHBACK to SEE what they can't show you on TV:
[polldaddy poll=7329443]
Share it YO!!
Tweet