POV Holder:
Next POV
Aug 17th
POV Used
POV Ceremony
Aug 19th
HOH Winner:
Aaryn
Next HOH:
Aug 22nd
Original Nominations:
Current Nominations:
Last Evicted Houseguest
David, Nick, Jeremy, Kaitlin, Howard, Candice, JUDD, Jessie
Have Nots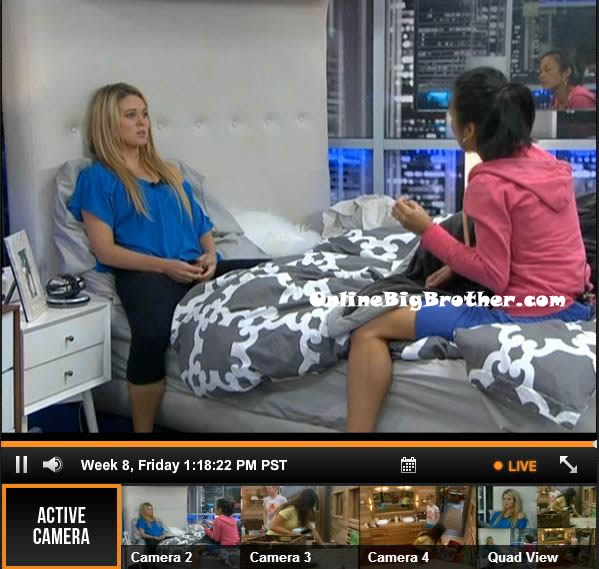 1:20pm In the HOH room – Helen asks Andy if she can talk to Aaryn quickly alone. Andy says sure and leaves. Helen tells Aaryn that she realizes that Elissa is going on the block and that you are worried that I would use the veto to save Elissa. I will not use the veto save Elissa if you as HOH do not want me to. Helen asks so if Elissa and Spencer were up on the block and Elissa won the veto and came off, if I went up – who would go home? Aaryn says Spencer would, I do not want him here. Helen says as much as she likes Spencer I need to lobby for my own votes. Helen says if I go up on the block I would not want to go home over Elissa or Spencer. If Spencer stayed here longer than I did I would be devastated. If Spencer is you target and everyone knows that I would be okay with that. Helen says that she worries about Amanda on her game. If you stay true to me I will stay true to you going forward. Aaryn says yeah. Aaryn says that just because of the Elissa past I would be fine with either Spencer or Elissa going home. If Elissa comes down and Spencer goes up I will be a target. Aaryn says no one in jury like me, it has been on my dime that people have been sent to jury. Helen says that she feels the same way. Aaryn says I am not stupid there have been people that have been loyal way longer than me. I know that Spencer, Ginamarie and I are all targets to go first. I know that I am a target because of my wins. Helen tells her to down play it. Aaryn says it's down to the point where it is getting hard because of the votes, like I can't put up Ginamaire because I know she would be a vote for me. Helen says I would be hard pressed to put you up and would vote for you in the end. Aaryn says I just have to put up Elissa and I want her gone because I know she would put me up next week. If she stays and wins HOH next week she would put up Ginamarie and I. Aaryn says I think that we are even, I have done as much for you as you have done for me. All of the things I have done have also benefited me. Helen says she is glad that she sees it that way. Aaryn says that the only two people in the house that are disposable are Spencer and Elissa. Aaryn says if I do put you up I know full well that you could target me or pawn me next week and I will have a chance to play for the veto. Aaryn says if you won the veto and Elissa came crying to you to use it, it would be so hard for you to not use it. Helen says I know and if you didn't want me to use it then I wouldn't but I couldn't vote against her.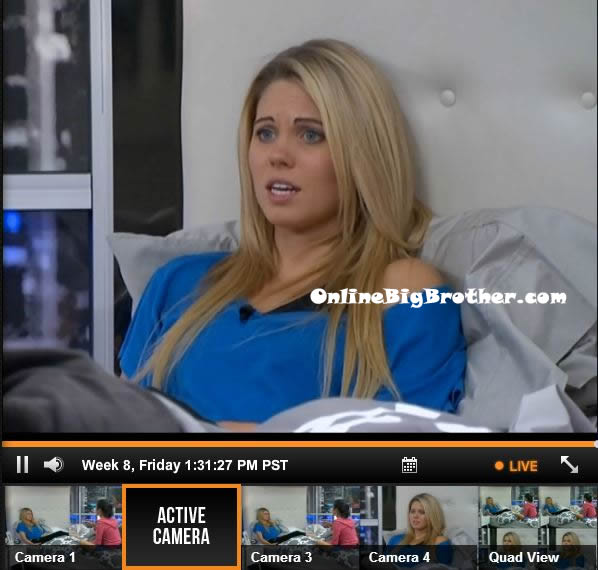 Aaryn says I understand that you will put me up next week if I put you up. Helen says I will put up who ever is better for my game at that point. Helen asks if Elissa and I are up on the block would you use the veto to save me? Aaryn says I probably wouldn't use it because you would be a vote to keep her and I couldn't risk her staying. Helen says I understand what you are thinking. Aaryn says you are probably the smartest person here and I know it's getting down to it were I will be your target soon. Helen says if Elissa leaves I will be all alone and need someone to work with. Aaryn says I want Spencer to go home, I wanted him to go home this week but there are people that want to keep him. Aaryn says I want you to win the veto and pull yourself off because this is so hard to put you up. And if you pull yourself off everyone can vote how they want and send Spencer or Elissa home. If you win the veto you can keep Elissa here. Aaryn says I am going to make sure you don't go home, if its you against Elissa, then Elissa goes home and if you come off then it doesn't matter which one of them goes home.
1:45pm In the bathroom – Amanda talks to Ginamarie about how Aaryn will be putting up Helen and Elissa. Amanda says that she is sure Helen is up in the HOH room tell her about my plan to back door her but Aaryn already knows about it. Ginamarie says yeah she's trying to plant the seed. Amanda laughs at how you (Gina) called out Spencer for standing up for Elissa. Amanda tells Gina to fight for veto because we need to keep the nominations the same. Amanda tells Gina that she thinks she can control Elissa when Helen is gone.
2pm In the living room – Andy, Spencer and McCrae talk about wanting the havenot competition to start. They think it could be a competition where they compete for food for the week.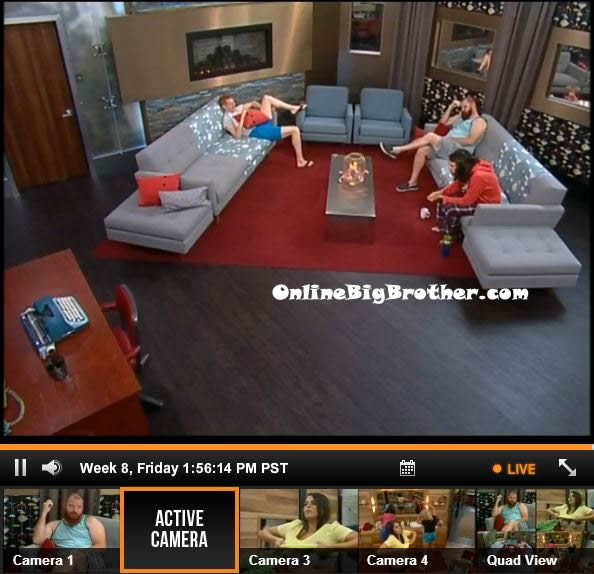 2:05pm – 2:26pm Big Brother switches the live feeds to the "We'll be right back" screen. The live feeds then switch to the TRIVIA screen.. Looks like the Have / Havenot Competition has started..
4:43pm Still trivia yo
5:30pm Trivia
Use the Big Brother Live Feeds to FLASHBACK to SEE what they can't show you on TV: