POV Holder:
Next POV
Aug 17th
POV Used
POV Ceremony
Aug 19th
HOH Winner:
Aaryn
Next HOH:
Aug 22nd
Original Nominations:
Current Nominations:
Last Evicted Houseguest
David, Nick, Jeremy, Kaitlin, Howard, Candice, JUDD, Jessie
Have Nots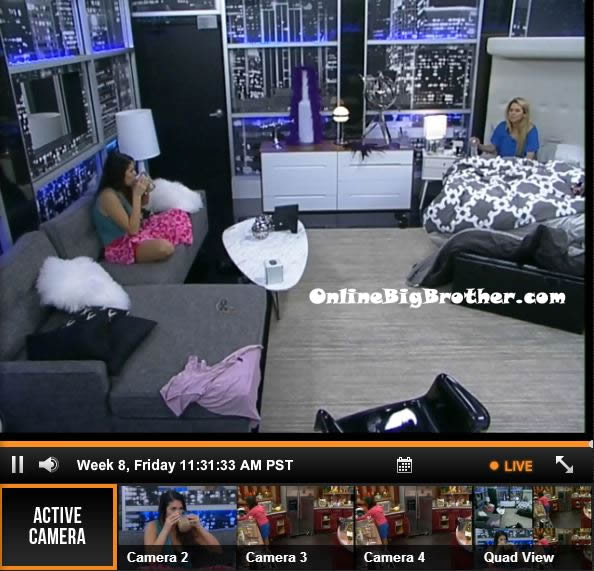 11:20am – 11:50am Amanda heads up to the HOH room to talk to Aaryn. Amanda says that she has trusted Andy and McCrae since the beginning. She says she doesn't trust Ginamarie but she trusts you so you have have influence over her. Amanda says that Spencer would put up Ginamarie and Elissa not you. He thinks that he is aligned with McCrae. Amanda says my fear is that Ginamarie would tell Spencer about our final 5. Would she? Is she stoked about it? Aaryn says Ginamarie wouldn't say anything. Aaryn is super worried about Spencer staying and winning HOH next week because she fears he will win HOH and put her up. Amanda says that her biggest fear this week was telling Andy about getting Helen out this week, but he was totally down with it when I asked him. Aaryn wonders about asking the diary room about what kind of information the evicted people hear and see in the goodbye messages. Aaryn is worried an evicted house guest is coming back. Amanda says that she doesn't think that will happen. Aaryn says that Helen wanted to set an example for her little boy and she is not doing it. They worry about Elissa getting America's Favourite. Aaryn is worried Elissa would get it because of the Brenchel Army. We have carried her till now and we saved her from 3 evictions. Aaryn says practices her possible nomination speech for Elissa saying she thinks she acts entitled, bites the hand that feeds and doesn't appreciate this opportunity. Those three things piss me off more than anything in a person. Amanda says instead of bite the hand that feeds, say she turns her back on those that have helped her. Aaryn says that she won't get Elissa's jury vote anyway so it doesn't matter what I say in the speech. All of the speeches have been so PC and I can't stand it. If you get up there and say this is best for my game I will punch you in the face. Amanda says that Andy wants me gone because he thinks I will take McCrae. Aaryn asks why would he think that far ahead. The take me because I will take you to the final two. Amanda says that's what I was going to do. Amanda says I love Andy and want to go to the final 4 with you, me, McCrae and Andy. That's why Helen has to go this week. Aaryn says I will not take Elissa to the final 5, other people can do what they want but I will not take her. She does not deserve it. Amanda talks about how she doesn't like how McCrae tip toes around and doesn't defend me. Amanda says I would never do that, he did it with Howard and he did it with Jessie. Aaryn says that McCrae makes everyone believe he is on their side. Amanda talks about what she would say to Helen in her goodbye speech – She would say that Helen had said that there will come a time when everyone needs to go against each other and I had to do this because I knew you were coming after me so I had to strike first. You are a fierce competitor and I couldn't risk you being in the game any longer. Aaryn says that she thinks the diary room put it in Helen's head that I am playing her.
Amanda says that besides the fact that Spencer is a man, crass, misogynistic he is just like me. I have seen the nasty side of Spencer and he will need to go next week. Amanda says that another thing that scares her about McCrae is that he said that he couldn't have done what you did with Judd, which makes me think he would have gone to the finale 2 with Judd. Aaryn says that she is going to the final 3 with Amanda and McCrae no matter what. Aaryn says she is glad she had that conversation with Helen because I know now that I cant tell her anything. Amanda says I know that Elissa/Helen will come to you to tell you about my plan to back door you .. so act surprised about it. Aaryn says yeah. Aaryn brings up how Kaitlin was in a rap video and the guy was going down on her. Amanda says that's weird, that doesn't sound like a professional rap video. They talk about Jeremy. Aaryn says that if Jeremy and I were to date we would have a real relationship but he and Kaitlin would never have a real relationship. Amanda talks to Aaryn about keeping Ginamarie close to her. Aaryn says me coming in here like a hyena and acting like a wacko is the reason I am still here. If I had come in here all sweet and nice I would have been gone by now. Amanda smells her own armpits and says eww! Amanda says people aren't getting out people they like, they are getting out people they can't trust. Elissa joins them.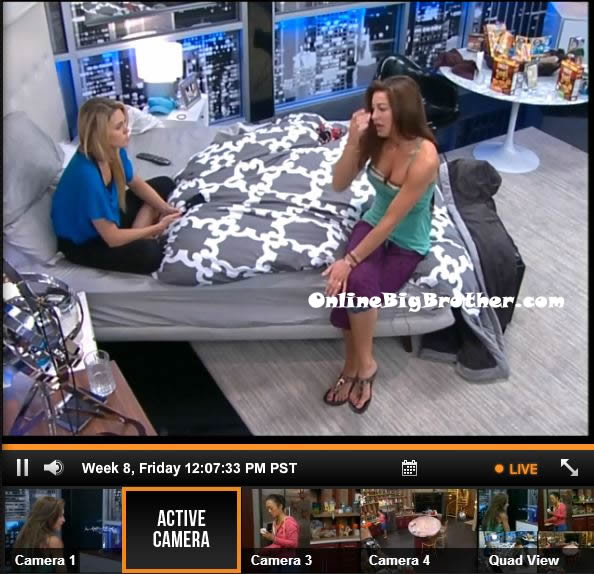 12:05pm – 12:30pm Elissa talks to Aaryn and tells her that she really wasn't trying to start a fight with Ginamarie or Aaryn. Elissa says that she was nervous about the HOH competition. I was in a bad mood and just didn't want to be around anyone. I want to be here. I knew coming here I would miss certain events of my son's. That is one of the biggest challenges of being here. Aaryn says that she really doesn't want to make Elissa uncomfortable and says that the banana (banana condom) thing was Ginamarie. Aaryn says that she was trying to get me to throw the HOH to her and that she would keep me safe, that's all we talked about in the bathroom with her. Elissa asks if Ginamarie is pissed off at me? Aaryn says she was just pissed because she though you didn't to sit beside her. Elissa says I didn't want to sit beside anyone. Elissa says she wanted HOH to get a yoga mat and a letter from home. I feel like I get less because I am Rachel's sister. Elissa says if you have to put me up I will understand but I really didn't want to get into a fight with you. Elissa say I always knew in the back of my mind that I wouldn't see my family for a while but it just set in yesterday. Aaryn says between us, you know I do not like Spencer and I want him to go home. My plan is to back door him and there are two spots that he might not get drawn for the veto so that is my plan. Aaryn says that no one wants Elissa out. Aaryn thanks Elissa for coming up and she leaves. Aaryn goes into the bathroom and tells Amanda that Elissa is having a panic attack she knows she's going up. Aaryn says don't tell Spencer what I told Elissa but even if it does get back to him I have already told him he isn't the target. Amanda starts asking Aaryn about her schooling and what she wants to do in life. Aaryn talks about the hosting job she wants. Amanda says that she always wanted to be a child psychiatrist because she had to go to one a lot as a kid (She was molested by a family member when she was 3 or 4 years old.)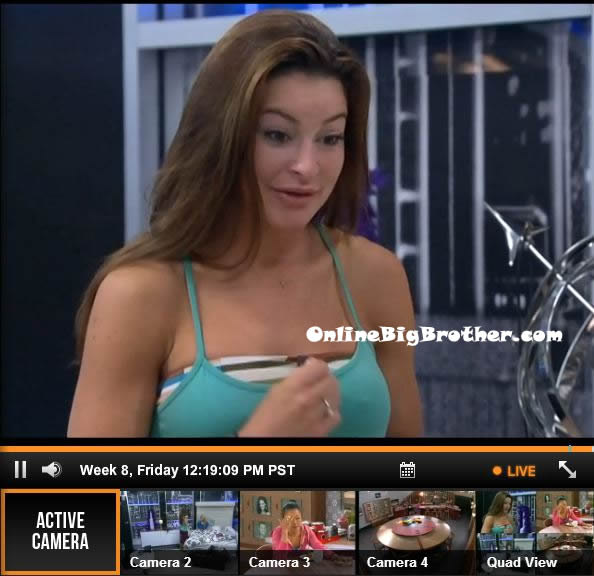 12:35pm – 1:15pm In the HOH room – Amanda coaches Aaryn and gives her vocal lessons so that she doesn't have a scratch in her throat. Helen joins them. They talk about Aaryn needing to practice every day so that she doesn't have a raspy voice. Andy joins them. They talk about the havenot competition. Andy wonders if they will get a guest host because there are only 8 of them. Aaryn says maybe I get to pick one person to be a have. Who has been a havenot the most? Andy says me, Helen and Elissa. Andy asks what Elissa had to say to Aaryn. Aaryn says that she was sorry, it wasn't about me and that she wants to be here. She said that everyone has bad days and that was hers. Helen and Andy say that was nice of her to apologize. Helen says that she was mad at Elissa last night for taking it out on her. Helen and Amanda both think Elissa would walk from jury house. Amanda says she hopes she does walk because the would free up America's favourite. Amanda says even if Elissa said f**k you America she would still get America's Favourite. Helen doesn't agree. Amanda says that she thinks Aaryn will put up you (Helen) and Elissa because she doesn't want you to win the veto and take Elissa off the block. Helen asks what if Elissa wins the veto and comes off the block. They speculate that Aaryn would put up Spencer. They discuss the knock out competition and how people were upset about who they were put up against each other. Like how Ginamarie was upset that Spencer put her up against McCrae. They talk about wanting the have/havenot competition to start. Andy laughs about how Aaryn's arch enemy had to walk out in a clowie-tard. Andy thinks they should take away some of the rules and allow us to fight each other in the jury house. Andy says if they are bringing one of them back they probably aren't even in jury. Aaryn says what if I get Pandora's Box and if I open it it brings someone back. Andy says no one would blame you for that.
Use the Big Brother Live Feeds to FLASHBACK to SEE what they can't show you on TV: BB15 N!p Sl!ps / N*des