POV Holder:
?
POV Competition
Aug 8th
POV Used
?
POV Ceremony
Aug 10th
HOH
Becky
Next HOH
Aug 13th
Original Nominations:
Shelli and Steve
After POV Nominations:
? and ?
Have Nots
Austin, Liz, Julia
4:24pm Steve and Austin
Austin – You're not the target
Steve – WHO Shelli
Austin – Ya … .or
Austin says Vanessa and him are worried she's the target
Steve acts dumb – Why Vanessa
Austin – she was involved with all that Shelli and Clay stuff last week
Austin – that's just her worry.. Vanessa is worried, I don't know anything for sure I just know they want Shelli out
Steve – well we have votes
4:33pm Vanessa and Shelli
Vanessa saying JohnnyMac will vote with what Becky wants
Shelli – how has she ever turned on Johnny mac
Vanessa- she's more loyal to them .. why would she put his two closest allies on the block
Shelli – that's true.. we don't need to spin that thought until after the POV
Vanessa – you're close to Johnny Mac
Shelli – I am close to Johnny Mac
Vanessa – we gotta make some kinda deal with Johnny mac, you, me and him.
Vanessa saw how Jmac lied for Clay he's so loyal Vanessa wants Jmac on her side.
Shelli and Vanessa agree the sides in the house are obvious now.
Vanessa says she'll head to Jury before she sells Shelli out. Vanessa says she doesn't need the money and doesn't need to have played that type of game.
Shelli – once you get to jury the game is much scarier
Shelli says next week is double eviction. Vanessa points out Becky is blind if she doesn't realize she's at the bottom of a 4 person alliance. James, Meg and Jackie are tight.
Vanessa – I'm crossing my fingers I need to get f****g picked
Vanessa explains if she wins the veto Becky will have to put Johnny Mac up.
Vanessa adds even thought Becky is a flip flopper she's working with James' crew this week. She won't put them up she won't put Austin up because nobody wants all that blood on their hands.
Shelli says she will pick Vanessa if she gets houseguests choice
(Shelli is keeping Van being the target a secret for now)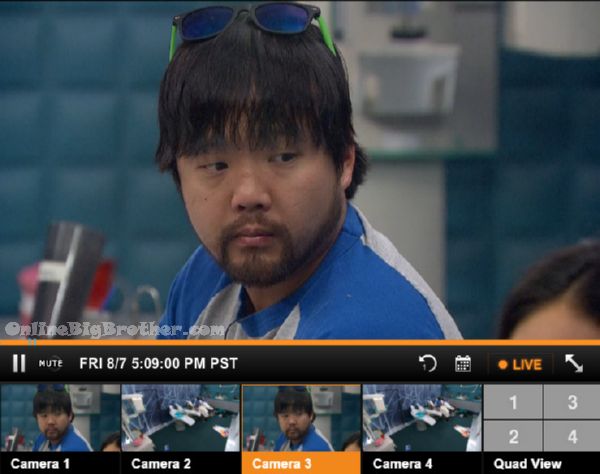 4:53pm Have nots Meg, Jackie and James
Trying to talk game. what would happen deeper in the game and what if's the nominations stay the same.
Meg – we gotta keep Steve and Johnny Mac on our side
James – johnny mac does good in competition too
Talking about the vote, Identify that Austin and his twins are notoriously unreliable.
Talking about Shelli or Vanessa who they should get rid of Pros and Cons.
Jackie brings up if they get Vanessa out they piss off Austin and the twins.
James says the twins are a lot closer to Shelli than they appear.
James – this is our last obstacle "Started from the bottom now we're here.. I see day light"
Meg – we can't let the twins win
Jacme – they're sitting pretty right now
Jackie – sitting really pretty.. they're names are the only one that haven't come up
Jame s- they haven't been on the block yet
Meg – that's not true
Jackie – I put them up with you
James – oh ya
5:15pm Bathroom Vanessa and Austin
Austin – I really don't think they are going after you
Austin – they approached me and asked me is it still on for double eviction
They agree to take out the other side during the double eviction. Vanessa wants to be the one to win the first HOH to take out Becky. Austin thinks they need to take out Jackie Becky will flip back to their side.
Vanessa disagrees.
Vanessa says says Becky told her how great it is for her to be in a "Open four person group"
Vanessa – I don't know if they know she just told me that .. but she did
Austin – does she realize they were all voting her out for Jason.
Austin – we have a lot of ammo on her
Vanessa- I know
Austin says if Shelli comes down they have to put Johnny Mac up "If they don't they're f****g over the double eviction deal" (LOL heavens me breaking the double eviction deal)
Vanessa – if they do you have to have my back
Austin – we have your back
Vanessa saying they have to make sure the house know the 4 ot them are together so the other side knows if they turn on our double eviction deal they have 4 people against them.
Austin says everything has to be hunky dory until the veto is played.
Austin – hopefully they're weakened from the slop
[envira-gallery id="126828″]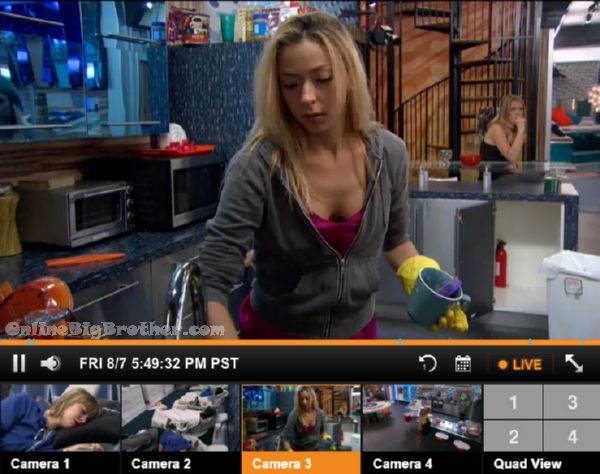 5:50pm
Meg, James and Jackie are sleeping in the have nots
The twins and Vanessa have been doing everyone's dishes and cleaning up the kitchen.
Shelli has been hanging out with them, general chit chat.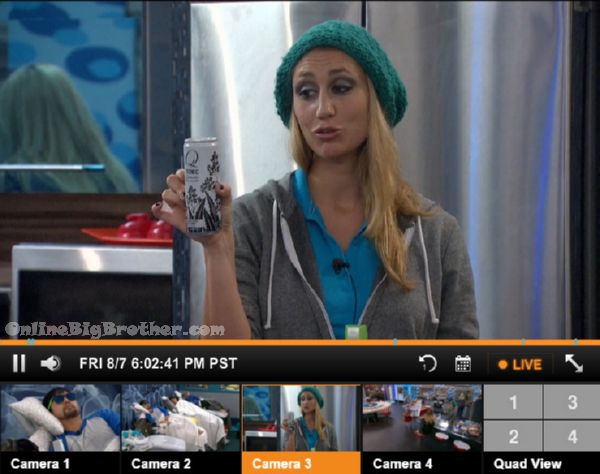 6:02pm Vanessa says there's "bitters" in the tonic water that is why it's so gross.
6:16pm They've been talking about Phones and relationships. Vanessa has caught three people cheating on her from reading their phones. Vanessa adds that Mel and her don't have free access to their phones lately.
Shelli shares a story about her Ex He wouldn't let anyone touch his phone. she was with him for 4 years and not once did he leave it long enough for her to enter his password and look at it. Adds whenever someone had the phone in their hands he would "Itch" when he was showing pictures on it to people he would hold it an not let anyone touch it. (That's serial killer sh1t right there)
Vanessa has created a new rule if you get caught creating a dirty dish and not cleaning it after you have to clean all the dishes in the sink.
[polldaddy poll=9015303]