POV Holder:
Steve
POV Competition
Aug 8th
POV Used
?
POV Ceremony
Aug 10th
HOH
Becky
Next HOH
Aug 13th
Original Nominations:
Shelli and Steve
After POV Nominations:
? and ?
Have Nots
Meg, James and Jackie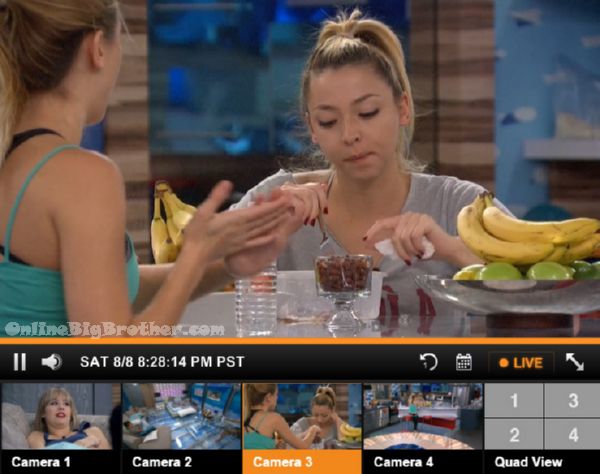 8:27pm Twins
Conducting an information exchange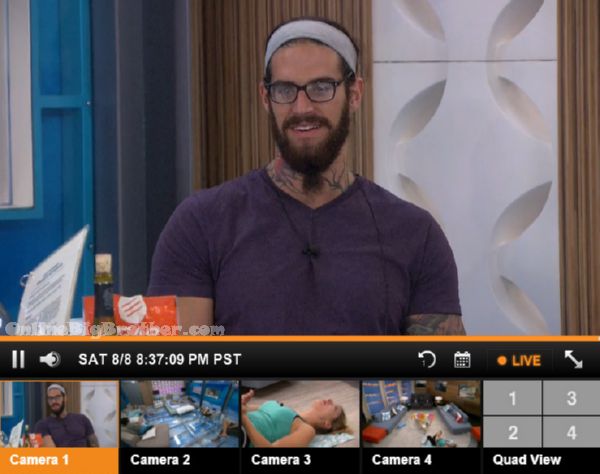 8:30pm HOH James, Becky, Austin, Meg and Jackie
Talking about how dangerous Steve is in the game. Jackie points out that every time steve has been on the block he's gotten himself off "Like that" (Snaps her fingers)
They go on and on about Steve winning the POV in 13 minutes and spelling trombonist.
Austin starts bringing up the floaters how the season where a floater wins are the worst. Austin hates floaters.
Meg mentions that no floaters have gone yet.
Steve comes up. They jokes around with steve that he's set up competitions in his backyard to practice .
Steve – Christine beat me last year.. 12 minutes
Austin – well she's not here
Steve mentions that the rules had a error in it "They had the wrong type of your"
Austin jokes that is why they were delayed an hour
Steve explains he had trouble saying it aloud.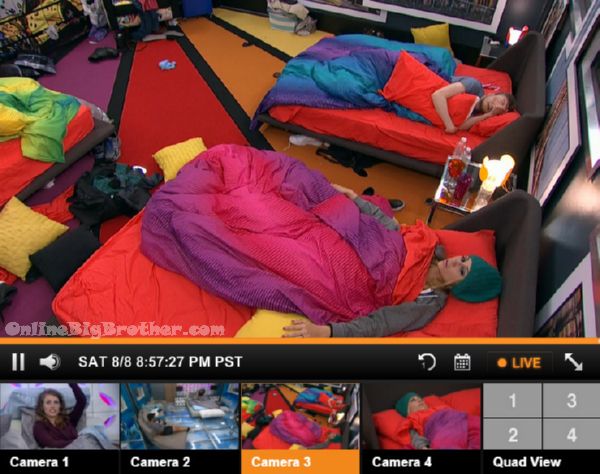 8:56pm Vanessa and Jmac
Vanessa is talking to him about dubstep. Jmac says he likes "Klaypex"
Vanessa – you know Bass NEctar
Jmac – ya
At one point in the conversation she alludes to owning a house.
Mac – you own a house
Vanessa – no I rent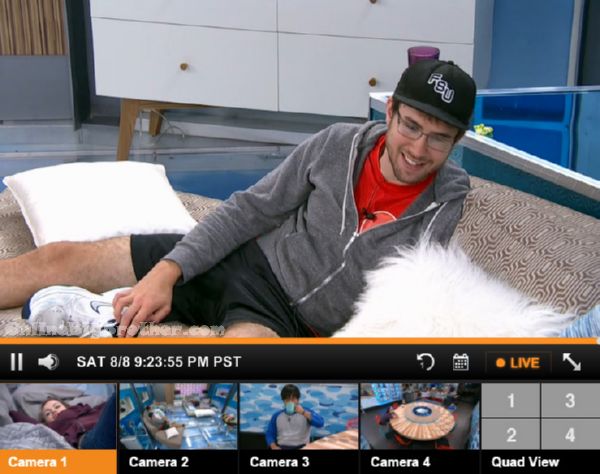 9:20pm Steve, Becky. Jackie and Meg
Becky talking about taking a train to the face in Germany. They bring up her comic during the POV had a train in it.
Becky starts talking about working at abercrombie and fitch
Steve tells him about Jace campaigning to him "He told me the house was against me and my nickname was Geek Squad Mickey"
Everyone Laughs
Meg – Geek Squad mickey
Steve – that's what he told me.. I know it's BS
Becky leaves..
Meg says these comps have been beating me up
Steve – not today you did well
Meg – I'm tired
Steve says if it's double eviction the competition have to be done quick.
Meg leaves
Steve – thank you by the way
Jacke – for what
Steve- the support.. I feel like i've been outcast a lot
Jackie – I'm just trying to hang in there
Steve – I need to win HOH
Jackie – I trust you more than certain people ACTUALLY
Jackie – I have one question, someone made something that I campaigned to you the week Jason was on the block to keep Jason.. I never did that
Steve- you never did that, you're with Becky
[envira-gallery id="127066″]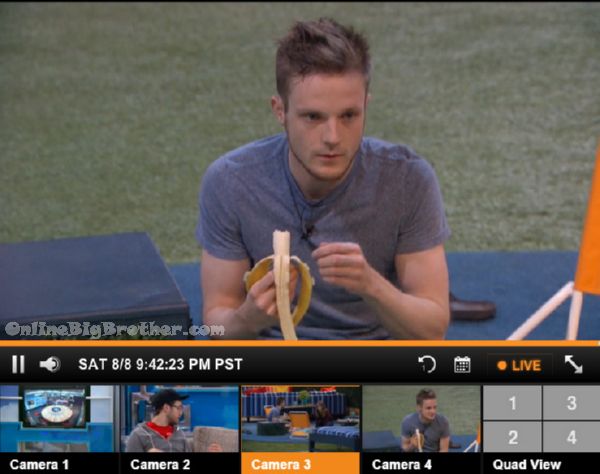 9:39pm Johnnymac and Becky
jamc saying shelli is good with them. He's told Steve and Shelli about the plan this week.
Becky – I know my talk when I put Vanessa up will be perfect.. It's my personal decision
Becky – I pretty much told James, Jackie and Meg
Jmac tells him Steve wants Vanessa out.
Becky says you have to get your hands dirty when you're HOH but it's not as hard as being on the block.
Becky – It's kinda nice to be on the offense side
Someone opens the sliding door and you hear the twins screaming something
Becky – The twins are so funny
Jmac – RWAw ahahaRWAHAh A
Jmac says Austin will be the only one to retaliate Vanessa going home. He's going to try to get Shelli and Steve to target Austin.
[envira-gallery id="127071″]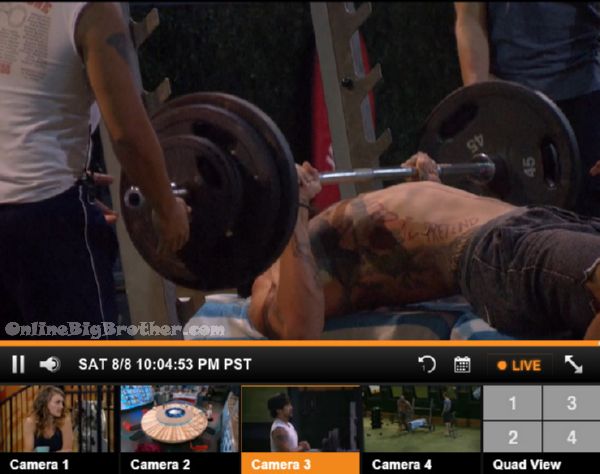 10:00pm Backyard open
Austin max bench in the house is 305 hits it tonight.
It came out that Liz hates Austin's beard. Austin goes on and on about how important it is.
Shelli comes out to join them. they talk about Liz and his beard. He sends Shelli inside to tell Liz he's willing to cut /trim his beard but wants to know what Liz is willing to do. What her level of commitment.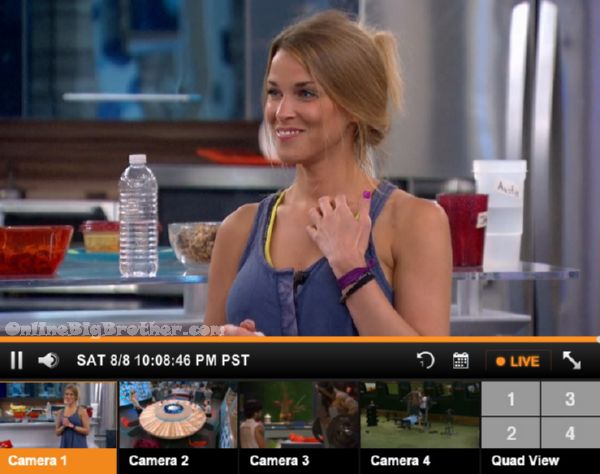 Shelli Goes inside to ask Liz.
liz – Chop the pony
Liz ultimately tries to avoid the question "I don't know what level of commitment he's looking for here"
Shelli – you don't have the answer.. .He doesn't have have to shave the beard until you have an answer
Liz – good tell him that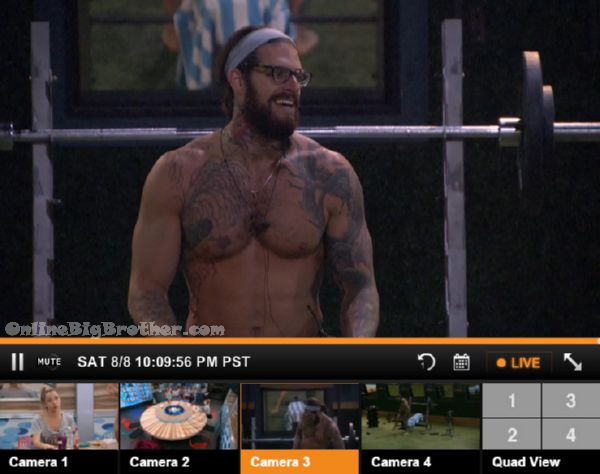 Austin and JAmes have a laugh outside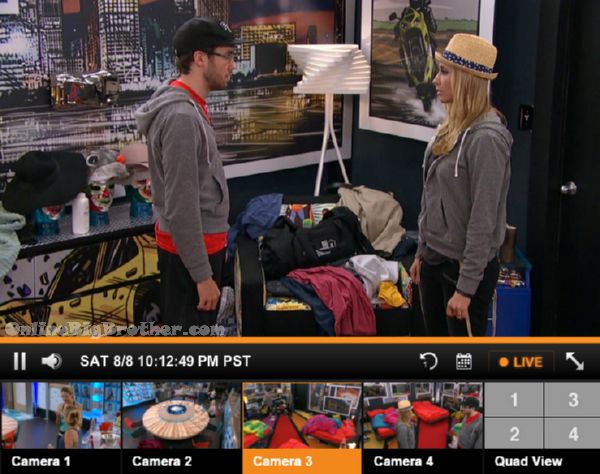 10:13pm Bedroom Steve and Vanessa
Steve tells her they are targeting her next week
Vanessa – taht is so two faced.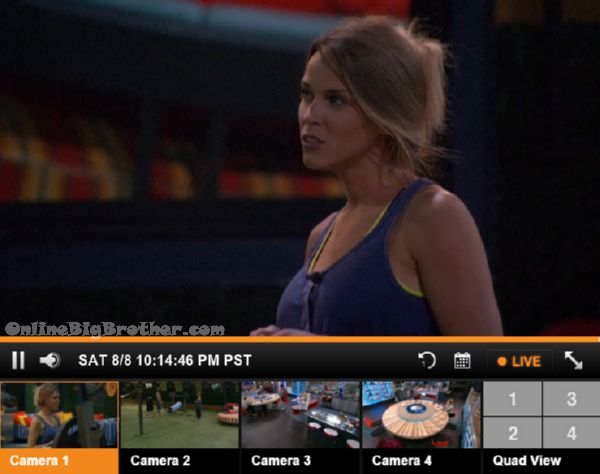 10:13pm Shelli tells Austin
Shelli tells him Liz is open to growing the relationship but isn't sure enough to get to the point to tell him to shave the beard.
Austin – I'm willing to trim up
Shelli – you should It might make it come closer
Austin says he won't cut off the pony tail
Shelli – Stand your ground
Shelli runs off the to relay back to liz
James says "that's not the brass tacks"
Austin – Shelli not giving me the brass tacks give me the brass tacks
JAmes heard Liz say in the kitchen, "What girl would like a guy with a pony tailed beard"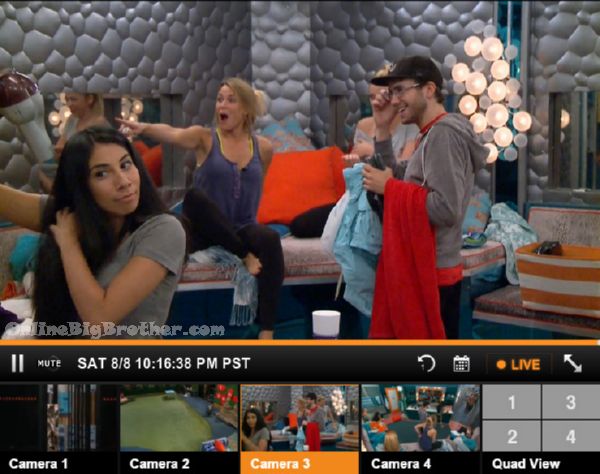 Austin goes into the Bathroom confronts Liz
Austin – You liked me enough to kiss me what the f***
(Everyone Laughing as this drama is made up)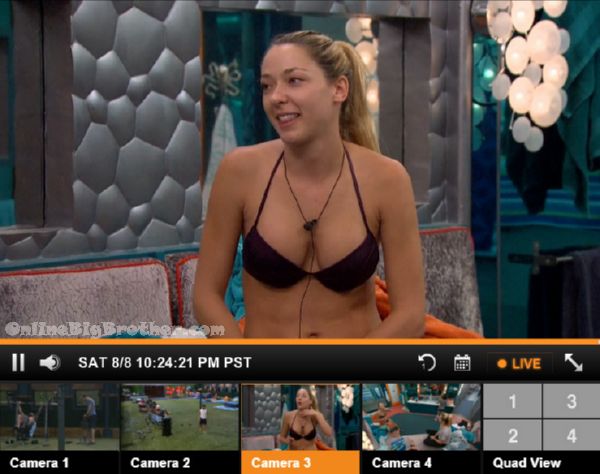 10:20pm Shelli delivers a message
Shelli has gone back and forth a couple times at one point she asks Austin what his ex girlfriend thought of his beard.
Liz doesn't like the beard and her and Austin are having a Fake fight about it. Shelli and Jmac were acting as messenger
Liz – I like his muscles..
Julia – to counter the beard say you like his muscles
Liz – keep up the good work
Shelli brings up Asking Austin about his girlfriend.
Shelli – He said, well she didn't like it either
Shelli – then he said he told her I'm going to do whatever the hell I want to do and it really doesn't matter
Shelli adds that Austin says him even considering dealing with the for Liz means he has a high level of feelings for her.
LIz – see even the girlfriend didn't like it seriously.. can you blame me
Liz Says "It's Showmance I'm 23 I'm young as sh1t he's like 30"
Liz – I don't want to settle down
Julia – he just wants to know ..
Shelli – He's not asking you to get married
Liz – commitment scares me
Julia – no it doesn't liz
Shell – is he someone you would have a relationship with outside the bIg brother house or is it the companionship right now
Liz – At first I was so attracted to his personality he makes me laugh more than anyone has made me laugh ever. I love his muscles.. his look isn't what I go for.. the tattoos… I don't like tattoos
Julia – she does like that tall dark and handsome.. He's colorful
Liz – I'm not Sure but I do like his personality
Julia – It's not all about looks you have to have the chemistry .
Liz – the only road block we have here is the ponytail beard
[envira-gallery id="127085″]
10:38pm Austin and Liz decide to have a hammock date in a hour where she will tell him to cut off his beard for their Showmance. She's sending Austin a "signal" in the images above.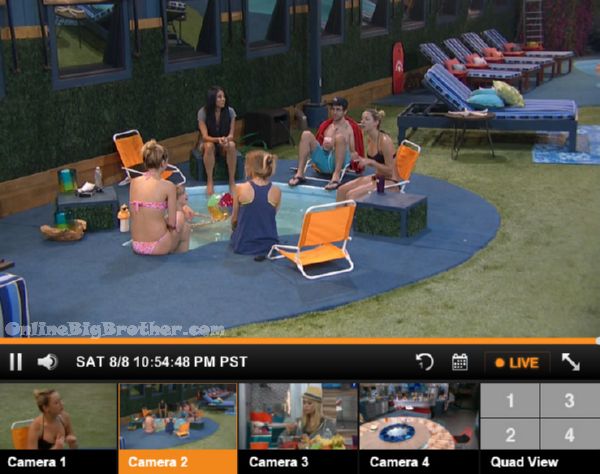 10:50pm Hot Tub Meg, Twins, Jackie, Shelli and Steve
Giving Meg a debrief from all the Austin Beard drama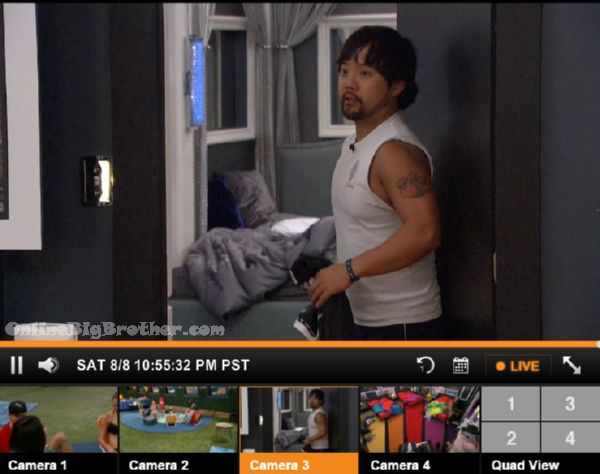 10:54pm Bedroom Austin and James
James – OK Austin I just want you to know seriously I want to get out all the guys and leave just you me and Johnnymac
Austin – I would not be opposed to that
James – we'll have a sweet a$$ time in eh jury house
Austin – Twoface plan
James – Just us 8 girls
Austin – 8 Girls, 2 guys brass tacks
JAme s- Great Summer Brass tacks
11:14pm Austin and Liz Hammock date
She says he smells nice not like what the comics portrayed him
Austin – so whats been going on
liz laughs.. "There's been a issue
Austin – would you like to talk about it
Liz – I admire the olive branch.. and i'm will to compromise
Steve delivers drinks
Liz tells him she likes his personality
Liz – the beard isn't the final say
Austin will trim his beard and if he wins HOH Liz will kiss him.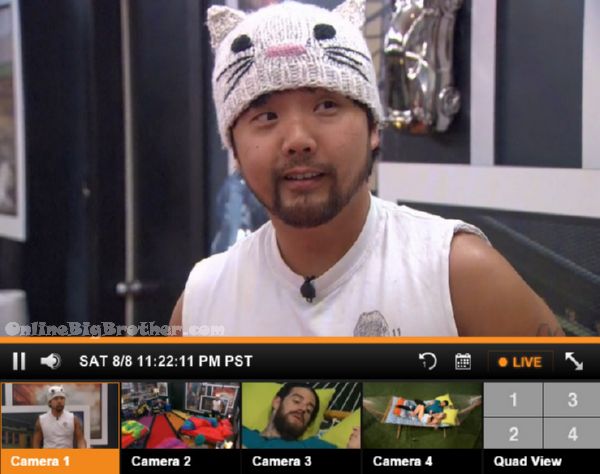 11:19pm Vanessa and James
Vanessa wants to build up trust to make it through double eviction. Says that's an easy final 8.
Vanessa – we all sat around here and gave our word I don't know what this is a discussion
Vanessa says if they got back on their word it's going to break the trust they between her, Austin twins and them.
Vanessa calls James out for lying to her about Becky's plan tonight.
James says he wants to stick with the plan like vanessa.
Vanessa says the original plan was for Shelli and Jmac to go up
Vanessa – If it's not going to Johnnymac it's going to be me I'm not stupid
James says he "really doesn't think she will" put her up
James's- I'm paranoid to
Vanessa- Are you insane she told me flat out you Meg, Jackie and Becky are working together. She said she was so happy to be in a open 4 person group and you are in that group
Vanessa- should I have a conversation with her
James – you should
James Becky is closer to Jackie and Meg..
Vanessa says if Becky breaks her word with her she's not going to be a happy Jury member.
11:50pm James tells her if she get nominated she has his vote over Shelli.
Vanessa – I can be worked with and I know you can be too
Vanessa – you can't work with everyone in this game (Zoing)
James go talk to Becky get a good feel see what's going on I'm going up there myself.. get a sense whats going on
Vanessa – thanks for the honest heads up.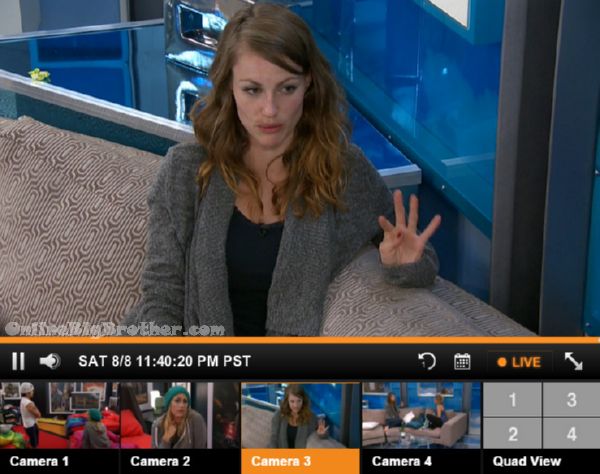 11:34pm HOH Becky and Shelli
Becky is pissed how Vanessa has been playing the game, "She plays for herself and herself only.. there's a lot that I have more than that.. She bothers in this game a lot.. YA .. I have more than the vote i need to see her go"
Becky is going to be putting Vanessa up as the replacement.
Shelli – you know how this happens.
Becky says Vanessa has burnt too many people people will be voting her out.
Becky says James told them all "I trust Shelli more than Vanessa"
Becky- her deals freak people out.. she'll come at people they don't like that
Shelli – she's worried
Becky – she worried the house is after her because she does too much to the house
Shelli – Sometimes I don't know where her heads at
Becky says she's in the dark with the twins and Austin everyone else she knows the way they are going to vote.
Becky – My three people, Steve, Jonnymac , I got Five.
(Becky wants to make certain everyone knows she's in a group of 4 and she has 5 votes)
[envira-gallery id="127102″]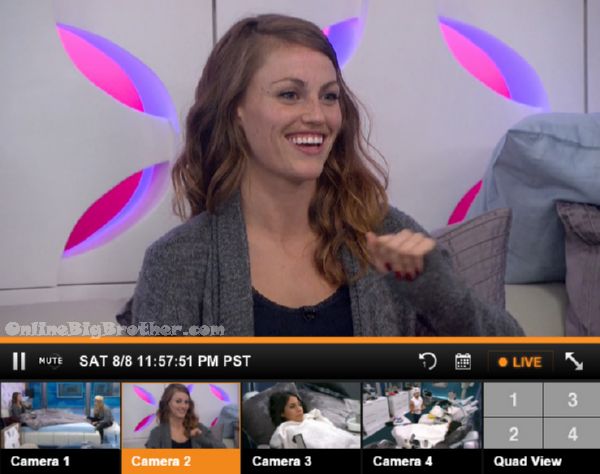 11:54pm HOH Vanessa and Becky
Vanessa- look i'm no dumbing I know Johnny mac is a friend of yours and that's why he didn't go up in the first place like we agreed upon..
Vanessa says she thinks she's going up .
Becky – No.. this week is easy I only need four votes
Vanessa – when I was HOH i got so much blood on my hands to protect you
Becky says they have a group, 'Feel the vibe"
Vanessa says this is an opportunity for them to build a foundation of trust and get through the double eviction.
Vanessa says if she put up JohnnyMac she will vote with the house.
Becky tells her she's not telling Johnnymac he's going up until Sunday night.
Shelli – you would have the votes he's not going home.
Vanessa says if she put Vanessa up the vote will be shaky Shelli may stay
Becky – every week you're paranoid
Becky – I don't get paranoid I'm not emotional.. I don't know I'm just me.. I won when I walk through the door.. I'm not going to get PAranoid.. I'm going to make the move I'm going to make Big, Small, scarey.. I'll play the way I want to play..
Vanessa – have no regrets
Becky – ya have no regrets
Vanessa going back to their original plan to get Shelli out and not target each other through double eviction.
Vanessa says her word is good she will make sure Austin and the twins stick with it. She will stick with it.
12:21am talking about todys competition.
11:58pm Have nots Jackie and James
James relays his conversation with Vanessa.
They have a laugh because James was bullshitting Vanessa.
12:21am Austin has joined Meg and JAckie in the have nots. Austin says he got 21 minutes in the HOH. (Steve finished in 13)
They have a laugh that Becky's comic said Trainiac and getting hit in the face by a train.
Johnnymac's comic was scary "Dr Drill"
Meg says production told her they thought they didn't acknowledge Audrey's final week enough.
Austin disagrees.. they have a laugh at Audrey wrapping herself in blankets and living in the Have nots.
Austin – "dressed in a blanket eating a omelet with sunglasses on"
[polldaddy poll=9015303]