POV Holder:
Steve
POV Competition
Aug 8th
POV Used
?
POV Ceremony
Aug 10th
HOH
Becky
Next HOH
Aug 13th
Original Nominations:
Shelli and Steve
After POV Nominations:
? and ?
Have Nots
Meg, James and Jackie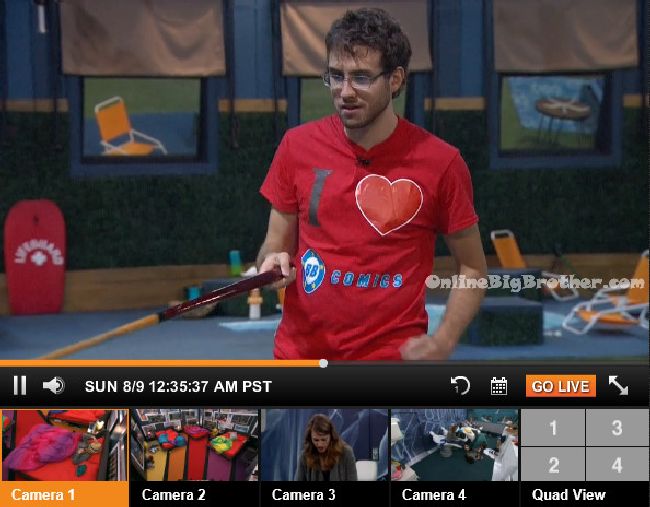 Watch the NEXT WEEK of the Live Feeds for FREE! Click here for your: 1 Week Trial
12:30am Backyard – Steve and Johnny are playing a game of pool. Julia tells Steve he looks good in red. Steve says you know what I look even better in? Nothing! Julia says STEVVVVVVVVVVVVEEEEEEEEAAAAA!!!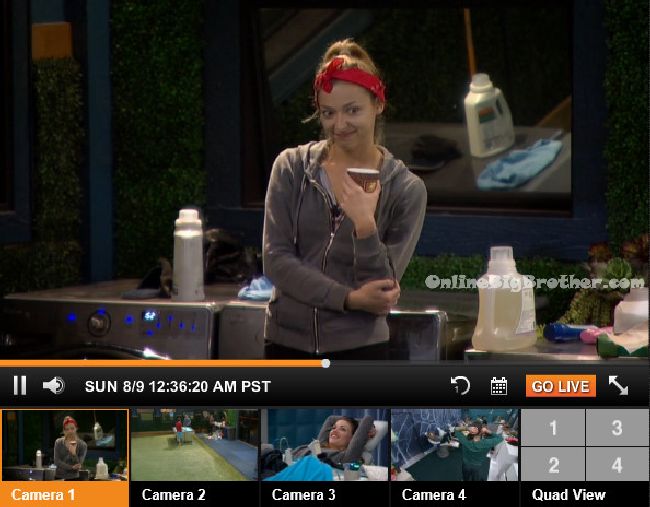 12:40am Havenot room – Vanessa comes into the havenot room and talks to Austin, James, Meg and Jackie. Vanessa says I have a really strong feeling that the plan is going to go through like we had talked about based on my conversation with Becky. That's what we needed to do to build trust going into Double Eviction to do it again. Jackie says yeah why wouldn't we. Vanessa says Well yeah, you just never know. So that's really great. I'm on board to do something again to make something happen for double eviction. Jackie says I thought we did?! Why would it change. Vanessa says I was confused, I thought the plan was for this next eviction.. which was this one. Vanessa says oh okay so for the double eviction Johnny Mac is going to go up. Okay! So its all the same thing. Deal! So I'm just a retard! Sorry America, that's horrible language. I'm really sorry, I'm just a dumb dumb! I've just been laying low and not talking game. Meg says I think everyone has since Thursday. Vanessa says that Steve wins when he needs to every single time. We cannot let him go any further or he will kick all of our a$$es! Vanessa says we agreed to vote to evict Shelli. Its going to be very hard for me but I'm going to go with the house. Becky joins them. They chat and Vanessa leaves.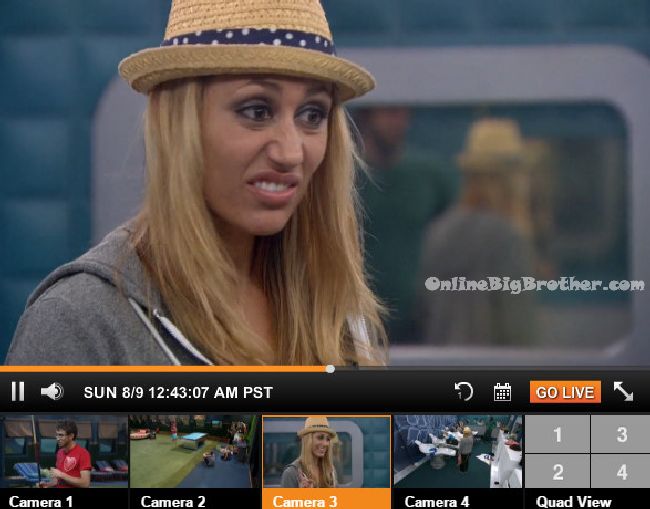 Becky after lying and telling Vanessa she isn't going up .. @bigbspoilers #bb17 pic.twitter.com/rMvctzrU4o

— Dawg (@DawgsBigBrother) August 9, 2015

Jackie says she (Vanessa) needs to get out of here. She came to tell us what the plan is, like what the f**k! Meg says Jackie almost lost it. I watched her calm herself down. Becky says she told Vanessa yeah of course you have my word! Girlfriend… Becky then guestures a thumbs down. F**k the deals! Fuck the deals! Actions speak louder than words. She is all about her word. I say actions speak louder than words. Her actions are f**King everywhere! Becky says that the first people she talks to will be Austin and the twins. Not one of them touched my HOH or James's HOH. And they like me. They don't ever go on the block, they barely win HOH. This is summer camp for them. Becky says we need to hang out up in the HOH room not in dentist chairs. Becky leaves. James says this is why he doesn't want to get trapped alone with Vanessa again. Buddy system.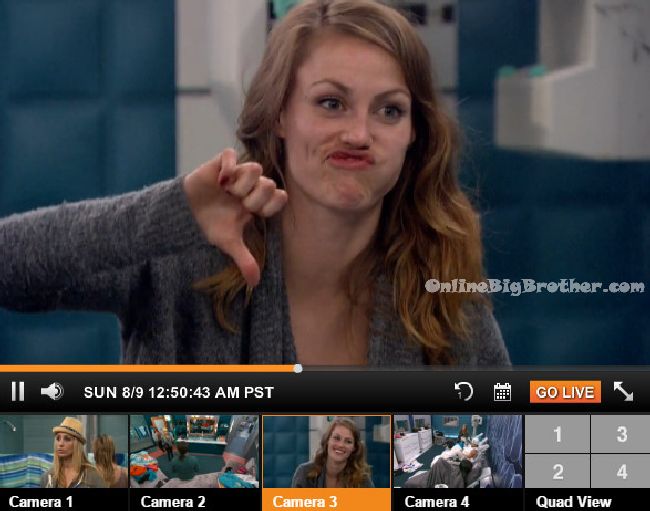 Becky to Vanessa "Yeah of course you have my word! Girlfriend…." @bigbspoilers #bb17 pic.twitter.com/JRvbZy4zMn

— Dawg (@DawgsBigBrother) August 9, 2015
12:50am Bathroom –
Vanessa, Austin and Liz. Vanessa says that it was James thinking through other options. Austin says but you're the only other option right?! Vanessa says no sh*t, that's why I had to go up there and talk it out. You were never an option. Austin asks she said that? Vanessa says yeah. I told Becky do you know how easy it would have been to put one of them up but I kept my word. I was like, I'm asking you to keep your word to me here! Its only fair! Austin asks so its John? Vanessa says yeah. And John and Steve have to go up next week for double eviction. Austin says yeah that's the plan. Vanessa says guys we have to make a move though. Austin says I know. Vanessa says at some point. We can't just be fools. I was like you could never put up Austin and the twins you would get so much blood on your hands with them in jury. She said she is going to tell John tomorrow night (Becky told Vanessa she is going to tell Johnny tomorrow that he is going up as the replacement.) She thinks Steve is for sure voting to keep Johnny. Austin says lets just wait, right now we're all good.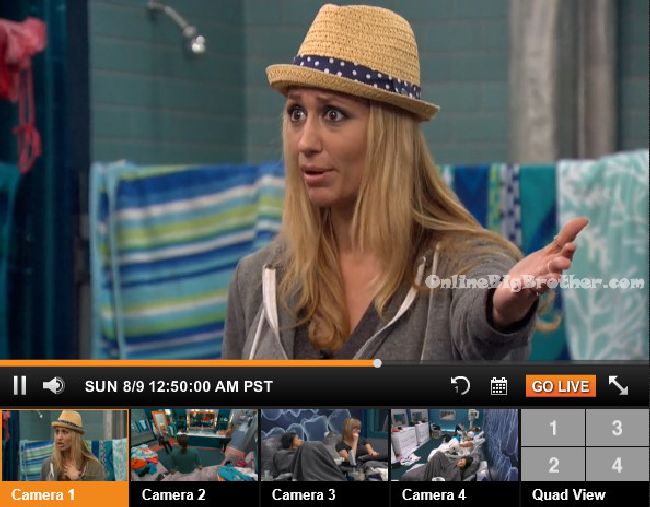 1am – 2am HOH room – Becky and Jackie are talking. Becky says that Vanessa needs to stop saying that she saved me. Stop saying you saved me from putting me in bad situations. You put me on the block! She convinced Shelli in 15 minutes that she didn't love her. She can make people feel singled out. She can instil that fear in people and make them feel like they can trust her. Jackie says the only deal I gave her was to keep her safe till jury. .. Well you got there and you get to be the first person in there. Meg and James join them. Becky tells them about what happened the night she was told Jason was going up on the block when Vanessa saved Austin. Austin felt like he owed her. Why would you owe her when you're supposed to be with her she tries to backdoor you. "Straight up you don't owe her sh*t!" Becky talk about her conversation with Vanessa and how she asked her if she would vote Shelli out. She says Vanessa said she would. I was like great, that's what I needed to hear. Jackie says Vanessa told me Shelli she is voting her out. Becky says thats all we need.. her being disloyal to the one person that's been loyal to her. James talks about how Vanessa cornered him in the comic bedroom. Becky says I have all the four votes I need to send who I want home. Becky says no one has her back. Austin and the twins care more about being here than having her back. Becky says when the veto meeting ends she'll call Austin and the twins up to explain everything to them. Becky says Vanessa has a 25% chance of returning .. but even if she did no one coming back from jury has ever won the game. They're always the first person people want out of the house. Even if she doesn't win HOH she wants her hand in it. I will stoop down to your level Vanessa to get you out. Liz, Julia and Austin join them. They talk about past events in the house.

1:40am Bedroom – Steve talks to Shelli and says that he's missing why Vanessa is the target. Shelli agrees and says there are other targets. Shelli says its going to be a sh*tty week for me. She is going to point some guns. Steve says you have the votes. The gremlins will support Becky no matter what she says.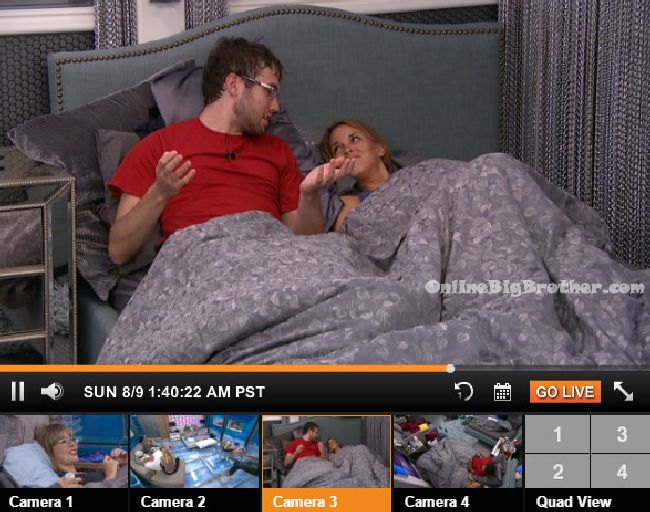 1:55am Bathroom – Vanessa tells Shelli her conversation with Becky. She told me I have her word she isn't putting me up. And I believe her. Shelli asks she said that? Vanessa says she said it. Shelli says okay. Vanessa says this is f**king good for you. I think she's putting up Johnny Mac. Shelli says I did the math and it would be you, Austin and the twins voting to keep me. Vanessa says we need Steve. Vanessa says we need to do some bury the hatchet kind of thing. I don't like where this is going because if it keeps up you and I will be in jury fighting each other to come back in.
See what they can't show you on TV Try the live feeds for FREE!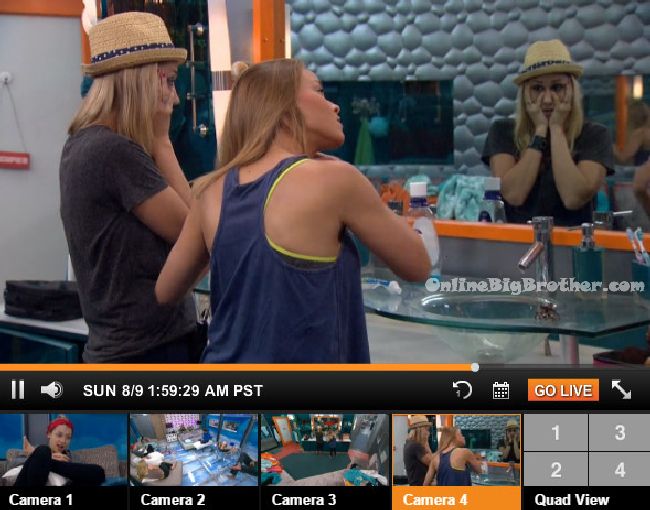 2:05am – 2:40am Steve and James play a game of Chess. Meanwhile in the HOH room – Becky talks to Jackie. Becky says of course Vanessa asked for my word because those are her contracts. You have to get my word to say I can't go against it. Jackie says and then she's threatening to James that she's going to stir the house up. And says to James you don't want to get in my crossfire. Like what the f**k are you threatening? Like I'm going to go to jury bitter. Like Shut UP!
Becky says for her nominations she'll say Vanessa please take a seat. I know that this is pretty shocking for you to be on the block and for me to put you there. This is a personal decision I feel very strongly about. At this point in the game I see you and Shelli as individuals but she is an individual because she has lost those that are close to her and you are because you continue to change who you're with in this game and change your targets. I know you say you're all about your word but if anyone trusts you more in this game its the girl sitting next to you. She honestly trusts you and wants to work with you in this game. You're the one that created the plan to put her on the block.You're the one that wanted to make sure I would follow through with the plan. You're the one that wants to see Johnny Mac sitting in your very spot right now. So you can send Shelli home and you've already told me that you would send her out. Your word should be held up to her and you've done nothing but betray her this whole time. For this reason I don't feel like you're someone that can be trusted to work with in this game. You went after James, Austin .. but aren't you with Austin in this game but oh wait nope now its Jason that must go home. This is my personal observation about why you can't be trusted and why you need to be on the block. Jackie says she loves it. Becky says I just have to make it more precise and less wordy. Becky says I put butterflies and rainbows in her head. I lied and it felt so good! As you've taught me I'm allowed to change my mind in this HOH. Jackie heads to bed.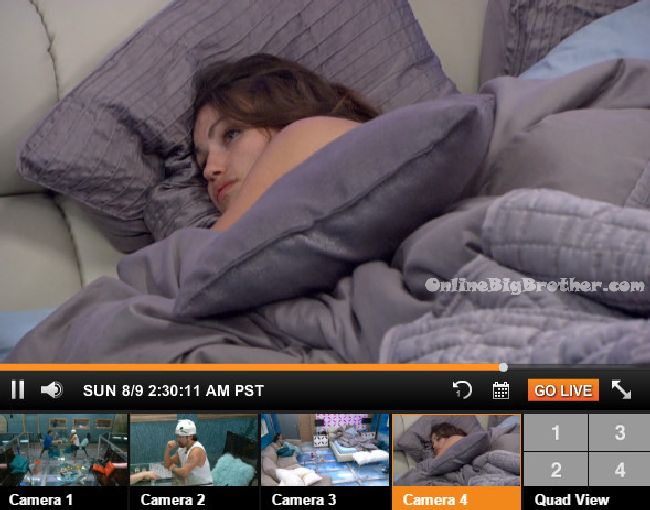 3:30am – 4:35am Shelli and Steve are talking in the bathroom about Survivor vs Big Brother. The conversation turns to Shelli talking about her life outside the house. Steve talks about how getting cast he was told he's exactly like Ian Terry (BB14). He says that Becky calls him out for being like Ian too. Steve tells Shelli he thinks she's good and that the votes will go 5 – 3. Shelli says she is afraid the campaigning will get nasty. Steve says he would be surprised if it didn't. Just lay low. Shelli says since she talked to Becky she thinks she's okay. Steve says that he thinks Becky is making a huge mistake for her game.. which is good for us. Shelli heads to bed.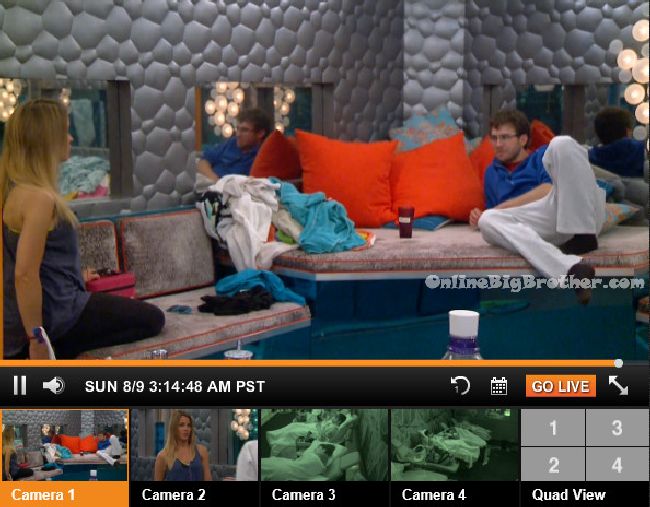 [polldaddy poll=9015303]