POV Holder:
?
Next POV
April 10
POV Used
?
POV Ceremony
April 12
HOH Winner
Bruno
Next HOH
April 15th
Nominations:
?
Have Nots
Brittnee, Pilar, Willow
POV Players
?
If you are outside Canada and want to watch the FREE Big Brother Canada Live feeds sign up for a VPN service here https://www.hidemyass.com/vpn/r16399/. It's safe to use, easy to set up, and cheap. Need to know more check out this post explaining how to set it up.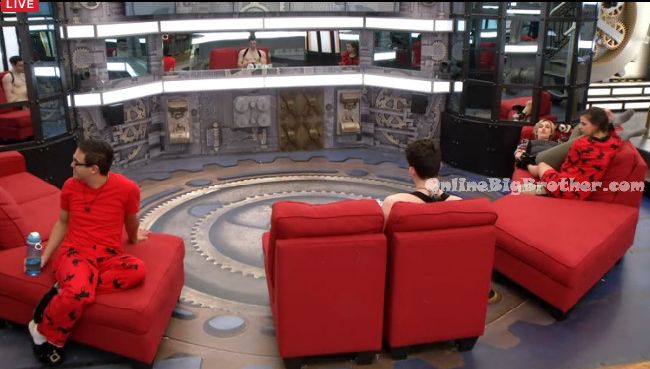 HaveNot extra food: Pickled Eggs & Chicken Feet
3pm – 5pm Big Brother blocked the live feeds for the Havenot competition to take place. There were 3 teams of 3 with Zach/Godfrey/Kevin versus Brittnee/Pilar/Willow versus Johnny/Sarah/Jordan. Sarah is in the living room with scraped up knees. She says it was the knee pads that did it. The havenots this week are Brittnee, Pilar, Willow. Pilar says its okay. Brittnee says its fine. They both say they're fine with doing it again. Willow is up in the bathroom having a shower. Ashleigh and Zach ask her if she's okay.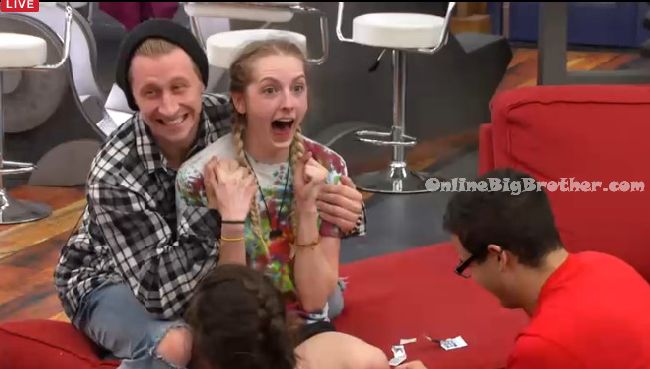 5:30pm In the HOH room – Johnny is talking to Bruno about nominations. Bruno says I know you're a strong competitor. Johnny says I am in a tough pickle with pretty much everyone in the house. Bruno says I would love to work with you. You are not even my target but I would make 10 enemies if I didn't put you up. I just can't make 10 enemies. Win this veto man! I would love you to. Johnny says I know if I don't I am going home. I will fight for it. Its a game. Bruno says you're such a great guy and in the real would I would love to hang out with you. They hug. Bruno says lets keep the door open. Johnny leaves the HOH room. Bobby, Ash and Godfrey join Bruno. Bruno talks about how he just told Johnny he is going up on the block. I had to tell him, I couldn't sit here and lie to him.
They got to pick food to eat: steak, wine, beer, cheesecake, chocolate, pickled eggs, chicken feet, ?, ?, etc. (Apparently they're supposed to get a weeks supply of the food they got)
HaveNot extra food: Pickled Eggs & Chicken Feet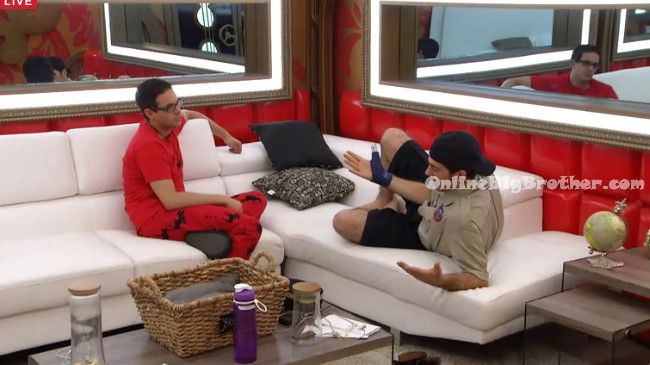 5:30pm – 5:45pm In the living room – Bruno tells Sarah that he will be nominating her. He tells her that its nothing against you, we just haven't talked game. He tells her the door is always open. Go out and win that veto! Fight for it! It's not me against you. Me against Johnny. I like you. Sarah asks why do you assume that I wanted to put you up. I wanted to put up G. It was never I want to put Bruno up. Bruno says I don't know. ..You're not on my radar. The way it fell.. I was put in this position. I would rather work with you. I am not coming for you. It's nothing personal. The way it fell I just had to do it. I can't make 10 enemies. Sarah says going forward you can talk to me and I'll be honest. Bruno says they will come for me if I don't put you up. They are way more athletic than me. They will crush me. I can't even nominate who I want. Sarah says well if Johnny's up he'll end up winning the veto. Sarah asks will you play hard for me, will you use it on me if you get it? Bruno says its not even a question I can not, not play hard. It's not in me. Bruno hugs her and then end the conversation. Bruno heads into the storage room. Bobby tells Bruno about how he heard Kevin and Johnny whispering and overheard them say his name. They're working together.

Pilar talking about how last night she called Kevin beautiful & sexy @bigbspoilers #bbcan3 pic.twitter.com/rt0RJex9bp

— Dawg (@DawgsBigBrother) April 9, 2015


In the HOH room – Willow and Bruno are talking the veto and how one of us have to win it. Bruno says if the veto is used they go after Kevin and tell him he's safe.
6pm In the bedroom – Sarah and Brittnee are talking. Brittnee tells Sarah I am the only one you can trust. Sarah counts out the votes and says I should have at least 5. She says if I am on the block it just means more air time for me. Sarah tells Brittnee she is done with the guys. All they want to do is protect their girlfriends. Sarah heads to the HOH room – Bruno tells Sarah to try and win the veto because he (Johnny) will be trying. He tells her if the veto isn't used she is safe (meaning Johnny is the target if they remain on the block after the veto) Sarah leaves. Britt and Bruno talk. Bruno tells her that he wouldn't put her up. He tells her about how he told Johnny is a great guy. Bruno says its day 22 and they haven't talked game with me.
6:35pm In the bathroom – Johnny is talking to Pilar and Ashleigh. Pilar tells him not to give up. Johnny says I am not giving up. I am going to go out and fight so hard for that veto.
6:45pm Up in the HOH room – Bruno talks with Britt and Johnny. Bruno asks Johnny about how it was with his family when he came out to them. Johnny says it was alright except for with his dad. At the end of the day you can't forget but you can forgive. Bruno says that his family and Johnny's are very similar.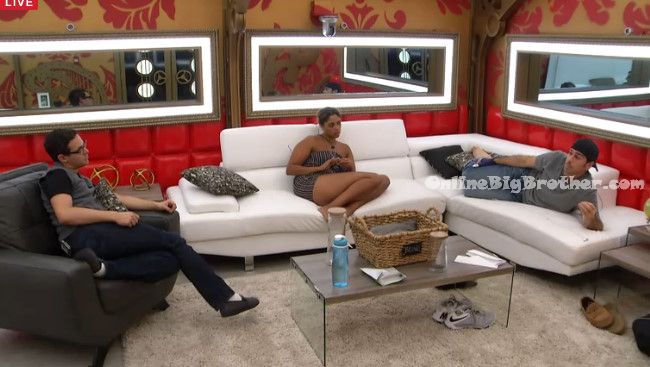 6:50pm – 7:10pm In the bedroom – Sarah and Willow are talking. Willow tells Sarah she needs 5 votes and when you have 5 people start jumping ship. Willow tells Sarah she has her vote. Sarah says thank you and hugs her. Willow says don't come off like "I'm coming after you. Act like you have no one." Sarah says I am, I have no one. Sarah says she was afraid to go down the comp slide and that Bruno accidentally kicked her down it. Willow says"We all had problems in that comp, did you not see me have anal sex!?" Sarah hugs Willow and Willow wraps her legs around her. Willow says "They're going to screen cap this and say #RishaWasRight the two lesbian lovers"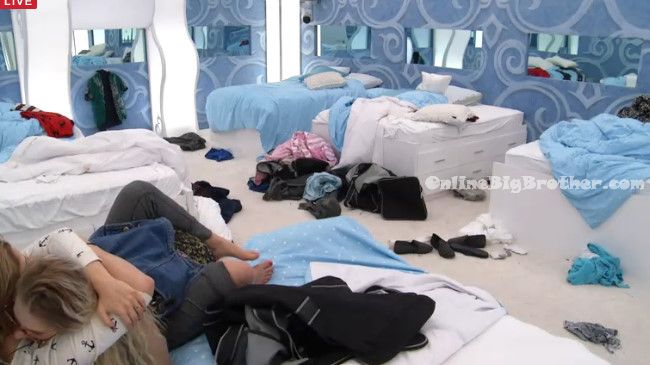 7:12pm Big Brother tells the house guests to go to the head of household room. It's nomination time..
[polldaddy poll=8790527]
ALLIANCES IN THE HOUSE
Week One there's a lot of Alliance but we've tried to make sense of it all.. Read our alliance help guide
Support the site and purchase your Amazon goods through our link below. It doesn't cost you anything and we get a percentage of what you buy.
Amazon Canada
Amazon USA