POV Holder:
Kevin
Next POV
April 3rd
POV Used
Yes
POV Ceremony
?
HOH Winner
Bobby
Next HOH
April 1st
Nominations:
Kevin Cindy and Brittnee
Have Nots
Jordan, Brittnee, Naeha, Godfrey
POV Players
Godfrey, Willow, Johnny, Britt, Kevin, Bobby.
Jordan is the VETO HOST!
If you are outside Canada and want to watch the FREE Big Brother Canada Live feeds sign up for a VPN service here https://www.hidemyass.com/vpn/r16399/. It's safe to use, easy to set up, and cheap. Need to know more check out this post explaining how to set it up.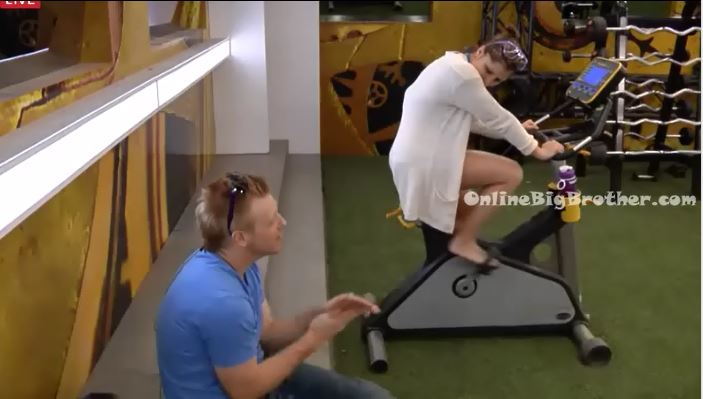 3:25pm Out in the backyard Pilar, Graig, Willow and Zach are talking about random things. Zach asks was it before or after you did the deed? Graig asks what deed? Graig says it was after. Zach says that's why you were up after. Graig says it was after. Zach says that's why you were up walking around like a new man. Graig says I got one out last night. Willow says oh yeah. Pilar asks what one? Willow says he got one out. Pilar laughs. Zach says I didn't think anyone had. Graig says Kev did for sure. Me and Bruno guarded the bathroom door like night 4. Zach laughs. Graig says it was weird too. It wasn't great. Graig says that Cindy had one of those black things over her eyes so I wasn't worried about her but right before I climaxed she started moving her hands. If she would have just stayed still it would have been a lot better. She was sleeping when I was about to, it kind of ruined it well not really. I couldn't like fully love it. Zach says unreal.
3:45pm Out in the hot tub – Bobby discovers if you hit two of the buttons together it sprays water out of the hot tub from one of the jets. They decide to go get Zach and Willow and prank them by getting them close and hitting the buttons. Bobby then goes inside and tells others he thinks he found a dildo by the hot tub. Others come out to look and they spray them.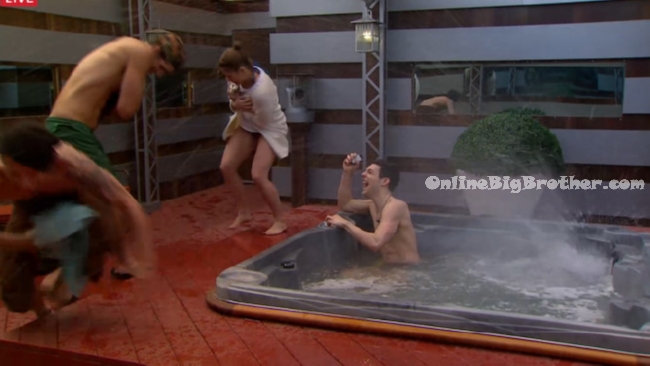 4pm – 4:20pm Out in the backyard – Graig and Bobby talk about how they believe they have Kevin on their side. Bobby leaves. Bruno joins Graig. Graig tells him about busting Naeha and Johnny talking last night. Graig and Bruno agree Kevin is with them. Bruno comments on how he talked with Pilar today. Graig says Pilar's with us too. Bobby joins them. Graig says I'm so glad Cindy's going home. They talk about how they think they have a great cast. Graig says oh yeah. Last year they were fighting, this year we're doing yoga. Bruno says but they like that.

At the end of this video Pilar says that Big Brother gives her lines in the diary room. Big Brother cut the feeds right after she said it:

4:20pm – 4:50pm Bruno, Naeha, Jordan, Britt, Graig and Johnny are sitting on the backyard chairs. Jordan is talking about each of the house guests and why he thinks each of them were cast. Naeha leaves and head up to the HOH room with Zach. Zach asks who Naeha wants gone first? Naeha says Graig. Zach says if people threaten us and our game then they are the next to go. Naeha brings up breaking up the couples like Kevin and Pilar. Zach says that people are scared to get out a couple. They talk about Emmett & Jillian and Jon and Neda how no one tried to take them out and they got to the end. Zach says that Pili can go in the next couple weeks, I don't care. We can take the legs out. She doesn't talk any game any ways.
4:55pm In the bathroom – Zach and Willow talk. Zach says so Pili and Ashleigh are close eh? Willow says yes. Willow says that she wants to win HOH this week. Zach says you'll have to fight Naeha for it. But she won't be here long considering the whole chop shop wants her gone.
5pm – 5:20pm Kevin and Pilar start making out in the hot tub. After he tells her that he could totally dunk her in the water. He then pretends to try and dunk her. They finish making out and head inside. Kevin and Pilar take separate showers. During the shower she asks for body soap so he hold the bottle over her and squeezes it. After they're finish showering Godfrey comes in and asks Pilar about the live feeds. He says he had no idea people could watch everything live. He says he wishes she had told him because then he wouldn't have opened his towel. He says he though big brother would just edit it out for the show. He says its creepy people might watch that and post it. He says if d**k pics are on the internet he's going to shave his head so no one recognizes him. (He likely did this during the week of no live feeds because we haven't seen what he's talking about.)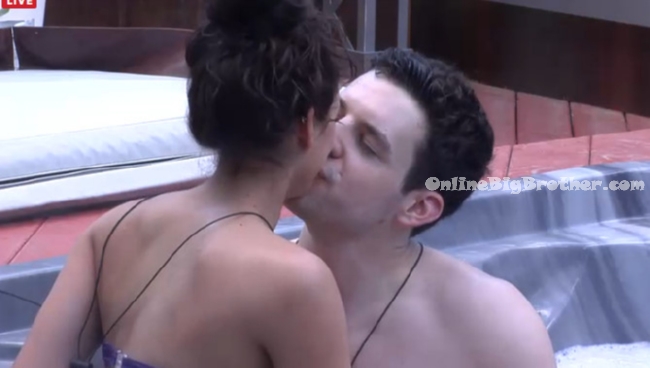 In the bathroom – Kevin is painting Ashleigh's nails. Kevin tells Ash about Johnny's birthday tonight. He says at 12am it will be his birthday and someone will pull him away and then we'll all surprise him in the HOH room. Ashleigh says and then you strip down and give him a lap dance!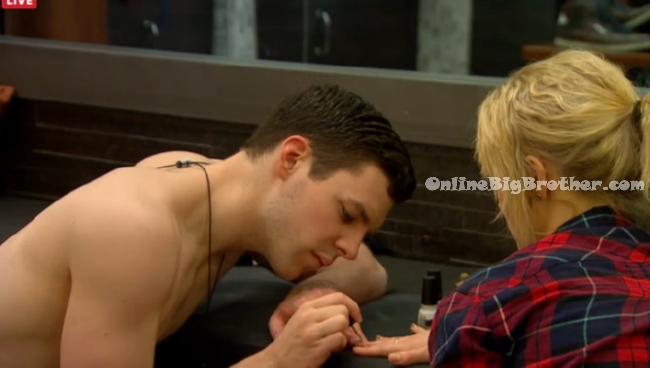 6pm The house guests are having their dinner.