In the bathroom – Jordan and Zach talk. Jordan says he can't wait till wednesday. Zach says it will be interesting. Right now I am literally plotting the house against my own alliance. Literally plotting for a massive collide.. like Viking style. Jordan laughs. Jordan reads a stain remover – tackles the toughest stains. "Could use that for some of the skid marks" Zach says he can't wait to see who wins HOH. Jordan says hopefully Graig or Naeha… then we'll be eating popcorn. It will be a crazy week. Naeha won't win. G might. Zach says if she does though. Jordan says chaos right!
6:25pm – 7pm In the living room Cindy gives Bruno a massage. In the bedroom – Naeha and Willow are talking. Naeha tells Willow I feel 100% safe with Zach, you, and Sarah. Naeha says she doesn't know what she would do. It would be nice it there was a consensus next week as well. They end their conversation and head downstairs. In the kitchen Kevin and Willow are playing slop ball. Big Brother tells them to stop that! Willow asks We can't play slop? Kevin moves the game out into the backyard.

6:55pm In the bathroom – Jordan, Bobby, Sarah, Zach, Asleigh are hanging out chatting about random things like cat stories. Ashleigh says that her neighbours cat hung itself. Jordan laughs and asks how. Ashleigh says I think it was by accident..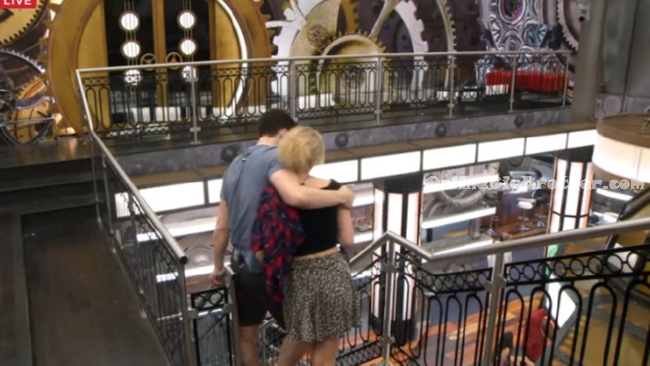 7:10pm – 7:20pm Jordan and Zach head into the bedroom. Zach says we used to have 15 mugs and now we have 4. He say same with the lamps theres one in the living room and there used to be one by the door and now its gone. Zach says we're on to you big brother. They head downstairs.
Outside the bathroom – Bruno and Graig are talking about how awkward it is to talk to Cindy. Bruno says it was so awkward. We were literally talking about how we have to talk. Graig agrees and says his conversation last night was too. Bruno says that Cindy was cool she was massaging me. She knows she's gone. Bruno says that JP is covering our weak spot.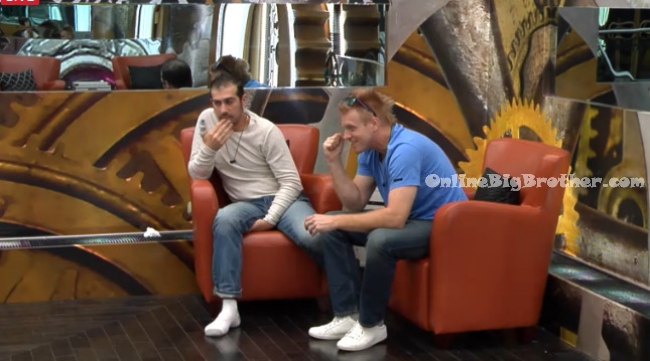 Support the site and purchase your Amazon goods through our link below. It doesn't cost you anything and we get a percentage of what you buy.
Amazon Canada
Amazon USA