POV Holder:
Kevin
Next POV
April 3rd
POV Used
?
POV Ceremony
?
HOH Winner
Bobby
Next HOH
April 1st
Nominations:
Kevin and Brittnee
Have Nots
Jordan, Brittnee, Naeha, Godfrey
POV Players
Godfrey, Willow, Johnny, Britt, Kevin, Bobby.
Jordan is the VETO HOST!
If you are outside Canada and want to watch the FREE Big Brother Canada Live feeds sign up for a VPN service here https://www.hidemyass.com/vpn/r16399/. It's safe to use, easy to set up, and cheap. Need to know more check out this post explaining how to set it up.
12:40am Pilar and Sindy
Sindy is campaigning for votes. Pilar tells her she's going to vote with the house, "I love you to death.. I don't know what i'm going to do right now"
Pilar claims she hasn't really thought about who she is going to vote for adds that it isn't over.
Pilar says that she's closer to Sindy than Brittnee but she's not going to go against the house "I think the house is spilt.. Don't lose sleep over this"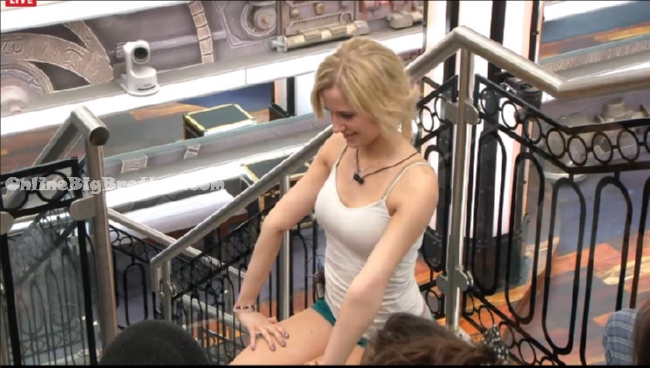 12:58am Chit chat.. Ashleigh shows them her "Party Trick"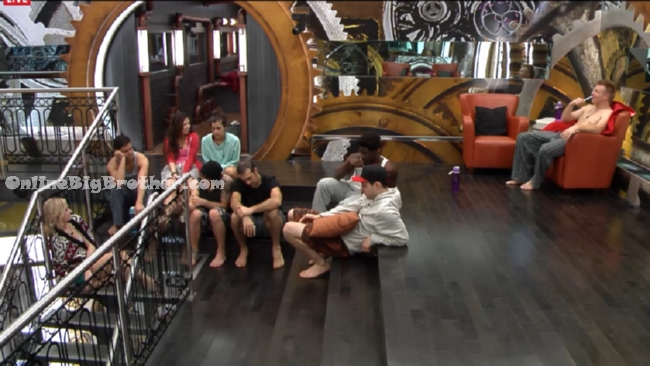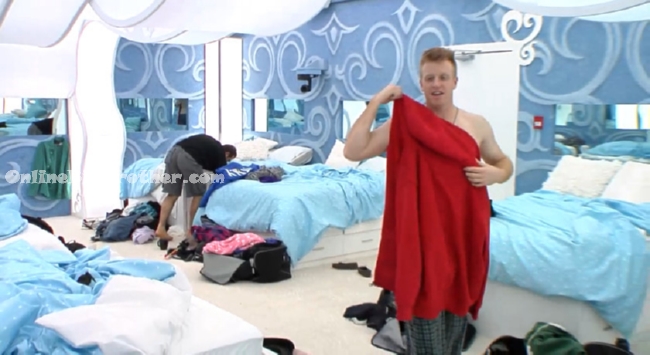 1:06am Bruno and Graig give Brittnee some extra clothes to keep warm in teh have nots room.
Brittnee tanks them and starts campaigning for votes.
Godfrey leaves, Pilar joins them she wonders why everyone becomes so amped late at night. Graig points out that Bruno figured it out it's because of the live feeds. "A handful of people are only here for the cameras"
Brittnee starts campaigning for votes, "I really want to be here"
Pilar says being on Big Brother Canada was one of the best things that has ever happened to her she wants to enjoy it.
Pilar says she doesn't know where the vote is she just thinks Brittnee won't want to make the time in the house be bad.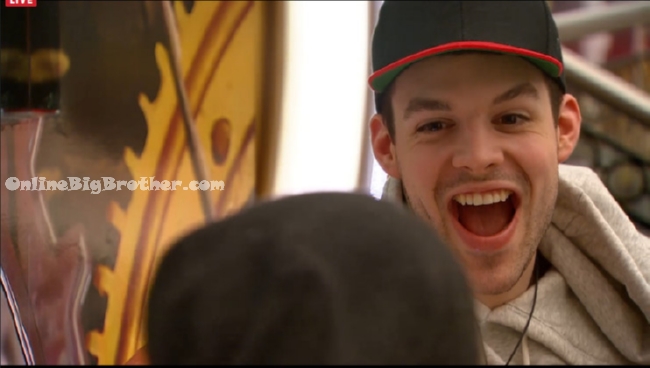 1:11am Kevin and Willow talk about family.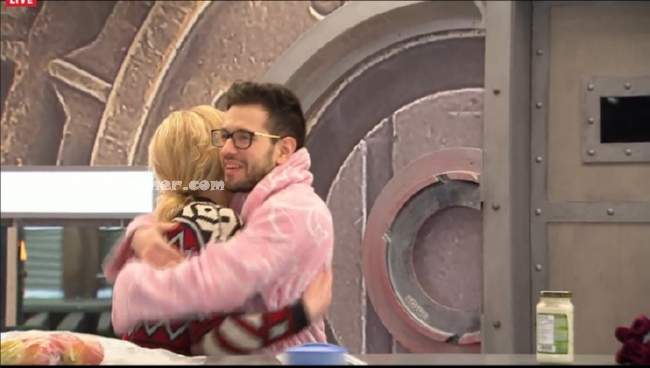 1:23am Ashleigh gives Jordan her robe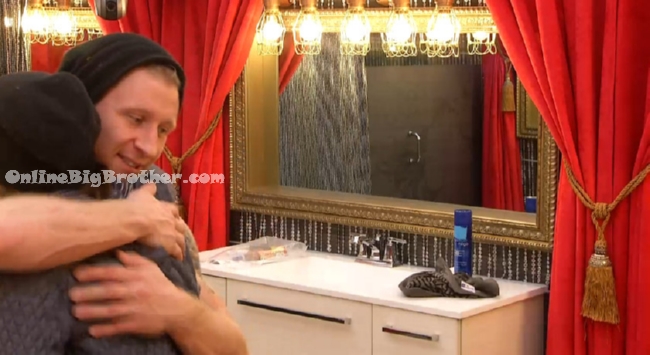 1:27am Willow and Bobby
Willow says she's going to chill so it doesn't look like she's playing both sides, "I want to step back for a bit"
Bobby – "I want to ease up and not hang out with the guys to much"
Bobby says he didn't want to win the veto.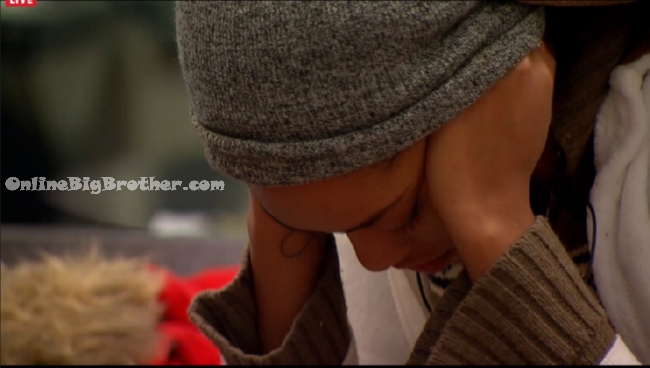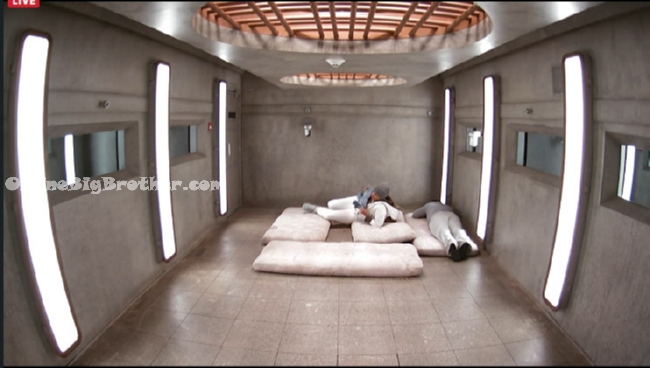 1:53am Brittnee dreading the have not room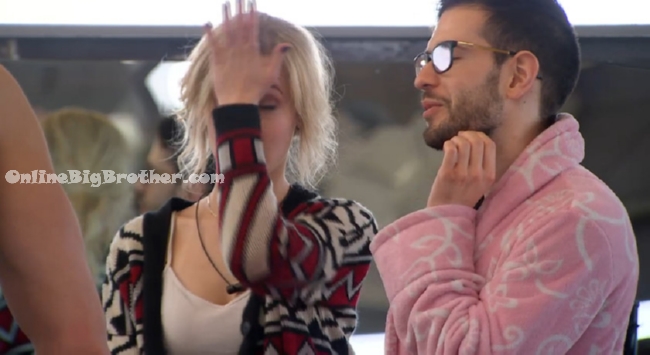 1:58am Ashleigh, Zach, Jordan and Kevin
Kevin explaining when he heard talking about targets in the bathroom. He heard Sindy talking about taking out "2 strong guys" He heard, Bobby, Zach, Godfrey and Graig's name. He adds that Naeha was with Sindy and she also said '2 strong guys" were her targets.
Jordan – "Why do people come into this game and not do any research" he points out how stupid it is to name 4 people as targets when you are not HOH and one of the people are in the room.
They agree if Graig wins the HOH he'll go on a major power trip.
Jordan – "We'rea ll going to die"
Ashleigh – "It will make things interesting"
Jordan tells them at one point Canada will get the HOH "Weeks 4 to 6.. it's a staple.. it's a pretty good twist"
Jordan tells them "Canada hated the First 5"
(Audio cuts out near the end and camera switches to the HOH room showing Bobby sleeping)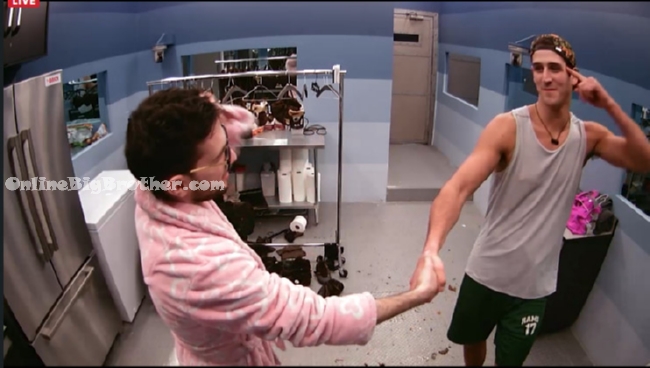 2:09am Jordan and Zach Storage room
Zach tells him Jordan is safe with the Chop Shop. Jordan thinks that Canada will vote against the chop shop he gives the alliance another couple weeks. Zach says he's going to throw the next HOH. jordan says nobody is targeting Zach because his social game is solid.
Zach doesn't see any of the young girls putting him up.
They laugh at how they are ripping everyone in the Diary room and while in the house telling them "We love you"
Jordan is "Pumped" for them to start doing DR's together.
They laugh at how terrible Godfrey is at competition. Jordan "He's out to lunch" They think there's a possibility of forming a tighter alliance with Willow and Kevin later on.
Jordan says NAeha loves zach "I garuntee she's gone in 2 weeks"
Zach "Sarah is going to go deep"
Zach brings up they have to be careful about willow "She's yapping at everyone.. she's a yapper"
Jordan calls Willow the girl Johnny.
2:22am Jordan, Willow, ashleigh, johnny, Sindy and Neaha
Jordan telling them this is a sober season.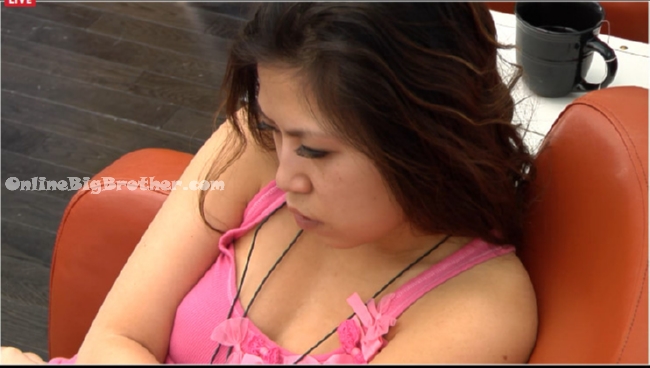 2:50am Sindy and Sarah\
Sindy talking about her campaigning to Graig. Sarah says she likes Brittnee so much she hates being in this position. Sarah says she has to do what the house decides. Sindy points up if she's left in the house next weeks she's going to be everyone's target with Godfrey. Sindy "I told Craig and Bruno that they had their Thinking faces on"
Sarah mentions Sindy does have a lot of days left "Anything can happen"
Sindy I don't know where you are with Britt
Sarah I'm really tight with Brit
Sindy wants to form a team with Sarah, Bruno, Graig and Naeha
3:27pm ZZZZzzzzz