POV Holder:
Elissa
Next POV
Aug 24th
POV Used
POV Ceremony
Aug 19th
HOH Winner:
Aaryn
Next HOH:
Aug 22nd
Original Nominations:
Elissa and Helen
Current Nominations:
Last Evicted Houseguest
David, Nick, Jeremy, Kaitlin, Howard, Candice, JUDD, Jessie
Have Nots (head cheese and habaneros)
GM, Amanda, Helen and Elissa
9:26pm HOH McCrae, Amanda, Aaryn, Andy in the shower
(Elissa's recent POV win has scared everyone into thinking she has potential to win the HOH)
Amanda is ordering them to be nice to Elissa just in case she wins HOH. Aaryn tells them it's going to be a combination of her, GM or Spencer if Elissa wins HOH and she wants to be up against Spencer. Amanda agrees with this.
Amanda: "For me I want to get rid of Spencer before Elissa.. "
Aaryn tells them that last week Helen came to her and said they need to get McCrae out so they can solidify their '3pm package" Aaryn adds that now Helen is telling people it was Aaryn idea. :I don't know what she is doing she' throwing everyone under the bus"
MC: "Everything she said doesn't mean anything to me"
MC: "I would rather Elissa leave for sure cause I cannot stand her "
Aaryn wants to know how close MC is with Spencer. MC says they are close enough nothing serious.
Aaryn says her concern is Spencer will want to take out Amanda so he can go with McCrae. Or if he takes out Aaryn he can get with GM.
Amanda tells him Spencer has to be the target next week. Aaryn agrees.
Andy comes out of the shower asks them why are they wanting to get rid of spencer before Elissa.
Aaryn says her concern is that Spencer will put up her and Elissa and if Elissa comes down than Amanda goes up .
Amanda points out that Elissa and Helen are already at odds. Amanda told Elissa last night that Helen is dragging her game down. Elissa agreed and told Amanda she wants to start playing the game by herself. Amanda also mentioned how Helen was bawling her eyes out about Elissa in the HOH the other night.
You can re-watch ever second on the feeds using the flashback feature.. It's just like a DVR and is super easy to use. click this link for a Free Trial —> Subscribe to the Big Brother Live Feeds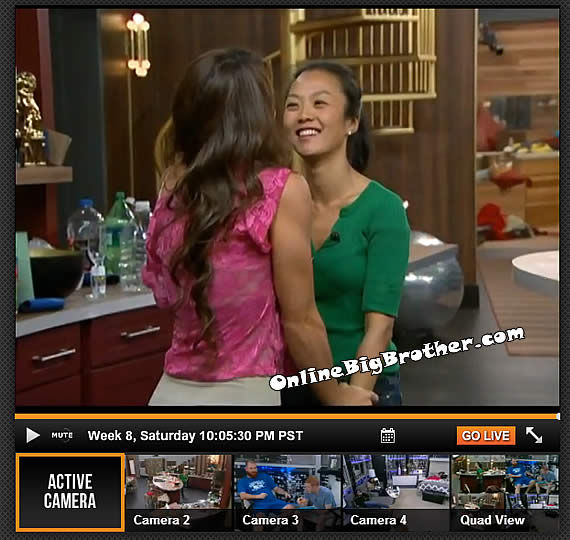 9:49pm Kitchen Helen and Elissa
Helen says Elissa was amazing on the competition she was so fast. Helen showers Elissa with compliments tells her how awesome she is and how awesome she did in the competition.
Elissa: 'I never get nervous when "He" reads out the comps"
Helen: "Whats the difference between when he reads and Julie…" Feeds cut. (It think they are talking about the person that comes in and shows them how to do the comps)
Elissa: "We just have to make sure people are going to vote out Spencer"
Helen says they will not have to make any deals if the votes are already there. Helen: "As long as Amanda, McCrae and Andy stay loyal .. we have the votes.. I trust McCrae he knows SPecner is dangerous.. "
Helen: "Aaryn should know Specner is going to put up her and Ginamarie"
Helen: "McCrae said he was happy and he said Amanda was happy.. that a good"
Helen says that Aaryn is probably freaking out right now because this is her third week trying to get Elissa voted out.
Helen says everyone is in the HOH sucking up to Aaryn because they are afraid of people backdoored. Helen keeps saying how mad Aaryn must be.
Elissa: "I felt kinda firey for that one"
Helen: "I'm glad.. I wish you could do that for more comps.. just do it.. "
10:06pm HOh Aaryn, Spencer, Amanda, McCrae and Andy
THey are all Agreeing Elissa and Helen walks around like the are better than everyone else. Spencer says it's more Elissa than Helen, "I think Helen is a peach of a person but in the game… "
Amanda: "Helen is an annoying competitor."
Spencer Agrees, he mentions how she told him that she can get him to jury after that he's on his own.
Aaryn says she legitimately liked everyone in this house but the more she hears about Helen the more she's not sure about her.
Spencer mentions how Helen is upstairs crying to them all and saying she doesn't want Elissa to leave because she's a jury vote for her.
Spencer: "Think of anything else to say.. think of anything that will elicit sympathy.. F*** I don't care if you have one less jury vote"
Aaryn is worried about Helen making deals with GM. They say Helen has made final 2's and 3's with so many people in the house they are not worth anything. Aaryn says GM is easily manipulated. Amanda isn't worried
Aaryn say how Helen told her they have to get MCcrae out then Helen tells Amanda to get Aaryn out.
Amanda: "HElen wanted me out so bad.. it killed me seeing her with Jessie.. "
Amanda: "the night before Jessie left she said to Jessie I know you are telling the truth"
Amanda says Helen lied through her teeth in front of Jessie and all of them.
Spencer: "If was brutal she tried to make Jessie look like a lunatic".
Amanda: "she took Jessie and threw her under the bus.. it's one thing getting through the game and then getting to the end without any votes.. you don't see me blindsiding everyone"
Amanda: "I Don't feel bad" (for Helen)
Amanda: "Jessie is going to be so happy to see Helen walk through that door.
Specner: "I bet Helen and JUDD will not get along.. they will take a couple days "
Amanda: "God i hope none of them come back into the game .. that would f*** up my game so much.. Thats not fair after 4 evictions"
Andy agrees, says if they are in the jury house it's going to damage their game if the jury members talk.
Amand: "it f*** everyones game .. unless they are sequestered"
Amanda says if Helen asks her about the vote she's going to say "I'm voting with the house"
Aaryn: "that is perfect because that is what she's been teaching us"
Aaryn says she's pissed because Helen had asked Ginamarie to be in a fake alliance. Amanda: "she offers everyone a fake alliance"
Aaryn: "I know.. I'm also pissed I lost the competition"
10:30pm Dancing around
Helen thinks she's safe now that Elissa won the Veto so they dance around.
10:41pm MC, Amanda, Aaryn, GM, Spencer
Aaryn: "who would piss us off the most if they cam back in the house "
Spencer: "Jeremy or Kaitlin"
Amanda: "Helen.. this is going to be the most victorious eviction.. she's been disloyal to so many people.. she's lied to everyone.. she's thrown everyone under the bus and she's been after me.. she thinks she's so cunning"
Aaryn:" They are (Helen/Elissa) trying to convince everyone that you (Spencer) are becoming too dangerous"
They chat about Who they would want to see after the show is over. Spencer and McCrae say JUDD. Aaryn asks Ginamarie, Gm replies grumpily "I dont' know"
Aaryn says she wouldn't mind seeing Jessie sure she will try to sleep with her boyfriend but she can be really nice
Amanda says her and Spencer were the only people in the HOH during Helen's crying fit that didn't look sympathetic.
Amanda to Aaryn: "You felt bad for her you vag!na face"
Aaryn gets called into the Diary room. Spencer Heads downstairs. Amanda asks GM what is wrong. GM curled up on the HOH couch says her stomach hurts and she's tired. (GM is pissed that she didn't win the competition)


11:01pm HOH Bathroom GM and Aaryn
GM apologizes that she didn't win the veto. Aaryn tells her not to feel bad at all it was a tough competition.
Aaryn: "I'm telling you for real you have to work hard for the next HOH .. for real we are going to go home"
GM: "I know"
11:04pm HOH Spencer and MC
Spencer: "Who do you put up if you win the HOH". MC says Amanda will want him to put up Spencer and Gm and backdoor Elissa. He doesn't want to put up Spencer though.
McCrae: "I would like to see Elissa, GM and then Aaryn gone.. I guess.. I'm sick of Elissa.. Aaryn worries the sh!t out of me though"
Spencer: "For good reason'
MC: "Ya"
Spencer: "Yo DUde you know unless there is no other option.. I got you back.. even before moving company you and me talked and we are cool.. "
Andy joins them. They asks him what he would do if he won HOH.
Andy: "It would be Elissa and … I dunno maybe GM"
MC: "GM is so scarey" He warns them if they put GM up she will be gunning for whoever did it.
Andy asks them who their nominations will be. They say the same as Andy.
Andy tells them he's going to have to get close with Elissa this week incase she wins the HOH. Andy is worried that Helen will taint Amanda with Elissa so he's the only one that can get in her ear if she wins the HOH.
11:14pm Helen joins them in the HOH followed by Aaryn. They got Alcohol a bottle of wine and beers.
Andy: "Oh my god i'm going to get kinda drunk"
Specner joins them in the HOH and cracks a beer. Production told Mccrae that the back yard will be open late because they competition take a long time to dismantle.
11:20pm Kitchen Elissa and Amanda
Amanda tells her that Helen is going to be evicted and there isn't any deals or alliances they can make that will change that outcome.
Elissa: "I haven't been trying to make alliances with anyone"
Amanda: "Well She (helen) is.. the more involved you get into saving her the more it's going to hurt you.. There is no way she is going to be saved.. I don't think"
Amanda: "Helen is coming after me"
Elissa: "No she's not"
Amanda: "Yes she is Elissa.. I'm not stupid.. I know everything that Jessie said about Helen was the truth i've heard it from multiple people"
Amanda: "I'm telling you nothing is going to change it.. nothing is going to change it"
Amanda:" Helen is more of a threat than spencer is"
Elissa: "It's freaking me out because you knew aaryn was going to put me on the block.."
Amanda: "I knew you weren't going home "
Elissa mentions that Aaryn told Helen Elissa was the target 100%.
Amanda: "If Helen had gone off the block and Spencer went up you would be going home.. I told you that"
Amanda: "You know when Helen was crying … she wasn't crying because you were her friend and was leaving .. the only thing she said was I'm upset because she's (Elissa) a jury vote for me.. like it's done.. she can try"
Amanda warns her that Elissa isn't on the block the last thing she wants to to do is flip the house. Elissa: "I'm not going to flip the house"
12:09AM CHIT CHAT
12:28AM HOH Aaryn, Amanda, Specner, Andy, McCrae and Helen listening to music (She's more like rocking out to the music)
Aaryn jokingly giving McCrae a hard time for calling macaulay culkin macaulay queer boy. She says McCrae is knows that the people watching the feeds are like so he really watching what he says. This is why it's been 24 hours since he said "macaulay queer boy" and he's still making a big deal about it.
McCrae says it is a big deal
Aaryn: "If anyone talks sh!t about me on the internet i'm going to give them a virtual middle finger"
McCrae: "I just don't want people to think i'm some kinda homo phobe"
Aaryn: "Well you are so.. "
Andy: "YA.. i'm going to go to the psychologist and talk to her about that because i'm offended"
Aaryn: "I'm super offended by that because i'm a lesbian.. It's out everyone I'm bisexual.. it's out.. now you know I think it was obvious"
Andy jokes "The morning I leave the room the homophobic slurs start flying"
Amanda: "Shut your big gay mouth"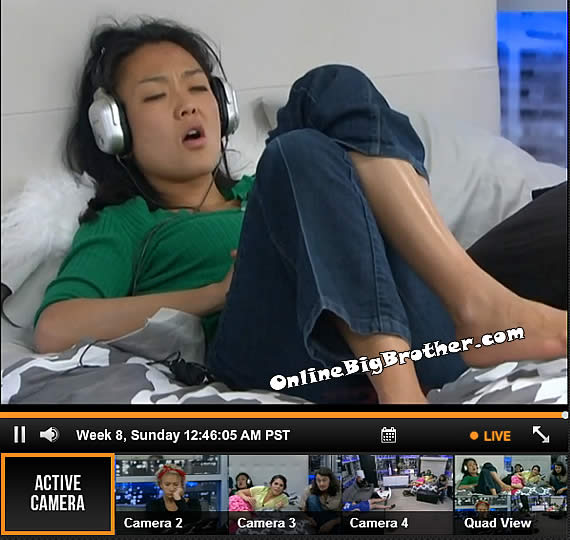 12:47am Helen rocking out
[polldaddy poll=7329443]