POV Holder:
Kevin
Next POV
May 6th*
POV Used
No
POV Ceremony
May 6th*
HOH Winner
Kevin
Next HOH
May 6th
Nominations:
Bobby and Brittnee
Have Nots
Zach, Bobby, Willow (Season slop pass)
POV Players
Kevin, Bobby, Ashleigh, Brittnee, Sarah, Pili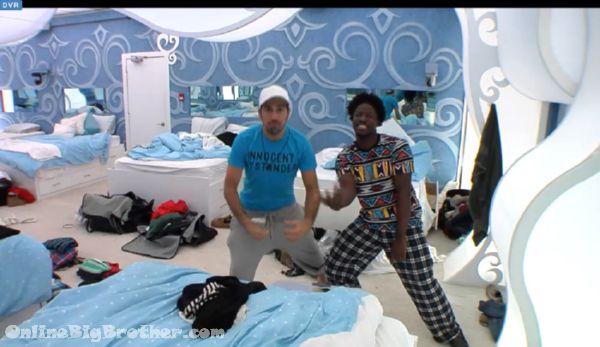 11:38pm Bedroom Bruno and Godfrey
Bruno wearing Godfrey's innocent bystander shirt.
Bruno filling godfrey in on a bit of Zach info.. "He doesn't trust Willow" adds if Zach is legit he might be going after the girls he wants Sarah out. Bruno – "that's what he's telling me"
Bruno – we're gold dude we're literally sitting in the best spot.. We flipped the game on them bro
Bruno – dial it up we're going to play .. we're going to CRANK it
God – I'm going to come in with a freaking vengeance Bro… coming with a vengeance bro
God says all the girls ever say to him is the girls want him (Zach) out Bro
Godfrey – Even Willow.. all they tell me Kevin and Zach bro
Godfrey says not once has he seen Ashleigh stressing she's walking around like she owns this place they're going to be crying after he puts them on the block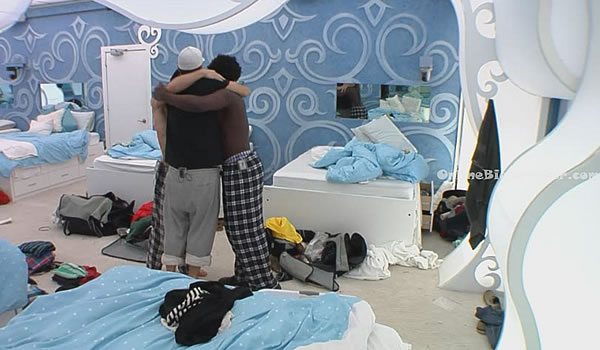 11:43pm HOH the Diapers
Zach says Godfrey has to go up tomorrow. They're saying how shocked how good of a spot they are after all that has gone down.
AShleigh says Sarah will put Bruno and Godfrey up
Kevin – 100%
Kevin wants Sarah/Brittnee in the house to slug it out over Bruno/Godfrey they all seem to be worried about Bruno and Godfrey's comp winning abilities vs Sarah/Brittnee.
Zach thinks Willow is an emotional player once they put her up she has to go out.
They talk about the chats with Bruno/Bobby. Zach says the fault with Bruno is he's too loyal to play this game.
Zach – I feel bad for him he's had to scramble these past few days

They're all surprised the house isn't coming after them. They think they played this week out perfectly.
Asheligh – it actually baffles my mind
Zach – its' hilarious.. is this really happening right now
Kevin says the guys are "dumb", "what they are selling is so illogical.. not dumb you know"
Zach brings up Bruno telling him if he comes after "You guys" Bruno "Literally" has no one left in this game, "He feels he has some type.. with us"
Kevin can't believe he lied to Bobby for 2 days and now his closest ally isn't coming after him.. Kevin can't believe it.
Zach – you iso'd him
Pili – it's too good to be true but it makes sense..
Zach – if Willow wins we control the vote
Ashleigh – our numbers I just love our numbers control literally who goes home
Piliar – doesn't matter who goes up on the block our numbers are key
Zach says what they did with Bruno was huge him and Ash had a conversation with him pulled him in a bit.
Sarah comes in to change batteries after she leaves.. Zach asks where Sarah's head's at.
Kevin thinks he has a good relationship with her but he feel safe if she wins next week.
Zach says if Godfrey goes Bruno's hands are tied. They agree Brittnee,Sarah and Willow will never work with Bruno and Godfrey .
Zach is going to put up Godfrey and Sarah/Brittnee
Pili is scared of putting Sarah up
Zach – B winning is worst case Ontario for us
Points out they've put her up so many times she'll look like a fool if she doesn't put them up Adds Sarah will control Brittnee's HOH.
AShleigh says they have to backdoor Willow. Zach is worried she's going to go far in this game. Points out that Pili, Willow and Ashleigh are sitting the prettiest.
Zach – if there's a canada' vote twist they'll flip the diapers
Pili – it's too good to be true
Zach – they'll flip us
Kevin – nothing you can do about it
Ashleigh says if one of them don't win tomorrow they are not in a panic. They agree not to throw the HOH.
Zach and Ashleigh say if a Diaper cannot win HOH the next best thing is Willow
ASh – I think she'll put up Sarah and B.. if me and peels were in her ear.
12:14am Sarah and Bruno
Sarah points out how Pili and Ashleigh are like the boys servants they ran downstairs to get them "F***g" ice water.
They agree Tomorrow the couples have to taek a hit
Sarah doesn't give a f** who it is or how it happens they have to take the shot.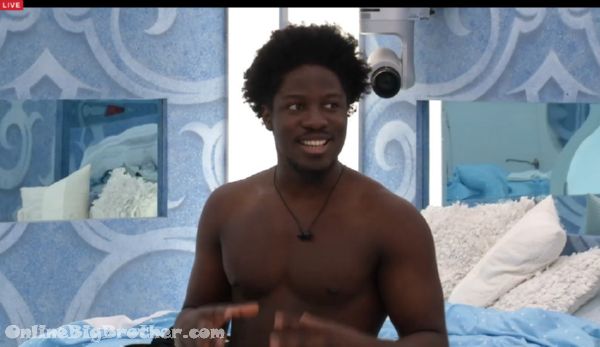 12:19am Godfrey and Bruno
Bruno thinks if the Diapers win this week they might go after Sarah and Brittnee.
Bruno – right now we're not at the top of the food to be taken out.
Godfrey – Sarah has two people working for her Willow and Britt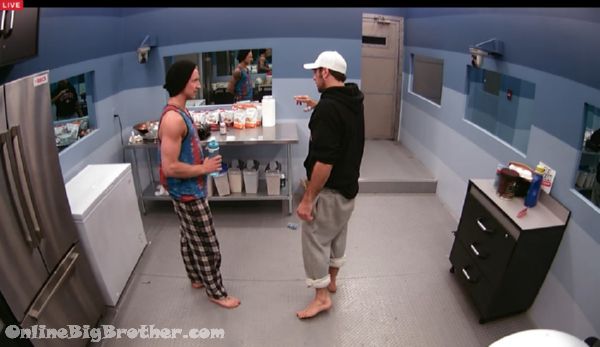 12:30am Bobby and Bruno Storage Room
Bobby says he's 100% sure there is a all girls alliance he heard Brittnee and Sarah whispering about Sindy exposing it
Bruno – they're shaken you can tell by their faces
Bruno says it's not written in stone but he's trying to set it up that Zach goes after Sarah.
Bruno – If Zach goes it's not good for my game right now .. I can almost throw this one
Bruno tells bobby he's the only one in the house he can trust.. adds he's not counting Bobby out.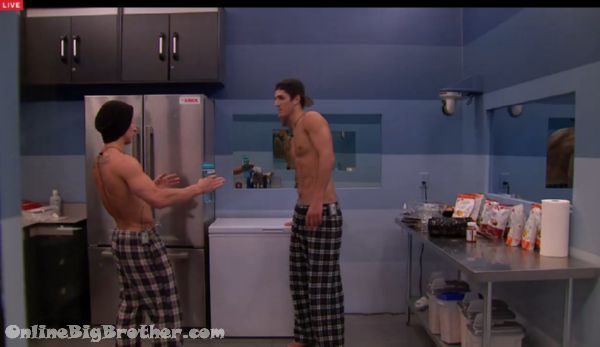 12:52am Bobby and Zach
Bobby tells him he knows he's going home he's not trying to get votes just wants Zach to know something that will help him. Bobby says he heard B and Sarah talking in the bathroom again not sure what it means. they said
"you think they believe it"
and
"Do you think Sindy said something to them before she left.. "
"She very well could have"
Bobby – don't think they're talking about the purple cobras.
Bobby – I swear to god i'm not making this up
Zach says once they get Godfrey out he's going after all those girls as fast as he can
Bobby says he really wanted to have an alliance like the brigade. Zach doesn't think the house was set up for that adds people couldn't stay calm.
Going through the season.. long Conv. Zach tells Bobby he doesn't think Pili and Ashleigh are in a Girls alliance.

(Video uploading.. It's super long)
1:34am Zach and Ashleigh
Zach says he had a funny conversation with Bobby, "nothing new". he mentions the conversation Bobby heard between Sarah and Brittnee "Do they believe it.. I dunno.. I hope Sindy didn't say anything before she left"
Zach – He thought it had something to do with a girls alliance
Zach tells her if Sarah breaks them up tomorrow she has to promise him she wont work with Sarah, "Go to your grave to get her out"
Zach – The Diapers are a strong alliance

2:00am Have nots Willow, Zach and Bobby
Bobby tells Willow/Zach if a twist saves him tomorrow he's down to reform the chop shop "We're back baby"
ALLIANCES IN THE HOUSE
There are always a lot of Alliance but we've tried to make sense of it all.. Read our alliance help guide
If you are outside Canada and want to watch the FREE Big Brother Canada Live feeds sign up for a VPN service here https://www.hidemyass.com/vpn/r16399/. It's safe to use, easy to set up, and cheap. Need to know more check out this post explaining how to set it up.
[polldaddy poll=8834825]