POV Holder:
Elissa
Next POV
Aug 24th
POV Used
Yes
POV Ceremony
Aug 19th
HOH Winner:
Aaryn
Next HOH:
Aug 22nd
Original Nominations:
Elissa and Helen
Current Nominations:
Helen and Spencer
Last Evicted Houseguest
David, Nick, Jeremy, Kaitlin, Howard, Candice, JUDD, Jessie
Have Nots (head cheese and habaneros)
GM, Amanda, Helen and Elissa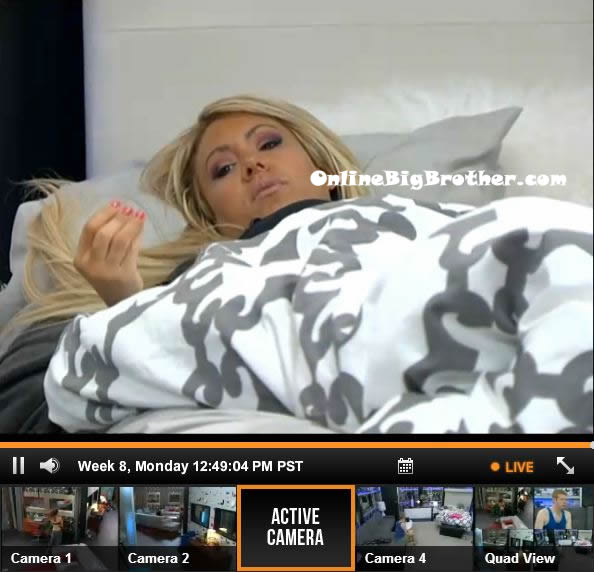 12:50pm Up in the HOH room Andy joins Ginamarie and Aaryn in the HOH room again. Aaryn comments that she doesn't trust Elissa at all. Andy says this can't leave this room. I love Helen but I don't trust her. I don't think Helen has your best interest at heart. I think it is best to get Helen out. Amanda and McCrae have been 100% loyal to me. Gina says they have lied to me before and I just don't know if I can trust them. Andy says if we evict Helen and Amanda or McCrae win HOH then I will make sure you two are safe. Gina says I need to know that if McCrae gets HOH that he will put up Elissa and Spencer. Andy says he will. Aaryn says they are loyal to you. Andy says I have been so loyal to Amanda and McCrae since the beginning they aren't going to screw me over, not yet, not with 7 people still in the house. Gina says I am voting with whatever Aaryn wants. Gina says for me everything that Helen has said she would do she has done. Spencer has lied to me so many times. Spencer is a f**k face. "Once you f**k me I will f**k you up the a$$ so hard you won't be able to walk for a week!" Gina says if you are cool with me, we are cream cheese. Spencer has f**ked me over 4 times and I am not cool with that. Gina says that you say Amanda and McCrae have been loyal to you but they haven't been in a position to have power to be loyal to you. They haven't been in power since week 1 and it is week 8, 9 or 10 .. They've had no opportunity to keep you safe or to screw you. They keep saying the proof is in the pudding, where is the pudding, there is no pudding! Andy says that Helen is like a Judd, she is a good person but I have seen first hand that she is ready to turn on her allies.
Big Brother 15 Live Feeds: FREE 2 DAY TRIAL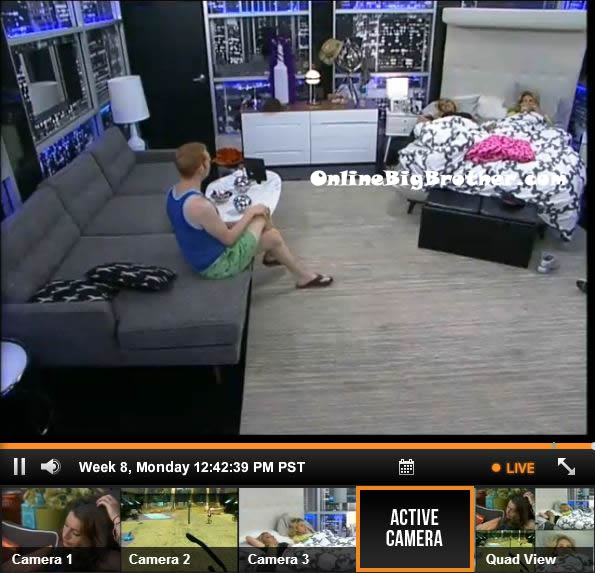 1pm – 1:16pm Andy says the best thing I have are my instincts and it has been good to me. I know that the best thing for us is to get rid of Helen. Aaryn says no matter what I will not ever vote to evict you (Andy) or Ginamaire. Andy says good same with me, that is why we need to stick together and to keep this under wraps. Andy says I know even though this is hard for me – this is the time to take out Helen. Please don't let that get out. Aaryn and Gina say they won't say anything. Andy says that then next week or the week after we take out Amanda or McCrae. Andy says for the three of us moving forward we need to take Helen out this week. Gina and Aaryn say okay. Andy says that Elissa and Helen are a power couple that we need to breakup. With Helen gone, I am the only person that Elissa will listen to. Aaryn questions if Elissa will listen to him. Andy says that he will work her to make sure she does. Aaryn says I trust you, just please don't tell Amanda and McCrae anything about this. Andy says I won't I will just say that we were up here appeasing Helen. Andy says I don't want Amanda and McCrae here when it get down to it so we will get them out. Andy says being with you three is who I want to work with going forward. I love Helen but we need to get her out. Helen was talking about wanting for the good guys to win and not to let the bullies win but she was intern bullying me. Andy tells Gina that he has always been good with her. Gina agrees and says once it comes Thursday tell me what you need me to do and I'll do it. No need to f**k me in my a$$. Gina leaves. Andy asks if Aaryn is cool about getting out Helen, I don't want you to feel that I am strong arming you. Aaryn says that she agrees with him, she just feels bad. Andy says he does too and has cried about it all the time. Aaryn and Andy agree that they don't want Amanda and McCrae in the final three, one of them need to go before then. Andy says my game is getting people to trust me and I have my hooks in people. Your are the one person that I tell everything to. Andy says that he will talk to Amanda and McCrae and tell them we were all just appeasing Helen. Aaryn tells Andy that I can't trust you because you will go back and tell Amanda and McCrae everything. Andy says I will need to work Elissa. Andy says that he will think of something and talk to Elissa before HOH. If I was taken out at the hands of Elissa I would kill myself. Aaryn agrees. Andy heads downstairs.
1:20pm – 1:35pm Andy and Helen are in the kitchen looking at and killing all the ants that are everywhere. Gina comes into the kitchen to help clean. Helen talks about who Andy found ants in the fridge. All three of them clean the entire kitchen. They decide that they will only use enough dishes for everyone and to put the rest away so that there aren't always dirty dishes everywhere.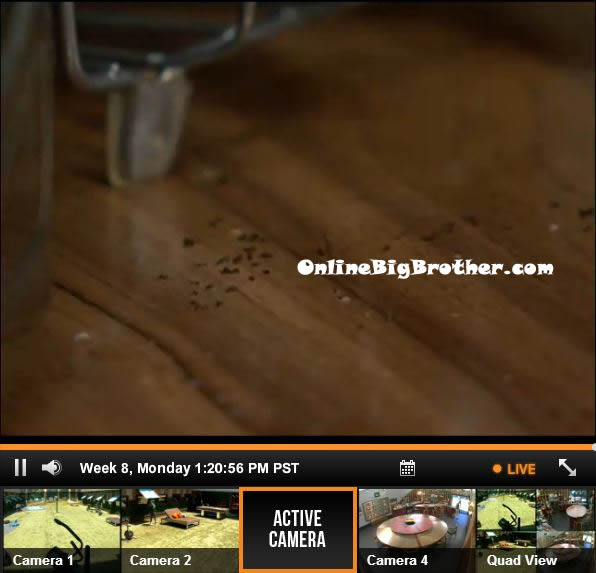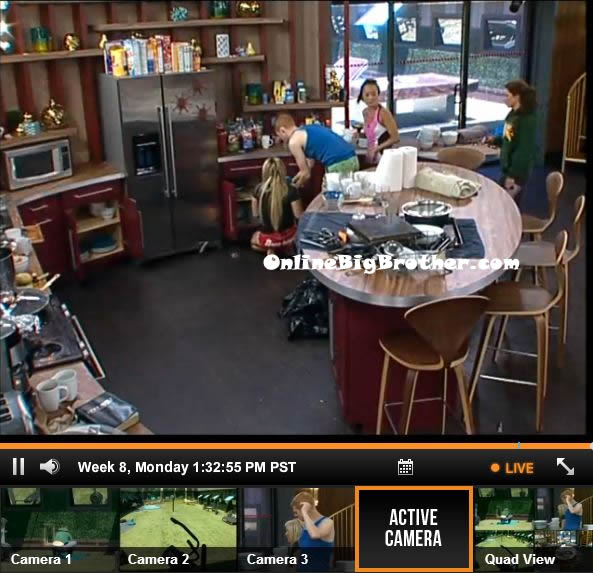 1:40pm – 2:15pm Out in the backyard – Andy and Elissa talk. Elissa says that she likes Amanda and thinks she is entertaining. I believe they want us here for their game till this point. Elissa says I feel like I don't really trust Aaryn and I trust Amanda but I think I will have to go out on a limb. If Ginamarie doesn't vote the way we want to then we know it was Aaryn because she tell her what to do. Andy says he feels that it is a fairly easy decision to vote out Spencer over Helen. Elissa says then next week we vote out Amanda. Andy says agghhh! I know. Elissa says getting Amanda out will be a blood bath but the good thing is that she isn't physical. Andy says yeah. Andy says so next week it will be me, you, Gina, Helen, Amanda and McCrae competing for the HOH. Elissa says that she feels like it is our only chance to making it past the final four. Andy says I feel like I will feel so much safer with Spencer gone because I have never felt like I could trust him. Andy says this is a big HOH and no offense to Helen but I think it will come down to you and me. Elissa says yeah. Andy says I guess Gina and McCrae are good too. Elissa asks Andy if he won HOH would he put up Amanda and McCrae. Andy says Ahhgg.. I guess if I had too. Elissa says that she doesn't want to trust Aaryn but feels like she has to. Andy says it freaks me out that Helen doesn't trust me. Elissa says that Helen got word that you were working with Amanda and McCrae to make a deal to get her out. Andy says I never said that. They talk about hoping this weeks HOH competition is an endurance comp. Andy and Elissa head inside. In the kitchen – Helen talks to Andy about his life outside the house and other random things.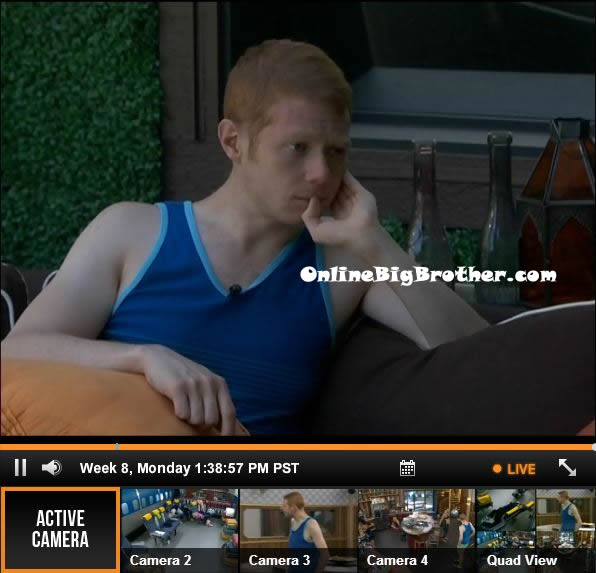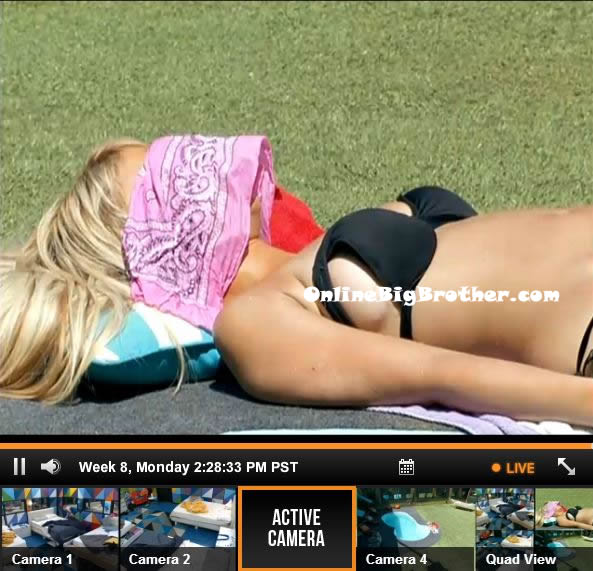 2:30pm Out in the backyard – Ginamarie and Elissa are suntanning out in the backyard. Andy goes into the havenot room and talks to Amanda about the conversation up in the HOH room. He says that Aaryn was telling Helen whatever she wanted to hear but everyone knew she was just appeasing her. Amanda asks was she throwing me under the bus at all? Andy says no, it was all just the same stuff we've already talked about. Andy tells Amanda about how Helen told him it was good versus evil and he needed to be with them. He tells Amanda not to repeat it to anyone. Amanda says that she won't. Andy says don't say anything because Helen said if it got out she would know. Amanda says I won't don't worry.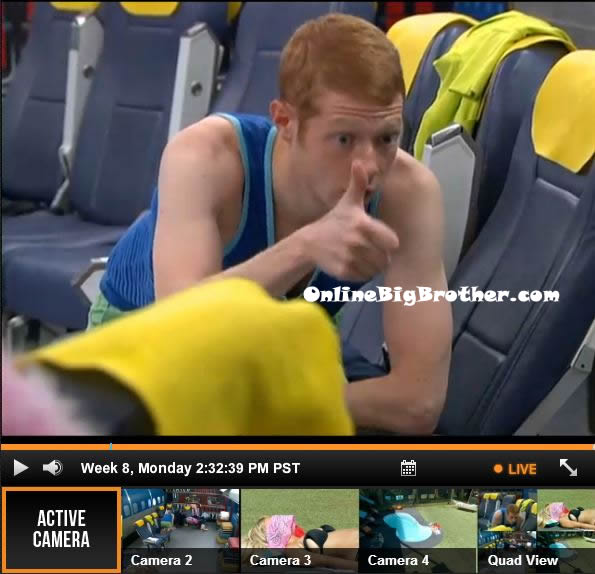 2:35pm In the bedroom – Amanda curls up with McCrae and talks to Andy and Spencer about how last night Ginamarie farted and it was so bad she thought she was in Auschwitz Concentration Camp. Amanda then goes on to talk about how she has a yeast infection. Amanda says that they are really common and that all girls get them. Spencer says that Marilyn doesn't get them. She has a healthy vag!na. Spencer calls Amanda's infection a sl*t infection.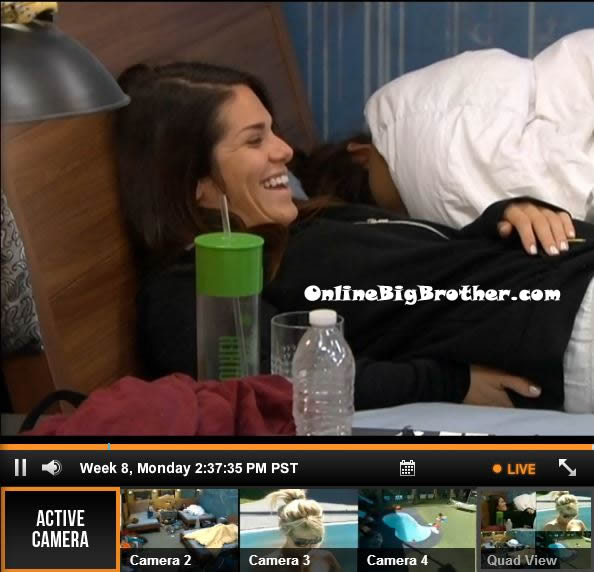 2:40pm Amanda, Spencer and McCrae get up out of bed and head to the kitchen and backyard. Big brother calls for a backyard lock down. Everyone slowly heads outside.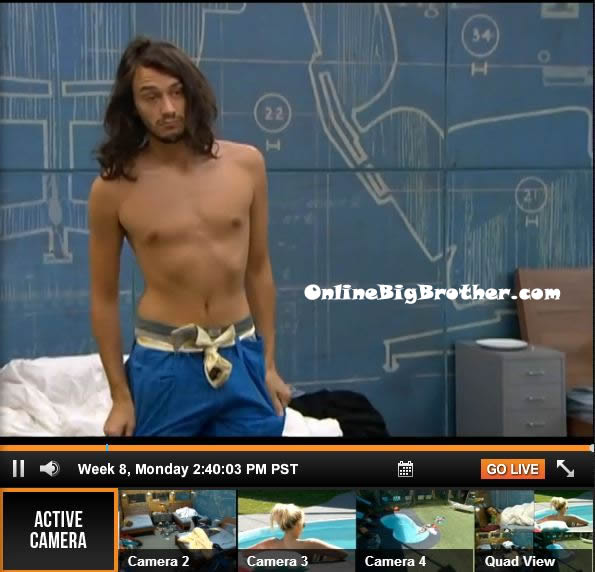 2:50pm – 2:55pm All the house guests are in the backyard for the lock down. They all discuss how they hope the lock down is for something fun and not just a maintenance thing. Amanda sits down with Andy, Spencer, McCrae and Aaryn. Amanda starts talking about her yeast infection and how its taking so long for her to get the medication. Aaryn says it literally feels like fire ants on your vag!na crawling around and biting you. Spencer says there is nothing worse than over dramatic women talking about their vag!ina problems. Amanda says if you don't have medication you can put yogurt on it. Spencer says I hope Julie asks me a question like what I miss from home. "Well Julie I miss masturbating privately."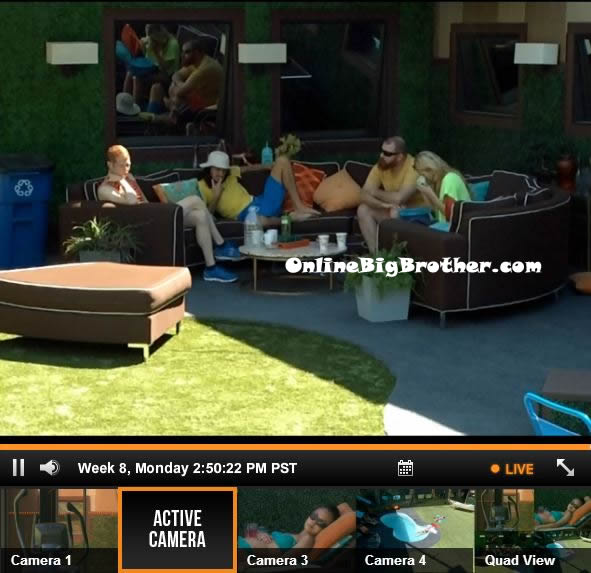 Use the Big Brother Live Feeds to FLASHBACK to SEE what they can't show you on TV:
[polldaddy poll=7329443]