POV Holder:
Elissa
Next POV
Aug 24th
POV Used
Yes
POV Ceremony
Aug 19th
HOH Winner:
Aaryn
Next HOH:
Aug 22nd
Original Nominations:
Elissa and Helen
Current Nominations:
Helen and Spencer
Last Evicted Houseguest
David, Nick, Jeremy, Kaitlin, Howard, Candice, JUDD, Jessie
Have Nots (head cheese and habaneros)
GM, Amanda, Helen and Elissa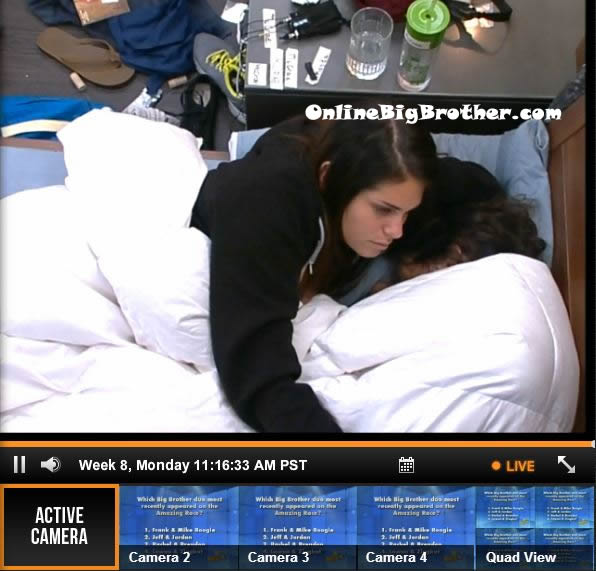 10:33am – 11:15am The Big Brother live feeds switch to TRIVIA for the Veto Ceremony. When the feeds return we learn that Elissa used the veto to save herself from the block. As the Head Of Household Aaryn nominated SPENCER as the replacement Nominee.
Big Brother 15 Live Feeds: FREE 2 DAY TRIAL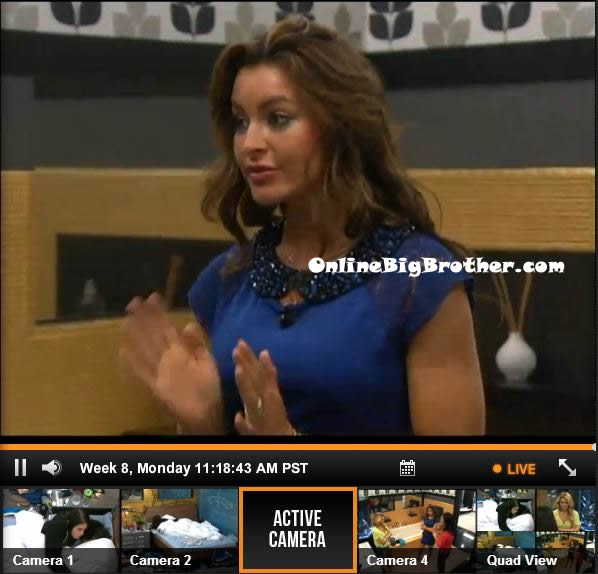 11:15am When the live feeds return – Amanda and McCrae are in bed talking. Amanda talks about making a comment that its was taking a long time during the ceremony. McCrae starts getting mad at Amanda for the comments she makes. Amanda gets up and says she doesn't want to listen to him bit*h at her. She heads into the havenot room.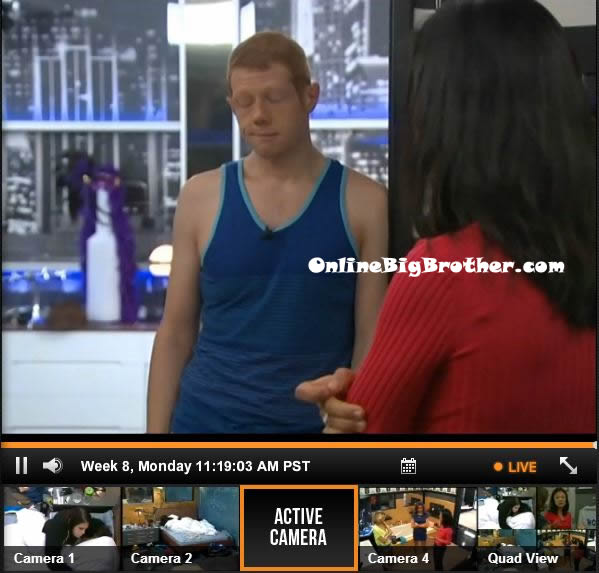 11:20am – 11:35am Up in the HOH room – Helen, Elissa, Aaryn and Gina are talking. Elissa tells Aaryn that we need to get out Amanda. Elissa says if you ever hear about me saying anything about you, do not believe it! It's not true. Andy joins them. Aaryn comments that she doesn't get why Spencer is mad because he said he was fine to go on the block. Helen tells Andy that she has Elissa and Ginamarie 100%. Helen starts crying. Andy asks why are you saying it like you don't have me 100%? You do! Helen tells Andy that he will either be know as the traitor or the good guy. If you go with them you will be know as the traitor. Helen says we have stick together. Andy says if you have them (Elissa, Ginamaire, Aaryn) then you have me. Helen tells Andy and that they (Amanda and McCrae) only have 1 competition win and between us we have 10 competition wins. Which side do you want to be on? Helen says America is look at you asking you to make the right choice to be with the good side and not the bad. Andy gets mad and says that he doesn't understand why she is questioning just him right now. I am with you. Aaryn says that it makes no sense that McCrae has never been nominated. Helen tells Andy that it comes down to him voting for her to stay. Helen tells Andy that he is being manipulated by Amanda and McCrae. Helen says America is saying Andy do the right thing! Helen says Spencer thinks he is safe. Helen says that Spencer would rather go on the block because they tell him to. They tell him not to let Amanda go up as a pawn because she is afraid she might actually be voted out. Andy keeps saying that he knows what is going on and that he is not stupid. Andy tells Helen that he has his vote. Helen says that America wants the good guys to win, they don't want the Evel Dicks to win. Aaryn says Helen you are one of the most amazing people I have ever met and it has been a honour getting to know you.
11:35am – 12:05pm Aaryn says this is not big brother, this is the Amanda and McCrae show. We cannot let them win. Ginamarie says that she didn't like that Amanda was trying to get rid of Nicks stuff. I don't want to get rid of it, leave me alone. I didn't even want to go to their wedding, I didn't feel good that day. They continue to talk about how Amanda bullies people into doing what she wants. Aaryn says I guarantee this conversation gets back to them and then I am going to get the brunt of it. Helen says well we just have to make sure this conversation stays in this room. They all agree and Andy nods. Elissa says we all just need to be strong and stick together. Helen says that McCrae is a whipped puppy dog. Gina says over f**king pu$$y! Helen says that America is tweeting right now, what took them so long to figure this out! Aaryn, Helen and Elissa talk about how Amanda and McCrae are going to take Spencer to the final three because they know they can beat him. Helen says they are going to get Spencer to take you out so that they don't get the blood on their hands and will still get your vote. Aaryn says that Amanda and McCrae are taking each other to the final two. They will get married when this is all over. Helen asks do you really think so. Aaryn says yeah especially if they win $500,000 that will set it all in motion. Helen says okay guys thank you for your votes and for your support. We just need to slay the dragon. Helen says I love you Andy. Andy says I do too, I am not even going to say it because you know! Helen says even if I go I want you to take them out because America wants you to. For all those kids watching at home – we are going to stick together and take out the bad guys. The good people, Friendship and Trustworthiness are going to win over evil. Aaryn talks about Amanda calling her a racist. Helen says this is her (Amanda) worst nightmare – Us four.. oh and Andy working together. Helen heads to the diary room. Aaryn says I don't think Helen ever said that she wanted to get me out. Ginamarie says I never heard her say that. Aaryn says what makes me mad is that Spencer feels so safe and comfortable to go on the block. Ginamarie says well he only has their two votes so he can't be too comfortable.
12:15pm Andy says I am stressing out because this is the point when I need to draw the line. Up until now I have been playing nice with everyone. Elissa says you have nothing to stress about because we have the numbers. Andy says its just hard for me. Elissa tells Andy you can't think that and tells him that he protected himself in this game and not anyone else. She tells him to be proud of that. Elissa tells him he got to this point by himself and not because of anyone else. Andy says he knows. Elissa says hopefully they will have the Wall Endurance Competition and Spencer will fall. Andy says Spencer won't even be here. Elissa says oh yeah. Ginamarie says yeah and I will go at it with McCrae again. No more of these pu$$y sh*t question competitions. Gina tells Andy that he is good, he is strong and has his own voice. Andy says oh yeah I know. Aaryn says that Amanda made the comment that we are best friends and I dont get why she said that. There is game in that but I'm not sure why. Aaryn asks Elissa – so did Rachel tell you to win competitions more than anything. Elissa says Rachel said to make the right allies. Aaryn says I wanted Spencer out this week and everyone can vouch for that. I can't do it though without the votes. Elissa says that worst move was putting Helen and I against each other. Aaryn says I was told that Helen was coming after me. But it looks like we have the votes to evict him so what I wanted originally is going to happen anyway. Andy gets called to the diary room and Andy bolts out of the room and says okay!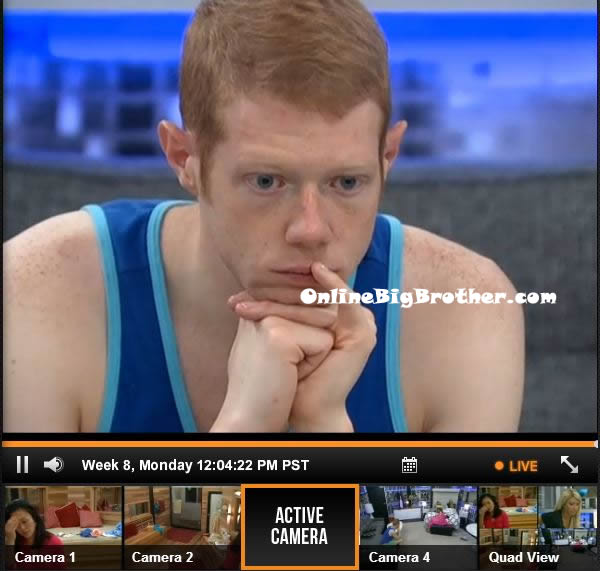 12:25pm – 12:40pm After he leaves Elissa says we really need to be careful about what we say in front of him. They talk about how they will know if anything gets back to them because none of them have a reason to tell Amanda and McCrae anything. Elissa leaves. Aaryn tells Ginamarie I will never trust Elissa. Ginamarie tells Aaryn whatever you want me to do on Thursday I will do. Aaryn says I trust you and that's that. I don't trust Amanda or Andy and I want to trust Helen. Ginamarie says I trust Helen more than Spencer, that's for sh*t sure. Aaryn says there is a reason why Spencer's girlfriend's family doesn't like him. Aaryn says that week one Spencer was hitting on me hardcore and when he realized he didn't have a shot he started talking about Marilyn being his ex. He talked so much sh*t about her and how he wouldn't be with her unless she finished college. Then after he really realized he wasn't going to get any a$$ in the house he started saying he loved her. Gina says when he gets home no one is going to be there.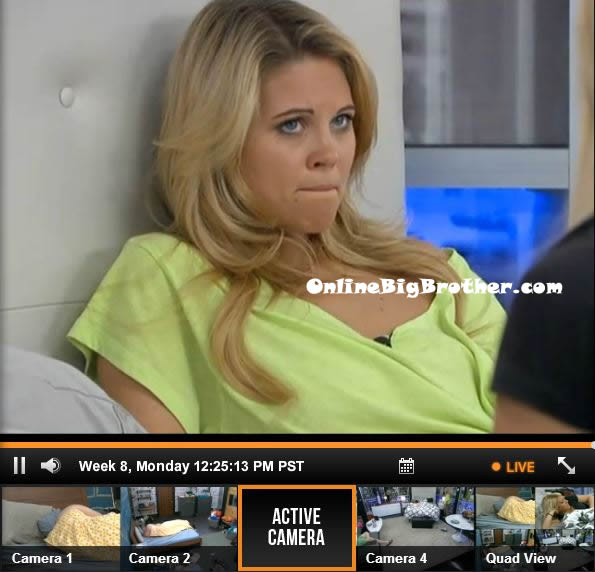 Use the Big Brother Live Feeds to FLASHBACK to SEE what they can't show you on TV:
BB15 N!p Sl!ps / N*des
[polldaddy poll=7329443]