POV Holder:
Bridgette
POV Competition
July 9th
POV Used
NO
POV Ceremony
July 11th
HOH
Bridgette
Next HOH
July 14th
Roadkill Competition Winner:
Frank
Original Nominations:
Paul, Tiffany, Bronte
After POV Nominations:
Paul, Tiffany, Bronte
Have Nots
Nicole, Corey, TIffany
(feeds were down for a bit while the house guests were shown some videos. They believe it has something to do with the upcoming HOH competition. Everyone is studying and playing the who will you nominate if you win HOH game. )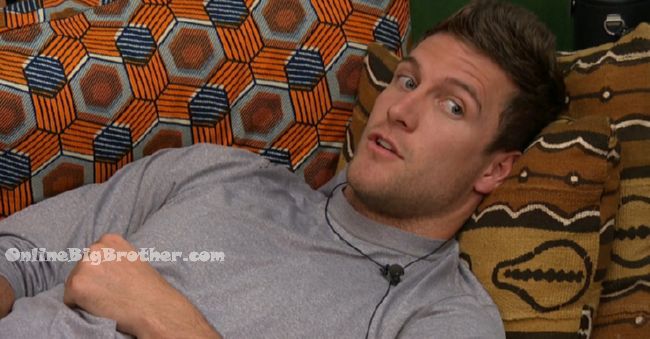 7:58pm Paulie and Corey
Talking about Sending Tiffany home and Da'Vonne next. Corey says Da wants PAulie out first and Corey out next. Paulie now saying if Frank wins HOH he'll put Da up. They'll be safe.
8:00pm Bronte and Natalie
Talking about how Frank's team cannot win the HOH so the house can put up Frank. \
Natalie – I don't trust Frank.. The plan is everyone is gunning for frank
Bronte says there's a good chance Frank wins.. In the case Frank wins they need to have a plan. Bronte thinks Frank will put up Corey and one of them and Frank doesn't have the votes to evict Corey.
Bronte – best case scenario Paul wins James wins..
8:05pm Bridgette and Frank
Frank tells her he's got a weird feeling, if he wins HOH he'll put up Da'Vonne.
Bridgette – follow your gut
Frank wonders who else should he put up.
Frank – somebody needs to tell Tiffany to not waste her time trying to remember shit..
8:14pm Nicole and Corey
Nicole – Zakiyah threw away Bridgette's cookies
Corey – why
Nicole – I dunno they're girls…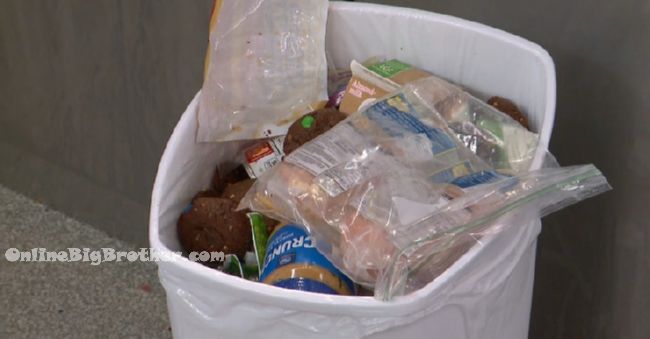 MIchelle comes by Nicole asks why were the cookies thrown out.
Michelle explains that PAul was making cookies and Bridgette came by started bossing him around, tossed a ton of four with them and ruined them.
Nicole – awwww
Michelle comments how Bossy Bridgette is
Frank comes by .. they start talking about feeling bad about Tiffany.
Nicole brings up Tiffany cornering her and asking Nicole to look her in the eyes and say she's safe.
Nicole told her yes
Frank – James is on board with Da
Michelle – really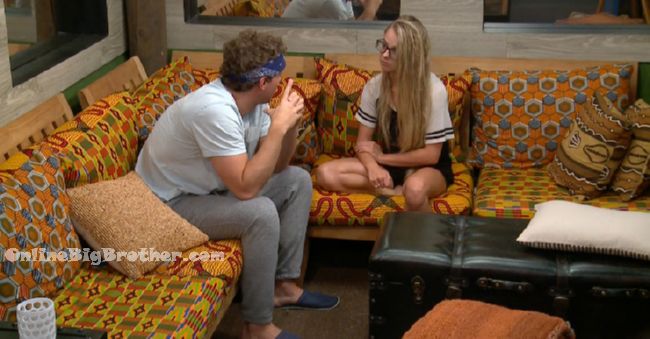 8:22pm Frank and Nicole
Nicole brings up Da telling Corey Frank was targeting him.
Frank – she's gotta go .. james is onboard.. I didn't ask him he brought it up to me
Nicole – that's sketchy..
Frank – no
Nicole – I trust you Frank I hope you know that
Frank – I know
Nicole wants to form a group of 4, Frank, Bridgette, Corey and her but it had to be real hush hush
Frank brings up Da'Vonne saying she'll put up Corey.
Frank – I'm never going to throw you under the bus Nicole
Nicole – OK
Zakiyah joins them..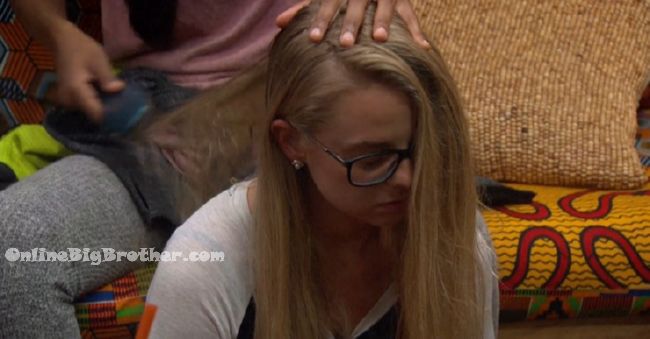 8:29pm Safari Room Zakiyah Brushing Nicole's hair
Nicole saying Frank is mentioning Bronte again.
Zakiyah – I think he wants you to think that.. He's really manipulative..
They start studying for the HOH comp.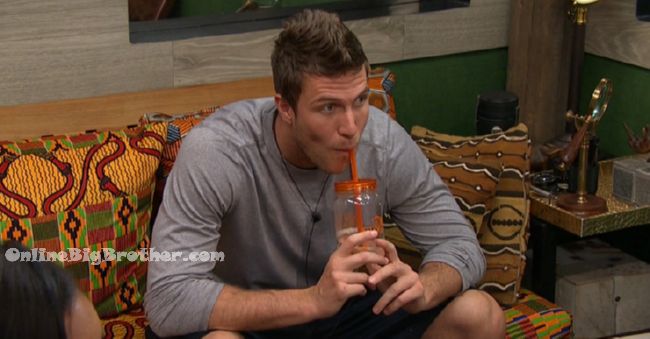 Corey joins them..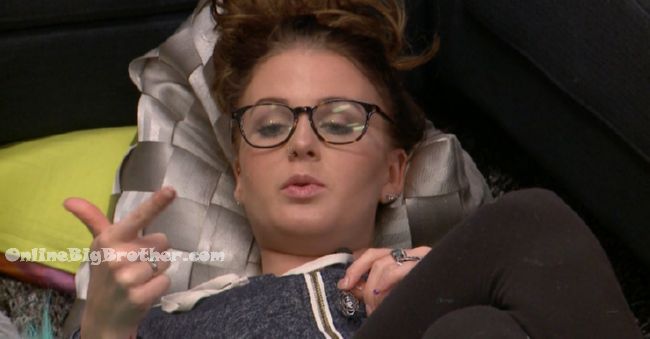 8:43pm Corey and MIchelle
Corey says Frank and Da'Vonne are targeting each other and he's stuck in the middle..
Corey thought they were going after the 3 remaining people on the other side now they are going after each other.
Michelle blames it on Frank
Corey – the fact she wants to win HOH so bad is SHAAAAAADY
Michelle – I would feel better if you won, Paule won, Zakiyah Won , James won…
Michelle – Bronte is dumb as bricks
Corey – why are we keeping Bronte this week..
Michelle – ask Paulie why.. I don't know.. Technically we have the votes.. Doesn't make any sense.
Michelle says keeping Tiffany will keep Frank off guard during the HOH.
Michelle proposes they all say they give Tiffany a sympathy vote
Corey asks if James has mentioned getting Da'Vonne out.
Michelle says she heard it from Frank but not James.
Michelle – we can put Bridgette and Frank next to each other and guarantee one of them goes home..
MIchelle – Frank is nothing without Bridgette and Bridgette is nothing without Frank
Michelle – she's too comfortable Bronte she's a loose cannon.
Michelle warns that Bronte will put her up with Nicole, "I don't think she'll win next week but in the future"
Corey – You on Da's side or Frank's side
Michelle – probably Da
Corey – some of the things she says don't make sense.. Frank is telling me stuff completely different and it make sense. Michelle tells him she talks a lot with James and Da'Vonne in the london room and Corey's name has never came up.
Michelle brings up Zakiyah throwing out Pauls Cookies.
Michelle now saying Frank wants to go home that is why he's going around too everyone trying to get them to turn on each other.
Natalie joins them.. It's Corey, Big Meech and Natalie on teh couch with Paulie and paul playing chess. they are talking about dogs and Cats. Natalie mentions Gizmo, James' pet cat. Apparently Gizmo's belly rubs on the ground and James feeds him with a gravity feeder so it's all you can eat.
they talk about Pauls Halloween party something they that is a "big deal" and they're all invited.
Corey is into cats says he's going to be a crazy cat man with cat's hanging from him.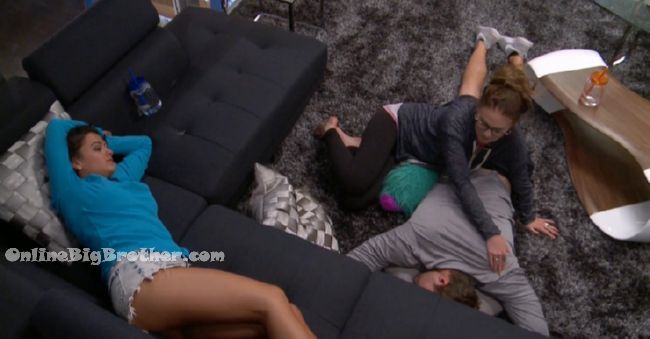 9:12pm Chit chat while Michelle rubs Corey down. (Now I'm full expecting Corey to be true to form and tell Corey that Michelle gave him H@ndy"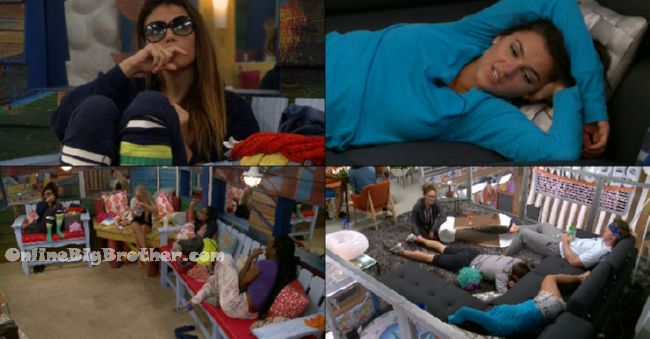 9:18pm Chit chat or Studying for the Competition
[polldaddy poll=9464831]
[polldaddy poll=9464369]
[polldaddy poll=9465176]