POV Holder:
Gary
Next POV
April 20th
POV Used
?
POV Ceremony
April 22nd
HOH Winner:
Emmett
Next HOH:
April 25th
Original Nominations:
Gary and Andrew
Current Nominations:
?
Last Evicted Houseguest
Peter
Have Nots
Gary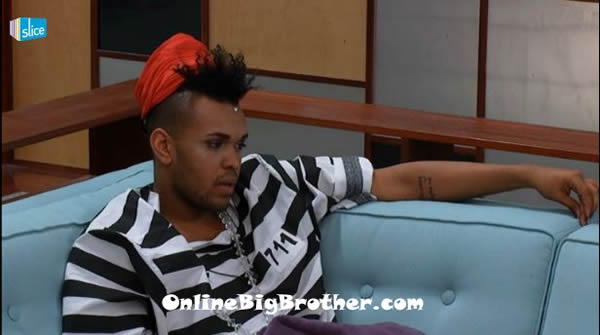 4:15am Dan and Gary are talking game on the living room couch. Gary tells Dan that he at least is safe for another week. I am going to be smelly in this jail suit though. Gary laughs. Dan asks what Gary plans to do when he gets out. Gary talks about building his brand and getting his name out there. He wants paint and laptops and to just be creative… and I want a puppy. Gary says one thing I know is that at least some people like me because I got voted back in. Dan agrees. Gary says that when he gets out he is going to hustle. Gary wonders if he will see Dan out at Big Brother events. Dan says probably not, I don't do that much any more. Gary asks .. does Janelle.. I think she would. Dan says no not really she just had a baby. Gary comments that Dan is cut throat in the game. Dan says you have to .. these people are just chess pieces. Gary says that he is trying to set it up so that any situation he will get taken to the final two. Gary says that he thinks Emmett is cold blooded and will do whatever he needs to. Gary and Dan start talking about the votes. Gary says that everyone in the jury thinks Jillian is a lying, back stabbing bitch .. they hate her. Dan says you need to use that to your advantage. Gary says I need to take Jillian. I think it could be a 7-0 vote. Dan says that's hard to do.. Gary thinks its possible. Gary says that he is thinking of taking Emmett and Jillian to the final 3 so that he can tell the jury that he kept his word. He says that he thinks Emmett will take him to the final 3 but Talla and Jillian wouldn't. Dan heads to bed. He tells Gary that he did a great job today and that they can talk again tomorrow if he wants..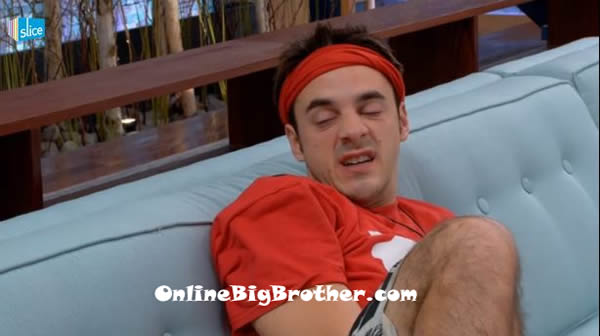 4:40am – 5am Gary is now the only hose guest still wake. Everyone else has gone to bed. Gary is sick and complains about feeling horrible. He heads out to the backyard and starts talking to "Billy" his ball and chain. "Billy" comes off the chain and Gary says Bill, I don't understand why you are trying to break up with me? I am never going to let you go .. well maybe in a week. Gary lays in the hammock and talks to himself. He says that Dan has been giving him some good advice. He says that maybe Emmett will have to go .. but I don't want him to. Gary says Tree.. we haven't talked since I got back .. how are you? Big Brother then tells him to change his battery pack. Gary heads to the storage room but Big Brother hasn't left him any batteries. Big Brother then cuts the feeds. When the feeds come back Gary is in the kitchen. He gets told to change his batteries again. As he walks to the storage room his ball and chain break again. Gary says can I get a new ball .. because I am over billy. Gary then heads back out to the backyard and then back inside complaining that he can't get comfortable anywhere.


5am – 5:20am Gary sits at the table eating slop and blowing his nose. He then moves to the couch and stares at the memory wall. Gary looks tired and keeps closing his eyes.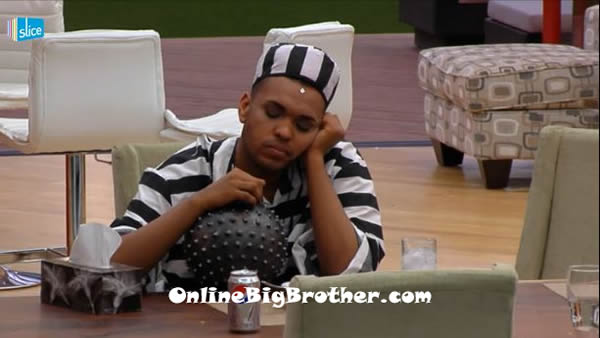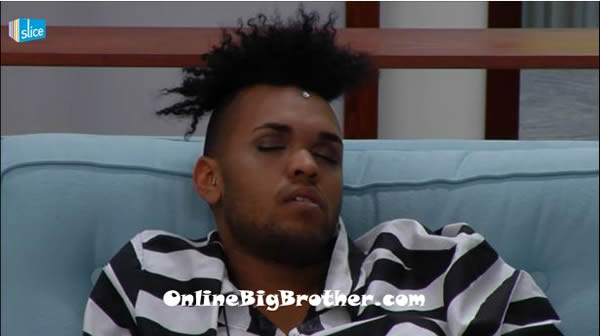 5:30am He gets up after awhile of almost falling asleep and says I am not sitting here or I am going to fall asleep. He gets up and heads to the bathroom. Gary totally fell asleep in the bathroom for a second and big brother played the alarm. He jumped up when he heard it.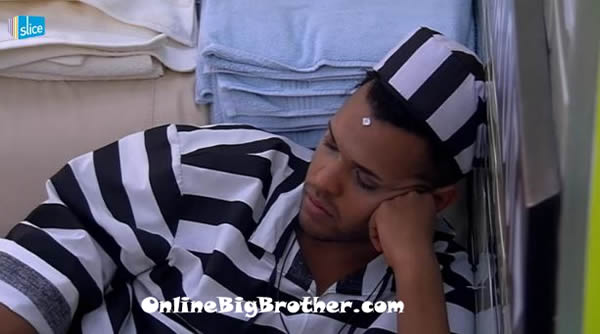 5:40am – 5:55am Gary heads to the kitchen and starts cleaning his dishes. Gary then lays back down on the couch and starts to fall asleep again and big brother wakes him up with the alarm again. He sits up and says 24 hours .. then starts doing the head-bob. Big Brother wakes him up again for the third time. He says oh my god this is going to be hard!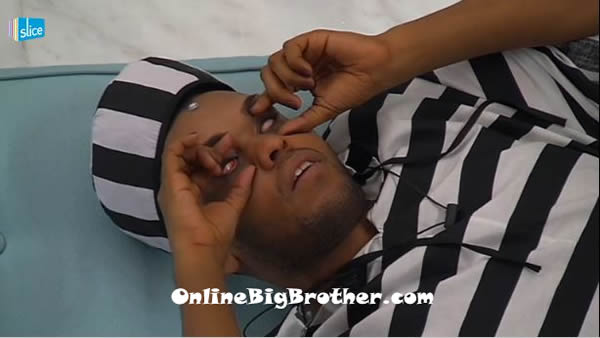 6:10am – 7:10am Gary is in the bathroom doing his nails to try and stay awake. when Gary finishes up his nails, he starts to fall asleep and big brother buzzes him. He walks out to the living room and continues to fall asleep on the couch with big brother using the alarm to wake him up. Gary wakes up and says oh my god I just heard a weird alarm.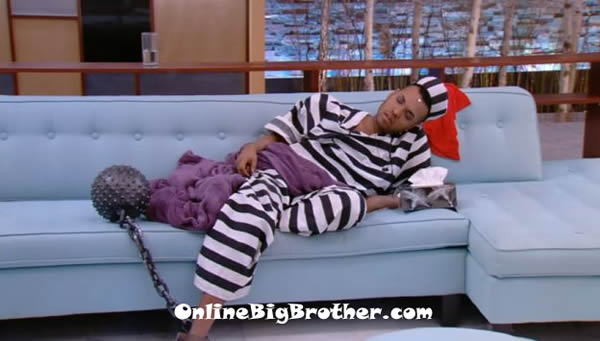 9am Gary is still awake while big brother now starts to wake up the other house guests.
Please consider donating. Simon and I work 24/7 all season long to bring you all the live feed updates and spoilers. ANY amount is greatly appreciated, your donations go directly to paying the server and bandwidth fees needed to run this site.
OnlineBigBrother.com
Stay connected and interact with other Big Brother Fans on our Facebook page.
And Follow: @BigBspoilers and @Dawgsbigbrother on Twitter for the most up to date spoilers.