POV Holder:
Gary
Next POV
April 20th
POV Used
?
POV Ceremony
April 22nd
HOH Winner:
Emmett
Next HOH:
April 25th
Original Nominations:
Gary and Andrew
Current Nominations:
?
Last Evicted Houseguest
Peter
Have Nots
Gary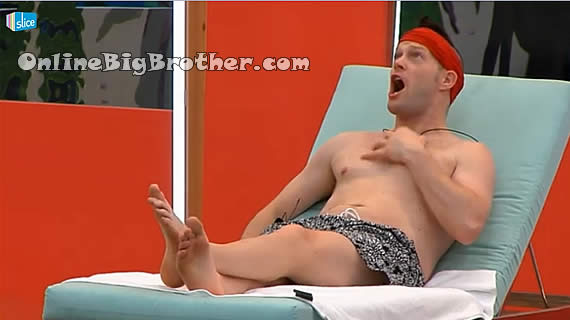 12:20pm Pool
Dan says Gary must be feeling pretty good to have won the POV after just entering the house. Gary is glad, he was going to do whatever it takes to win that POV short of cutting his hair. Dan thinks this is crazy talk you would throw all this away for some hair that will grow back.
Gary says cutting his hair is something he couldn't afford to do.. because he wants to leave the house and make something out of this image. He's worked hard on his image while on the show.
Gary tells Dan that he's in the house for 24 hours so he's going to stay up with Gary. Dan: "I'm going to stay up as long as I possibly can"
Andrew: "Gary.. i'm going to sleep like a sweet baby in my bed tonight MOTHA F****ER"
Dan jokes with them that maybe he's in the game longer than 24 hours.. maybe he has a week pass in the game.
Andrew: 'Don't listen to him if he swears on it.. don't mean sh1t" (ohh biam.. )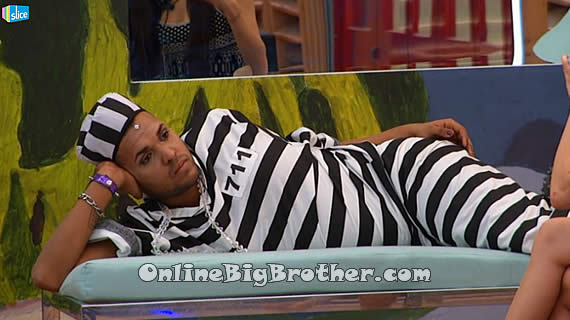 12:36am backyard Talla and Gary
Gary is saying that Dan is trying to tell Andrew to convince GAry to use the veto on him. Talla: "you think that will happen" Gary: "Thats crazy girl i'm using this veto on myself that's no secret"
Talla is campaigning to Gary. Gary brings up that he's skipped a couple weeks and now he's thinking about Final 2. Talla's campaigning revolves around pointing out that Andrew is the stronger player and she might be someone to take to the final 2.
(Video Coming)
12:38am Emmett and Andrew talking about Gary being dropped into the game with only 4 people left. They pretty much agree it's BS, Andrew is more vocal about it. Andrew starts complaining about the tasks how Talla had a easy one and his was harder..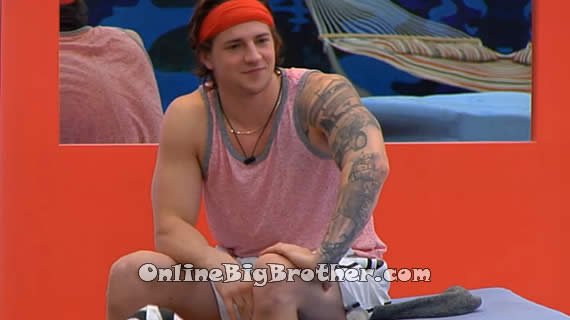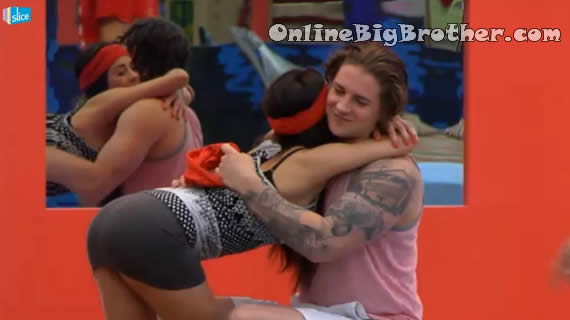 12:48am backyard everyone but Jillian
Emmett does his task tries to imitate Gary.Best to watch the video. Emmett says MoterF**** a lot.
Tells Gary and Talla that all they do is drink and be messy.
Emmett to Gary : "You were rolling around here with your nuts hanging out.. "
Dan says the task was to imitate Gary.. Dan thinks the dialect was wrong but gives him an "A" for effort.
(Dan had originally told Emmett to "clone Gary for 10 minutes")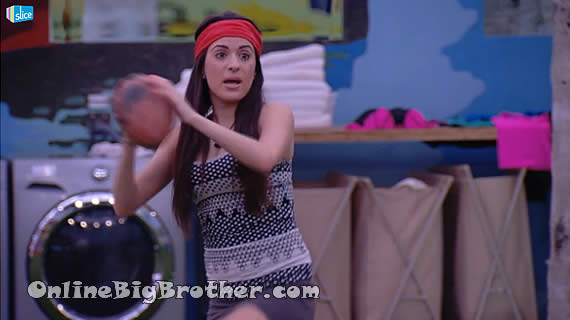 1:00AM Backyard Talla chats with Dan
She talks about her life outside of the house and how she was headed down the wrong path 5 years ago but has turned her life around. Dan wants her to tell him what it was but she won't. She hints that it had to do with partying. They start passing the football around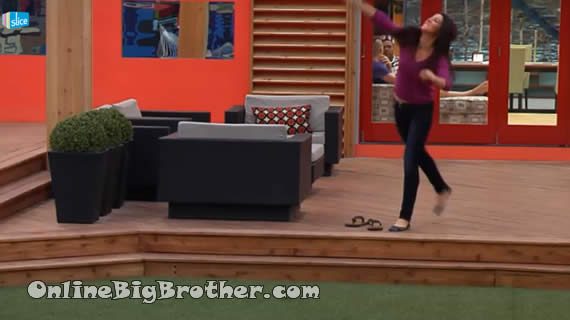 Jillian joins them. Dan says Jillian throws the ball better than some football players do.
1:26AM Kitchen everyone but Emmett Andrew says to Gary that when he was HOH Gary told him to to make a big move and put Emmett/Jillian up. Gary: 'No I said Alec.." Andrew: "Umm no you said Those two.. but congratulations you are back in the house"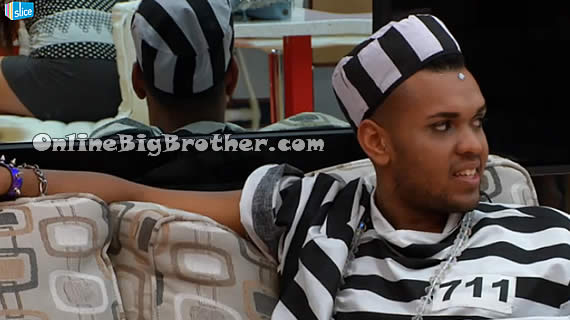 1:33AM Gary is doing Gerald personalty mostly just chit chat and laughing.
(Video coming)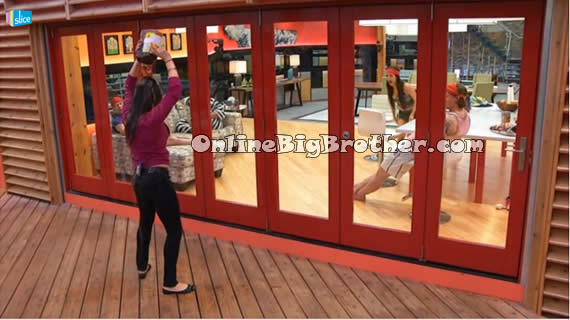 1:35AM Jillian's Task is to splash a jug of juice all over her head..
(Video coming)
2:18AM Kitchen
Dan tells them in the Big Brother US house they are not given real knifes everything they are given is plastics.
Talla starts doing the "Talking with Talla"
Talla asks Dan what he's thinking…
Dan :'I'm wondering about Emmett.. he hasn't said anything in the last 15 minutes.. "
Talla: "you think it's because he's drinking spiced rum or do you think it's game play"
DAn: "I think he's Busy"
Talla squeals.. "There you have it ladies and everyone.. BUSY"
Gary brings up when he starts acting he'll use the name Gary LEvy not Gary Glitter
Andrew: "What! you've never talked about Acting"
Gary: "I'm going to try everything when I get out of this house.. "
Dan asks them who was the most Pi$$ed when they got the letter that someone was coming back?
Andrew: "It was me.. I didn't want someone ruining our game.. we already had this guy come back "(Points to GarY)
They ask Dan if he was playing Big Brother he would like a past Big Brother Player to visit.
Dan: "I would be excited to meet me"
Andrew says he didn't think it was going to Dan thought it was going to be Boogie. He was worried if it was boogies because he's called him a Douchebag ont eh feeds.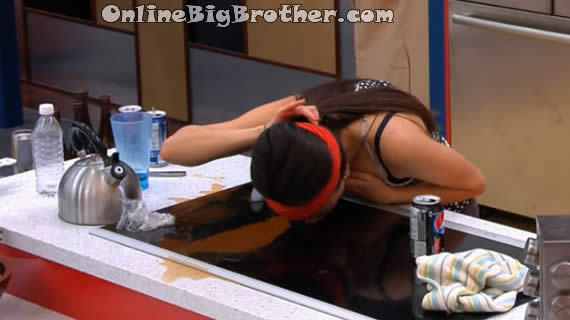 2:40AM Cleans up a spilled drink
2:42pm Kitchen Talla, Emmett and Andrew
Andrew to Emmett "Hey look out for that guy.. he's a dirty liar" (Talking about Dan)
Andrew and Emmett head outside to toss the football around.. Andrew: "I had the best Dan challenge"
Andrew says he tried his hardest to get every single penalty (24hours, hair cut, slop, cut up clothes) Andrew: "Kinda makes you think… I hit the buzzer as fast as i could" .. (Cams switch to Jillian and DAn HOH)
Emmett: "What you think your buzzer was tampered with.. "
Andrew: "Ya maybe not tampered.. more like it.. it didn't matter"
Emmett: "I was so worried about getting DQ'd "
2:50AM HOH JIllian and Dan
Jillian: "I know I can't compete as good as a guy because I'm a girl "
DAn: 'But you have beat guys.. "
(Cam switches to the Kitchen *** Major audio right now on the feeds.. only cam 1 is working)
2:54AM Talla and Gary
Gary goes on and on about how Andrew has all the jury votes. TAlla doesn't understand why. Gary doesn't either something about flipping the house and playing both sides, "Apparently people like that" Gary smirks
Talla about Andrew :"He's already won 10 thousands he can go home"
3:20am Dan and Jillian
Dan "Who will you vote out"
Jillian: "I need to talk to Emmett first"
Dan: "No right now who would you vote out"
Jillian: 'I'm back and forth.. it doesn't matter cause Gary and Emmett are best friends they hold the power"
Dan :'So who would you want out"
Jillian: "Gary"
DAn: 'Out of those two people.. Andrew and Talla who benefits your game..
Jillian: "Andrew.. but he's not staying"
Dan: "So you need to either convince Gary or Emmett "
Jillian: "What's your advice"
Dan: "I don't Know.. I play to win.. best possible chance to win the game?"
Jillian: "Emmett and Andrew"
DAn: "with Jury votes.."
Jillian: "Talla.. but I don't want to see her get 20k dollars.. she did absolutely nothing"
Emmett and Andrew join them.. Dan says he's running out of steam he'll be going to bed soon. Andrew says the same.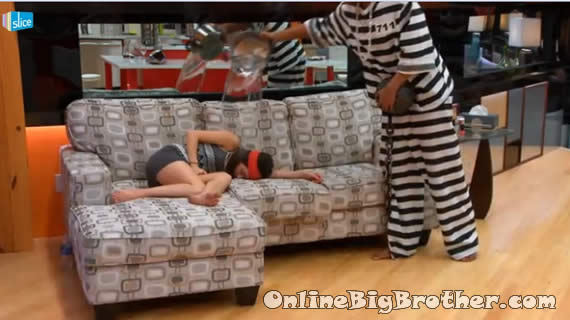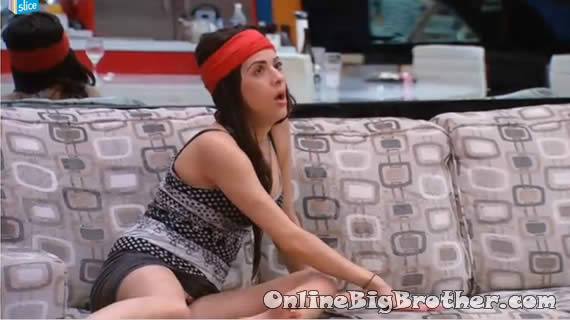 3:35AM Gary splashes Talla with the Water.. She's drunk and starts chasing Dan around with the pot. Andrew points out that the pot is empty, 'What are you going to do hit him with it"
Dan, Emmett, Andrew and Jillian are hiding in the HOH room. Talla follows them to the HOH but they won't let her inside.

(Video uploading)
4:15 Jillian and Emmett HOH