POV Holder:
Gary
Next POV
April 20th
POV Used
?
POV Ceremony
April 22nd
HOH Winner:
Emmett
Next HOH:
April 25th
Original Nominations:
Gary and Andrew
Current Nominations:
?
Last Evicted Houseguest
Peter
Have Nots
Gary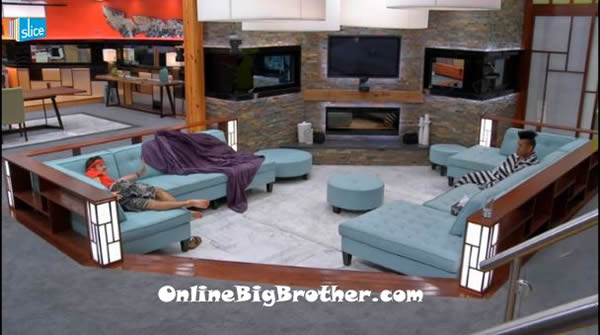 9am Big Brother starts turning up the lights and then switches on the alarm. Dan looks up and the jumps out of bed. He heads by the bathroom and sees Gary. Dan congratulates Gary on staying up all night. Gary says thank's Dan. Gary heads out into the kitchen. Dan and Emmett comment how they can't believe Gary is still up. They wonder how he did it and what he did all night. Gary says that he wants face wipes to take the makeup off his face. Dan asks for hygiene reasons? Gary says no, for Gary reasons. Dan laughs. Dan tells him he looks good, good job. Gary says he had no choice, I don't want to lose the veto. Andrew asks if the buzzed him. Gary says yes a few times. Dan comments on how the wake up alarm is an awful noise. Dan says Gary I want to recap.. So you can't sleep for 24 hours, you can't bathe or change out of the prison suit for a week and you are on slop for the rest of the time in the house. Dan says that's pretty hardcore. Gary says that the hardest part is hearing all the comments. Gary talks to Dan about eating glitter. Gary gets called to the diary room. Andrew and Dan talk about their favourite movies.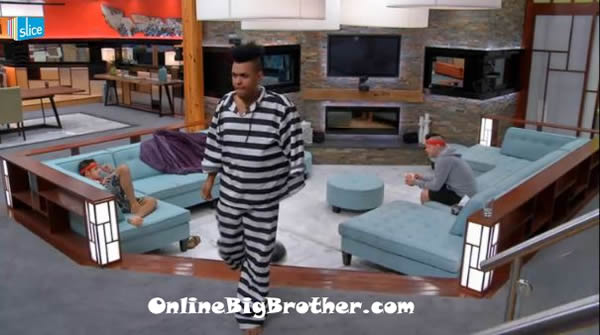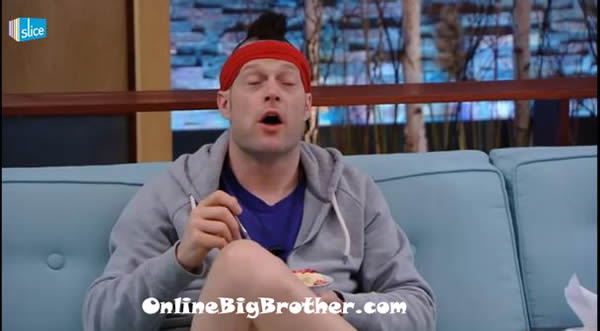 9:40am – 9:50am Dan heads up to the HOH room to use the washroom. Jillian tells him that she was thinking more about what he said last night and doesn't want him to think that she is playing for second place. Dan says that it doesn't matter what I think. Jillian says that truthfully every move she made as HOH was not his move, it was my move. Dan asks do you think they will see that? Jillian says yes. Jillian says and the same thing if I want to keep Andrew in the game.. I want to do it for myself not for anyone else. Jillian says that she doesn't know if she will beat Emmett but thinks she has a good case.. I made bigger moves than him and won more HOH. Dan says it just seems like you would have a more difficult case.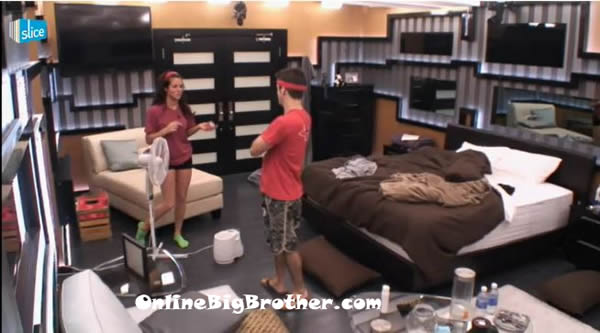 9:50am – 10am Big Brother tells Gary that he has now been awake for more than 24 hours, he has completed his task and can now go to sleep. Gary says thank god. They all say good night Gary. Andrew says you're not allowed to nap in the day! Dan says you did it! Gary says one out of four down! They congratulate Gary on staying up all night. Big Brother then cuts the feeds to the hush hush screen.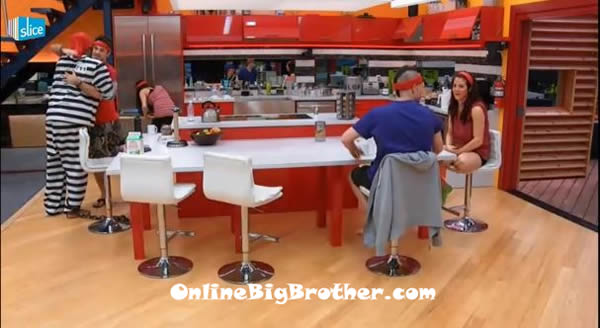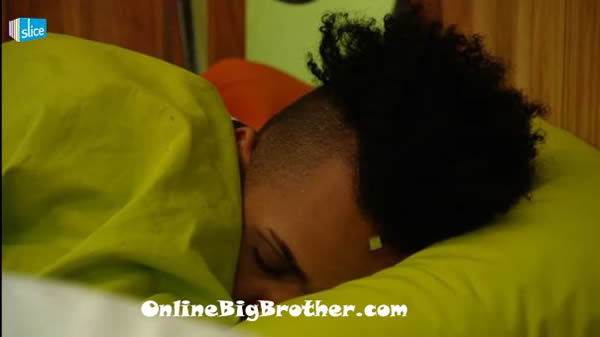 10:10am – 11am Dan and Jillian head out to the hot tub room. Jillian and Dan talk a bit of game talk before Andrew joins them. Talla and Emmett then join them and they talk about past events of their season and Dan's season. They leave the hot tub room for the pool. The conversation turns to talking about Emmett had $13,000 taken away from him at the border and the house guests discuss the backyard mural. Big Brother then switches the live feeds to the hush, hush screen.

11:05am – 11:20am Dan asks the house guests what they will do when they get out. Andrew talks about decompressing for a day and then going down to Florida for 2 weeks with his family. Emmett says that he is going to get started building a corn maze and haunted house for the fall. Big Brother cuts the feeds again. When the live feeds come back: Talla is talking about going camping and to Las Vegas. Dan then asks them if they have ever put an apple in the microwave for 10 minutes. Andrew lets the Jillian is now in the bathroom as the bathroom attendant for the next 8 hours. Emmett goes to check on her. He asks her why she would ever take this punishment. He then asks her what she has to do? She says she has to turn on and off the taps, dispense moisturiser, offer a mint, spray bathroom spray, etc. Big Brother then tells her to clean the mirrors.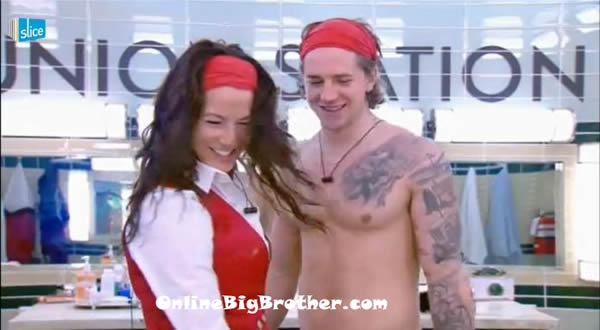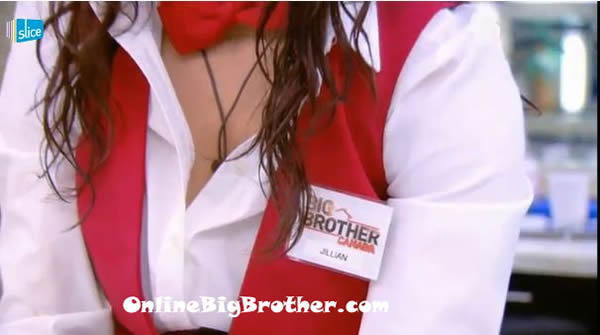 11:35am Andrew and Talla are in the kitchen talking about jury votes. Talla says that she isn't sure how the jury votes are going to go but that she won't cry about it when its over. Andrew says that he will forever talk about how much he disliked this twist. He says that Gary coming back .. now one of us will not make it to the final four. Andrew says unless we can convince Emmett .. which I am not going to do. Talla says we Gary is now in the final four. Andrew says well so is Emmett. Andrew says unless one of us are given the coup d'etat.. which isn't going to happen. Emmett joins them. The conversation turns to Talla wanting to get her motorcycle licence. She says maybe I should take my licence and if I pass and don't hurt myself then I will take that as a sign. Andrew leaves. Talla tells Emmett that like she said the other day she wants him to do what is best for his strategy. Talla says one of us is leaving on Thursday.. I just don't want it to be me.. When will you tell me? Do you know who is going home? Emmett says that he has a pretty good idea but that his mind isn't made up and there are still 4 days before he has to decide. Emmett says that he can't believe Gary is back and got a second life.. none of us get that. Talla says that she is going to watch her figure .. so she is going to watch her pop intake and workout. Talla leaves and Andrew joins Emmett on the couch. Andrew talks about how he tried to take all the punishments. Andrew says that it all still go according to plan. Can you believe being in the finals with Talla and Gary? Emmett says that Gary won't win no matter who he is up against. Andrew says that if it was Gary and Talla at the end he would have to ask a math question.. What is zero times ten? Andrew asks when Dan came in yesterday? Andrew says that he still hasn't had a talk with him. Talla comes back and Emmett leaves to visit Jillian in the bathroom.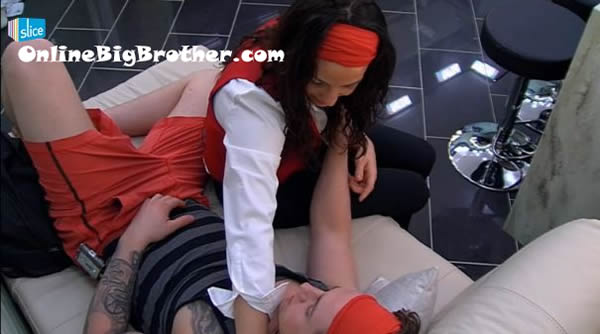 12:10pm – 12:20pm Big Brother wakes up Gary. (They only let him sleep fpr a couple hours.) Emmett and Jillian are in the bathroom. Emmett tells Jillian that he doesn't think Gary would take him to the final two. Emmett brings up how Gary said that he doesn't think the jury hates you and wouldn't vote for you. Emmett says you can just crush him in the jury. Jillian wonders if Dan gets to do something before he leaves, like have a hand in the HOH power. Emmett doesn't think so, the HOH power is something I earned. Andrew joins them and says remember when I was HOH and I got Gary out .. and then he came back. Jillian says that the conversations with Dan have sketched her out. Jillian asks Emmett what do you think his (Dan) duty is? Do you think he gets to eliminate one of them, rather than a double eviction this week? That would be pretty crazy. Or that he gets to give someone a special power. They talk about how Dan has brought up a few times if they found anything in the house or if anything showed up randomly.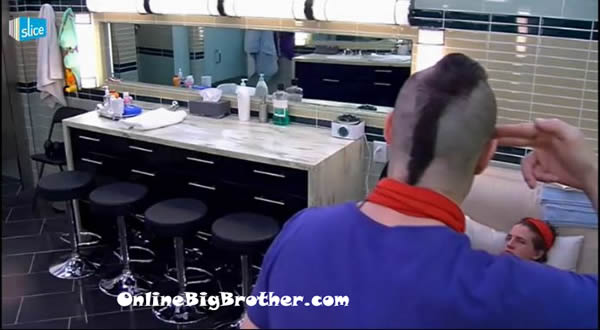 12:20pm – 12:35pm Big Brother switches the live feeds to the hush hush screen. When they come back Gary is in the bathroom putting on his make-up. Talla is in the kitchen eating. Emmett joins her. Talla asks Emmett do you have a final two with Andrew? Emmett says no. Emmett asks do you have a final two with anyone? Talla says in the beginning Andrew said final two but that was the beginning when everyone was saying final two. Talla starts talking about how she has to think about who she could beat in the end and that she has to think about winning and not just going for second. Talla says that she has been told that Andrew will win against everyone. Emmett tells Talla that he thinks he would have a good chance against her in the end but not as good of a chance with Gary.
12:40pm – 12:55pm Big Brother switches the live feeds to the hush hush screen..
Please consider donating. Simon and I work 24/7 all season long to bring you all the live feed updates and spoilers. ANY amount is greatly appreciated, your donations go directly to paying the server and bandwidth fees needed to run this site.
OnlineBigBrother.com
Stay connected and interact with other Big Brother Fans on our Facebook page.
And Follow: @BigBspoilers and @Dawgsbigbrother on Twitter for the most up to date spoilers.