POV Holder:
Andrew
Next POV
April 6th
POV Used
No
POV Ceremony
April 1st
HOH Winner:
ANDREW
Next HOH:
April 4th
Original Nominations:
Gary & Topaz
Current Nominations:
Gary & Topaz
Last Evicted Houseguest
Aj
Have Nots
Gary, Peter, Topaz, Emmett (used Slop Pass)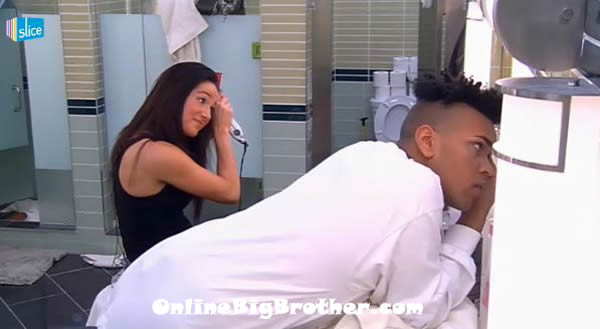 8:50pm Gary talks to Jillian in the bathroom about how he just saw Alec and Talla talking outside and they changed the subject to chicken as soon as he came out. Gary is worried because Talla will be the swing vote and if Alec is talking to Talla he thinks he is getting her to vote to keep Topaz. Jillian goes to the storage room with Emmett. Gary comes in and talks to them about how he hates the vote comes down to Talla. Emmett tells Gary to not fight with Talla then.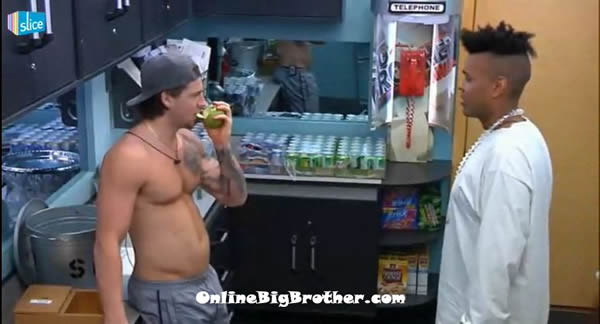 9:10pm In the kitchen: Peter, Alec, Andrew, Jillian and Emmett are talking about random things. Meanwhile: Talla and Topaz are out in the backyard talking about relationships. Topaz says that there was definitely a connection with Alec but as of right now I don't see a relationship with him. Talla says you had your fun all 42 days of it. Topaz says that she enjoyed the kissing and hugging and she is open to see what happens after.
9:45pm Emmett and Jillian are cooking in the kitchen while Andrew, Peter and Gary watch. Jillian is making chocolate chip cookies. Meanwhile Topaz and Talla talk about their favourite TV shows.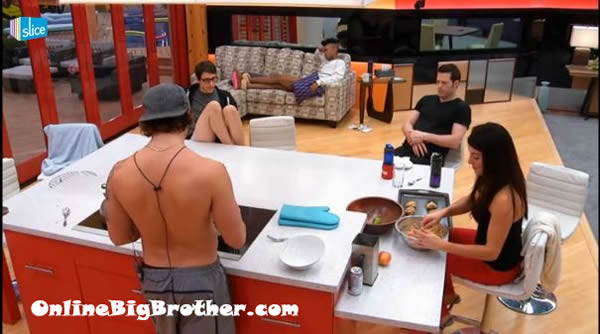 10:15pm Topaz and Talla are still talking. They are talking about dancing at clubs. Topaz talks about dancing on tables so that guys can't touch her .. she sings Can't Touch This Da Na Na Na. Meanwhile in the kitchen Andrew lays on the floor because he ate too much. Jillian asks if she can step on his belly. He says yeah, lets guess which end it comes out of? Andrew gets up and heads outside pretending he has a food baby. Emmett and Alec throw the football around in the backyard.
10:15pm Andrew and Talla go out to the hot tub room for a smoke. Talla tells Andrew about the conversation she had with Alec. She tells him that Alec told her that he thinks they have been tricked by Emmett & Andrew. She tells Andrew about how Alec wants Andrew and Topaz up on the block and how he asked her to be the sway vote to keep Topaz. Talla says that she tried to remain neutral and put it back on him. Talla says that he just wants to be covered on both ends.

10:30pm Alec and Topaz are in the bedroom. He is kissing her and says that he is still trying to figure out what they are. Topaz says that she thinks they are going full circle from Cuddlemance to Showmance to Brokemance and back to Cuddlemance. Alec, Topaz, Talla and Peter are all talking about going to bed soon.
10:35pm Andrew and Alec are up in the HOH room. They talk about whether or not Gary will get a twist to save him. They talk about how Gary isn't even worried. Alec says its just awkward to talk to Gary now because he keeps talking about plans for next week. Andrew says yeah like with Tom. Alec brings up how Topaz isn't even worried, she was having fun today. Alec says that he doesn't think that Talla told her because he asked her and she says she didn't. The conversation turns to talking about Aj. Andrew mentions that Aj really liked Topaz. They talk about the spin the bottle night and how Aj kissed Topaz. Andrew brings up how he kissed Topaz like 4 times that night. Alec says and I'm out of here you prick! Alec leaves. Andrew says and I am going to get your a$$ out of here … probably.. Andrew starts reading his letter.

10:50pm Talla and Alec go to sleep in the bedroom. Talla says sleep like the shirtless slop that you are.. Meanwhile out in the hammock. Emmett and Jillian are talking. Emmett wonders if they should send Topaz home instead of Gary. Jillian says that she thinks its time to get rid of Gary. Gary talks too much and he is stronger than Topaz. He has more confidence too. Emmett says I still think the only people we can trust are ourselves. He says that he trusts Talla more than Andrew. He thinks of this as more of a game and would put me up if he got the chance. Right now he wants to use me because I win comps. Jillian says I trust Andrew 70% and you 100%. Would you sh!t if I won HOH and put you up? Emmett says no. Jillian says she would never do that. Jillian talks about the cookies she made him. Emmett tells Jillian that he might not be able to find a girl that treats him as good as she does. I like that you like to cook. We just got to win tomorrow. Jillian says she doesn't even want to talk about it because every time we talk about it we don't win.

11pm – 11:10pm Emmett heads up to the HOH room to talk to Andrew. Emmett asks what he talked to Alec about. Emmett wonders if they should tells Alec that they are thinking of getting Topaz out tomorrow just to see what he says. Andrew says no, because we don't want to arise suspicion. Andrew talks about how he trusts Talla 100% … he says she is in the best position because she is in the middle with both sides of three wanting her. Andrew brings up the possibility of a twist and says fu*k you Alec I will twist you up and out of here. Andrew says the whole relation ship thing really chaps his a$$… not to mention that he already has 10 Grand. Emmett says that the worst thing would be for Alec to put both of us up together. Andrew says yeah but he is probably too much of a wimp to put us up. Although there aren't many choices left to go up. Andrew talks about wanting to break up Alec, Peter and Topaz. Emmett heads downstairs to go to bed. Emmett talks to Topaz in the bathroom about her going to bed now. Emmett then heads back up to the HOH room to talk to Andrew.

11:20pm – 11:35pm Emmett and Andrew continue to talk up in the HOH room. They wonder who to put on slop if they get the choice. Andrew says not to put Talla or Jillian on slop because they're psycho on it. They also wonder if Canada will get the choice on who to put on slop. They recount the events of the house and how they got to where they are and why Tom got evicted. Andrew comments on how usually strong guys like Emmett are targeted early. They continue to talk about Tom. Emmett says it would be interesting to come back and watch your season and see where you went wrong. Andrew says that Emmett could improve his social game. He gives Emmett a couple of instances of where he could have acted different. Andrew says that if he could do anything different he wouldn't have aligned with Aj… just kidding. They comment on how they won't take things personally after the season is over but some of the others will. Emmett gets called to the diary room. Andrew says that he is going to sleep.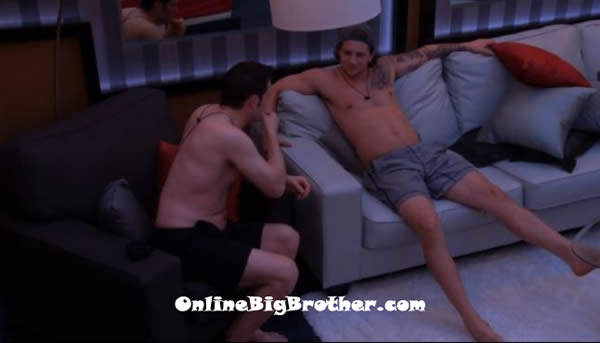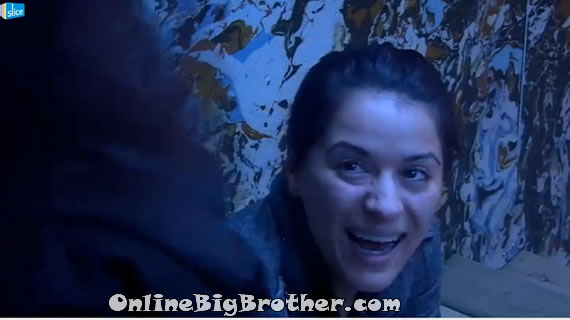 12:00AM Talla and Topaz Talking about how hard it is to sleep.. General chit chat
[polldaddy poll=7012892]
OnlineBigBrother.com
Stay connected and interact with other Big Brother Fans on our Facebook page.
And Follow: @BigBspoilers and @Dawgsbigbrother on Twitter for the most up to date spoilers.