POV Holder:
Cody
Next POV
Aug 30th
POV Used
?
POV Ceremony
Aug 25th
HOH Winner 1:
Cody
Next HOH
Aug 28th
Nominations:
Donny & Nicole
Have Nots
Donny & Nicole
POV Players
Donny, Nicole, Cody, Frankie, Derrick, Christine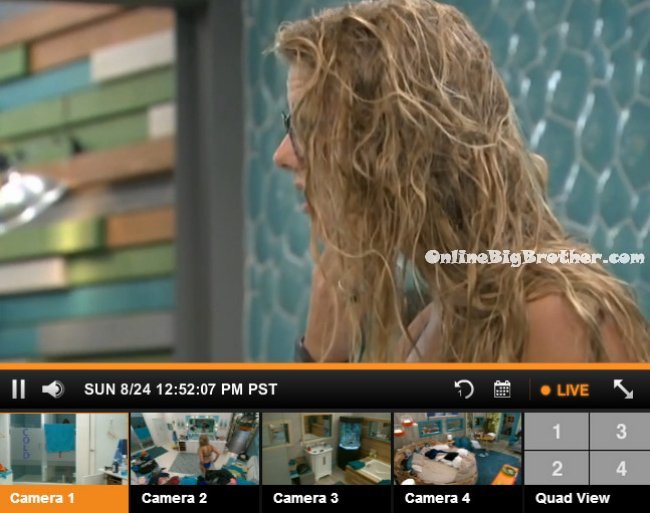 12:30pm – 12:50pm Big Brother blocks the live feeds. When the live feeds return – Big Brother has woken up the house guests for the second time. Nicole and Christine are getting ready in the bathroom. Nicole comments on how her face it breaking out. I have huge boils on my neck. Its something in this house because I was clear in the jury house until I came back in here. Christine says her too. Have you seen my forehead I have a star constellation. Even Donny is getting pimples and he's never had them before. Victoria joins them. Nicole heads out side. Victoria says they literally hate us on Sundays. Christine says I know they did that last Sunday too.
See what they can't show you on TV! -Try the Big Brother 16 live feeds for FREE!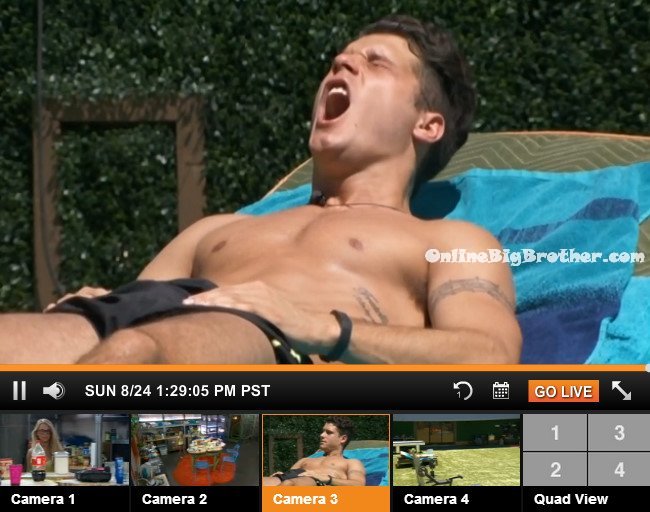 12:50pm – 2:10pm Meanwhile –
Cody heads out to the backyard to suntan by the pool. Nicole joins Cody by the pool to do her makeup. Big Brother says Cody please go to the diary room. Cody asks are you f**king me!? Son of a bee sting! Cody heads inside. Big Brother tells Victoria to put on her mic. Cody says Hey Victoria its Day 65 get with the program! Victoria laughs and says so harsh! Cody joins Nicole again. Cody says I wish I was a super genius. Cody says I was getting paranoid that I wouldn't feel normal after this. Nicole says its easy. Once you leave and take your mic off you feel normal. Frankie and Christine join them in the backyard. Nicole says I want to get in the pool but I just took a shower. Cody says it not like the pool has any chlorine in it. It's just straight water and pee from when Christine peeing in it. Cody says you disgust me Christine! Nicole heads inside. Cody says paper b***t! I can't believe Derrick called me immature last night because I said that. Cody says I'm not going to talk any smack today and watch how much he talks to me! Except calling him a paper b***t! Then thats it. No I'm not going to say anything just watch. He was being a grumpy pants! He might be getting a little grumpy on us. Christine says grumpy grandpa coming through. Cody says going to get a good workout in and get swollen as F**K! Cody says these black shorts are attracting the sun. Christine asks is your Pee-Pee on fire?! Cody says yes! Christine, Nicole, Cody and Frankie talk about scary movies. Nicole says her fave is Texas Chainsaw. Cody asks why do you like ones with so much blood. Frankie says I drink blood for breakfast! Christine says prove it! I'll slice myself open right now.. you drink it! Frankie says I didn't say I drink your blood for breakfast. I drink Cody's blood and it doesn't come out of his neck! Frankie tells Donny about the BB Broadway. Donny says please don't say I'm playing Brittany. Frankie says you're going to play Jocasta. Maybe they'll let you shave your beard for it. Victoria comes out and Frankie says there's been a casting change .. you're now Jocasta. Victoria says no F**K that! EWWWw.. NO! She's boring! Christine says its just Joey has so many facial expressions. You need to step it up! Victoria says okay! Donny says that's the thing I don't want to misconstrue anything by playing Jocasta because she's a friend. They head inside to marinate havenot tofu for the BBQ.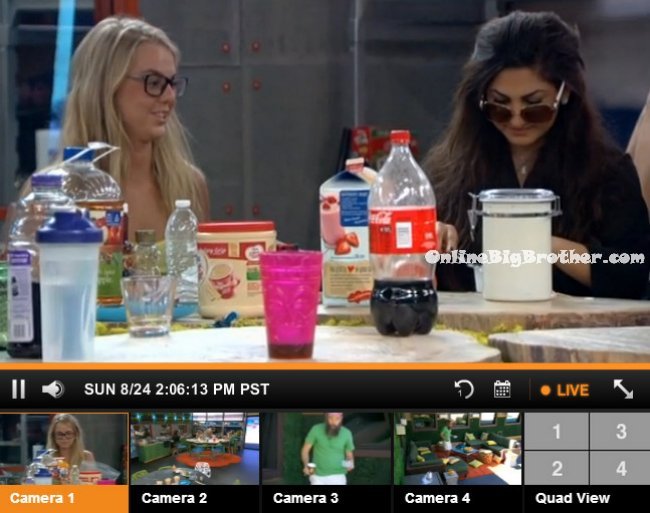 2:20pm – 2:40pm
Donny says if I'm Jocasta I will just be nice. Frankie says well we are definitely going to be mocking them. Donny says I would mock Devin. I've got a lot on him. Frankie says okay perfect. Derrick will be happy. Frankie says we could start in the living room. Donny says we could do everyones exits. Christine asks I forget who's Brittany again? Frankie says big t!ts! Christine says no who's playing her? Frankie says Caleb, we'll have to get him grapefruits. Frankie says Christine when you do Pow Pow you have to make sure your vag!na's out. Frankie says I'll do Amber after her date with Caleb.. AHH.. absolutely not. Frankie asks Victoria do you want to do Amber and I'll do Joey?! Victoria says yes, because I make fun of her in the diary room all the time. Frankie says we'll do diary room sessions and someone will be Sarah or Amy and ask us questions. Frankie heads inside and tells Cody that Victoria is playing Amber .. And she's got it down pat! Apparently he's been making fun of her all season. Frankie says Derrick is now Jocasta! Cody says oh Derrick is going to be so pissed! Christine says Donny didn't want to be Jocasta because he didn't want to make fun of her… I'm like its just for FUN! Frankie tells Victoria I'm going to ask you about Caleb. You should say the complete opposite like I love Caleb. Victoria says I'll be like why is Cody getting all the attention .. I'm the model he should be chasing after me. Frankie says perfect!
2:45pm – 3pm Victoria, Christine, Cody, Donny and Nicole are out on the backyard couch. Cody brings up how Caleb said when I go to Texas he'll take me to this one club where we would be the only 2 white guys in there. He said I'll stick out like a sore thumb and people will want to kill me. Cody's like why would I want to do that!? They all laugh. The conversation turns to talking about the BB broadway again.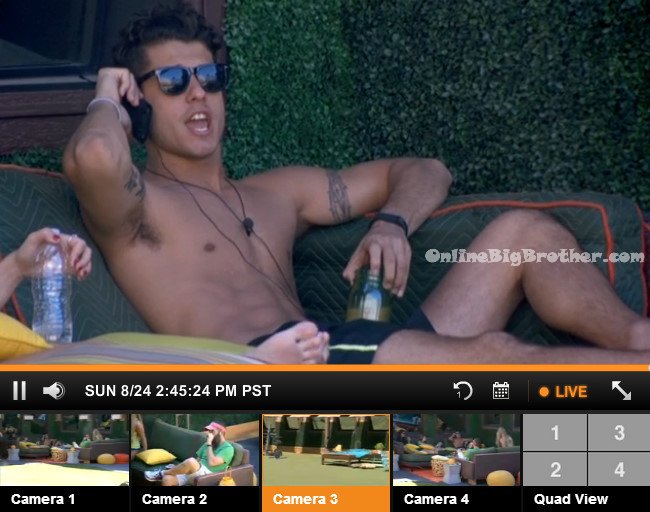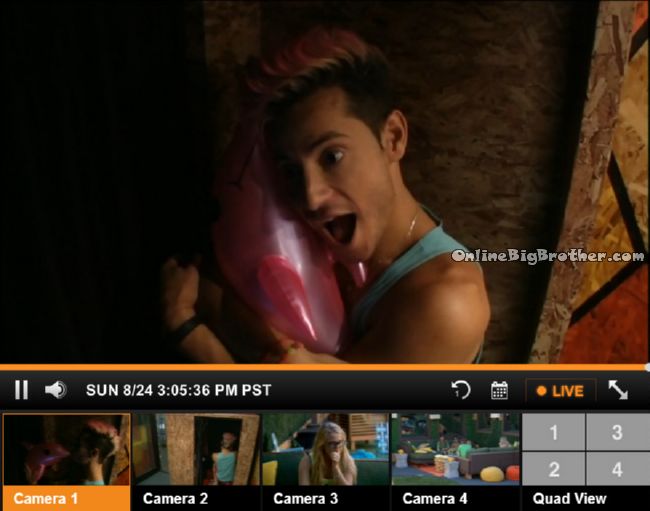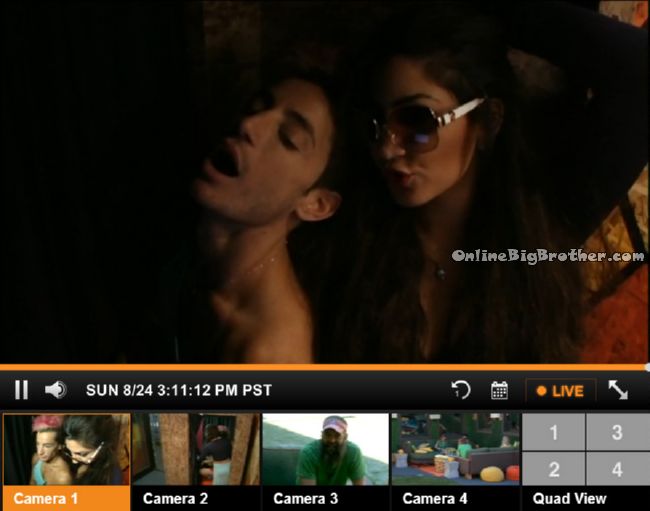 3:15pm Photo booth is open..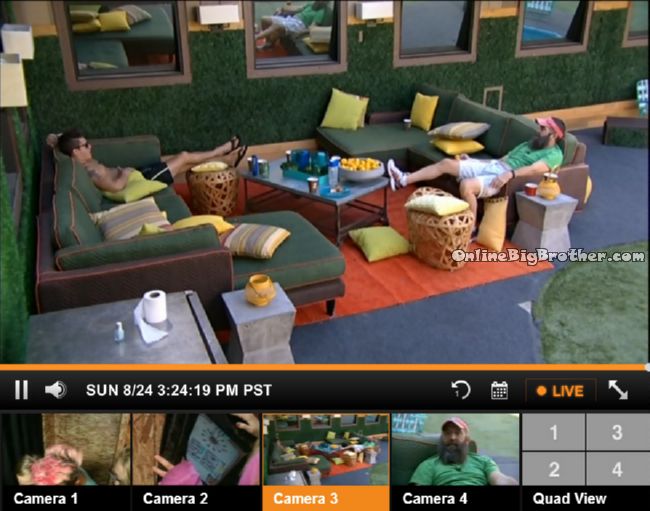 3:23pm Donny and Cody
Talking about the TV show Scorpions, Donny and Cody both really enjoyed it a lot.
Donny – it had enough going on it could have been a movie.. that was a expensive show.
More polls here https://www.onlinebigbrother.com/big-brother-compendium/big-brother-16-polls/
[polldaddy poll=8263785]
[polldaddy poll=8260325]
[polldaddy poll=8261457]