| | | | |
| --- | --- | --- | --- |
| POV Holder: | ? | POV Used | ? |
| HOH Winner | Caleb | Nominations: | Frankie and Victoria |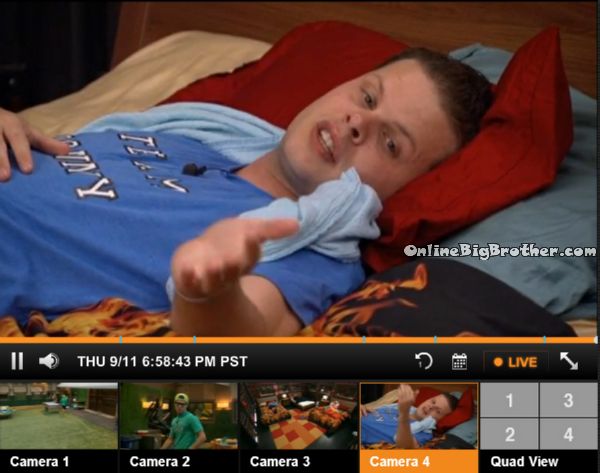 6:58pm FIRE ROOM Derrick and Frankie
Frankie says him going on the block is an ego thing for Caleb Frankie doesn't think Caleb as any intentions of sending him home. Frankie adds that Caleb did the same thing about with Amber.
Victoria joins them.
Frankie says he's not going to study much now that he knows the POV isn't tonight. He's thinking about getting some rest. The POV won't start until late tomorrow so he can study then fully rested.
Victoria says she doesn't feel good she's going to bed early. Derrick says he's never gone to bed early once while in the house he doubts he will tonight. Frankie asks him to keep the action away from the Fire Room so he can sleep.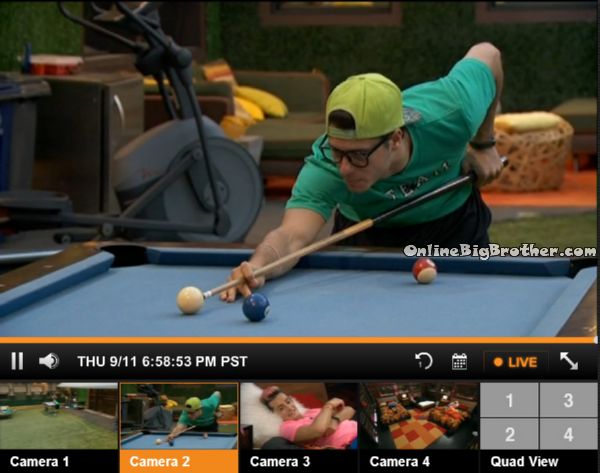 7:04pm Pool table Caleb and Cody
Caleb telling Cody one of you Jamokes better win the veto tomorrow
Cody – Why don't you win it.. back to back..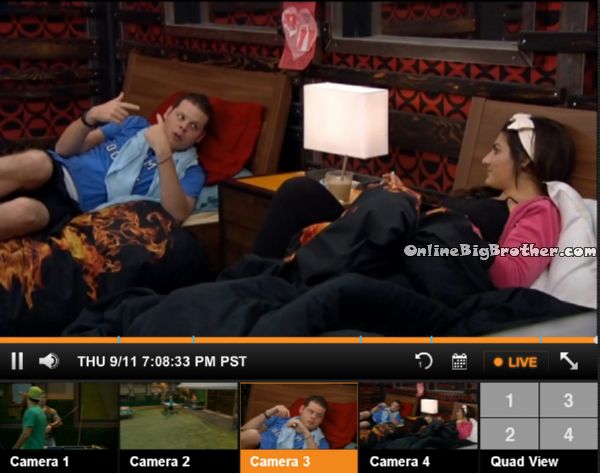 7:08pm Derrick and Victoria Fire Room
Derrick – I keep telling him you're safe you're safe you're save if I win that Veto you are going home
Derrick tells her Cody wants Frankie gone to so as longs long as one of them three win the POV Victoria isn't going home.
Victoria says she cannot stand Frankie when he's so paranoid
Derrick – lets see how he does in this game when he's on the block.. he's super smart though.. super smart.
Victoria says Frankie is 100% pissed about the button and the money.
Derrick – I really genuinely wanted to see one of the people that haven't won any money to win it.
Derrick says Frankie and Cody both have money he really wanted Victoria to win it.
Victoria says Hayden should have been kissed her feet for being there for Nicole when she came into the house. If is wasn't for Victoria Nicole would have been a wreck. Instead Hayden was rude to Victoria – "Hayden should be kissing my feet for giving her the time of day"
Victoria – Zach is such an a$$hole.. Cody is obsessed with him.
Victoria says someone carved out her name. Derrick tells her to just carve it again. Victoria is but she thinks it's really evil for someone to do that.
VIctoria says the only people that didn't like her enough to do that are Zach and Christine.
Derrick says F*** Christine she's a nobody that is why he sent her home
Caleb comes in briefly, Victoria – who are you looking for
Caleb – Nothing.
Derrick leaves to study.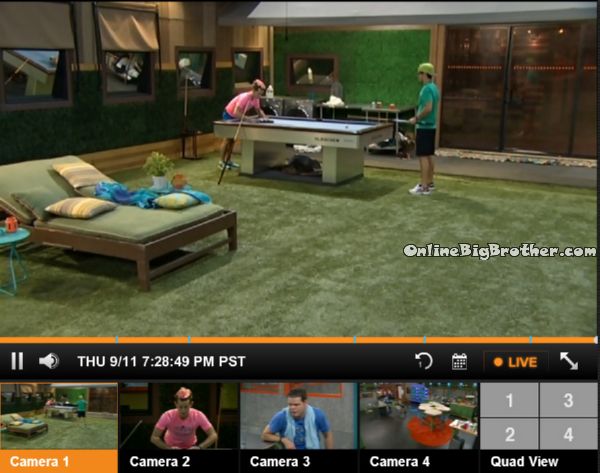 7:20pm Pool table Frankie and Cody
Frankie brings up Caleb's Nomination speech where he said he was the king.
Cody says he's won few competitions and has more pull than Caleb, Frankie says won a lot of comps and has way more pull than Caleb. Cody figures there's a person like that every season.
They start complaining about Victoria winning the money.
Frankie would have liked a heads up from Caleb.
Cody can understand that says Caleb really didn't have a reason for Frankie over Derrick or Derrick over Frankie.
Frankie – it was his ego.. which I understand.
Cody – go in there and CRUSH it if you don't you are safe..
Frankie points out that nobody has put Derrick on the block.
Frankie knows Caleb is going to try for that Veto like his life is on the line "He wants it.. he just wants it"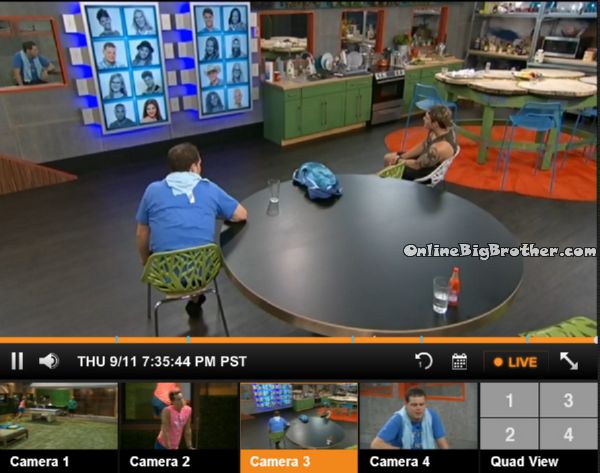 7:36pm Derrick and Caleb Memory wall
Talking about America's Favorite which is consuming Caleb more than Amber did. Derrick says if Him or Cody win the POV it means the three of them are going to final 3. Caleb says same if he wins the Veto.
Caleb seems pretty confident says he's got everyone's faces down.
Caleb – I hope he (Frankie) gets drawn first.. that way when his time is revealed we'll know"
Derrick – they are smart they f*** with us
Derrick says if Frankie threw that HOH he's dumb, "If he losses tomorrow he's going home.. DUMB"
7:59pm Caleb and Frankie chasing each other in the backyard. Their wrestling spills into the kitchen.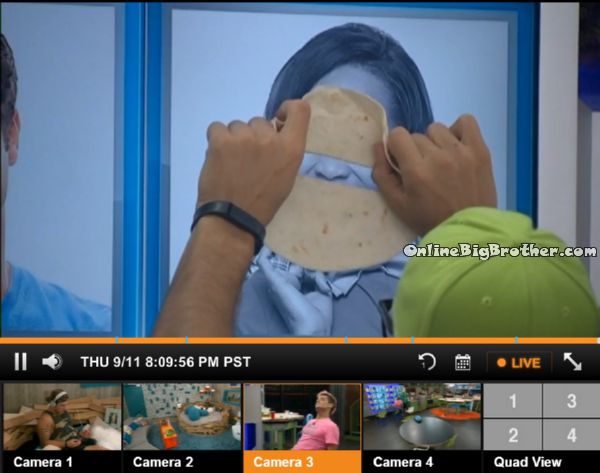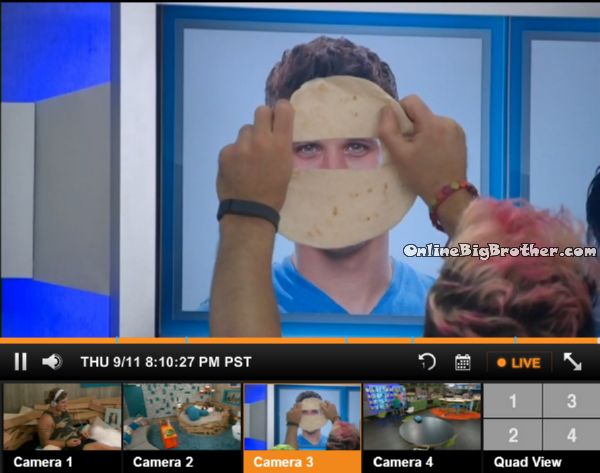 8:11pm Cody and Frankie studying. Victoria joins them says that none of the Memory wall pictures have been "photo-shopped"
8:21pm Pool Derrick and Frankie Frankie thinks Caleb would use the veto on him if he won but he doesn't think Caleb will win it it will be either him or Derrick. Frankie wishes Caleb had just kept the noms the same. Derrick thinks Cody and Caleb are Cool together every since that one night they got drunk. Derrick says if any of them take Victoria because they thinks she's a easy win he's giving Victoria the money, "That is a literally coward way out"
Frankie – Cowardly.. I think not sending her home this week is cowardly"
Derrick says when the jury members see the season they won't think he's a bad guy.
Frankie thinks production "egged" Caleb on to nominated him. Derrick says it's possible it's making for good TV. Frankie adds that him being nominated is the best thing that could have happened for the show's excitement.
Derrick says this is a heavy weight title match.. and he took a shot at you
Frankie – that has been the story for weeks..

8:41pm Frankie "I just think what Caleb did today was a dick move.. Why didn't tell me.. and he didn't tell you "
Derrick – no.. I was with you the entire day..
Derrick adds that he thought there was a chance he would go up.
Frankie says out side of this house he would not be able to take Caleb. His friends are probably thinking "Oh My GOD"
Frankie says in his soul he though he was going up because Caleb doesn't like to play second fiddle to any one "His Enormous Ego"
8:58pm Frankie says what Caleb did to him will hurt him with public perception.
9:07pm Caleb, Derrick, Cody and Frankie they mention how Victoria is CRUSHING the memory wall. Caleb thinks it's going to mess her up studying so much. They get a holla from Jocasta. Derrick mentions how it's obvious that Jocasta hates them all from how she acted today. Derrick asks Caleb isn't Forgiveness a major part of the religion.
The Live Feeds are archived. You can go back and watch everything that happens
Try It Free! Subscribe now to the official BB16 Live Feeds