POV Holder:
?
Next POV
Aug 23rd
POV Used
?
POV Ceremony
Aug 25th
HOH Winner 1:
Cody
Next HOH
Aug 28th
Nominations:
 ?
Have Nots
Donny and Nicole
POV Players
?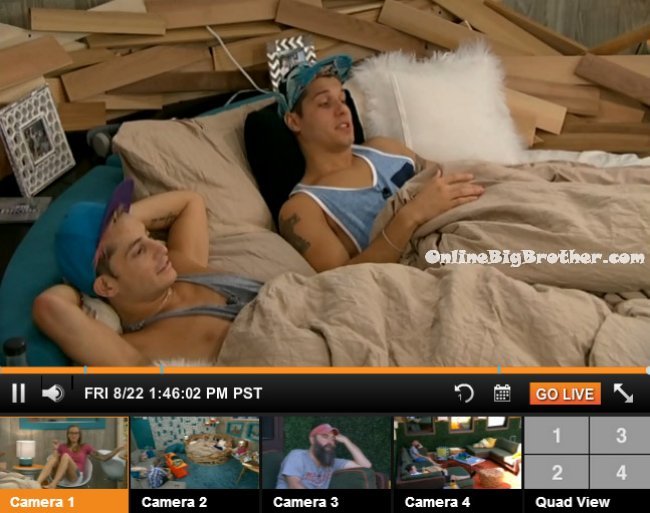 Take Advantage of the FREE 2 day Trial to watch all the drama!
1:45pm Up in the HOH room – Caleb, Frankie, Cody and Christine are talking about Hayden and Nicole hooking up in Jury. Cody says I love that they hooked up. When she was telling us about it I was like GOSSIP.. YES, I want details. Frankie says I want details like did she suck his P?! Christine says no I don't think so. Cody says I don't think anything like that! Cody says I can't believe they don't even have camera's there. Christine says doubt he even copped a good feel. Frankie asks really? Caleb says no, I bet she didn't. Cody says no chance. Frankie says that's so crazy that they are like together! Cody says yeah they said they aren't going to hook up with other people. Frankie says I bet they got more air time last week than we did! Caleb says I bet they make it on Amazing Race before us because they're a couple. Frankie says we're a couple! Big Brother blocks the feeds.. when the feeds come back – Frankie says if he (Donny) is here next week I am going to put him up again. Caleb climbs in bed with Cody. Caleb looks at the camera and yells CODY CALZONE AND BEAST MODE COWBOY UP IN THIS MUG!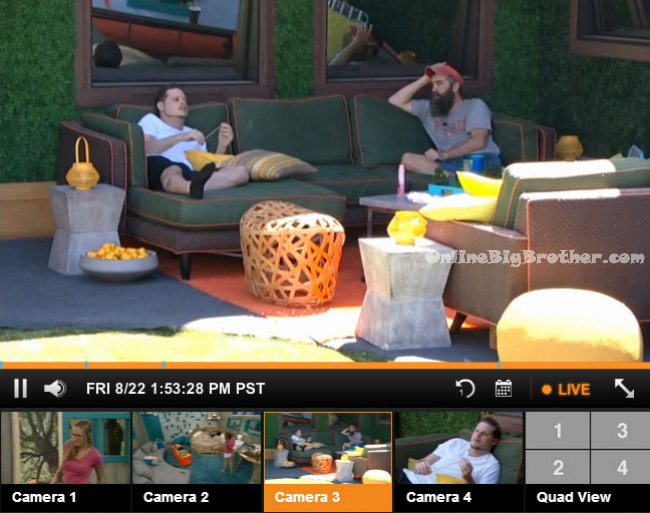 Out in the backyard –
Derrick says I am torn because you are an easy target but contrary what you might believe it is in my best interest for you to stay here because I am not in with anyone in here. It's hurtful that I've heard multiple times that you want me out. I am torn and you'll see when the show airs When you said a few weeks ago that you were aren't here for team america you're here for Donny Thompson .. on some level I respected that. Derrick says it's been eating me alive but I'm glad I've said it. Derrick tells Donny that Nicole is going to campaign against you again. She said she wasn't going to last time and she did and I told you that. Derrick says I don't know if you've ever heard Derrick is plotting against you and if you have you've never told me about it to be able to confront it.
2:20pm – 2:30pm Christine, Nicole, Frankie, Caleb and Donny are out in the backyard talking. The conversation turns to the new Obama medical care introduced. Christine says he knows people that their medical went up $350 a month. Frankie asks them all if they've been tested and they all say yes. Frankie says I get my blood drawn ever 2-3 months for STD's. It's a part of my regular life. Frankie says Zach said that he has NEVER been tested for STD's. Its so weird because its just a part of my culture. Christine says that's awesome. Its so crazy that its not part of straight culture.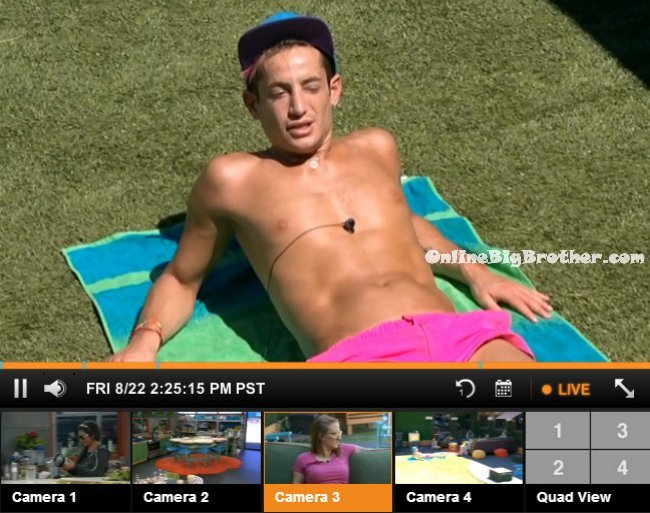 See what they can't show you on TV! -Try the Big Brother 16 live feeds for FREE!
2:35pm – 2:50pm Derrick heads up to the HOH room. Derrick wakes up Cody. Derrick says Nicole is a F**KING LIAR! We both know that! She's a liar! She will come to us eventually. There is no doubt that her and Hayden had a long conversation about not trusting us. Christine is playing a great game. .. Na not a great game but she is playing hard. She's got to go. You don't throw a comp until after the threats are gone. Bullsh*t she threw it, she just isn't as good as she says she is. If Donny stayed and won HOH she would be up here telling him to send us out. She wouldn't defend us. If there wasn't a buy back this week it would have been Donny and Frankie up but we can't do that this week. If Nicole wins next week will she put us up .. its possible. Cody says I will tell Nicole that with the buy back you got a second life .. go out there and kill it in the veto. With Donny I will tell him something you don't have to have a lot of intelligence about is respect .. Some of the comments you've made have shown me absolutely no respect. But something I did learn when I was younger is to always respect my elders so I am going to continue to show you respect even though I haven't been getting it back. Your chocolate was pulled again this week. Cody tells Derrick about how Donny told me I have his vote but I wanted to stop him and tell him that he had just said that to Caleb a day ago. Cody says I told Nicole to keep her mouth shut this week and that Donny is going home unless she starts stirring stuff up. Derrick says Donny said looks like I'm in trouble this week.. So he knows he's going up.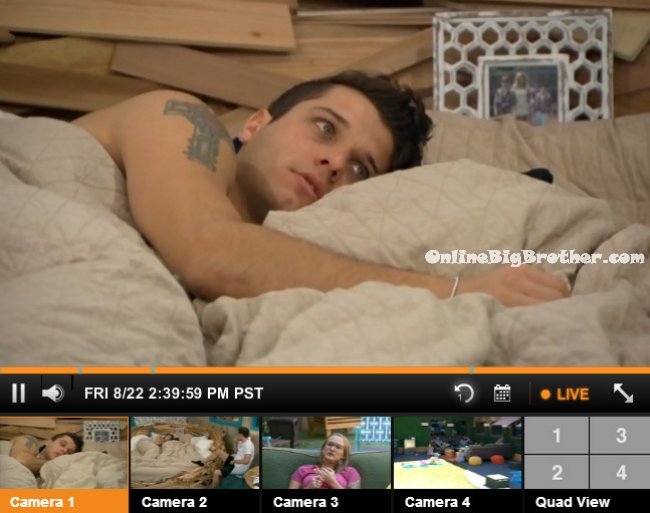 2:50pm Big Brother blocks the live feeds for the nomination ceremony to take place.. No surprises .. Cody is nominating Donny and Nicole.
3:30pm Still blocked showing live feed highlights..
Alliances
"The HITMEN" – Cody & Derrick
More polls here https://www.onlinebigbrother.com/big-brother-compendium/big-brother-16-polls/
[polldaddy poll=8260325]