POV Holder:
?
Next POV
Aug 9th
POV Used
?
POV Ceremony
Aug 11th
HOH Winner 1:
Nicole
HOH Winner 2:
Christine
Battle of the Block Winner
 Frankie/Ca;eb
Next HOH
Aug 15th
Original Nominations:
Nicole's Noms (Caleb & Frankie) Christine's Noms (Zach & Donny)
Final Nominations:
?
Have Nots
?
POV Players
?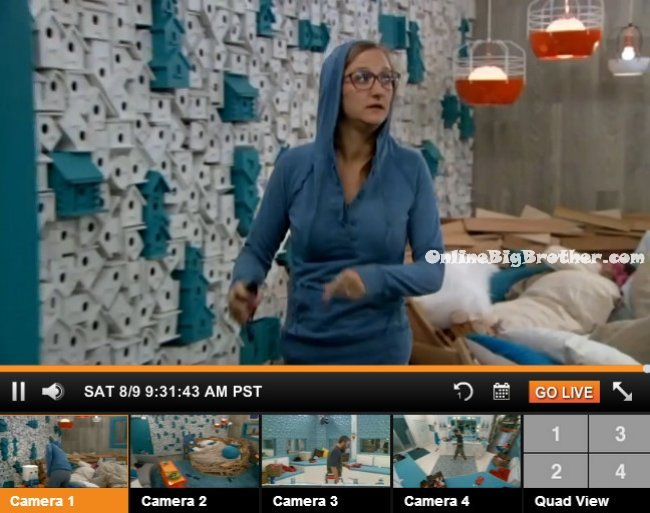 Take Advantage of the FREE 2 day Trial to watch all the drama!
9:30am – 10:15am Big Brother wakes up the house guests. Donny is awake pacing around the kitchen eating. He then sits in the living room and then heads back to bed. Up in the HOH room – Christine and Frankie are talking. Frankie says I'm going back to bed until they call me. Frankie asks are you getting Victoria to host? Like I mean I think you should. Or Nicole. Christine asks if neither of them have hosted? Frankie says neither of them. Frankie goes to sleep and Christine is the only House Guest awake and getting ready for the day.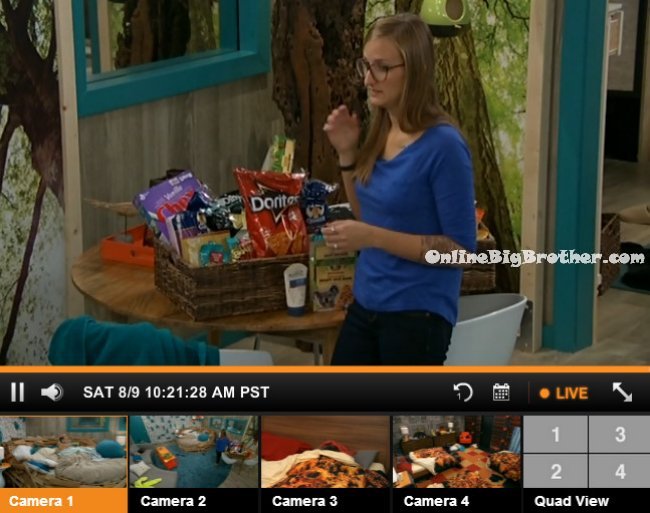 10:25am – 10:40am Up in the HOH room – Christine and Frankie are talking. Christine laughs and says he is going to attack me so hard. Frankie says don't worry I will stand next to you. Christine says thank you. Sorry house that I didn't ask for alcohol. Frankie says I wonder if we get to interact with other humans. Christine says you mean other than football players. Frankie says I'm sure we get to see something. Christine says like bilboards in the limo. Christine says I am scared about what we will miss when we're gone …like everyone forms a 6 person alliance. She doesn't know how to bite her tongue. Frankie says she said she would rather kill herself than work with Victoria. Umm okay well go ahead I guess. Frankie says Caleb is the most important player. All we need to do is pull the Amber trigger. Christine laughs about about how they were talking about Amber. Christine says I have never met a more immature, sad 23 year old (Zach). Christine says Zach has played in a lot of competitions and never won. He is not that good. Frankie agrees. Christine asks am I a crazy villain now? I'm confused. Nicole says that Hayden didn't get that big of an applause. …I bet that was because he attacked you. Frankie says I can't remember I was in flight or fight mode. Christine says I can't believe I won an HOH. Frankie says that Caleb is now campaigning for me. Christine says he is so stupid, in a good way. Frankie says he is calming Zach down for me. Its amazing he hasn't had more outbursts at me. Frankie says okay I'm going back to sleep.
See what they can't show you on TV! -Try the Big Brother 16 live feeds for FREE!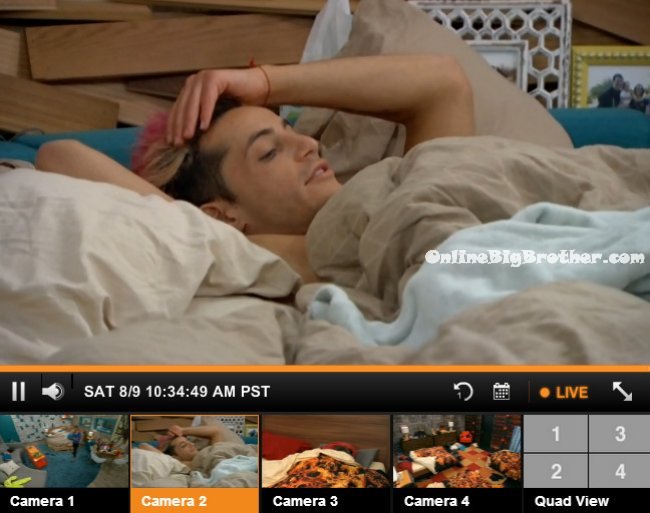 11am – 11:20am Christine heads downstairs to eat and then sits in the bee hive room alone. Nicole wakes up and heads to the bathroom. Christine leaves the hive room to join her. Nicole says just so you know I am trying to feel out Cody for information for you. Christine says he never asks me about you but I think he's too scared to talk to me after everything. Nicole asks really? Nicole says Frankie thinks you and him are best friends. Christine says and its annoying!! Nicole says I think everyone feels bad for you that he's up there with you. Christine says you know how you were sad the other day when you found out who his sister is… imagine me I found out and now I am trying to get him out. Nicole says that Zach is pissed about Frankie saying he's donating his money to kids in Africa. He was going off to the point that Cody had to tell him to get out of here. He said in the end he would vote for Frankie and thinks we all would too if he was in the final 2. He is PISSED! He was like he already has $25G's in his pocket for fan favorite. Zach wants him out. I don't know if Zach is going out this week though.. Christine says so much can happen. Frankie joins them to get ready for the diary room.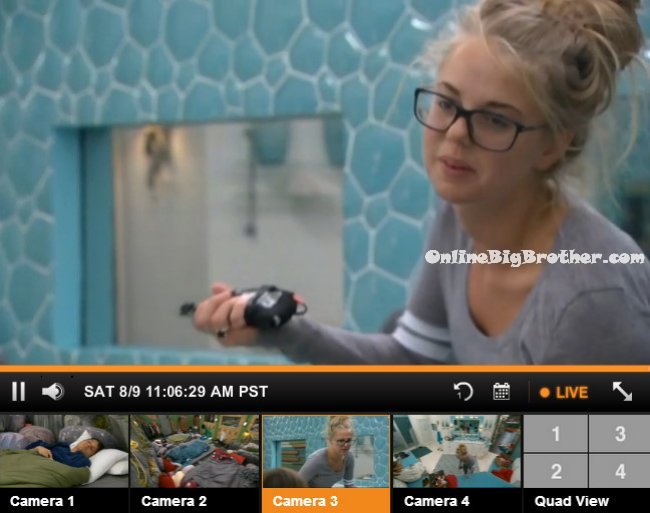 11:25am Frankie asks are we good for awhile now?? Nicole says I hope so .. it makes a lot more sense now as to why you were acting so different. I didn't want to make it up in my head as to why. Frankie says I feel like I can start a new. Nicole says that in the end it doesn't really matter because America see who we really are. Frankie agrees. It was liberating to not have any responsibilities or answer questions about who I am. Nicole asks questions like from us? Frankie says No like from you, like normal people. I never get to hang out with people without them knowing who I am. It was nice to take a time capsule back to two years ago. Nicole says I am glad I didn't find out you were donating to a charity because I never would have put you up. Frankie says yeah I didn't want to tell anyone. You can come. Nicole asks to Africa? Frankie says yeah.. I can't wait to see Victoria lugging cinder blocks. Nicole asks did you already go to Africa? Frankie says yeah 10 times, and I can't wait to go again. I've gone twice a year for the last 5 years.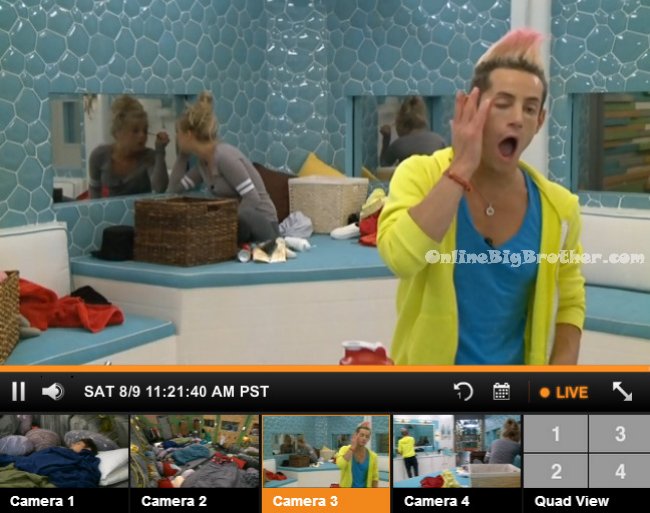 11:35am – 11:55am Christine tells Nicole about how Frankie said that now he has Caleb campaigning for him. Nicole says that Caleb said he could be gone next week. I think everyone is confused about how they feel and as long as Zach stays mad about it .. Christine says it just sucks if he goes up again he could be safe again with battle of the block. Nicole tells Christine I don't want you to go up at all.. I would never put you up at all. If you and Frankie were up it would be scary because if they can't get him out you would be then next target. Christine says you can say that I was actually sad when Frankie won.. so you can say that. Nicole says I will and I think people are starting to see that. Frankie does like you though to the point that he would try and take you far. I was talking to people last night and they want to pretend like Frankie never told them that. He didn't even admit to the lies and things he's pulled. Nicole says that its great that he can give away to charity but that just shows he doesn't need the money. He put his sister up at a level with Beyonce and Rihanna. Nicole says I just can't let him win. Who do you think he would put me up against? Christine says I think he would put you up against Victoria? Christine says I need to distance myself from him. Nicole says I think you are. Christine says I don't even like him as a person. Nicole says I liked him more when he was lying to us than today. Nicole says it is going to get tricky with us hiding working together and even us talking to Cody. Moving forward I didn't know if it would be good to establish something especially since you can't play next week. Christine says I think Cody really likes us. Cody and Derrick. Nicole says that's the two I was thinking. Christine says I want you to know if you are up against Cody or Derrick I will vote for you to stay… and the others are obvious. Nicole says okay thank you. Christine says we should talk to them later today. They continue to talk about Frankie donating the money and how it shouldn't even be a consideration for people.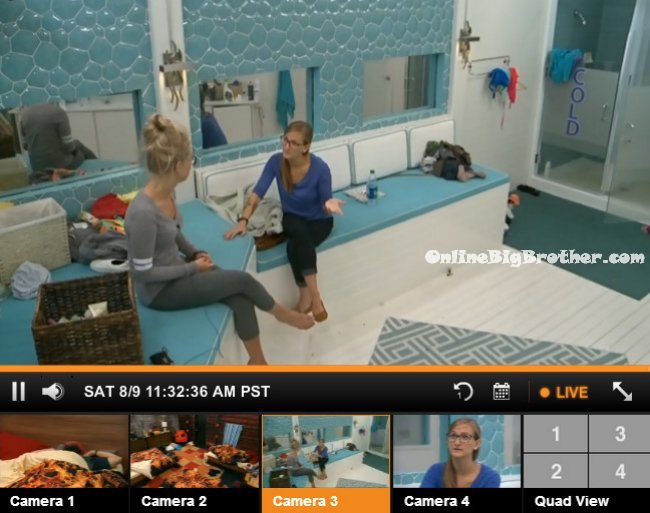 11:55am – 12pm Christine asks who should I pick to host the veto? There are two people that still haven't done it. Do I pick Nicole because she won HOH with me. Frankie says I think you should pick whoever you don't put on slop. Donny joins them. Frankie asks are you going to win the veto? Donny says I need to, so I hope so!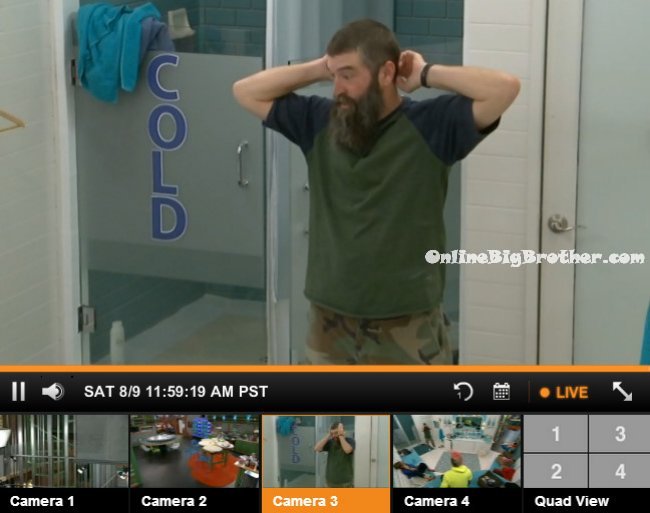 Alliances 
"The HITMEN" – Cody & Derrick
Team America = Donny, Derrick, Frankie
More polls here https://www.onlinebigbrother.com/big-brother-compendium/big-brother-16-polls/
[polldaddy poll=8233586]