POV Holder:
?
Next POV
Aug 9th
POV Used
?
POV Ceremony
Aug 11th
HOH Winner 1:
Nicole
HOH Winner 2:
Christine
Battle of the Block Winner
 Frankie/Ca;eb
Next HOH
Aug 15th
Original Nominations:
Nicole's Noms (Caleb & Frankie) Christine's Noms (Zach & Donny)
Final Nominations:
?
Have Nots
?
POV Players
?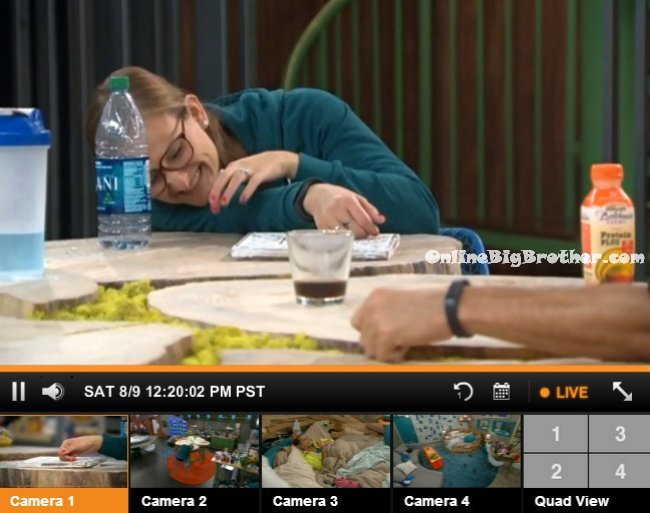 Take Advantage of the FREE 2 day Trial to watch all the drama!
12pm – 12:25pm In the kitchen – Cody, Christine, Frankie and Donny are in eating and chatting about random things. Cody is talking about getting paid to go to parties to dance. Cody says that when people call the house some people ask for the really attractive white kid. There's me and my brother and some times they ask for us to come together so we can ask for raises. And we found out that we are the most requested. Frankie says it depends on if its the husbands call or the wives. Cody says exactly. Christine says Cody's tearing families a part just for his dancing. Cody says that some husbands have told me to get the f**K away from their wife. Get the F**K AWAY! And I am like you are a loser because I am working. Christine asks how long are these parties? Cody says some times 3 or 4 in the morning. Christine says I didn't know that Jewish people were like Mexican people?! Frankie says I hate you for that statement. Christine says in terms of their party tactics. White people have the most boring-est parties ever! Cody says you Jews holy crap! Nicole joins them.
12:30pm Christine and Nicole talk about how she doesn't like Frankie sleeping up in the HOH room with her. Nicole says you know why he is sleeping up there with you, so he can stay close to you. Nicole tells her to tell him that you sleep better in the rock room than in the HOH room. Christine says I don't like being secluded up there. Christine says that when she picks havenots she'll pick Donny, Zach and Victoria.
12:35pm In the bathroom – Cody says so we're going say that Zach wanted to go up to throw it. Derrick says but Nicole didn't trust him and that's why she put up Caleb. Derrick says two of us giving the same story gives it that much more validity. I don't want to throw Zach under the bus but some times there are casualties of war.
In the living room – Nicole tells Donny I really miss Hayden. Donny says yeah that's why I went back to bed. Nicole says I feel like I could cry all day. I didn't realize how much he strengthened me. Donny says yeah he was lots and lots of fun. Donny says that Derrick has Victoria in his pocket. There are four that are super tight and Cody is one of them. Donny says there are people that are close Frankie, Christine, Derrick and Cody and its been like that the entire game. Nicole says they might backdo*r me this week. Donny says I am up there so I might be gone. But its better out there than it is in here. Donny says I think they'll go down to the end to the four and let the chips fall where they may. I was thinking about when I go out I would sabotage peoples game but I dont' think I will. On my way out I could tell Cody that he's got my vote to sabotage him but I don't think I'll do that. Nicole tells Donny he needs to win the veto today. If Hayden was still here he would fight.. we can't lay down Donny we need to fight. Nicole asks do you think they're working together or do you know? Donny says that they've made the decisions to get out Devin, Brittany, Amber, Jocasta, Hayden, etc.. Nicole says the thing is I am number one on Frankie's list and I need to find my way out of it. It makes me sick because I am trustworthy. Donny says if I leave I will vote for you. And if you're not next to Cody then I will vote for him. Nicole says thanks Donny. Donny says there is one person I don't want to win and that's Derrick. Frankie and Christine haven't promised me nothing. Derrick has manipulated everyone. Cody hasn't he's just got on and rode the train. Donny says I quit my job to be here! Donny says its going to be a very wildcard for us to get much further. They would need to turn on each other. They know they can get down to it if they stick together. Nicole says the thing is you don't want to blindside people at this point in the game because they're what votes to makes you win. Christine joins them. Donny says that Victoria is a professional door opener. At night when I'm sleeping she will open it and stand right there as it slams.
1pm In the kitchen –
Derrick and Christine are laughing about how Donny and Nicole are talking game in the living room. Derrick goes to tell Cody in the bathroom how Donny and Nicole are talking game right now. Derrick says its best for our game to get Donny out.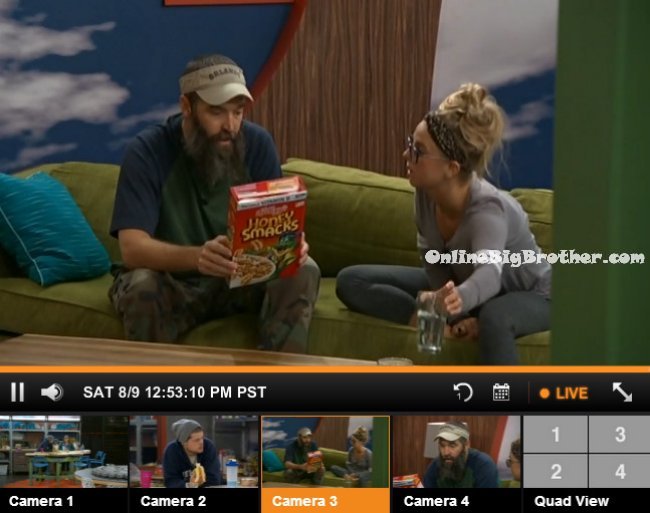 In the kitchen – Cody, Derrick and Victoria are in the kitchen talking. Derrick and Cody are sketched out about Nicole talking to Donny. Cody says that if Donny wins the veto he is going to try and convince Christine to put one of us up. Cody says if Derrick tells Victoria to go to the fire room to see if they're talking. GO pull something out of your draw. Victoria comes back and tells them they're sleeping with their heads covered. Derrick says no way, Donny never takes naps. Cody says I am going to win the veto and then let him know I'm not voting for him to stay. Victoria says to Cody if Donny wins the veto one of us will go home. Cody says I don't think so, I think Zach would go home. Victoria says I think Christine wants me gone. Cody disagrees. Cody says at least we each have two people as votes for each other if one of us go up. Cody says its blatantly obvious that Zach has been telling Frankie everything I've told him.